The best cheap smartwatches are here to save the day for budget-minded users who might not be able to afford the premium options. Pretty much all smartwatches, including the bargain-basement ones, will track your fitness workouts as well as send over notifications when you need them. However, it takes more than that to be truly worth your money.
An excellent cheap smartwatch may not have every feature out there. However, it will still be enough to keep your tech-loving nature content and your bank balance at a healthy level – not to mention, come with extra, well-designed features you won't find in subpar rivals. Some of the best cheap smartwatches can squeeze in extra features like NFC for mobile payment and even GPS for phone-less run tracking.
We've included the best cheap smartwatches that are all £150/$150 or less so you won't likely see the best smartwatches in the premium range. However, 'cheap' also depends on your needs. If you're looking for a cheap smartwatch for diving, for example, you have to be prepared to spend a little more. What you need depends on what you plan on doing with it so you must be willing to make compromises to find the right balance for you.
With plenty of options out there, it can be confusing to know where to start. Since we have tested many smartwatches at every price range over the years, we're just the experts to narrow down your choices. Here are our top picks that include some Android smartwatches and smartwatches for iPhones.
The best cheap smartwatches 2022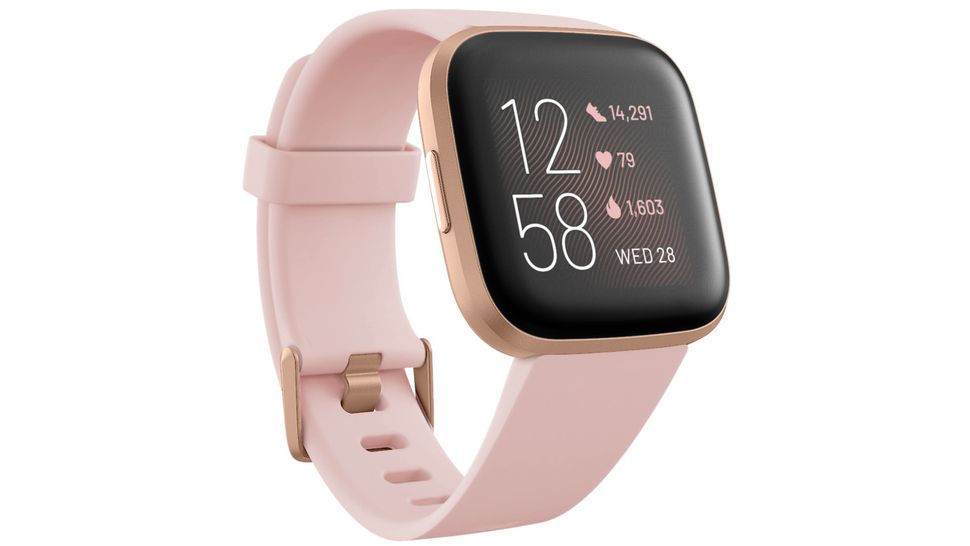 Fitbit is a great bet for affordable smartwatches. Case in point: the Fitbit Versa 2, the best cheap smartwatch right now. It's an older smartwatch at this point, having been succeeded by Versa 3 in 2020 and Versa 4 coming this year, but it's still a goodie with lots of great features that budget-minded fitness enthusiasts can appreciate.
Our review found this to be a near-perfect fitness tracker, after all, with a user-friendly interface that makes it easy for even non-beginners to simply focus on the activity at hand instead of trying to figure out where to go to record their workouts. Even if you forget, it's smart enough to log any activity 20 minutes or longer as exercise.
Having Alexa is a nice perk, but we found that using Alexa was an inconsistent experience during our testing. In addition, there's no GPS so you need to have your phone with you to accurately record location and distance-based information whenever you're hiking or going on a run. However, even we bring our phones with us during hikes and runs so this isn't much of a downside really.
Read our in-depth Fitbit Versa 2 review
An improved version of the highly popular Bip U, Amazfit Bip U Pro is the best cheap smartwatch you'll find at that under-$100 price range. If you aren't familiar with the brand, know that they are known for their reliable and well-built affordable smartwatches, so there's probably no better authority on the topic.
For a budget smartwatch, it comes with several great features including built-in GPS for outdoor tracking and a voice assistant with Amazon Alexa integration. In fact, it's one of few budget wearables to have GPS. Amazfit also didn't just add it for the sake of having it. During our testing, we found that the GPS tracking on this watch works beautifully, giving accurate results.
That might be the most important addition to this update, but there are loads of others to mention as well. It's got many fitness and health features such as heart rate, SpO2, sleep, and breathing tracking as well as more than 60 workouts and activities, plus a camera shutter.
Read our in-depth Amazfit Bip U Pro review
Runners, pay heed, especially all you beginners. The Garmin Forerunner 55, which will set you back for much less than other advanced running smartwatches, is the best cheap smartwatch for running. It's an entry-level model, to be sure, but it's a thoughtfully-designed one that's a step-up from a basic fitness tracker with a design that's new-user-friendly.
During our tests, we found the new workout suggestions to be the most useful features, as they not only encourage beginners, but also expand their workout options and allow them to discover new ones. The recommended rest time at the end of a workout is fantastic as well.
Of course, specifically for runners, it features Garmin's brilliant on-board GPS. In our tests it established a lock extremely quickly and recorded a three-mile route to within a few yards. That's on top of the other tools included specifically to help you become a better runner.
Read our in-depth Garmin Forerunner 55 review
Though older, the Apple Watch Series 3 is the only real cheap option for Apple fans who are on a tight budget – although the Watch SE might be a better choice if your budget is a tad more flexible. The Series 3, a non-4G version of Apple's popular wearable family, still delivers good value for your money, touting top fitness capabilities for Apple fans who want to stay in the Apple environment.
The newly-announced watchOS 9 won't be compatible with this smartwatch, unfortunately, but if being on top of every update isn't vital – and to many regular users, it isn't – that shouldn't be a big deal. More to its credit, it remains to be a powerful option. We found it to be focused on the goal of helping you live a better, healthier lifestyle with features like improved heart rate monitoring that we found to be more accurate than ever, daily inspiration to help motivate you, and a reliable built-in GPS.
It also packs other fitness capabilities, including the ability to track your high intensity interval training (HIIT) workouts, monitor a large number of workouts, and connect to enabled gym equipment. That's a lot of features for a budget smartwatch.
Read our in-depth Apple Watch Series 3 review
Although we haven't reviewed the Garmin Descent G1 just yet, it's a highly-recommended smartwatch for divers looking for a more affordable option. Dive watches aren't cheap for good reason, but this one from Garmin offers budget-minded and beginner divers an option that's almost half the price of its rivals while still boasting many dive-specific features.
That includes its display that's crystal clear especially in dive mode, leak-proof buttons, and an up to 100m dive rating. There are several dive modes on hand as well, including apnea and apnea hunt mode as well as freedive modes. Meanwhile, the display will give you access to vital dive information such as a 3-axis compass, depth, deco-stop requirements, and residual nitrogen.
As this is more of a lifestyle-slash-dive smartwatch hybrid, you'll find lifestyle-specific features as well like health monitoring, biometric tracking, and sleep monitoring. Best of all, it has a battery life of 25 hours (diving) and up to four months when used as just a smartwatch.
How to choose the best cheap smartwatch for you
While you'll typically find an Apple or Samsung smartwatch topping a best smartwatch list, those tend to sit at a higher price point. That puts most of those out of people's reach if they're looking for a cheaper option.
Of course, 'cheap' can be relative as well. A cheap regular smartwatch is going to be considerably more affordable than a budget smartwatch for divers. Keep that in mind when looking at your options.
Besides the price, it's important to check its compatibility with your phone, as some smartwatches aren't compatible with an iPhone, for example. There's also the battery life and the features. If you're a runner, it's important to get the best cheap smartwatch for running as it'll have running-specific features that others might not have. If you need to track your sleep, a longer battery life certainly important as you don't want to be charging twice a day.
How we test smartwatches
Although not every smartwatch on this list has been fully tested by us, our smartwatch experts have more than enough experience to know exactly what makes them tick and what makes an excellent choice.
Those we have reviewed, however, we have put through their paces. To ensure that every cheap smartwatch gets fully tested in the real world, we use it as our own personal wearable for a week or so. We also perform a comprehensive sweep of its features – at least the most important ones, and varied usage over multiple days to give us a clear idea of how battery life performs. Once we have all the information we need, we compare it with its price tag to see if it's a great value and worth recommending to readers.