Update: It was recently announced that Kingdom Hearts 3 will have a brand new Toy Story world for players to explore and naturally this has led to visual comparisons being made between the upcoming game and the original animated film.
Toy Story was the first feature length computer generated animated film and when it was released more than two decades ago it became a kind of benchmark for animators in film and gaming in terms of visuals and movement.
A new Digital Foundry report suggests that the upcoming Kingdom Hearts 3 might have surpassed the achievements of its source material.
The side-by-side comparison report praises the depth of the environments in the game compared to the film and the use of lightning to make the character faces more realistic and add additional detail.
It also draws attention to the authenticity of the animation, with character movements closely resembling those in the film.
Where the game doesn't quite manage to match up to the film, though, is in its image quality. The game's resolution is technically higher than the film, but Pixar's incredible offline rendering techniques compared to the limited real-time rendering of a console greatly help the film edge out here.
It just shows, however, how far consoles have come in terms of what they're capable of. These visuals and animations that come so close to the 'real thing' (as it were) wouldn't have been possible in previous Kingdom Hearts titles on previous consoles.
Original article continues below...
It's been almost 12 years since Kingdom Hearts 2 was released. In that time we've gone through one and a half new console generations and played many spin off titles, but the mainline Kingdom Hearts story has retained a constant place in the back of our minds.
It wasn't actually ever certain that Kingdom Hearts 3 was even going to come until 2013 when Square Enix officially confirmed its existence. Though Square Enix has released many spin-off titles across several platforms, none of them furthered the main Sora storyline told across Kingdom Hearts 1 and 2 and instead explored side characters and stories.
After the initial confirmation and announcement trailer in 2013 we then got a teaser trailer and some tantalizing details at E3 in 2014 and even more news and a gameplay trailer at E3 2015. Since then news has been fairly thin on the ground but we've collected all of the latest news and rumors and placed it right here for your convenience.
Cut to the chase
What is it? The long-anticipated third mainline title in Square Enix's action roleplaying crossover series, Kingdom Hearts.
When can I play it? 2018
What can I play it on? PS4 and Xbox One
Screenshots and trailers
There are now five Kingdom Hearts 3 tailers you need to watch if you really want to consider yourself a Keyblade hype master.
The latest two-minute video comes from Disney's D23 Expo and treats fans to five minutes of footage from the newly announced Toy Story level.
Not long before this at E3 2017 we got the chance to see another gameplay trailer which showed off footage from the game's Hercules level.
Already on sale with Amazon Prime:
The second most recent trailer for the game was released at JumpFesta in 2016. The trailer gave an insight into how the game's combat will work as well as a glimpse at special abilities and the impact the game's environment will have on fighting.
Prior to this there was another and much more full trailer released at E3 in 2015. In this gameplay trailer fans got a look at what appears to be a new location – the exterior of Rapunzel's tower from the film Tangled.
A much shorter trailer was revealed at E3 in 2014, setting the stage for the game's main story.
And of course we can't forget the announcement trailer from all the way back in 2013. There have been lots of trailer haven't there?
Image 1 of 6
Screenshots
Image 2 of 6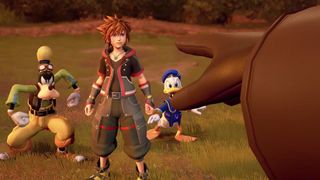 Image 3 of 6
Image 4 of 6
Image 5 of 6
Image 6 of 6
Release date
At D23 in July 2017, it was announced in a fifth trailer that the game would be released in 2018. Though there was no more solid date than this provided it gives fans a window to look forward to.
In an at D23, the game's director Tetsuya Nomura explained what had taken so long to get the game to this point (bearing in mind Kingdom Hearts 2 was released 12 years ago and 3 was announced all the way back in 2013).
Nomura said that "it hurts" to hear accusations that he's taking too long, particularly as just after the game's first year of development the decision to change to Unreal Engine 4 was made over his head. This change, though inevitable, caused extensive delays which weren't helped by timing and resourcing challenges within Square Enix.
"It's kind of out of my hands" he said.
News and features
Story
Kingdom Hearts 3 will see players once more take up the role of Sora as he travels with his closest friends Donald and Goofy across a variety of world themed around and populated by a host of famous Disney and Final Fantasy characters.
Game director Tetsuya Nomura has confirmed that the game's story will start straight after the ending of Kingdom Hearts 3D: Dream Drop Distance.
This means that the game will follow our trio in their pursuit of the Seven Guardians of Light to prepare for their final showdown against Master Xehanort. All the while, King Mickey and Riku will continue their hunt for the remaining Keyblade wielders.
Does all of this sound like complete gobbledygook to you? Not to worry, if you'd like to catch up on all of the essential story you can do so on PlayStation 4 by playing Kingdom Hearts 1.5 + 2.5 Remix and Kingdom Hearts 2.8 Final Chapter Prologue.
Not sure you've got the time for playing through all of that? Then you could watch the below summary of the franchise timeline created by Game Trailers. It's still almost an hour long but it'll do the job.
New visuals
Kingdom Hearts 3 will adopt a slightly visual style to previous games in the franchise, aiming for more of a brush-like look than photo realism. In an interview with Famitsu (via Kotaku) Tetsuya Nomura was very open about the decision to take a new visual approach, stating that this new direction was an attempt to "Express Disney's 2D brushwork in 3D."
Nomura said this was a look they'd wanted since the first game but "At the time, the [PlayStation 2] didn't have the processing power to allow us to freely adjust the lighting."
The new PlayStation 4 hardware, however, is much more capable and Nomura said it's possible to get "a real feeling of evolution by just making the standard graphics into HD." Nomura admitted that it's a fairly "drastic change" but added that he sees it as "a rich evolution of everything we've shown you up to now."
Gameplay
It looks like the action RPG gameplay won't change too much from previous titles in the franchise, most likely drawing from and improving on that of Kingdom Hearts 2 and perhaps integrating particularly successful elements from the handheld titles.
It's been confirmed, though, that Sora will be much more mobile in combat, able to wall run, jump on enemies, and largely take greater advantage of the game's much larger environments.
Back in 2013, Nomura said that the combat in Kingdom Hearts 3 will be "pretty frantic", with NPCs able to join in the three-person party fights as well as "more intricate" enemy AI.
A couple of interesting new combat features that have been confirmed include Attraction Flow and Keyblade Transformations.
Attraction Flow attacks are new super moves that will apparently be triggered under certain though unconfirmed battle conditions. These powerful moves based on the Flowmotion moves from Kingdom Hearts 3D: Dream Drop Distance are inspired by some of the biggest rides at the Disney theme parks such as the Teacups, Pirate Ship and Thunder Mountain Railroad.
Keyblade Transformations are fairly self explanatory and will allow Sora's Keyblade weapons to transform in battle with different effects.
According to Nomura, Keyblade Transformations will only be unlocked when all missions from one of the game's worlds are unlocked, with each individual world offering its own unique transformation.
For example, it was spotted by KH Insider that an Olympus Keyblade was able to cast Zeus' lightning as well as transform into a Pegasus-drawn chariot.
New worlds
Disney's been busy in the years since Kingdom Hearts 2 was first released so as you'd expect, there are going to be a few new worlds to play in. Thus far the Kingdom of Corona from Tangled, an as yet untitled world from Big Hero 6, Mount Olympus from Hercules, Twilight Town Mysterious Tower and a Toy Story world have been confirmed as new additions.
In a recent interview with , Nomura lessened the excitement of a brand new Toy Story world slightly by revealing that there will be fewer Disney worlds in this game than in Kingdom Hearts 2.
Kingdom Hearts 2 had 12 worlds in total and thus far we have 4 worlds confirmed for the third game. With Nomura stating that all of the worlds that will feature in the game will be revealed before its release we can expect around 7 more to be revealed over the next year. How many of these will be brand new worlds and how many will be repeats from previous games is unclear.
At the very least, Nomura has promised that even though there will be fewer worlds, they'll be much more dense. We have to admit, not every Kingdom Hearts world holds an equal place in our own hearts so we'll happily take quality over quantity.
Though Disney has also acquired Marvel and LucasFilm, it's unlikely their franchises will appear in Kingdom Hearts due to a variety of other license agreement barriers, with Nomura cautioning that "the other associated companies under Disney [are] not something that is as simple as us consulting with Disney Interactive. So, unfortunately, the lineup is kind of considered as different."
Nintendo Switch?
In a recent interview Square Enix CEO Yosuke Matsuda told Nikkei (via ) that the company is focusing on bringing more of its current and future titles to Nintendo's new console, the .
Though Matsuda makes no direct reference to bringing Kingdom Hearts 3 to the Switch, it does suggest that if such a move is feasible and the hardware limitations aren't too great, Square Enix will make it happen.