The best Kindle to buy in 2019 lets you to pore over your growing Amazon ebooks library for a serious discount compared to the fortune you'd fork over buying Apple's latest iPad. Amazon has virtually taken over our ereader recommendations list, so we just made one dedicated to Kindle products.
With a combination of slick performance, beautiful displays and low prices, the best Kindles stand in stark contrast to those sunk to the bottom of our list for cumbersome interfaces, high costs and ugly displays. So, to help you avoid those shoddy devices, we put together a list of the best Kindles you can buy in 2019.
Amazon Kindle (2016)
Simple digital reading at its best
Screen size: 6-inch | Screen type: Pearl e-paper | Storage: 4GB | Resolution: 167ppi | Weight: 161g | Backlight: no | Touchscreen: yes | Wi-Fi: yes | 3G: no | Battery life: up to four weeks
Affordable
Improved design
No backlight
Screen could be better
The Amazon Kindle, or all-new Kindle as Amazon calls it, is the most basic and affordable ereader the company sells, coming in at just £59.99/$79.99 (about AU$105).
And it's not much different to the previous model, which means you get an adequate (but not backlit) touchscreen, a long lasting battery and plenty of space for all your digitial tomes, plus an intuitive interface, that makes navigating your books a breeze.
Where it's improved is in the design - 2016's model is slimmer and lighter than what's come before, so even though you could essentially be carrying an entire library with you it won't even feel as weighty as a single paperback.
Amazon's also given its latest basic model a power boost, for fairly snappy performance. It's no match for the Oasis, Voyage or even Paperwhite, but at just over £50/$65 it doesn't have to be.
Why should I buy it? Because you want a bargain and can live without the backlight and sharper screen found on pricier Kindle's.
Read the full Amazon Kindle review
Amazon Kindle Paperwhite
It's all about that screen
Screen size: 6-inch | Screen type: E ink | Storage: 4GB | Resolution: 300ppi | Weight: 209g | Backlight: yes | Touchscreen: yes | Wi-Fi: yes | 3G: yes | Battery life: up to six weeks
Super-sharp screen
Improved typography
Bland design
Still missing some features
Amazon recently updated the Kindle Paperwhite to add several features from the Voyage and Oasis lines, including IPX8-rated waterproofing and support for Audible audiobooks. The screen is still fantastic with a beautiful 6-inch HD display with 300ppi pixel density and 8GB of storage, meaning you can keep thousands of books on one device.
The Kindle Paperwhite is almost the closest you can get to real paper while getting all the benefits of an ereader. You have access to Amazon's huge library of books and you can even use the Kindle Unlimited rental service on the Paperwhite.
There's a built-in light and you're not going to get any screen glare when reading it in bright sunlight. The battery isn't as good as the last version as it only lasts six weeks, but that said it's still a very good amount of time to get reading your ebooks.
Why should I buy it? If you're looking for one of the best screen experiences on an ereader and you want to be able to read in bright sunlight, the Amazon Kindle Paperwhite is your choice.
Read the full Amazon Kindle Paperwhite review
Amazon Kindle Voyage
Screen size: 6-inch | Screen type: Carta e-paper | Storage: 4GB | Resolution: 300ppi | Weight: 180/188g | Backlight: yes | Touchscreen: yes | Wi-Fi: yes | 3G: yes | Battery life: up to six weeks
Brilliant screen
Sleek design
Expensive
The Kindle Voyage was once the top of the heap, but it's been bettered by another Amazon offering, the Kindle Oasis. Even Amazon seems to agree, as it quietly stopped selling the Voyage entirely – but if you can find one at a discount from a secondhand seller, this higher-end ereader might suit your needs.
When this launched, it was essentially a perfected version of the Kindle Paperwhite, with the same interface and features but an even better 300ppi screen. Now the Paperwhite has that screen it's difficult to justify spending the extra on the Kindle Voyage, while the Oasis has a brand new beautiful design.
This one does come with a uniform backlight, an ambient light sensor and PagePress buttons, which allow you to navigate a book without lifting a finger.
It's even got a sleek 7.6mm thick build making it the best looking Kindle ever. All that comes with a high price tag and like other Kindle's the Voyage lacks a microSD card slot, but this is still arguably one of the most premium ereaders you can buy.
If you read a lot and, crucially, have the money to spare, this is the clear choice.
Why should I buy it? If you're looking for a premium Kindle experience, but not by spending as much as you would on an Oasis, go for this.
Read the full Amazon Kindle Voyage review
Amazon Kindle Oasis
The first all-metal and waterproof Amazon Kindle
Screen size: 7-inch | Screen type: Carta E Ink | Storage: 8GB/32GB | Resolution: 300ppi | Weight: 194g | Backlight: Yes | Touchscreen: Yes | Wi-Fi: Yes | 3G: Yes | Battery life: up to six weeks
Great reading experience
Audiobooks are useful
Very expensive
No speakers
The Amazon Kindle Oasis is the most expensive and advanced traditional Kindle you can buy today. At almost four times the price of the standard Kindle, you're dropping a lot of cash, but it's worth it – the Oasis is one of the best Kindles you can buy, especially if you're looking for the traditional experience.
If you're looking for the most comfortable ereader experience you can ever have this is the best one for you. It has a brand new design that's now made of aluminium and is also waterproof, so you can read in the bath or next to the pool while you're on holiday.
The Kindle Oasis is thinner on one side, which makes it even easier to hold in one hand. There's a vibrant display with 300 pixels per inch and a fantastic backlight that makes it the brightest Kindle yet.The battery is all inside the latest Kindle Oasis (there's no charging case like on the 2016 version) so you'll get six weeks standby life and we found it lasted a whole week with a few hours reading a day.
Plus you can now listen to audiobooks with Audible too, but you'll need to have a Bluetooth speaker or pair of headphones to hook up as there's no speaker or 3.5mm headphone jack.This will cost you quite a bit more than all the other ereaders on this list - but if this is the device you use every day to absorb your tomes, why not spend that little bit extra?
Read the full review: Amazon Kindle Oasis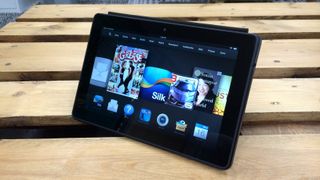 Kindle Fire HD 10
The best Kindle for multimedia
Screen size: 10.1-inch | Screen type: IPS touch | Storage: 32GB/64GB | Resolution: 1,920 x 1,200 | Weight: 500g | Backlight: Yes | Touchscreen: Yes | Wi-Fi: Yes | 3G: Yes | Battery life: 10 hours
Cheap
Full HD color display
Flimsy plastic design
If you're looking to use your ereader for more than just reading your favorite books and you want to sneak in some Netflix or YouTube in here and there, you might want to take a look at the Kindle Fire HD 10. It offers the same features that the rest of the best Kindles do, but it also features a Full-HD display color display and much more storage. And, while it's more expensive than the rest of the Kindles on this list, you're getting much more functionality for your money. This is one of the cheapest ways to get into tablets, as well.
Read the full review: Kindle Fire HD 10