By combining Sony's premium OLED picture performance with a powerful and direct sound system, the Sony A8H/A8 OLED TV manages to be a stunningly compelling TV option for serious home cinema fans.
Pros
+

Gorgeous, refined picture

+

Good sound quality

+

Ultra-wide viewing angles

+

Bold, industrial design
Cons
-

No HDR10+ support

-

Sometimes fiddly operating system

-

Android TV can frustrate

-

Potential for screen burn
Why you can trust TechRadar We spend hours testing every product or service we review, so you can be sure you're buying the best. Find out more about how we test.
The Sony A8H OLED TV (called the A8 or A85 in the UK) strikes the ideal balance between price and performance by taking premium OLED features from the Sony A9G Master Series and bringing them to a lower price point.
Despite its 65-inch model only costing $2,799/£2,799 at launch, the Sony A8H/A8 carries Sony's top-line X1 Ultimate processor, Sony's Pixel Contrast Booster (for more intense image highlights), and a new OLED version of the X-Motion Clarity feature Sony initially developed for its FALD LCD TVs.
The Sony Bravia A8H OLED TV is so impressive, then, that we'd recommend keeping it even as an older model. The A8H has been replaced by the more recent Sony A80J OLED TV, but that doesn't invalidate the A8H's overall quality.
On the audio side, meanwhile, Sony's customary Acoustic Surface Audio system (where the TV's screen is actually 'excited' into producing sound) is joined by a two-subwoofer bass system, and an Acoustic Auto Calibration system that can optimize the TV's sound to your room with just a couple of quick test pulses.
The results are nothing short of gorgeous.
Price and release date
The Sony A8H/A8 OLED TV was announced at CES 2020 and is now available all over the world in two sizes, 55 and 65 inches, as well as a single design variant in the UK called the A85 OLED that trades the metal blade stand for a 'premium stand'.
In terms of price, the 55-inch Sony KD-55A8 / XBR-55A8 comes in at $1,899/£1,799, while the larger 65-inch Sony KD-65A8 / XBR-65A8 comes in at $2,799/£2,799.
That's almost identical to the pricing of LG's CX OLED, though the CX also will come in a 48-inch size this year as well as a whopping 77-inch screen size.
Design
The 65-inch Sony KD-65A8 / XBR-65A8 that we were sent for this review boasts a strikingly industrial design, and the outer few inches of the screen are as mind-blowingly thin as we've come to expect from OLED technology. These skinny bits are exceptionally beautifully finished on the 65A8, though, as well as being impressively sturdy and robust.
The rest of the rear carries a much deeper chunk of equally heavy duty bodywork, housing such essentials as connections, processors and panel drivers. This deeper section is so unapologetically muscular, minimalistic and well made, though, that it actually adds to the design appeal rather than feeling like a 'necessary evil'.
From the front the screen has a pleasingly monolithic look, with remarkably little trim to distract you from the picture. The metallic nature of this trim, though, continues the high build quality, and the relatively subtle desktop feet do their job with minimal distraction.
The feet can be attached in two different ways, too. Either with the screen sat right down on them, or with the screen resting a couple of inches higher, so that you've got room to add a soundbar to your set up.
Connections comprise four HDMIs, three USBs, an Ethernet port, a headphone output, a composite video input, and a digital audio output. Plus, of course, there's built-in Wi-Fi and Bluetooth.
The HDMIs are all able to support the latest HDCP 2.3 anti-piracy system, and support both automatic game mode switching, and eARC audio for passing uncompressed Dolby Atmos through to compatible soundbars.
There's no support on this Sony model, though, for 4K/120Hz support or Variable Refresh Rates, despite these features all set to turn up on Sony's own PS5 games console later this year.
One last great bit of design news concerns the 65A8's remote control. With its cool metal-effect finish, spacious layout and responsive buttons it's a far cry from the infuriating lay outs and unhelpfully flush buttons of the past few Sony TV handset generations.
Smart TV (Android TV)
As with pretty much all of Sony's TVs these days, the A8H/A8 relies on Android TV for most of its smart TV thrills. It also, though, carries YouView in the UK to compensate for Android TV's shortcomings when it comes to catering for the UK's terrestrial broadcaster catch-up apps.
The Android TV implementation is Version 9 (Pie), and the OS also features a few Sony-specific improvements. Highlighting an option in the Settings menus, for instance, now brings up a cool 'exploded' explanation of what that feature does. Sony has also introduced a new electronic program guide that provides much more information on screen at once than most EPGs while still managing to keep a (very small) version of the channel you were watching playing in the top right corner. There are also new voice control onscreen 'tips', and enhanced external device detection and information.
As always with Android TV, the Sony A8 provides built-in Google Chromecast support, Google Assistant and the GooglePlay store. There's also now support out of the box for Apple Airplay 2, and the latest Android TV app collection includes Disney Plus, Netflix, Amazon Prime Video, Tidal (including Dolby Atmos Music support) and YouTube. There is, though, currently no support on Android TV for the Apple TV app (or the Apple TV Plus streaming service).
Android TV is still overall far from our favorite smart platform. As well as missing one or two key apps, the way the home screen takes over the whole screen and won't let you keep watching TV while you browse is particularly frustrating. But the Pie version at least runs reasonably stably and smoothly relative to earlier versions.
Performance
The Sony A8's HD/SDR pictures are truly things of beauty. For starters, the set's upscaling of sub-4K content is a marvel. High levels of detail and texture are added seemingly effortlessly, without causing the image to look strained or noisy. This even holds good if you feed the 65A8 a seriously grainy or low quality source.
The color judgment applied to each upscaled pixel is exceptional, too, meaning there's none of that slightly coarse, slightly 'off' color toning lesser upscaling engines can cause.
Unusually for today's TV world, the 65A8's Vivid, Standard and Cinema picture presets apply HDR remastering to SDR sources that you can't turn off. Just as unusually for today's TV world, though, this remastering is actually really convincing. It takes a relatively gentle approach, which stops its color and light expansion from becoming too far removed from the SDR source material. It also works on an object-based basis, rather than applying a single set of rules to the entire image, which again helps it achieve a more natural look than most SDR to HDR converters.
If you're a gamer, finally, you'll be pleased to hear that with the 65A8 switched to its Game preset, input lag (the time the screen takes to render its images) drops to a very respectable 18ms.
The Sony 65A8's 4K/HDR pictures take the beauty already witnessed with HD/SDR content to an even higher level.
Dark HDR scenes, for instance, show off Sony's fantastic control over one of the trickiest aspects of OLED technology: the transition from full to near black colors. There's no sign at all of the low-level noise some OLED screens can suffer with in very dark areas. In fact, we have yet to see such excellent control, refinement and black level depth and consistency from any other OLED TV - or any other TV period, actually.
The Sony 65A8 also excels with the wide color gamuts associated with HDR images. The immense tonal subtlety of Sony's color management helps 4K HDR images look immaculately three-dimensional, natural and nuanced. In fact, the level of refinement on show with traditionally difficult areas such as skin tones, dark colors and shadow detailing is as good as I've seen anywhere outside of a professional OLED mastering monitor.
Sony's Bitmapping technology, meanwhile, smooths away on the 65A8 the sort of color striping artefacts fine blends in HDR/Wide Color Gamut content can cause on HDR screens. Sometimes the processing behind this causes a slight loss of fine detail in the 'bitmapped' area. But the positives clearly outweigh this small negative.
The sharpness and detail of native 4K images is otherwise fantastic. Classic fine details such as skin pores, woodland leaves, distant brickwork and lichen-covered, crag-filled mountains are all impeccably rendered. What's more, the extreme sharpness is achieved without common sharpness-related artefacts such as ghosty, stressy object edges, exaggerated source noise, or exaggerated grain.
The sharpness scarcely misses a beat, either when there's lots of motion to handle. The 'MotionFlow 1' setting of Sony's motion processor brilliantly takes the edge off judder with 24p movie sources, leaving it looking more cinematic, without piling on the over-smooth 'soap opera effect' less sensitive motion processors can cause.
Even better, though, is the Clearness motion option, which calls in Sony's new X-Motion Clarity feature. In its OLED form, X-Motion Clarity doesn't insert full screens of black between the real image frames like typical Black Frame Insertion technology does. Instead it inserts partial black frames over only portions of the image, while boosting the image areas that remain. This produces the natural 24p feeling long associated with BFI technology without causing the customary heavy brightness reduction side effect.
As with previous Sony OLED TVs, the biggest argument against the 65A8 is that its pictures aren't very bright - even by OLED standards. It measures around 640 nits on a white HDR square occupying 10% of the screen in both its Vivid and Standard picture presets, and this drops to 540 nits in Cinema mode. The LG OLED65CX, by comparison, achieves more than 800 nits in its Vivid mode, and more than 700 nits in its Cinema Home and Standard modes.
This brightness limitation of the 65A8 is something to bear in mind if you're looking for a TV to go into what's typically a bright room. However, the 65A8 provides a couple of new features which ensure that unlike some its earliest OLED efforts, its HDR pictures still actually look punchy.
The Pixel Contrast Booster does a lovely job of opening up the luminance 'gap' between the darkest and lightest pixels in the image, greatly enhancing the local (pixel level, in fact) intensity that's OLED's trademark. The impact of this, when partnered with the consistently gorgeous blacks the screen delivers, can't be overstated.
Then there's Sony's Dynamic Contrast Enhancer. This needs to be handled with care, and actually works best with non-movie content. But the way it enriches and extends light levels in both light and dark directions is typically spectacular. And it's achieved again without leaving the image looking in any way overcooked or forced.
The screen responds well to Dolby Vision's extra scene by scene image data, enjoying a little more dynamism and refinement. With this in mind it's a pity that Sony doesn't also support HDR10+.
The 65A8 has been formally approved by IMAX as being capable of unlocking the full potential of the IMAX Enhanced picture mastering system now available on a few 4K Blu-rays and video streams (from FandangoNOW in the US and Rakuten in Europe). And it does indeed make IMAX Enhanced sources look beautiful, bringing out the extra colour purity and noiseless detail that's the mastering system's trademark.
With this in mind, it might have been nice to see Sony also embracing the new Filmmaker Mode and Dolby Vision IQ picture presets being adopted this year by many of its TV rivals. Sony's argument for not doing so, though, is that it believes its own picture processing negates the need for such third-party picture 'help'. And given how great the 65A8's pictures typically look, it's harder to take issue with this statement on this occasion than it usually would be.
The only 4K/HDR issues with the Sony 65A8 apart from it not being as well suited to bright rooms as some rival TVs are its lack of 4K/120Hz support for gaming; and the fairly high reflectivity of its screen.
Sound
The 65A8's sound is a fitting partner for its impeccably cinematic pictures. Using stereo 'actuators' to excite the screen into producing the TV's audio really does help produce a more detailed and powerful soundstage than you usually hear with an OLED or LCD TV.
The sound tracks the onscreen action almost uncannily well, too, so that if a car moves from one side of the screen to another, for instance, you actually hear the sound move across the screen with the car. Voices, too, remain locked to the lips of whoever's speaking.
Crucially, though, the sound isn't just confined to the screen. Ambient and off-screen sounds spread far beyond the screen's physical frame, filling your room and immersing you in the action. In fact, I even occasionally got the impression of some ambient sound effects coming from behind me when watching Dolby Atmos content.
There's not a great deal of height to the 65A8's Dolby Atmos sound stage. Otherwise, though, the precision and dynamics of its object-based sound playback is still unusually effective for a built-in TV speaker system.
The addition of a second subwoofer to Sony's Acoustic Surface Audio system helps round out the 65A8's mid-range and bass very effectively, too, and there's typically no distortion or crackle even at very high volumes. In fact, the clarity retained even during loud, dense action scenes is remarkable for panel-exciting technology.
The subs bottom out a little earlier than they ideally would, failing to plumb the same depths as the LG OLED65CX does. On the other hand, though, Sony's bass drivers accept their own limitations, meaning they don't succumb to the same sort of distortion under extreme duress that the LG model does.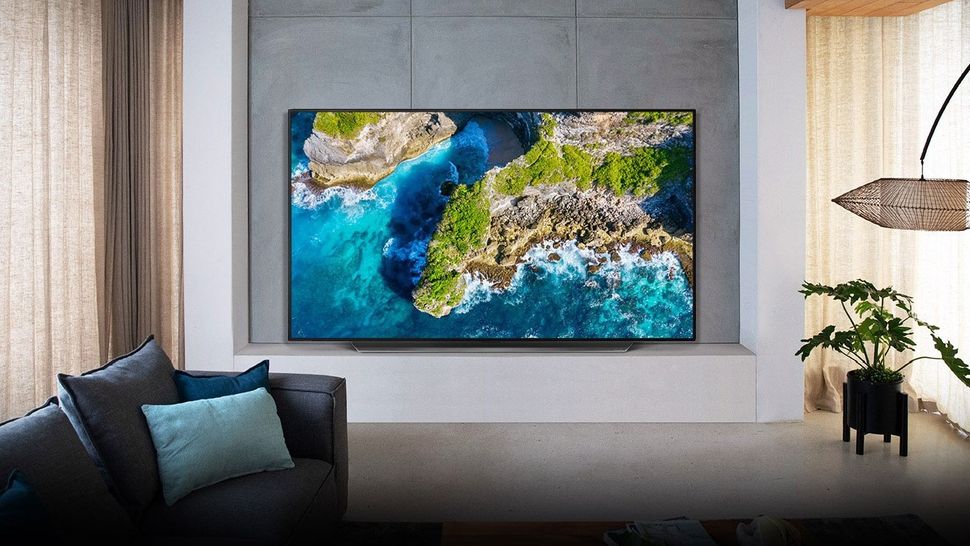 Other panels to ponder...
The most direct 2020 rival for the Sony 65A8 is the 65-inch LG CX OLED. The main attraction of this identically-priced 65-inch OLED TV is that its pictures are markedly brighter and more punchy with HDR. This makes it a potentially superior option for relatively bright living rooms.
The 65A8, though, delivers a peerlessly refined, elegant image - especially during very dark scenes - that's ideally suited to a home theater room, or a living room where it's relatively easy to control light levels.
If you really want to explore the bright side of the HDR equation while also saving a few hundred pounds, you could consider Sony's XH95/X950H LCD TV. This has no problem hitting 1000 nits and more with the bright parts of HDR images, and maintains these brightness levels surprisingly consistently for an LCD TV. Though the trade off is that black levels aren't nearly as deep and stable as those of the 65A8.
Final verdict
While a core lack of brightness makes the 65A8 best suited to relatively dark rooms, its color refinement, local contrast and noiseless clarity make its pictures consistently mesmerizing. Basically it's a serious movie fan's dream.
Provided you can deal with the fact that the Sony 65A8's pictures are far from the brightest, you'll be rewarded with arguably the most exquisitely consistent, immersive and refined pictures we've seen on any TV to date.
AV Technology Contributor
John has been writing about home entertainment technology for more than two decades - an especially impressive feat considering he still claims to only be 35 years old (yeah, right). In that time he's reviewed hundreds if not thousands of TVs, projectors and speakers, and spent frankly far too long sitting by himself in a dark room.