Is the Xperia Z4 Tablet not really taking your fancy? Maybe Sony isn't the manufacturer that will satisfy your tablet needs? If so, we've put together a list of the competition that may be a better choice for you.
Google Pixel C
Our favorite Android Tablet right now is made by Google itself. The Google Pixel C is a great choice if you're not liking the look of the Xperia Z4 Tablet as it comes with a similar shape and premium spec under the hood.
There's a 2K 10.2-inch display on the front of the device that really pops out from the body work as well as a premium feel metal back.
Inside is a Tegra X1 processor and 3GB of RAM, which should be able to handle any task you throw at it while there's storage options of 32GB or 64GB.
It may cost you a little bit extra than the Xperia Z4 Tablet, but if you're a fan of the design you really can't go wrong with picking up the Google Pixel C.
iPad Pro 9.7
Apple's latest tablet is the lightest, thinnest and best-looking iPad we've ever seen – we gave it 4.5 out of five in our full review. On the front is a 9.7-inch display with a pixel resolution of 1536 x 2048, equaling 264ppi - the same as the iPad Air 2
The best iPad Air 2 features are here such as the premium design and Touch ID - but the real highlight is with the smart connector and keyboard accessory. It means you can actually be productive on your tablet - just like on the Xperia Z4 Tablet.
Plus there's also a 256GB version that will mean you can have even more media on your tablet and not have to worry about space. You'll have to pay for that privilege though as it costs US$599 (£499, AU$899) without accessories.
Sony Xperia Z3 Tablet Compact
Sony's last foray into the tablet market saw it drop down to an 8-inch display with a pixel resolution of 1200 x 1920.
Design-wise it's pretty similar to the Xperia Z4 Tablet – it's shrunk down a little but still features IP68 waterproofing and the glass-fronted look. Under the hood is a Qualcomm Snapdragon 801 processor clocked at 2.5GHz, accompanied by 3GB of RAM. Storage is a little on the miserly side at 16GB, but there's microSD support up to 128GB.
We quite liked the Z3 Tablet Compact, giving it four out five stars and praising it for its impressive battery life, thin design and PS4 Remote Play features.
Samsung Galaxy Tab S2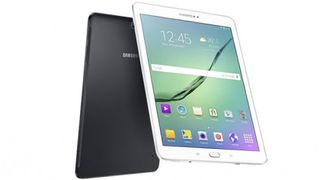 Samsung's latest tablet is designed to be the 'iPad killer', and comes in two sizes: a 8-inch display and a 9.7-inch display. And those are two stunning high-res displays, offering pixel resolutions of 1536 x 2048 and 320ppi, and 1536 x 2048 and 264ppi respectively.
The spec under the hood is quite impressive with a quad-core Qualcomm Snapdragon 652 processor clocked at 1.9GHz, and 3GB of RAM.
Storage-wise your options are either 32GB of 64GB and there's microSD support up to 128GB if you need to go over that limit. The design is much nicer on the Galaxy Tab S2 compared to the original Galaxy Tab and you'll be quite impressed by how much lighter this one is.
It's a similar weight to the Xperia Z4 Tablet, but it'll be much smaller if you buy the 8-inch version so it's a little bit easier to handle. We gave it four stars out of five, highlighting the strong battery life and great-looking display.