Sony's tablet range has been criticised heavily in the past for all manner of things, but one thing that can't be said is that its devices don't lack power. Sony has always opted for the biggest and best chipset, and the Xperia Z4 Tablet is no exception.
Qualcomm's Snapdragon 810 64-bit octa-core processor, clocked at 2GHz, is present here, accompanied by 3GB of RAM.
It makes processor-intensive tasks on the tablet a breeze, and compared to most Android tablets it's quite an impressive setup.
To really push the tablet to its limits I played Real Racing 3, an extremely graphics-intensive game, and I didn't experience any of the lag I've seen on other slates. In fact, the frame rate was more impressive than on the Xperia Z2 Tablet from a little over a year ago.
I found that on the first play-through the game crashed on me, but after that I played through five different levels and experienced no problems, suggesting that the issue was down to it just booting up.
Storage
When it comes to storage you only have one, 32GB, option. That'll be enough for many users, but I'd appreciate a little more space, as I like to stuff my devices full of apps and video.
Sony does allows for 128GB of storage through microSD, which is a nice touch, but software and core apps take up almost 11GB of the default storage, so if you're not planning to shell out on a microSD card you're going to be restricted to 21GB.
Throw in a 128GB card, though, and you've got 149GB of space to fill – even with my big movie collection I'd struggle to fill all of that.
The essentials
There's a micro USB slot on the right-hand edge of the tablet. It's uncovered this time around but it's still waterproof, which raises the question why other connections can't benefit from this design.
It's there for charging and data transfer, and it enables easy use of the tablet whilst it's charging – you can stick it in the dock or lean it against something, so you won't have to worry about the battery dying while you're working.
On the extreme top-left corner of the slate is a 3.5mm headphone jack, which again is open but waterproof.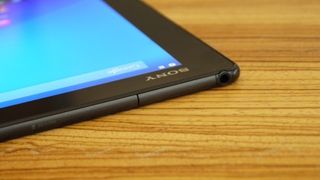 It's right on the very edge this time, which is an interesting design choice, but it does mean that the tablet can be placed in its Bluetooth keyboard dock while you're listening to music without any issues.
Talking of music, the Xperia Z4's speakers aren't the best you're going to find – there's no BoomSound-like technology here, but they're decent enough.
High-res audio and noise-cancelling technology make for an impressive audio setup though – I keep finding myself plugging my headphones into the tablet when it's Spotify time, even when my phone is closer to hand.
It's just a more enjoyable experience, and the noise-cancelling technology is a big bonus, although you do need dedicated Sony headphones for it to work.
Connectivity-wise you've got Wi-Fi 802.11 for fast internet. I used the slate at home, at work and in a coffee shop and didn't experience any problems getting online. My home Wi-Fi was a little temperamental for a while, but I suspect that was down to the poor connection, and I didn't have any issues whilst using the tablet with super-fast connections.
Bluetooth 4.1 is also present, and comes in useful for connecting accessories like the keyboard.
NFC support is also on hand for fast connections with compatible devices – although you're not likely to need to use it that much, and I only used it with a speaker just to test it out.
I find NFC a little redundant on tablets, as it's rare that you'll be using it for payments or the like when you're out and about, or for connecting accessories.
Sony at least has the courtesy to point out where the NFC connector is, with a small logo on the back of the tablet. Some manufacturers don't bother to do this, meaning that you can't tell where you need to tap – I'm looking at you HTC.
The logo isn't easy to spot initially, but once you know where it is you'll find that it's quick and easy to get connected.