The MacBook Air 2018 may (or may not) be well on its way, but the existing MacBook Air is still one of our favorites. Boasting a classic design and a full array of legacy ports, it's likely the last of its kind. Seeing as the other MacBooks have steered clear of LED-backlit Apple logos opposite of their displays, the MacBook Air is an icon that will soon become an artifact.
Today, our US readers can find a 12-inch Retina MacBook on sale for the same price as this MacBook Air with three-year-old specs. However, that won't be the case for long, so if you're looking to buy something later rather than at the time of this writing, the MacBook Air isn't a disappointment by any means. Quite the opposite really, as the MacBook Air is one of the last remaining Apple laptops to feature a truly satisfying typing experience without compromising on travel.
While it certainly hasn't adopted any of the new ideas Windows laptops have become increasingly popular for, such as convertibility, bezel-less displays and touchscreens, neither have the MacBooks that are twice as expensive. Plus, with the MacBook Air, you're still getting the same up-to-date macOS High Sierra operating system that makes Macs so enticing to begin with. With that in mind, let's take a look at the state of the MacBook Air in 2018.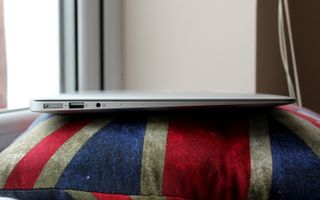 Design
By and large, the MacBook Air generally looks the same as it has since 2010, and there don't appear to be any changes in tow, either. That's a shame, particularly because we're now seeing virtually bezel-less laptops with smaller footprints and high resolution screens that dismally put the MacBook Air in its place.
Forget the Dell XPS 13's physics-defying InfinityEdge display, which is lightyears ahead – even Apple's 13-inch MacBook Pro with Retina, once seen as slightly tubby compared to the Air, has a smaller footprint and takes up slightly less space on your lap.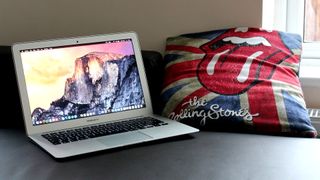 Yet, the old 'if it ain't broke' mantra applies – at least to a point. The MacBook Air's aluminum unibody design, which supports the main enclosure and the display, is as durable as ever. Its lid can be easily raised with a single hand and doesn't droop in any position, and you have to press really hard to detect flex on the machine's base or lid.
It's also easy to clean with a damp cloth. If there's one drawback, it's that the aluminum body can scratch easily to leave permanent black marks, so you should consider buying a sleeve if you're going to sling it into a bag for transportation.