Two-minute review
The Amazon Fire HD 10 (2021), like many Amazon devices, undercuts more expensive competitors in price while offering many of the same features. It's a shoo-in to make our list of the best cheap tablets and even the best Android tablets. Yet like its predecessor, the Fire HD 10 (2019), its low cost coincides with plenty of compromises.
Matched up against the old model, the 11th generation Fire tablet has the same 1920 x 1200 display resolution but a higher brightness; the same 12-hour battery life, which held up in our tests; the same OS based off of Android 9, now several years out of date; the same limited app library, with Google Play Store apps excluded; and even the same starting price as before: $150 / £150 (about AU$195).
Most importantly, Amazon gave its tablets a memory upgrade, with 3GB of RAM for the base version and 4GB for the Amazon Fire HD 10 Plus model. We tested the 3GB tablet here and found that it performed perfectly well for casual media apps, but does take a while to load even lightweight games like Subway Surfers.
Amazon is pushing a new productivity bundle with its latest tablet, hoping the addition of Microsoft Office apps and Bluetooth keyboard support will make people see it as a serious tool. But most other productivity apps, including Google Workspace and Adobe CC, are nowhere to be found.
If you actually need a portable work device, we'd suggest a cheap, reliable Chromebook or a more powerful tablet with better RAM and display instead.
Gamers should also look elsewhere, at least until Amazon decides to add cloud gaming with Luna. Amazon Game Mode helps your games run smoothly, but Amazon's Appstore doesn't have the breadth or quality of games available on Google's or Apple's app stores, and mobile-quality games blown up on a large HD tablet tend to look somewhat pixelated.
Truly, this tablet is designed for people who are deeply invested in Amazon's services – or designed to make them invested. It has most of the popular streaming apps (not just Prime Video), but Amazon Music, Amazon Photos, Amazon Silk (a web browser), Alexa and Kindle have monopolies on Fire OS, and other categories like messaging have extremely limited options.
Anyone who wants a cheap, relatively long-lasting ereader that also streams movies and shows should seriously consider the Fire HD 10 or Fire HD 10 Plus. It can also double as a portable Echo Show for controlling your smart home and telling you the weather. For more hardcore applications or access to all your non-Amazon apps, though, you'll want to look elsewhere.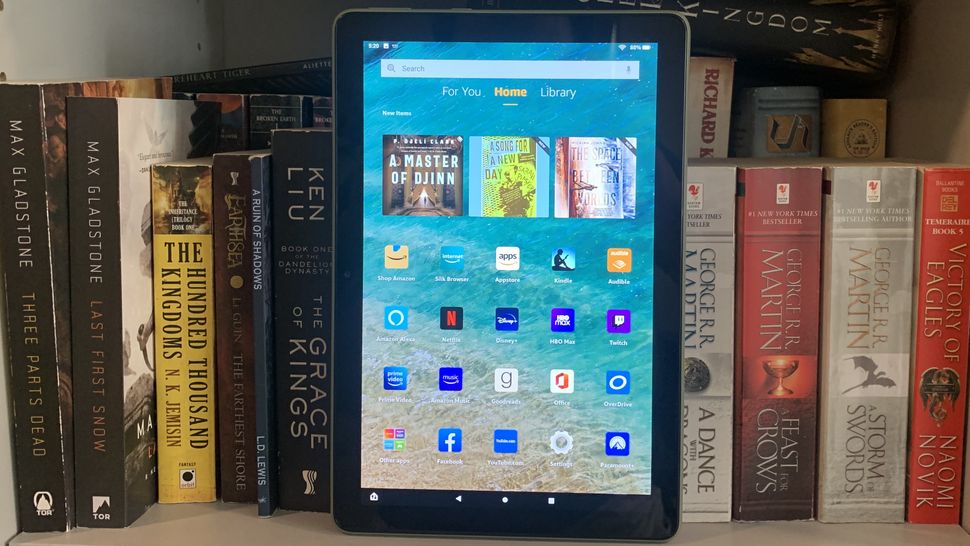 Amazon Fire HD 10 (2021) price and release date
Out now in the US and UK
Starts at $150 / £150 (about AU$195)
The latest Amazon Fire HD 10 was released on May 26, 2021. Its availability appears to vary from country to country; we've spotted it on Amazon US, UK and Canada but not Australia, for instance.
Amazon simultaneously released the Fire HD 10 Plus, a slightly more expensive model with some key upgrades, and a productivity bundle with a Bluetooth keyboard and a Microsoft 365 Personal subscription.
The Amazon Fire HD 10 starts at $150 / £150 (about AU$195) but goes up in price if you upgrade storage or remove lockscreen ads. The Fire HD 10 Plus sells for $180 / £180 (about $AU230) with similar upsells.
Swipe to scroll horizontally
| Models | US | UK | AU conversion |
| --- | --- | --- | --- |
| Fire HD 10 2021 (32GB, Ad-supported) | $150 | £150 | $195 |
| Fire HD 10 2021 (32GB, no ads) | $165 | £160 | $215 |
| Fire HD 10 2021 (64GB, Ad-supported) | $190 | £190 | $250 |
| Fire HD 10 2021 (64GB, no ads) | $205 | £200 | $265 |
| Fire HD 10 Plus 2021 (32GB, Ad-Supported) | $180 | £180 | $235 |
| Fire HD 10 Plus 2021 (32GB, no ads) | $195 | £190 | $255 |
| Fire HD 10 Plus 2021 (64GB, Ad-Supported) | $220 | £220 | $285 |
| Fire HD 10 Plus 2021 (64GB, no ads) | $235 | £230 | $305 |
Prices have remained generally at that level since launch, but you might find it for less during sales periods, such as Amazon Prime Day, which in 2022 is on July 12 and 13.
While this review is focused on the standard 2021 tablet, Amazon is also selling the Fire HD 10 Kids 2021 tablet ($200 / £200) aimed at 3-to-7-year-olds, and the Fire HD 10 Kids Pro 2021 tablet for 6-to-12-year-olds ($200 / £200).
Design
Plastic build
Feels durable but there's no water resistance
The Amazon Fire HD 10 (2021) received a slight redesign compared to the 2019 model, weighing slightly less (465g vs. 504g) with a slightly more compact frame. Otherwise, most of the differences between them are internal; these Fire tablets still aren't winning any beauty contests.
Measuring 247 x 166 x 9.2mm with a 10.1-inch LCD display, the Fire HD 10 (2021) has thick bezels on the top and bottom, giving it a lower screen-to-body ratio than recent tablets with edge-to-edge displays.
With a plastic back, the Fire tablet doesn't have the snazzy metal finish you see on some other devices, but at least you don't need to worry as much about scuffs or falls. You do need to watch out for spills, however, as the Amazon Fire HD 10 (2021) has no reported water resistance.
You can choose between one of four colors: black, denim (dark blue), lavender (pinkish) or olive (green). The Plus version only ships in slate gray, with a softer finish that you may find more comfortable to hold.
Like most tablets of this size, we found it most convenient to hold with two hands and the bottom propped against our stomach, or set on a flat surface with a kickstand. Holding it in one hand unsupported while swiping with the other for a prolonged stretch isn't particularly comfortable.
The Fire HD 10 2021 charges using a USB-C 2.0 port located alongside the power button, volume buttons, two mic holes and a 3.5mm headphone jack on the top end of the tablet (when held in portrait orientation). If you buy the Plus edition, you can also charge it with a wireless charger.
You'll also find a microSD card slot on the top right, good for up to 1TB of additional storage. Instead of paying an extra $40 / £40 (around AU$75) for the 64GB variant, you can invest in a great microSD card and add 32GB of storage for a much lower price – or extra storage if 64GB isn't enough.
The dual integrated speakers are located on one long end of the tablet, meaning you get highly directional (and somewhat underwhelming) sound that gets muffled if it points into your desk or bed. If you slot your Fire HD 10 2021 into a case with a kickstand, make sure the audio side sticks upwards.
Display
10.1-inch 1920 x 1200 LCD screen
Quality and brightness are good for the price
Most people buy cheap tablets for comfortably streaming shows in bed, making the quality of the display an important aspect. Thankfully, this display mostly outperforms the tablet's low price.
As you would expect by its name, the Amazon Fire HD 10 (2021) has a 10.1-inch display. It has a 16:10 aspect ratio and a 1920 x 1200 resolution, with its 224 pixels per inch (PPI) matching the PPI of the 2019 model.
For comparison, most of our top tablet picks fall somewhere in the 260–280 PPI range. The Fire HD 10 2021's display is clear and functional; you just won't get the sharpness of an Apple Retina display or the richness of a 2K-resolution, OLED Samsung tablet, either of which would cost much more.
Amazon claims the Fire HD 10 (2021) got a 10% bump in brightness (nits) from the 2019 model. We don't have a specific nit value for the new tablet, but we placed it side by side with an iPad Pro 11 (2018), which hits 600 nits, and found the two fairly comparable at max brightness. We then took it outside and found that the display was visible (though dim) in direct sunlight.
We also don't have an official number for the Fire HD 10 2021's refresh rate, but from our tests and given the price we're almost certain it's 60Hz, like most affordable slates.
As we mentioned above, this Fire tablet has fairly large bezels. While not as stylish as a bezel-less tablet, you'll have far fewer accidental taps with this display because of the unresponsive buffer.
If you purchase the ad-supported Fire HD 10 (2021), your lock screen will show ads while your wallpaper can come from your Amazon Photos account or stock photos. Go ad-free, and your lock screen will be the same as your wallpaper.
Specs, performance and camera
3GB of RAM - 1GB more than its predecessor
No change to the chipset
A slightly upgraded but still weak camera
The last Fire HD 10 generation had a MediaTek MT8183 Helio P60T chipset, plus just 2GB of RAM. With the new Fire HD 10 and Fire HD 10 Plus, you get the same processor paired with 3GB or 4GB of RAM, respectively. The Mali-G72 MP3 GPU also remains unchanged.
Aside from the update to Bluetooth 5.0 and a small rear camera upgrade to 5MP, this tablet shares most of its specs with its predecessor. So how significant is the RAM upgrade for current 2019 Fire tablet owners?
Amazon Fire HD 10 (2021) Specs
Weight: 465g
Dimensions: 247 x 166 x 9.2mm
Display size: 10.1-inch
Display type: IPS LCD
Resolution: 1920 x 1200
Refresh rate: Unknown
Chipset: 2GHz Octa-core (4 Cortex-A73s and 4 Cortex-A53s)
RAM: 3GB
Storage: 32GB / 64GB (up to 1TB expandable storage)
OS: Fire OS 7 / Android 9
Wi-Fi: 802.11 a/b/g/n/ac (dual band)
Rear camera: 5MP
Front camera: 2MP
Battery: Up to 12 hours (Amazon estimate)
During our review, we tested the Amazon Fire HD 10 (2021) in a variety of contexts to put it through its paces. We played games like Bloons TD 6 and Subway Surfers, loaded sites in the Amazon Silk browser, split-screened video and productivity apps, and compared Alexa response time against the Echo Show 8.
Overall, the performance speeds impressed us. Alexa answered our questions promptly, apps and videos loaded without too much delay, the tablet had little difficulty running two apps at once in split-screen mode, and games ran without noticeable lag or stuttering.
Compared to the Echo Show 8, the Fire HD 10 in Show Mode had an almost identical response time to our voice commands and queries. Anyone thinking about buying the smart display could easily invest in the tablet instead, leave it in your kitchen to answer questions, then take advantage of its portability for streaming or work.
The Fire HD 10 (2021) undoubtedly beats the 2019 tablet for speeds, yet not by a significant margin. You'll still notice lag when opening a new app, stuttering as you scroll through the Prime Video library, and even a delay between unlocking your tablet and seeing your apps appear on screen.
Amazon upgraded the rear camera from 2MP to 5MP, making it less of a potato than before, but that doesn't make it actually worth using for photography. Almost any modern phone or tablet hits at least 8MP with both the rear and selfie cameras, while the Fire HD 10 (2021)'s cameras can't generate the same level of detail.
Frankly, it would have made more sense for Amazon to upgrade the 2MP selfie cam. We doubt anyone will use the Fire HD 10 (2021) to take photos regularly, but many people will use it for video calls through the Alexa app. Yet two megapixels isn't going to do your face any favors, as my blurry selfie above will attest.
Software and apps
Lots of big name apps are absent
Fire OS 7 is based off of Android 9, so it's a bit dated
People complain about Apple's walled garden of apps, but Amazon's Fire tablet apps are far more limited in certain categories, preventing you from accessing some of your favorite paid apps.
Streaming videos won't be a problem with Prime Video, Netflix, Disney Plus, Paramount Plus, HBO Max, Twitch, Hulu, and other premium channels available. Music lovers will find themselves pushed to Amazon Music, though, as Amazon only offers radio apps like TuneIn and Pandora as alternatives.
For getting work done on your tablet, you can use the Microsoft Office apps like Word, Excel, Outlook and OneDrive, though some features require a Microsoft 365 subscription. What you won't find are any Google Workspace apps like Gmail or Drive, thanks to Amazon's rivalry with Google. Other popular productivity apps like Photoshop are also absent.
The primary issue here is that Amazon doesn't let you install Google Play Store apps on its Android tablet without sideloading. Amazon's app collection has a few popular third-party brands mixed in with plenty of garbage substitute apps that no one will use unless they're desperate.
So all you can do is hope that apps you like have developers willing to play nice with Amazon.
It's also odd that Amazon is making the same mistake that Google made with Stadia: not pushing its cloud gaming service hard enough on new devices. Why isn't Amazon Luna, which lets you stream demanding games on less powerful devices, available on the Fire HD 10? It would have let Amazon push the tablet as a $150 / £150 'console' for a library of current-gen games. Still, perhaps it will be offered when the service leaves early access.
The Fire app store lacks the selection you'd get with the Apple App Store or Google Play Store. The games we tested ran surprisingly well given the limited RAM, but there's no guarantee that you'll find your favorite Android games on Amazon's app store.
The Amazon Fire HD 10 (2021) still runs off of a skin of Android 9, meaning it lacks the advances of a modern Android 11 phone, let alone new Android 12 features. For example, the new split-screening feature lets you use two apps at once and works pretty well on the Fire HD 10, but you won't be able to use the App Pair feature coming to Android 12 phones this fall.
Another detriment to Amazon's app isolation is that you have to use its web browser, Silk, and there's no easy way to pull your bookmarks from other browsers.
Battery life
Offers all-day life, even with heavy use
Some games drain it a bit faster
No wireless charging
The Amazon Fire HD 10 (2021) showed impressive battery life in our tests across two weeks of use. In one test, we set it to stream movies non-stop at max brightness and volume; it went from 92% to 10% after 11 hours, making it suited for all-day use.
Using less intensive apps like Kindle on adaptive brightness drained the battery at a slightly lower rate, putting the tablet on pace to last even longer than Amazon's 12-hour battery life estimate. On the other hand, certain games tended to burn through the battery slightly faster.
If you plan to use your Fire HD 10 primarily for streaming and reading, you'll be more than satisfied with its longevity. Anyone considering placing it regularly in Show Mode, on the other hand, may want to buy the Fire HD 10 Plus, so they can place it on a wireless charger while in standby mode.
Should I buy the Amazon Fire HD 10 (2021)?
Buy it if...
You regularly use Amazon or Microsoft apps
The Fire HD 10 (2021) puts your new Kindle or Audible purchases front and center on the home screen, makes it easy to control Alexa-compatible smart home tech on the Device Dashboard, and generally prioritizes Amazon software (with some Microsoft workspace apps sprinkled in).
You're on a limited budget
Amazon specializes in inexpensive, reliable tech, and this tablet doesn't have an equal in this price range. If you can spend a couple of hundred extra, you'll find devices with better displays, speeds and apps, but the Fire HD 10 gets the job done without overcharging.
You like binging without worrying about battery life
Some tablets burn through their batteries far faster than their manufacturers claim they'll last. But so far, Amazon's new tablet has lived up to expectations. It will play content for 12 hours straight, or last several days if you use it sporadically.
Don't buy it if...
Your apps aren't available through Amazon
This may seem obvious, but if you subscribe to Apple Music or Google One or any other service that competes with Amazon or its partners, you won't find it on Fire OS and will find the absence frustrating. Other platforms aren't so blatantly anti-competitive and let you make more choices for yourself.
You want a smooth, vibrant display for streaming
We can't expect better than FHD and limited RAM for a $150 tablet, but it's undeniable that more expensive tablets have higher pixels per inch, better color mixing, higher refresh rates and fewer graphical hiccups. Even if you just want a tablet for watching movies, you may want to pay more to treat your eyes to something better.
You want a cutting-edge operating system
iPadOS gives you widgets, Apple Pencil, and better synthesis with other devices; Android tablets have similar innovations. By comparison, Fire OS is static and limited. Don't buy the Fire HD 10 (2021) expecting a dynamic experience.
First reviewed: June 2021