The Lenovo Smart Paper does the one thing I wish my Kindle Scribe could do
Books and writing, put it together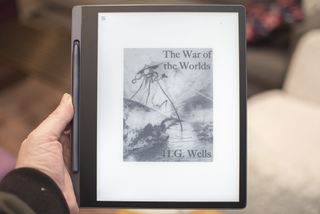 (Image credit: Future / Philip Berne)
I was pleasantly surprised by the Lenovo Smart Paper at CES 2023 in Las Vegas. Writing tablets with E Ink screens, like our favorite Onyx Boox Note Air 2, are hot right now and I've been waiting for the one E Ink tablet that hits all my bases before I call the category a home run. The Lenovo comes close to a win, but it still proves that no writing tablet gets everything right.
I got to check out the Lenovo Smart Paper in person, and it makes quite the competitor to less expensive options like the reMarkable 2 writing tablet and the Amazon Kindle Scribe. All of these devices are in the same price range, just under $400 in the US with a pen and hopefully a book cover, though accessories can get pricey.
Like the Kindle Scribe, the Lenovo Smart Paper has its own light and can give you warm and cool lighting depending on your time of day preferences. It has a huge bezel, and beyond the border there is a small tray where the magnetic stylus sits.
Is this better than hanging the pen off the edge of the tablet, as with most other E Ink writables? It's a clunky-looking design choice, but the Lenovo will come with its own cover, and together this should keep the pen more secure.
There are three things I want an E Ink tablet to do
Because the Lenovo Smart Paper is Android at heart, it can run apps and perform some tasks that its competitors can't handle. It can convert handwriting to text on the fly, and it can even record audio and attempt transcription. The competition in this price range can't do those things.
There are three bases I need a writing tablet to tag. First, I need a place to find books, preferably one of the sources I'm already using, like my public library apps or the Amazon Kindle market. Second, I need good writing options – for note-taking, journaling, planning, and even just doodling.
The last is more difficult. What I want foremost in a writable E Ink tablet is the ability to write on my books. I want to write notes in the margins and circle text on the page. I've been a longtime student and then spent six years as a high school English teacher, and this is why I still rely on paper books. I need to annotate a personal copy of my titles.
Unfortunately, licensing issues make this difficult. It is unclear where the prohibition lies, but manufacturers that give you a bookstore won't let you write on books from that store.
If you buy an Amazon Kindle Scribe, you cannot write in any of your books. You can make sticky notes that are tied to that book, but notes in the margins are verboten. Same for the Kobo book store. The Kobo Elipsa will let you write in other books, including ePub and PDF files, but not the books that you buy or borrow from the Kobo store.
Every writing tablet is missing something crucial
I may never get the writing tablet I want, even though my needs seem so simple. I need a place for books. I need a place for writing. I need to write on books.
Every major tablet is missing something. The reMarkable 2 tablet has no good place for books. The Scribe has no good place for writing. Here comes the Lenovo Smart Paper, and finally I can write in my books! I can make notes and add comments. Home run! Unfortunately, the Lenovo tablet tries to steal home without tagging all of the bases.
The Lenovo Smart Paper has great options for drawing and writing. There are plenty of background templates and nine different pen styles. The stylus is pressure-sensitive and tilt-sensitive, so even calligraphers and serious doodlers will enjoy it.
It also runs Android 11, though you'd hardly know it, and that is by design. Lenovo is not including Google Mobile Services. This means you won't have the Google Play Store on the tablet. You can add apps, but you need to know how to do this on your own, Lenovo won't officially support sideloading.
When I asked Lenovo about this, the response can be puzzlingly summarized as "people will figure it out." You can Google instructions for sideloading .APK files, but that's an inelegant solution. I'm sure that Lenovo is saving money on licensing GMS from Google, but this also means you won't have a Chrome Web browser, Gmail, or even Google Calendar apps preloaded on this Android tablet.
Fix the app problem and it's all good, Lenovo
This is too bad because, unlike the Kindle Scribe, the Lenovo Smart Paper actually lets me write on my books. I can load an ePub file, which the Scribe cannot manage, and write directly on the page.
So, where do I find books? Lenovo will preload an eBooks.com storefront. That's a good solution, and eBooks.com offers a good selection of books that makes it a fine independent competitor to the Amazon Kindle market or the Kobo Store. Of course, eBooks has its own DRM, so I'll have to see if books I buy can be annotated, or just books I load myself.
There is still plenty of time for Lenovo to make some software corrections, including hopefully better support for loading apps. The Lenovo Smart Paper is scheduled to launch late in 2023. It has the right features at the right price, so hopefully, Lenovo can smooth over the experience and give me the writable E Ink tablet that finally does everything I need.
Sign up to receive daily breaking news, reviews, opinion, analysis, deals and more from the world of tech.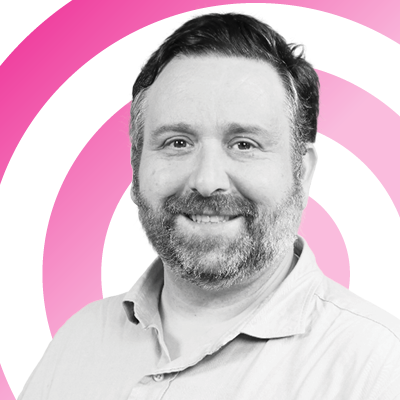 Phil Berne is a preeminent voice in consumer electronics reviews, having reviewed his first device (the Sony D-EJ01 Discman) more than 20 years ago for eTown.com. He has been writing about phones and mobile technology, since before the iPhone, for a variety of sites including PCMag, infoSync, PhoneScoop, and Slashgear. He holds an M.A. in Cultural Theory from Carnegie Mellon University.
Phil was the internal reviewer for Samsung Mobile, writing opinions and review predictions about top secret new devices months before launch. He left in 2017. He worked at an Apple Store near Boston, MA, at the height of iPod popularity. He has been a High School English teacher at Title I schools, and is a certified Lifeguard. His passion is smartphones and wearables, and he is sure that the next big thing will be phones we wear on our faces.