The Mandalorian season 3: release date, trailer, cast, and more
News
Contributions from
last updated
The Mandalorian season 3 has arrived – here's your complete guide on what's worth knowing for the Star Wars show's return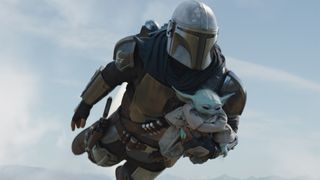 (Image credit: Disney/Lucasfilm)
The Mandalorian season 3: key information
- Releasing on March 1
- Picks up events after The Book of Boba Fett
- Brief plot synopsis revealed
- Official trailer teases new threats and return to Mandalore
- Key cast members returning
- Epic Mandalorian battles teased
- No announcement on fourth season yet
- Set to cross over with other Star Wars TV shows
The Mandalorian season 3 has finally landed. That's right, the hit Star Wars TV show returned on Wednesday, March 1, which finally reunites us with Din Djarin, Grogu, and the rest of the series' fan-favorite characters.
Even with one of the best Disney Plus shows making landfall on our screens, you'll want to get the lowdown on what we know about it. In this guide, we've compiled everything worth knowing about The Mandalorian's third season on Disney Plus. That includes its cast list, story details, trailers, the show's future, and more.
Before you dive in, be sure to read our in-depth Mandalorian season 3 interview with director-executive producer Rick Famuyiwa. And, if you're so inclined, find out why Famuyiwa says some Mandalorian season 3 fan theories are, in fact, true.
Full spoilers follow for The Mandalorian's first two seasons and The Book of Boba Fett.
The Mandalorian season 3 release date
The Mandalorian season 3 will be released on Wednesday, March 1.
Unlike other recent Star Wars shows, such as Andor and Obi-Wan Kenobi, it'll only debut with a one-episode premiere (via Star Wars' Australasia Facebook page). New episodes will air weekly after that.
The Mandalorian season 3 trailer
The Mandalorian season 3's official trailer arrived in January. You'll want to read our Mandalorian season 3 trailer breakdown article for more about its references, Easter eggs, and other story details, too.
Missed the first teaser for The Mandalorian's third season? Watch it below:
The Mandalorian season 3 cast
Here's the confirmed cast list for The Mandalorian season 3:
Pedro Pascal as Din Djarin/The Mandalorian
Grogu as himself
Giancarlo Esposito as Moff Gideon
Katee Sackhoff as Bo-Katan Kryze
Carl Weathers as Greef Karga
Emily Swallow as the Armorer
Omid Abtahi as Doctor Pershing
Amy Sedaris as Peli Motto
Paul Sun-Hyung Lee as Carson Teva
Christopher Lloyd as TBC
Tim Meadows as TBC
Pascal, Esposito, Sackhoff, Swallow, Abtahi, and Weathers all reprise their roles from previous seasons. Gina Carano, who was sacked after she posted an official social media post in early 2021, isn't part of the cast.
Meanwhile, Paul Sun-Hyung Lee is back as New Republic pilot Carson Teva, which was confirmed in the official trailer. Having appeared in the Back to the Future and Star Trek franchises, Christopher Lloyd will make his Star Wars debut in an undisclosed role, while Saturday Night Live veteran Tim Meadows is also reportedly playing a part.
As for those behind the camera, Lucasfilm and Disney have confirmed its directorial line-up for The Mandalorian season 3. Rick Famuyiwa, who holds a dual director-producer role on the space western-styled series, will helm the first and final episodes of season 3. Rachel Morrison, Lee Isaac Chung, Carl Weathers, Peter Ramsey, and Bryce Dallas Howard have directed episodes, too.
The Mandalorian season 3 story
Spoilers follow for The Mandalorian season 2 and The Book of Boba Fett.
Here's a brief story synopsis, courtesy of Lucasfilm: "The journeys of the Mandalorian through the Star Wars galaxy continue. Once a lone bounty hunter, Din Djarin has reunited with Grogu. Meanwhile, the New Republic struggles to lead the galaxy away from its dark history. The Mandalorian will cross paths with old allies and make new enemies as he and Grogu continue their journey together."
Wait – didn't Din and Grogu part ways in season 2? Yes, but those who watched The Book of Boba Fett (and for those who can't be bothered streaming it), they reunited in the latter show's season finale.
In short: midway through Boba Fett's standalone series (or it was, until Mando showed up in episode 5), Luke offered Grogu a choice – stay with him to continue his Jedi training, or go back to Din. Grogu opted for the latter, thus Din and Baby Yoda have joined forces once more. We saw them fly off into space in Din's rebuilt Naboo Starfighter in Boba Fett episode 7, paving the way for new adventures in The Mandalorian season 3.
#TheMandalorian and #Grogu's journey continues.The new season of The Mandalorian starts streaming March 1 on @DisneyPlus. pic.twitter.com/39wrsYgyN5February 1, 2023
Explaining why the pair were reunited in Boba Fett's show, co-creator and executive producer Jon Favreau told Empire: "We couldn't just hit a hard reset. It's going to be interesting to see how this unfolds for people who may not have seen The Book Of Boba Fett. But I think Boba Fett offered time to pass.
"You saw what Mando was like without Baby Yoda and we saw what Grogu was like without the Mandalorian and neither of them was doing too good. So them coming back together was a really good plot point that allows us to jump back into season 3 while maintaining the central relationship."
Teasing what else we can expect from Baby Yoda this time around, Rick Famuyiwa told Empire: "In incremental ways, he's growing as a character and in this partnership with Mando. As this relationship grows, Grogu has to become more central in things that are going on. He's now firmly at the hip of Mando in every adventure. The purity of the character brings out the best in the people round him. This next season continues to attach to that idea."
Now that Grogu's back with his surrogate dad – and with some time at Jedi schooling behind him – then, The Mandalorian season 3 will see Grogu flex even more Force-based powers than before. "This child has magic powers, [is] 50 years old, and can see the future," Giancarlo Esposito told a young fan at GalaxyCon (via SlashFilm). "And we want everyone to know, eventually on this show, that [Grogu] could save our universe."
So in addition to levitating, choking, and looking implausibly cute, Baby Yoda can apparently see the future – which is an ability we've come across before in the troubled visions of Anakin and Luke Skywalker. Per season 3's official trailer, Grogu will also be able to use his powers to see into his past. Based on that teaser, we're sure to see flashbacks of Grogu's time at the Jedi temple and potentially see how he survived Order 66, aka the Empire's genocidal attack on the Jedi.
His clairvoyant abilities possibly explain why Imperial officers have been so keen to get his hands on the implausibly cute green kid, though Esposito did add that Gideon's pursuit of Grogu is "for a very different reason than many people think".
Could that have something to do with a cloning subplot? The Mandalorian season 2 teased the Empire's remnant forces – read: Doctor Pershing – were trying to use Grogu's blood to create new Force wielders (they failed, FYI). It seems the show was pointing at the cloned origins of Supreme Leader Snoke, aka the sequel trilogy's puppet villain, and the eventual return of Emperor Palpatine, which would make us sigh in Star Wars: The Rise of Skywalker.
And what of Gideon himself, who was incarcerated at the end of season 2? Esposito told TVLine: "You're going to get some Moff Gideon. I mean, I always want more Moff Gideon – I've got to be honest with you! But, you know, you're going to get a good amount. You always want to see the phoenix rise from the ashes. Or, you want to see a nefarious villain rise from the ashes. And believe me, he will."
Moff Gideon's ship is just one small part of the Imperial remnant forces out there waiting to be dealt with by the New Republic. For instance, we know Imperial leader Grand Admiral Thrawn is alive and being hunted by Ahsoka Tano, Anakin Skywalker's former apprentice. We expect Ahsoka's pursuit of Thrawn to form the basis of her live-action show, but it's possible we'll see it picked up in The Mandalorian season 3 as well.
Then there's the story of the Mandalorians and the Darksaber, which was also significantly advanced by The Book of Boba Fett.
At the end of The Mandalorian season 2, Mando won the Darksaber weapon – the Mandalorian blade highly coveted by Bo-Katan Kryze in her journey to reclaim the throne of Mandalore – from Moff Gideon. However, he couldn't simply hand it over to Bo-Katan, causing tensions to mount as it became clear the pair would have to duel in order for Bo-Katan to reclaim the weapon.
Things got more complicated in The Book of Boba Fett when Mando tracked down his old cohorts from the Children of the Watch, a Mandalorian tribe, on the spectacular Glavis Ringworld. Although the Armorer agreed to fashion Grogu's new beskar undershirt, Mando faced a challenge from Paz Vizsla (another Children of the Watch member) for the Darksaber. Mando won the fight, but he's still got a lot to learn about wielding it.
Unfortunately, he'll have to do it without guidance from the Armorer, who has cast him out of the order. Mando's crime? Removing his helmet in front of Grogu. According to Mandalorian creed, the only way Din can redeem himself is by visiting the living waters beneath the mines of Mandalore, which may prove problematic seeing as the mines have been destroyed. Based on the official trailer, we know he's heading back to Mandalore, so maybe he realizes there's another way he can be forgiven for his transgressions.
Mando also has unfinished business with Kryze who has no issue with removing helmets. She also claims the Children of the Watch "fractured our people" in the first teaser, before pointedly asking, "Where were you then?". In other words, it seems the future of Mandalore's people is going to be a major plot point.
New character posters for #TheMandalorian and #Grogu, #BoKatan and #GreefKarga have arrived.The new season starts streaming March 1 on @DisneyPlus. pic.twitter.com/MYRPeu5isAFebruary 22, 2023
Could we see a Mandalorian civil war erupt? Based on the various Mandalorian factions that are scattered across the cosmos, maybe. It seems Din is trying to recruit some groups to his side and rally them into returning to their home world. Speaking to Empire, lead star Pedro Pascal hinted that "delicious doors are flying wide open" when it comes to exploring Mandalore and its people, adding: "The world opens up in terms of Mandalore and Mandalorians. That means so many different facets of culture, politics, rules, and discoveries."
"As you witnessed in the trailer there are a lot more Mandalorians in the season and with that many Mandalorians in one room, things are bound to go wrong," Bo-Katan actor Katee Sakhhoff also teased (via Yahoo Entertainment). "I think this season is different, I think that it is The Mandalorian, it's everything that people have come to love and know about the show, but I do believe that this season is a little faster paced and I do believe that tonally it's like a moving train – you've just gotta get on."
If a war does break out, what can we expect? Pascal wasn't giving too much away during a chat with Jimmy Fallon recently, but he did offer a little tempting nugget, saying: "I will say there will be more Mandalorians. A lot of them. Big epic battle… plural? Maybe?" Oh, you sly thing, Pedro.
The Mandalorian season 3 spin-offs explained
Spin-offs wise, The Book of Boba Fett has come and gone, though there are rumors that a second season is in early development. As mentioned in our plot section, Ahsoka's TV spin-off is eyeing a 2023 release (star Rosario Dawson says it's coming in August), with Dave Filoni leading its development.
Both shows run concurrent to The Mandalorian, i.e. around five years after Return of the Jedi. The new Jude Law-starring Skeleton Crew is also set in the New Republic era, so expect some narrative overlapping here. However, Favreau says Skeleton Crew characters won't make their debuts in The Mandalorian season 3 (via Variety), though there will be some crossover between Ahsoka, The Mandalorian, and Skeleton Crew (per Twitter user Seif Zaki).
It sounds to us, then, that we're going to see either a miniseries or movie-length episode that brings these stories together – though we wouldn't expect to see that for a few years.
Will The Mandalorian end with season 3?
Thankfully, The Mandalorian season 3 won't be the final entry in the series.
Speaking on French TV show BMFTV (via Twitter user Nico Behar), showrunner Jon Favreau confirmed the show's fourth season has been written. According to The Bespin Bulletin, filming will begin in October 2023.
In a chat with GamesRadar, Favreau also confirmed The Mandalorian season 4 won't be its last entry, too, saying: "We'll have resolution over time with these characters, I think that how these characters fit into the larger scope and scale, but it's not like there's a finale that we're building to that I have in mind.
"Quite the contrary, I love for these stories to go on and on. And so these characters potentially could be with us for a while, and I really love telling stories in their voice, and I love the way the adventures unfold and I'm looking forward to doing much more." So are we, Jon. So are we.
For more Star Wars content, find out how to watch the Star Wars movies in order. Alternatively, read our new Star Wars TV shows and movies explained guide for more on what's to come in that galaxy far, far away.
Get daily insight, inspiration and deals in your inbox
Get the hottest deals available in your inbox plus news, reviews, opinion, analysis and more from the TechRadar team.
Senior Entertainment Reporter
As TechRadar's senior entertainment reporter, Tom covers all of the latest movies, TV shows, and streaming service news that you need to know about. You'll regularly find him writing about the Marvel Cinematic Universe, Star Wars, Netflix, Prime Video, Disney Plus, and many other topics of interest.
An NCTJ-accredited journalist, Tom also writes reviews, analytical articles, opinion pieces, and interview-led features on the biggest franchises, actors, directors and other industry leaders. You may see his quotes pop up in the odd official Marvel Studios video, too, such as this Moon Knight TV spot.
Away from work, Tom can be found checking out the latest video games, immersing himself in his favorite sporting pastime of football, reading the many unread books on his shelf, staying fit at the gym, and petting every dog he comes across.

Got a scoop, interesting story, or an intriguing angle on the latest news in entertainment? Feel free to drop him a line.