Ahsoka Tano star Rosario Dawson has seemingly revealed when the Star Wars character's TV series will make its long-awaited debut.
Speaking on Today With Hoda & Jenna (opens in new tab), Dawson suggested that the forthcoming show would land on Disney Plus in late 2023.
Responding to a comment that Dawson will star as fan-favorite Jedi Ahsoka Tano in her own spin-off series, the actor said: "Yeah, that's probably going to come out in the fall. We're going to have [Disney Plus movie] Haunted Mansion coming out in August first." Dawson also stars in Haunted Mansion, hence the reference.
This isn't the first time Dawson has supposedly leaked information about Ahsoka's TV series ahead of schedule. In June 2022, Dawson told Vanity Fair (opens in new tab) she had her knuckles wrapped by Lucasfilm and Disney for apparently confirming Hayden Christensen's Darth Vader would appear in the Disney Plus project. It's unclear if Christensen will cameo in Ahsoka's standalone series, but Dawson's comments suggest he will.
Ahsoka's TV show has been in development since December 2020. At the time, Lucasfilm confirmed its plan to create multiple spin-offs from The Mandalorian, its hit Star Wars TV show, including a limited series focusing on Ahsoka Tano.
Filming wrapped in October 2022, but there's been little in the way of official updates about how its post-production phase is going. All we know is that Ahsoka's TV show is set to arrive sometime in 2023. Thanks to Dawson, though, we can expect the next live-action Star Wars series – after The Mandalorian season 3 airs in March, anyway – to leap onto Disney Plus in the next seven to eight months.
Analysis: a Padawan mistake or a Jedi mind trick?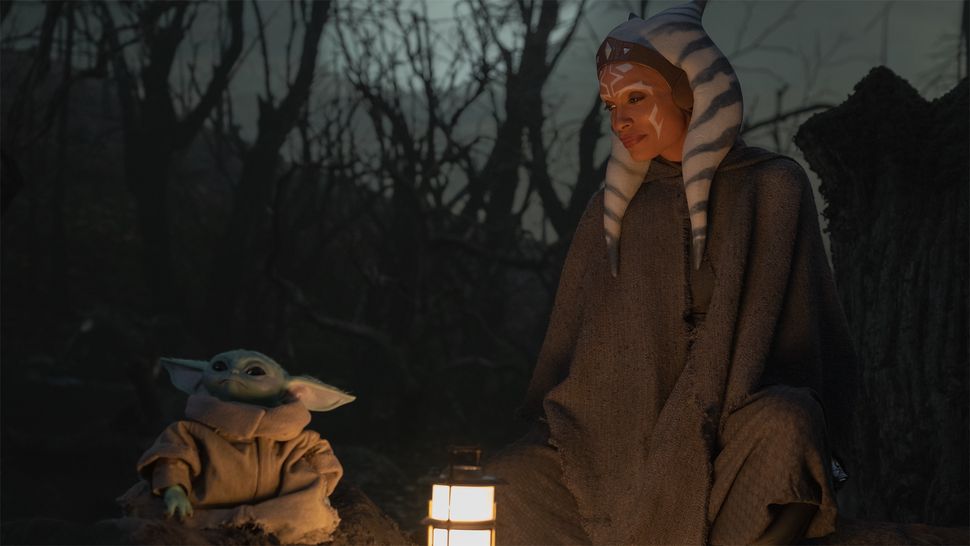 As mentioned, Dawson has a tendency to reveal important information about Ahsoka Tano's TV show before she should. And, on this occasion, it seems there's some truth to her launch window claim.
For one, Dawson also states that the Haunted Mansion movie will debut on Disney Plus in August. Some fans might think she's got that launch month wrong, with the supernatural comedy flick seemingly set to arrive on July 28. However, a slide on Disney's Q1 2023 earnings presentation (opens in new tab) reveals Haunted Mansion will air on August 11, which proves Dawson is correct.
The same slideshow doesn't provide further insights into Ahsoka's release date, but it's safe to assume that its lead star has some idea of when it'll arrive, even if Dawson doesn't know exactly when that'll be. Disney's Q1 2023 earnings presentation lists every forthcoming Disney Plus and Hulu show's arrival up to June 2023 – including Star Wars: Visions season 2, which launches in May – and Ahsoka isn't among them. It's not a stretch, then, for Dawson to seemingly confirm Ahsoka's TV series will land in the second half of the year.
There is the possibility that Dawson is playing a Jedi mind trick on us, though. With Lucasfilm and Disney previously pulling her up over Christensen's involvement in the show, Dawson's latest comments could be a diversion tactic to try and throw us off the scent over Ahsoka's release date.
Dawson has been wrong about shows set to debut on Disney Plus in the past, too. In August 2022, Dawson suggested that Jon Bernthal's Punisher was getting a Disney Plus series set in the Marvel Cinematic Universe (MCU). She later backtracked on those comments, saying she'd been fooled by online pranksters.
So, what should you believe? Our opinion is that Dawson is telling the truth about Ahsoka's launch window. She's too close to its production to not have insider knowledge. Based on her faux pas concerning Christensen's supposed involvement, revealing Ahsoka's potential launch window (rather than its official release date) doesn't give anything major away, either. Hopefully, we'll learn about an official premiere date at Star Wars Celebration 2023, which will take place in early April.
For more Star Wars coverage, find out how to watch the Star Wars movies in order. Alternatively, read our new Star Wars movies and TV shows explained article for more on every upcoming Lucasfilm project.