The Samsung Galaxy Watch is the name of the latest smartwatch from Samsung, finally putting to rest rumors that the wearable was going to be called the Samsung Gear S4 or Samsung Gear Sport 2.
The Galaxy Watch comes in two different sizes – 42mm and 46mm – and was announced alongside the Samsung Galaxy Note 9.
Be sure to read our hands on Samsung Galaxy Watch review, or scroll down below in the meantime to see everything we know so far.
Cut to the chase
What is it? Samsung's latest top-end smartwatch
When is it out? Just announced, on sale end of August
What will it cost? Starts at $329 / £279 (about AU$450)
Samsung Galaxy Watch release date and price
The Samsung Galaxy Watch was announced at the latest Samsung Unpacked event in New York on August 9, but you won't be able to get it on your wrist just yet.
The release date is set in the US for August 26, while those in the UK will have to wait until September 6 and Australia is waiting even longer until some point in October. Both the UK and US can pre-order devices now, but those in the former can only buy the Bluetooth version of the watch.
The LTE variant is coming to the UK, but Samsung has said it'll be "later in the year" and you can't currently pre-order it. When it does come to the UK, EE will be the first network to offer it.
If you buy in the UK directly from Samsung, you'll also get a free Wireless Charger Duo that is capable of recharging Qi-compatible mobile phones at the same time as your smartwatch. That's normally worth £89, while those in the US will get a free extra watch band when pre-ordering.
Pricing gets a little more complicated, and we don't have exact pricing for Australia so we're estimating those prices for now. The smaller 42mm watch is $329.99 / £279 (about AU$490) for the Bluetooth version, and the LTE version is $399.99 in the US if you're happy to go with T-Mobile.
For the larger 46mm version of the watch, you'll be able to buy it at $349.99 / £299 (about AU$520) for Bluetooth, or $379.99 for the LTE version with T-Mobile. If you need anymore details about the release, you should be able to find them on Samsung's website.
Is this the Samsung Gear S4?
In a way. This is the device long rumored to be called the Samsung Gear S4, but instead Samsung has gone for a rebrand and called its latest smartwatch the Galaxy Watch.
It's very much a successor to the Gear S3 and Gear Sport, though, with a similar design and specs – it's just not the Gear S4.
What's odd here is the use of the word 'Galaxy' rather than 'Gear'. The original Samsung wearable, the Galaxy Gear, was designated that as it used a version of Android... once that was removed and moved to Tizen, Samsung named its range Gear to make sure there was no confusion.
But it looks like the Galaxy brand is king once more, as this watch is certainly running Tizen...
To see the Samsung Galaxy Watch in action, watch our hands-on video below:
Samsung Galaxy Watch design and display
The Galaxy Watch comes in two sizes: 42mm or 46mm. Focusing on the larger watch first, it's 13mm thick, and weighs 63g without the strap. It comes in silver – that's the only color option, but you can choose from official 22mm straps in black, blue or grey.
Image 1 of 2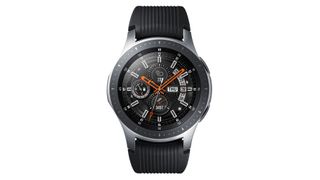 Image 2 of 2
The smaller variant weighs 49g without its strap, and its a little thinner at 12.7mm. Here you've got the choice of Midnight Black or Rose Gold colors.
The strap colors for this model are black, grey, red yellow, purple, beige or brown, plus you can use other 22mm straps if you don't fancy the colors directly from Samsung.
Both versions of the watch come with a rotating bezel, which is a unique way of interacting with a smartwatch that we've seen on previous Samsung devices. Samsung says you have the choice of 60,000 watch faces to enable you to personalize things properly.
Image 1 of 4
Image 2 of 4
Image 3 of 4
Image 4 of 4
It's also swim-ready, with waterproofing up to 5 meters. There's an AMOLED screen on the watch, although we don't currently know the screen size for either watch, or the resolution.
As for the display, the larger of the two watches comes with a 1.3-inch circular AMOLED screen, while the smaller comes with a 1.2-inch display. Both have a resolution of 360 x 360 and are protected by Corning Gorilla DX+ tech.
Samsung Galaxy Watch battery life and power
Samsung Galaxy Watch specs
Sizes: 46mm or 42mm
Screen size: Either 1.3-inch or 1.2-inch
Screen type: Circular Super AMOLED, 360 x 360
Battery: 472mAh in 46mm, 270mAh in 42mm
Chipset: Exynos 9110 Dual core 1.15GHz
RAM: 1.5GB in LTE variants, 768MB in Bluetooth
Storage: 4GB
Software: Tizen 4
The 46mm Samsung Galaxy Watch has a huge 472mAh battery, while the smaller model is only a 270mAh cell. Samsung said on stage that you can use the Galaxy Watch for seven days without having to recharge it, but what that'll translate to in terms of real-life usage remains to be seen.
If the 42mm one can do a whole seven days from that size cell, we'd be surprised. It may be that Samsung is talking about a low-energy mode that will turn off some of the main Galaxy Watch features.
There's an LTE version of both sizes of watch, which means you'll be able to get all of your notifications and more, even if you don't have your phone on you while you're out and about.
You'll have to have an LTE plan enabled for you to do this though, so it may cost you a bit extra each month. If you don't want that, there's a Bluetooth only version of each watch that's a bit cheaper too. All versions of the watch have 4GB of internal memory.
Inside the watch is an Exynos 9110 dual-core 1.15GHz chipset, which is a brand-new piece of tech we haven't seen in any device before. The 4G versions come with 1.5GB of RAM, while there's 768MB of RAM inside the Bluetooth variants.
It'll be interesting to see if there's a major difference in terms of power during our full review.
Samsung Galaxy Watch fitness features
Stress management is a new feature on the watch. It'll keep an eye on your heart rate, and if it's too high it'll give you a notification to sit down and have a breather.
For fitness, the watch will automatically detect the workouts you're doing, with plenty of options including cycling, yoga and more. There are 21 new indoor exercises for the Galaxy Watch 39 exercises overall.
The watch comes with sleep-tracking features as well. Samsung claims this will give you the power to monitor and manage your sleep, but it's not clear what the company has brought to the watch over the Gear Sport or Gear Fit 2 Pro.
Samsung Galaxy Watch Bixby and software
Bixby was mentioned on stage briefly during the Galaxy Watch segment, and it seems the new voice assistant will be coming to the watch too. Exactly how that will work is unclear, but it's likely to replace the S Voice features and allow you to speak to your watch.
The watch is running Tizen software even though it was previously rumored to come with Google's Wear OS software instead. Tizen 4 is the exact software you'll find when you first start up the watch, but Samsung has yet to reveal the main software changes you'll find.
There is a new feature called Daily Briefing, and that's designed to give you an overview of your day including your schedule, a weather report and more to your wrist immediately when you wake up.
There's even a watch face in the Galaxy app store that will give you calendar details directly to your wrist.
Below you can see some of our first photos with the Samsung Galaxy Watch...
Image 1 of 7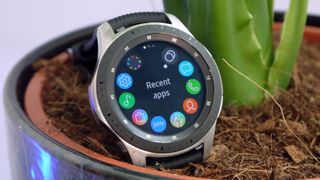 Image 2 of 7
Image 3 of 7
Image 4 of 7
Image 5 of 7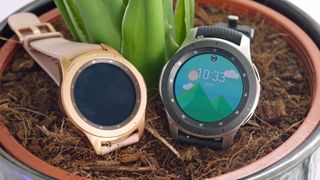 Image 6 of 7
Image 7 of 7