Why you can trust TechRadar We spend hours testing every product or service we review, so you can be sure you're buying the best. Find out more about how we test.
Fitness
Six auto-tracked exercises and 39 total exercises
Includes rarer ones for indoor equipment and strength training
Great sleep tracking, sedentary reminders, and 1:1 challenges
Needs better stress management tracker and group challenges
The Samsung Galaxy Watch puts more emphasis on fitness, with new auto-tracked workouts. Cycling, elliptical trainer, and rowing join returning auto-tracked exercises walking, running, and dynamic workout for a total of six exercises that you don't need to worry about activating ahead of time.
For example, every time we walked for 10 minutes the watch would reliably – and often unexpectedly – trigger the exercise tracker that we forgot to activate while speedily navigating New York City's bustling streets. It was always nice to get these prompts, and to know that the Galaxy Watch was keeping a count of our steps, calories burned, and distance.
That doesn't mean you should rely on the watch to trigger every exercise, or their close variants. We took the Galaxy Watch downhill mountain-biking and, to our dismay (but not total shock), it didn't auto-track that exercise under cycling or anything else.
Samsung's watch tracks 39 exercises in total, including 21 indoor exercises and strength-training exercises we rarely see on dapper-looking smartwatches (the LG Watch Sport is the other exception).
Running
Walking
Cycling
Swimming
Other workout
Treadmill
Exercise Bike
Weight machine
Circuit training
Arm curls
Arm extensions
Back extensions
Bench press
Burpee test
Crunches
Deadlifts
Elliptical trainer
Front raises
Hiking
Lat pulldowns
Lateral raises
Legs curls
Leg extensions
Leg press
Leg raises
Lunges
Mountain climbers
Pilates
Plank
Pull-ups
Push-ups
Rowing machine
Shoulder presses
Sit-ups
Squats
Star jumps
Step machine
Stretching
Yoga
Manual and auto-tracked runs were more accurate on the watch than on a Fitbit Versa (which tended to inflate steps and distance just a bit) and a generic smartphone activity tracking app (which inflated steps and distance a lot), with all trying to accomplish the same task. But the watch wasn't as successful at tracking sit-ups; at times, having to do five sit-ups for every three counted didn't inspire us with confidence.
Throughout the day the watch vibrates if you're too sedentary, as if it's giving you a gentle nudge to get moving. It'll pester you to do Torso Twists (and give you the option to switch that out for another exercise), and count them like it doesn't believe you'll do it – it follows through with specifics, and doesn't just ask you to stand up for one minute each hour.
Another motivator is challenging friends in the 'Together' tab of Samsung Health. This lets you compete with a buddy to see who can expend more energy each day. The good news is that your friend doesn't need to have the new Samsung Galaxy Watch to compete – just any Gear watch or the app. The bad news is that this is a one-on-one challenge, so you can't stage a competition with a group of friends.
We found Samsung's new stress management tracker to be a neat idea, albeit fairly pointless in its execution. It's coupled with breathing exercises which we found calming – 15 seconds to breath in... and 15 seconds to breath out. All of this would have been better if the stress management feature truly worked automatically, like it's supposed to. Instead, we had to manually measure our stress – fine! – and it just seems to base everything on our heart rate. In the end, we were only stressed about this feature not working as advertised. Go figure.
Sleep tracking does work as advertised – for the most part. It determines your sleep efficiency percentage with a three-tier breakdown of your time in bed: motionless, light, and restless sleep. You can rate your sleep and follow a timeline of your sleep trend, though you'll have to draw your own conclusions from this data – there are no pointers on how to get a better night's sleep.
The Samsung Galaxy Watch tracks sleep automatically, and the metrics appear to be accurate. We did tire of wearing it on our wrist some nights – as mentioned the 46mm version is especially big – but we still went to bed wearing the watch every night because we wanted our zzzs tracked, and we noticed that the Watch lost very little battery life overnight.
Software and apps
The user interface is our favorite so far on a smartwatch
Includes 60,000 watch faces and Spotify offline playlists
You won't find Google Maps, WhatsApp, Facebook Messenger, Lyft or many other apps
Bixby is just terrible compared to Google Assistant and Siri
Samsung Pay lacks novel MST for non-NFC contactless payments
The Samsung Galaxy Watch has polished software – it just doesn't have enough to it. And that's our biggest complaint about this smartwatch.
Lift the Galaxy Watch off its wireless charging pedestal and it greets you with a 'Hi' or 'Hello,' then draws a little smiley face on the round display. It's warm, it's inviting, and it makes the Apple Watch – made by the company that insisted on making the Macintosh 'talk' at its on-stage debut in 1984 – seem unimaginative and pedestrian. Everything about Samsung's watch is more animated.
As we shifted through the menus with the rotating bezel, the colorful, creative-looking widgets stood out as being easy to read, yet informative. The weather widget is a great example. It displays the temperature and a sometimes-sunny icon in the biggest font, with highs and lows underneath in smaller characters. There are blue precipitation percentage and red UV level metrics that run along the circular perimeter of the display. Tapping into this menu reveals a just-as-colorful five-day forecast.
Every morning we were greeted with a Daily Briefing, a rundown of our schedule, the weather, and other important items. And sometimes our planned agenda didn't agree with impending weather conditions, which was helpful to know before setting out for the day.
The Galaxy Watch widgets and settings are customizable, down to the quick settings pulldown menu at the top, and you can actually edit the row of quick settings icons to your liking – something we wanted from the watchOS 5 and still haven't gotten yet.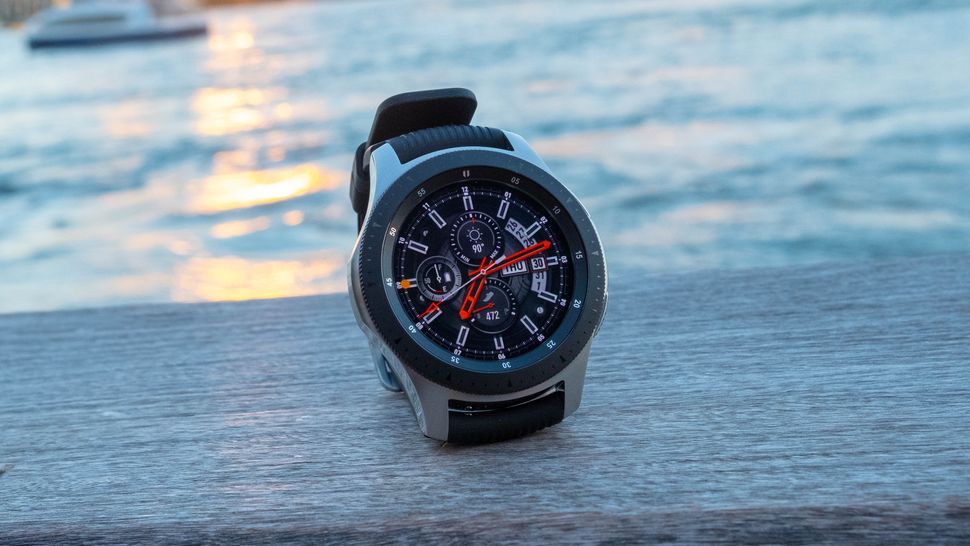 Samsung touted two software perks at launch and delivered: Tizen is up to 60,000 watch faces, giving you choices over styling (and you can develop your own if you don't like what's available), and its partnership with Spotify allows for offline music playback, which is great if you're looking to ditch your smartphone but don't want to manually load music onto the watch's 4GB of internal storage space.
If there's one thing Samsung gets right, it's creating a well-laid-out operating system; if there's one thing the company gets wrong, it's consistently failing to lure app developers to its platform. It's also an extra step to download 'Gear' apps (yes, they're still named this in the phone app and the Galaxy Apps store). Apps on your phone don't automatically show up on your watch.
There's no Google Maps or native map software for your wrist (the Here maps app is a good third-party alternative), no Lyft (even if Uber is here); and there's no Facebook Messenger or WhatsApp, although there are a lot of sketchy alternatives, if you want to risk your message privacy.
You can get notifications for these messages and even respond to them, but starting a new conversation will see you fetching your phone. And while Samsung Pay is present, the company cut the Magnetic Secure Transmission (MST) technology that made it special by working with non-NFC credit card machines – yet MST was in the Gear S3 watches.
Bixby, Samsung's unlikable voice assistant on its phones (and, soon, the Samsung Galaxy Home speaker), is no better than S Voice on the Gear S3, to the point where we missed Google Assistant, and even the sometimes-mediocre Siri, because they understood our commands.
Not everyone needs a voice assistant on their watch, or a good third-party app ecosystem – a lot of app developers are pulling away from Apple's watchOS platform. For you, having a well-polished operating system for core content may be more important than having a deep one.
Image Credit: TechRadar