Why you can trust TechRadar We spend hours testing every product or service we review, so you can be sure you're buying the best. Find out more about how we test.
Battery
46mm watch has four-day battery life; one test went into part of fifth day
42mm version is rated for three-day battery life with a much smaller capacity
Helpful low-power mode hung onto the last 2% for us for hours
Unhelpful wireless charging pedestal uses micro USB and is priority – don't lose it!
We got a solid four days out of the Samsung Galaxy Watch battery, running three different 100% to 0% tests over the course of 12 days. It didn't quit early any time we tested it under normal conditions, meaning without the always-on display enabled (it's turned off by default).
In fact, in one test the 472mAh battery (the capacity of the 46mm watch) proved it could chug along for part of a fifth day before dying on our wrist. This was all while using the heart rate monitor, tracking exercises, tracking sleep, and placing a wrist-initiated 'phone' call.
Samsung's power-saving mode is even more impressive. One evening we turned it on with 2% battery left and the watch stayed alive for the remainder of that night – and we could still get calls and messages in this basic mode. By contrast the Apple Watch 4 low-power mode tells you... the time.
We did see a significant drop in battery life when we activated the always-on display. Screen-on time causes the biggest battery drain, even though the screen is dimly lit when asleep.
The smaller 42mm Galaxy Watch is rated for three days of use, which is to be expected as it has a smaller 270mAh battery. We'll be sure to test this at a later date when we get the smaller watch in to test.
What we didn't foresee was that the included wireless charging pedestal was the only way we could charge this smartwatch – not even Samsung's fast wireless charging pad would charge it. Yes, Samsung's Watch uses a special wireless charger, and that means you could easily get stuck with a dead Galaxy Watch and have to go back to the office to fetch the tiny pedestal – which, by the way, uses a micro USB, not USB-C, cable.
Samsung's solution? Buy its new Wireless Charger Duo, of course, which will charge your phone and smartwatch at the same time. It's also Samsung's answer to Apple's AirPower.
Android and iPhone compatibility
Best with a Samsung phone, or another Android phone
Works with iPhones, but no calls, messaging, or email
You still get message notifications from an iOS device
The Samsung Galaxy Watch works best with Samsung phones, which come with the Gear app already loaded up. But it works with other new and old Android phones, too – they just need to run Android 5.0 or later, which is Android Lollipop from 2014. We used the Pixel 2 in our testing when pairing the watch with a non-Samsung phone.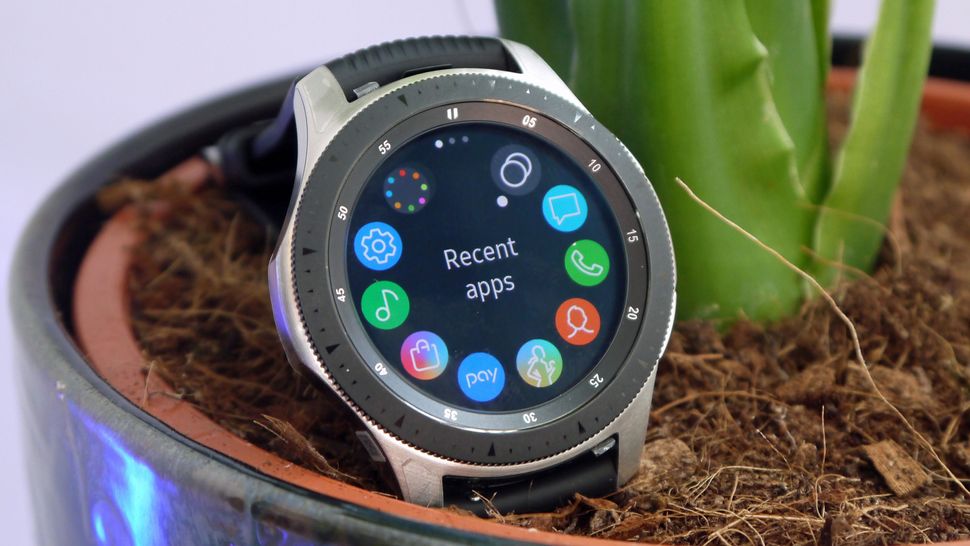 We also tested our Galaxy Watch out with a third device – an iPhone X. The iPhone 5 and above are compatible with the smartwatch (running iOS 9 or newer), but with more 'read' than 'write' functionality. You can read iMessage notifications, but you can't reply to them and you can't initiate any communications – there's no email, phone call, or messaging app. We also had to open the Samsung Gear app every once in a while on the iPhone to keep the connection active, otherwise the watch would go into Standalone mode.
This smartwatch is a better companion to Android phones, specifically a Samsung phone, like the Note 9.
Image Credit: TechRadar