Update: There's further evidence that the Galaxy S9 may turn to a form of Face Unlock called Intelligent Scan Biometrics, leaving the Note 9 to become the first Samsung phone with an in-screen fingerprint sensor, as we theorize below.
Two major developments happened this January: the Samsung Galaxy S9 launch date was officially announced for February 25, and we got to test out the world's first phone with an in-screen fingerprint sensor – but that's in a Chinese phone you'll probably never be able to buy.
There needs to be a wedding date to marry these two technologies together, as Samsung desperately needs an in-screen fingerprint sensor. Its placement of the sensor on the Samsung Galaxy S8 and Galaxy S8 Plus – on the back of the phone, off to the side of the rear camera – didn't agree with anyone.
Luckily for Samsung, and for all phone manufacturers in a world where all-screen designs increasingly rule and home buttons have no place, we know that the fingerprint sensor is able return to its original front-of-the-phone location digitally. iPhone X users who are struggling with Apple's transition from Touch ID to Face ID, don't worry. There's hope for you, too.
Both Synaptics and Qualcomm are developing in-screen solutions. Here's what we experienced from our demo of the in-screen fingerprint sensor, and why we're hopeful that you'll see it in a Samsung smartphone this year.
How it works
The fascinating technical details behind in-screen fingerprint sensors make this furustic idea seem even more revolutionary for smartphones.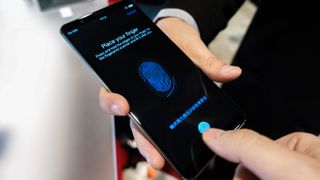 The tiny embedded scanner was able to read our fingerprint from behind the glass and the display, looking through invisible spaces in between the display pixels, according to Synaptics in our demo. For this reason, the technology works only on OLED screens (another knock on LCD)
Everything felt natural. We placed our thumb in the familiar front location at the bottom of the display, the fingerprint icon instantly lit up around our finger to capture our print and within half a second the phone was unlocked.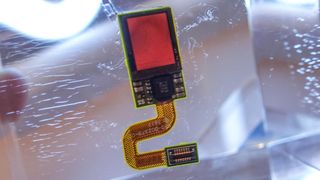 This groundbreaking in-screen fingerprint sensor demo didn't happen first on the Galaxy S9, surprisingly. The world had hopeful, however, that it would be there when the phone launched – such a sensor has been rumored ever since the Galaxy S8, and again in the lead-up to the Note 8 launch. Apple and the iPhone X went through the same series of rumors followed by dashed hopes.
Instead, the Chinese company Vivo was the first to show off the Synaptics in-screen fingerprint sensor on the Vivo X20 Plus UD due to launch later this year, which you probably won't be able to buy since it isn't due for worldwide release.
But the Synaptics demo had a lot of promise and gave us a new hope. Though it wasn't the fastest fingerprint sensor we've ever used, it's fast enough. To give you an idea, it was a bit slower than current fingerprint sensors, roughly the speed of the first Touch ID fingerprint scanner from Apple. Of course, Synaptics, known for its laptop touchpads, says it's refining the technology.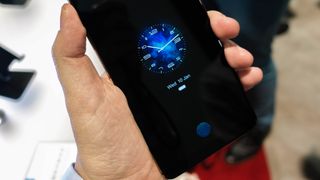 Will the Galaxy S9 or Note 9 get it?
Everything seems to line up: we just demoed the first phone with an in-screen fingerprint sensor, the Galaxy S9 launch event is next month with a rumored March 16 release date, and Samsung needs this technology in its phones.
Alas, current leaks of the Samsung Galaxy S9 and Galaxy S9 Plus don't give us much hope for an in-screen fingerprint sensor on these phones. Another year of dashed hopes, but we are at least due to get better placement: a sensor on the back, underneath the rear camera and not awkwardly to the side of it.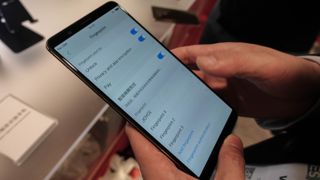 So where does that leave us? Well, the Samsung Galaxy Note 9 is then likely to be the beneficiary of the first in-screen fingerprint sensor in a Samsung phone, whether it's from Synaptics or Samsung's system-on-a-chip partner for the US, Qualcomm.
The Note 9 makes a lot of sense, too. Samsung has always treated the Note as its more experimental smartphone, and this will be a key feature to differentiate it from the Galaxy S9 Plus, in addition to the Note's S Pen stylus and its increasingly meaningless 0.1 inch of extra screen space. Samsung will also likely launch it in August of this year, one month ahead of a potential iPhone X2 (and other new iPhones) with any Face ID improvements Apple plans to make.
There are two things we're sure of: the days of terribly placed fingerprint sensors are numbered, and the in-screen fingerprint sensor revolution is coming. You can have your all-screen phone and have it read your fingerprint, too.