Hands on: Sigma 30mm f/2.8 EX DN lens review
Sample images shot with the new Micro Four Thirds lens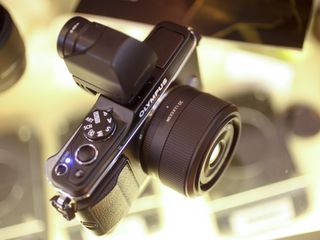 Sigma announced that it was joining the Micro Four Thirds and Sony NEX format last year, and it is now introducing a 19mm and 30mm lens.
We got the opportunity to test out the new lenses at the recent Focus on Imaging show at the NEC in Birmingham.
We'd like to share some of the images that we took with the lens, bearing in mind that conditions were limited.
Initial feelings on the 30mm lens is that it is a nice addition to the Micro Four Thirds range. It offers a standard field of view (equivalent to 60mm in 35mm terms) that should prove useful as a walk around lens.
Its f/2.8 maximum aperture should prove useful for low light photography, and also allows for attractive shallow depth of field images to be shot.
In our brief time with the lens we found focusing to be quick and accurate, and images produced were sharp and crisp.
We shot the following images on an Olympus PEN E-P3 Micro Four Thirds camera.
We'll be putting the lens through a full test soon.
The Sigma 30mm f/2.8 EX DN proved swift and sharp in the mixed lighting conditions of the NEC.
Despite the poor light and low contrast subject, the lens locked on quickly.
The f/2.8 maximum aperture provides a nice degree of background blur.
The effective focal length of the lens is 60mm on a Micro Four Thirds camera, or 42mm on a Sony NEX camera.
Sign up to receive daily breaking news, reviews, opinion, analysis, deals and more from the world of tech.
Amy has been writing about cameras, photography and associated tech since 2009. Amy was once part of the photography testing team for Future Publishing working across TechRadar, Digital Camera, PhotoPlus, N Photo and Photography Week. For her photography, she has won awards and has been exhibited. She often partakes in unusual projects - including one intense year where she used a different camera every single day. Amy is currently the Features Editor at Amateur Photographer magazine, and in her increasingly little spare time works across a number of high-profile publications including Wired, Stuff, Digital Camera World, Expert Reviews, and just a little off-tangent, PetsRadar.