When it comes to buying a phone for internet browsing, there are a lot of things to consider. Whether it is the screen that is most important to you, or a really decent browser, we have you covered.
We should also mention before we go any further that all the phones listed below are 4G capable, with the right data plan. 4G is already largely in use across the globe, the UK is rapidly playing catch up, and the speeds offered are dramatically better than 3G.
Best screen clarity: Samsung Galaxy S4
One of the key features that we'd suggest when looking at buying a new phone in general, let alone one specifically for the internet, is the screen. When looking at a phone specifically for web browsing, the screen becomes incredibly important.
When it comes to mobile screen technology, there's one company that manages to pop its head up again and again: Samsung, with its Super AMOLED screens considered amongst the best on the market.
We loved the 5-inch screen on the Samsung Galaxy S4 so much that we dedicated a whole section of our review to it. With a 1920x1080 Full HD screen, meaning 441PPI, the Galaxy S4 screen is the best mobile screen that we have seen to date.
What does that actually mean, though? As we put in our review, "It's simply superb, and makes everything from web pages to video look brilliant."
What more could you want from an internet phone, other than one that makes those web pages sparkle and shine, and give those mobile videos that added ping?
Part of the reason fr this is that Samsung's Super AMOLED screen offers very high contrast ratios, however this can been toned down using a natural mode. It also makes blacks darker, as OLED tech turns off the pixel, whereas LCD screens come backlit.
The high resolution means that text is easy to read, both zoomed out and zoomed right in, and the brightness means that you can view pages even whilst out in direct sunlight.
If for some reason the Samsung Galaxy S4 makes things seem a little unreal, with the OLED making the contrast too high,why not try the LG G2? The 5.2 inch screen is also 1920x1080 Full HD, although the added screen size means that it is theoretically fuzzier, with only 424ppi.
Best large screen: Sony Xperia Z Ultra
Screen size is very important for surfing the web, as it means that you can see more, which is especially important if you plan to do a lot of browsing desktop sites. This leaves us with phablets.
When it comes to talking about phablets, there are numerous handsets that we could mention here such as the newly announced 5.9-inch HTC One Max, or the one of the world's most powerful phones, the 5.7-inch Samsung Galaxy Note 3.
These seem a little diminutive compared to the Sony Xperia Z Ultra. The 6.44-inch screen borders on tablet size, meaning that it will only appeal to those that truly value the added real estate that it provides.
The sheer size is not all that the screen provides, though. Sony has fitted its Triluminos display in the Xperia Z Ultra, meaning a greater range of colours. This means that the range of shades is more accurately reproduced, appearing far more natural.
The X-Reality display also helps fill in missing pixels on standard definition images. The display analyses the pixels, sharpening up those that are lacking.
The Xperia Z Ultra even has you covered if you like browsing the internet in the bath, as it comes with IP55/IP58 certification.
If you really think big is beautiful, but the Sony is not quite to your tastes, why not try the Samsung Galaxy Mega? The Galaxy Mega comes with only a dual-core 1.7GHz processor, and 1.5GB RAM, making it slightly slower. This is reflected in the price.
TouchWiz also lets you make the most of the 6.2 inch Galaxy Mega screen, with MultiWindow. You can browse the web and message at the same time, meaning you don't have to flick between multiple apps to share what you see.
Best 'mini' handset: HTC One Mini
If you're not planning on doing a lot of intense desktop browsing whilst on the go, you can probably get away with using a slightly smaller device. That isn't to say that the 'mini' versions of handsets can't handle it.
So if you've decided that the full strength full flavour handsets are either too pricey, too big or too something-or-other, then why not sample the Mini versions; we recommend the HTC One Mini.
There is a reason that the HTC One was only the third phone to ever get our coveted 5 star review, and HTC has taken an awful lot of the features over to the HTC One Mini. So what do you get in the trade off in terms of size and power?
The HTC One Mini screen is no longer Full HD, but comes with a 720p screen that is still vibrant enough on the 4.3 inch screen. It also comes with a really fast built in browser that comes with an (optional) Flash player installed.
HTC has also not omitted some other key features that make mobile browsers so impressive, such as the automatic text reflow whether double tapping to zoom, or pinching to zoom.
The HTC One Mini won't be for everyone though; whether its a design choice, a dislike of the UI or a need for a microSD card.
If so, why not take a look at the Samsung Galaxy S4 Mini? It takes a lot of what made the Samsung Galaxy S4 so impressive, omitting a lot that can be deemed unnecessary.
The Super AMOLED screen is still bright and crisp, although only qHD which means only 75% of the sharpness of the 720p HD One Mini.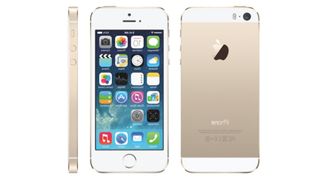 Best handset browser: iPhone 5S
There is a long legacy attached to iPhone 5S, with the mobile Safari app launching on the original iPhone all the way back in 2007 to reboot the way we thought about browsing on the go.
Since then, Apple has spent its time refining its precious handset, with Safari often getting a refresh.
When iOS7 came along it packed in a whole raft of new features. A URL bar that minimizes itself as you move around the page and disappearing navigation buttons are just some of the features that makes Safari so intuitive.
Speed is a major factor on the iPhone 5S, with it topping the Google Octane, Mozilla Kraken, Sunspider and Browsermark benchmarks, meaning you'll zip around the web in no time on the new iteration of the device - crucial to many consumers.
Safari also takes cues from Google Chrome, with iCloud tabs now allowing you to move between iDevices with far greater ease. A Reader mode also allows you to scroll through an article, without being distracted by the rest of the page.
One of the biggest things that Apple browsers are famed for is that lack of Flash. If this means that the iPhone 5S isn't for you, then you should try the HTC One.
Its native browser comes with a Flash player built in, and is one of the best we have seen, although these days Flash is dying and isn't something consumers are necessarily drawn to when looking at a new phone.
But then again, the One also got 5 stars in our review in part due to its slick browser with clever text reflow that will re-jig itself as you zoom in - that's something we still sorely miss on the iPhone.
Best all rounder: Samsung Galaxy Note 3
If there is no one particular feature that you are crying out for when it comes to looking for your internet phone, you will probably be looking at what device makes the best use out of all the key features that we have mentioned.
Of these we would have to mention the Galaxy Note 3, for a number of reasons. The screen size isn't going to appeal to many, but for those looking for a decent mobile experience will find the 5.7 inch screen is a decent size, and the Full HD Super AMOLED screen is crisp and clear.
Being the world's most powerful phone also means that web pages launch really quickly. The 2.3GHz quad-core processor and the 3GB RAM combine to load pages quickly, and the 4G connection aids things when out and about.
That said, the Galaxy Note 3 was never going to be the best 'Mini' handset, given its size but as an all rounder for the internet you definitely can't go wrong with the Note 3.
As a decent all rounder, we could also suggest the Google Nexus 5. The LG built, Google branded handset offers Mountain View's version of what a handset should be. It packs in 4G LTE technology that was missing from the Nexus 4, as well as a bright 5-inch screen, and Google's own UI that has Google Now at its heart.