New AMD Ryzen 7 3750X processor leaks, but don't get your hopes up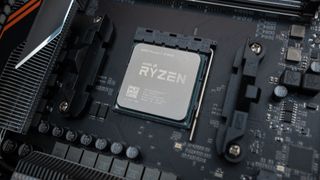 (Image credit: Future)
AMD's Ryzen 3000 processors are blowing up the CPU market, with loads of cores and incredible performance. Plus, there are a lot of different models. And, there might be a Ryzen 7 3750X inbound, according to a leaked product master list spotted by @Komachi_Ensaka on Twitter.
The master list has since been taken down on AMD's website, but Hot Hardware was able to dig up the details. What showed up was a Ryzen 7 3750X with no details beyond its 105W power draw and its fitment into an AM4 CPU socket.
Given that the Ryzen 7 3750X would fit snugly between the 8-core Ryzen 7 3700X and the 8-core Ryzen 7 3800X, it's a safe bet the processor will also be an 8-core model. The only problem is that it's a bit too snug of a fit between those two chips.
No room for a 3750X
AMD is doing an impressive job putting its Zen 2 processor architecture into products that hit all different price points and performance levels, whether that's the Ryzen 5 3600 or the Ryzen 9 3950X. But, the Ryzen 7 models in the 3000 series already have things pretty well covered.
As we mentioned, the Ryzen 7 3700X and 3800X both are 8-core/16-thread chips. They also have the same amount of cache. The former has a 65W TDP and the latter hits 105W. While none of these specs mean there couldn't be a 3750X fit neatly between them, their clock speeds are a tighter fit. The Ryzen 7 3800X has a base clock just 300MHz higher than the 3700X, and its boost speed is just 100MHz higher.
For a Ryzen 7 3750X to fit in, it would only be able to offer a marginal improvement in base clocks and a tiny improvement in boost before it basically just became a 3800X.
All this is to say, you're probably not going to see a Ryzen 7 3750X on store shelves between AMD's other processors. Perhaps it will show up in pre-built systems, giving OEMs the ability to offer rigs with just a little more juice.
Get daily insight, inspiration and deals in your inbox
Get the hottest deals available in your inbox plus news, reviews, opinion, analysis and more from the TechRadar team.
Over the last several years, Mark has been tasked as a writer, an editor, and a manager, interacting with published content from all angles. He is intimately familiar with the editorial process from the inception of an article idea, through the iterative process, past publishing, and down the road into performance analysis.