We're coming to the mid-section of the show, which means one thing: nearly everything has been announced.
We've had an absolute smorgasbord of new stuff show up this year, although we're struggling to see anything truly groundbreaking - 8K TV seems to be the star of the show, but that's setting the scene for the future, meaning it'll be least 2022 until you'll need to think about upgrading.
The show kicked off on August 29 in the German capital and will keep rolling for a week, so the public can get its eyes on the latest televisions, wearables and laptops.
Stay tuned to this page to read about everything launched a the show (as well as a generous smattering of hands on pieces where we experience the tech).


Cut to the chase
What is it? Europe's biggest annual technology show in Berlin, Germany
When is it? Aug 31 to September 5, but press days are Aug 29-30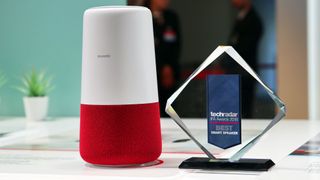 TechRadar's IFA 2018 awards
The TechRadar editorial team has convened following the onslaught of IFA 2018 announcements and has decided upon the most impressive bits of tech from the show. We even whipped up fancy trophies to give to the winners! Our IFA 2018 awards this year covered the gamut, from TVs to smart home gadgets and everything in between. Here are some of the highlights:
Best Smartphone: Sony Xperia XZ3
Best in Computing: Lenovo Yoga Book C930
Best Innovation: Bang & Olufsen Beosound Edge
Click here to see which product won Best in Show and all the other winners
Latest IFA 2018 news
We're deep into the IFA show now, and the launches are starting to calm down - although there's still a lot to get through, so check out our run-down below to see what's been arriving this week and whether any of it will make it onto your Christmas list.
TVs
As we've mentioned, the name of the game here is 8K - the next generation resolution that all the TV manufacturers hope will force you to buy a new set in the future.
Will you really need to? The jury's still out. But there are more short term updates we're more excited about:
We've seen HDR10+ in action – and it looks ace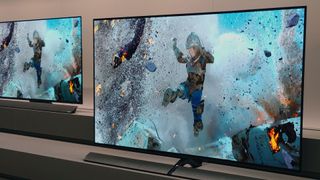 We've peered into the future, and it's glorious. Well, if you like a big ol' TV and lots of lovely pictures to look at, that is.
We all know we're supposed to look for things to be HDR-capable, but the new HDR10+ standard is the one to watch - and it was unveiled in a rather colorful way earlier in the day. It's going to fight against Dolby Vision as the dominant standard - it's hard to really explain it, so please have a click through to our eyes-on for some visual entertainment.
Samsung's secret IFA announcement is an 8K QLED TV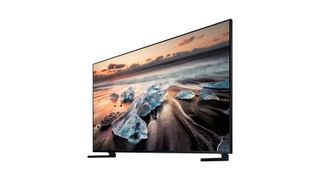 If you're after something a little more jaw-dropping than just the standard TVs these days, how about this massive thing from Samsung, which not only offers massive 8K pictures but also upscales your boring 4K footage? Thought so.
Read our hands on Samsung Q900R 8 QLED TV review to see just how impressed we were.
The Philips OLED+ 903 is a TV built for audiophiles
Philips didn't wow us with its stuff this year, but the new TV looks great and comes with some really pumping sound thanks to the new tie-in with the audio experts at Bowers & Wilkins.
It still offers amazing 4K visuals and decent upscaling to HDR of 'normal' content - our Henry St Ledger was impressed by the image quality in our hands on: Philips OLED+ 903 review.
Toshiba reveals unbelievably thin, back-chatting TVs at IFA 2018
Tosh's new TVs have inbuilt far-field microphones, like many of the top smart speakers around at the moment, so you'll be able to chat to Alexa through them.
As well as that, you'll be able to take advantage of Alexa's capabilities, including playing music, reading the news, launching apps, and any number of third-party 'skills'.
Want to find out a little more about them? Step right up.
LG launches world's first 8K OLED TV - but you probably can't afford it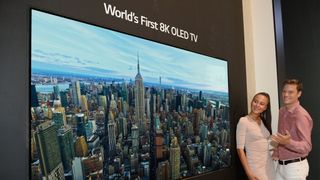 This TV is just a bit crazy - it's 88-inches of pixel madness, all placed on top of impressive OLED technology, which gives deep blacks, rich colors... all the things you'd expect from a TV that might cost more than most cars on the road.
You're getting 7680 x 4320 from the huge display, so you'll definitely need a large room to house this one - but it's worth checking out, if only to see what sort of TV you'll be deciding about buying in 2022.
We've also had a look at the TV first-hand - it's goshdarn impressive.
More TV news:
Audio
Many would argue that audio is the biggest part of IFA - it's certainly been a strong part of the makeup for many years and, let's face it, the wireless predates the television, right?
Whichever way around you prefer it, these are the top bits of audio tech that caught our eye this week:
Sony's WH-1000XM3 turns your crowded commute into a silent retreat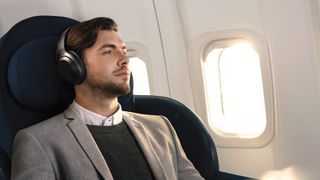 Our favorite headphones of the show, these were already strong cans and the noise cancelling has been cranked up a notch.
Comfortable to wear, hugely capable of keeping the world out, and looking stylish too - you can see why we liked them in our hands on Sony WH-1000MX3 review.
JBL brings Google Assistant to new Everest GA wireless headphones
Want to access one of the world's biggest search engines without having to lift a finger? These are the headphones you'll need to do it. Coming in at around $300 (£230 / $400) they're not the cheapest out there, but you do get 24 hours' battery life.
See what we thought in our hands on: JBL Everest 710GA review
The Sennheiser Momentum True Wireless earbuds show we're properly living in the future
Wireless earbuds are just awesome, right? No wires anywhere in sight, the connection to myriad devices some futuristic stuff... we love them.
There are cheaper options out there as these are £259/$299 (about AU$400) for the pair, but Sennheiser's offering may emerge as the best argument yet for cutting the cord.
Read on for more thoughts on how we found these new buds in our hands on: Sennheiser Momentum True Wireless earbuds review.
B&O's Beosound Edge is an expensive, awesome sculpture and speaker in one
Rolling out in November, this speaker from B&O is shaped like a coin, but "sits on the edge of consumer electronics and gallery-worthy sculpture".
You actually roll the speaker back and forth to decrease the volume - it'll be interesting to see if that really works, although the speaker will roll back to the original position when done, apparently.
It won't be cheap though... we'll leave you to read more to find out the exact cost.
Audio-Technica ATH-SR30BT wireless headphones arrive with massive 70-hour battery life
These headphones are impressive - they've got switchable hear-through functions, noise reduction, Bluetooth connection and touch controls.
Oh, and did we forget to mention? The ATH-SR30BT's have a massive 70 (that's SEVENTY) hours of battery life. The ATH-SR50BTs boast an impressive 25 hour battery life, a fold-flat design for easy storage too, so these headphones are definitely worth looking at for the regular commuter.
Sonos Amp revealed as a new, redesigned amp for the connected age
It's not often our Global EIC gets interested in amps, so when he calls out the new Sonos Amp (you can see how the naming came about) it must be something worth looking at.
This is an amp for the connected age, as at home on a table as in a rack, capable of streaming music, connecting nicely to a turntable or listening to commands from an iPhone - it's got twice the power of the old Sonos Connect Amp, so if you're into sound and connectivity, give this a look.
More audio news:
Smartphones
IFA isn't traditionally a time when people are looking for a smartphone launch - gone are the days when Samsung would launch the new Galaxy Note at the event - but we did see a few phones either launched or teased this year.
Sony Xperia XZ3 is the first phone to use the company's top-end TV tech
Another show, another flagship Sony phone. It's remarkably similar to the Xperia XZ2 in some ways... except that screen, which is now larger, higher-res and uses the lovely OLED technology that the best handsets are using.
We've had a good old play with it, and you can see what we think in our hands on: Sony Xperia XZ3 review.
HTC U12 Life offers up a big screen, lots of grip and solid specs for an attractive price
It's been a while since we've got hot under the collar about an HTC phone, and if we're honest, this isn't the handset to rekindle that feeling.
However, it does offer a solid spec sheet with a lower price, so if you're still a fan of the brand then you'll like the decent build quality that's on offer here. See more in our hands on: HTC U12 Life review.
Honor Magic 2 teased - no notch, a pop-up camera and voice assistant 'YoYo'.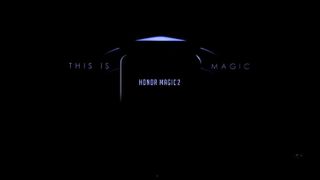 The Honor Play was already announced this year, so when there was a teaser at the end of the launch it was intriguing - and we're still a little in dark about the new Honor Magic 2, which will be coming in December.
We know it has a slide-out camera and a notch-less front, as well as superfast charging, but we'll have to wait a few months to find out more.
LG G7 One and LG G7 Fit handpick flagship features for a lower price
The LG G7 One and LG G7 Fit are LG doing what LG does well - bringing flagship features to a lower price point. Both take a certain amount of inspiration from the LG G7 ThinQ, but have things like older chipsets and RAM, also shedding the dual-camera setup.
Essentially it's looks and nothing more, but for some people that's all they might want.
More phone news:
Smart home
We thought smart home would steal the show at IFA 2018, but what we got was rather iterative. That said, there were still some nifty little bits and pieces that caught our eye and showed the smart home juggernaut isn't slowing down.
Huawei announces AI Cube smart speaker and Huawei Locator
Is it a smart speaker? Is it a decent piece of audio kit? Is it a 4G router to get you connected when you're on the move? It's actually all three of those things, and the Huawei AI cube takes some design cues from other top speakers out there on the market.
See what we think in our hands on: Huawei AI Cube review.
Take a peek at Technics' futuristic Ottava S SC-C50 wireless Chromecast speaker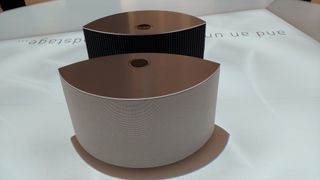 These are weird-looking speakers from Technics, the Ottava S SC-C50. Designed for 'seamless wireless connectivity, they feature built-in Chromecast, but will only work with Google Assistant if you've got a compatible speaker on your network.
The striking design houses seven speakers in the case, all designed to fill an entire room with sound... but basically, these are all about the looks.
Harman Kardon Enchant soundbar has Chromecast and wall-bouncing surround
There are a few models to choose from here, but all of the sizes of soundbar have Chromecast built in, making it easy to stream anything from your PC or mobile device to the TV.
At the very least it'll mean one fewer HDMI port taken up, plus you'll get virtual surround sound to boot.
More smart home news:
Laptops and computing
We saw, as usual, a slew of laptops and PC gaming paraphernalia launched at the show this year, and there were some mighty impressive machines on show. Whether it's the lightest, slimmest or just most bonkers stuff out there, there's a little something for everyone here:
Acer's Predator Thronos is a throne finally fit for extreme gamers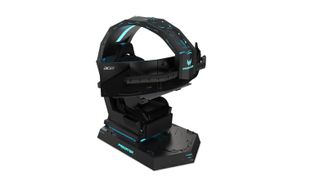 This gaming chair is something to behold - it's 1.5 meters tall, comes in a choice of colors and vibrates along with what's happening onscreen to give you a really immersive experience.
There's an option to support three 27-inch monitors too, so if you want to deck out the ultimate gaming room in your house, this should be something that takes pride of place - find out everything you can about the new throne here.
Acer Swift 5 announced at IFA 2018 as the world's lightest 15-inch laptop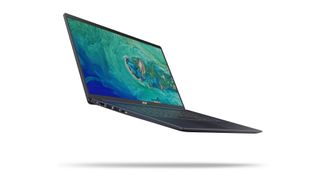 Among the brand's announcements was this little gem: the Swift 5, Acer's attempt at making the world's lightest 15-inch notebook.
It comes in under one kilogram, has i7 and i5 processors, and the improvements to this little warrior are impressive. Check out more to see the full range of announcements from Acer.
Dell's 2018 Inspiron 2-in-1 laptops bring more flagship features to the mainstream
Dell's gone a bit release crazy at the show this year. Starting with the 7000 series of 2-in-1 Inspirons, Dell has updated the entire line with the latest, 8th-generation Intel Core i5 and i7 processors, and has brought a capability that the XPS line has dreamt of for years: a webcam in the proper spot despite a narrow bezel display.
Dell also updated the 5000 series of 14-inch Inspiron laptops, but instead of putting out features that would make the XPS line jealous, these laptops take the best of the Inspiron 7000 series with a little bit of frill taken off the top.
There's loads to chew through here - so why don't you take a look and see the full spec rundown on the new range?
More computing news:
Wearables
Wearables and IFA have been going hand in hand (or wrist in hand) for a while now - there's always something interesting to pore over, and this year is no different. Some crazy ideas have been coming out, and these are our top picks:
Sony's new smartwatch uses e-Paper tech and it's very expensive
Look, we'll level with you now: the Sony Fes Watch U is a whopping £699 ($900, AU$1250) and doesn't even have a smartwatch OS on board.
Both the watch face and strap are covered in e-Paper material, and it's certainly a curious little thing to look at - we suggest you check out our hands on: Sony Fes Watch U review to find out why this thing is so darn expensive.
The Diesel On Full Guard 2.5 massive smartwatch - but one that still impresses
We were pretty amazed to see this appear - it's a smartwatch with a 2.5-inch display. When you consider the first iPhone only had a 3.5-inch display you get a sense of how large this is on the wrist.
Despite that our intrepid wearables editor James Peckham still commented "you'll be happy with how much tech Diesel has packed in its latest edition" in his hands on: Diesel On Full Guard review.
Casio Pro Trek Smart WSD F30 offers its best battery life yet
Battery life. The bugbear of any smartwatch owner. It needs to be better, and Casio's latest offering is designed to tackle that - along with some sensational mapping data too.
The Pro Trek Smart WSD F30 might not have the snappiest name, but it has a slew of activity apps that work with the watch, as well as offline mapping, to make it a hiker's delight. Learn more about it with a simple tap of the mouse.
More wearables news: