If you're searching for the top broadband deals available, then we have a speedy option from a dependable provider that might fit the bill.
At the moment you can get Virgin Media's M250 Fibre Broadband for only £30.50 a month. This particular tariffs gives a huge 264Mbps average download speeds, 25Mbps upload speeds - and there aren't any upfront fees to pay either. It's an 18-month contract and when this expires the cost goes up to £50 a month.
If you're an O2 customer you may also be interested to know that you can get additional benefits by becoming a Virgin Media broadband user. This is because the two firms have partnered together and offer bonus perks and extras, including double data and free speed boosts.
That said, even if you're not on O2, this particular package should cover any online needs you have - even if you live in a busy household with high internet usage. This is thanks to the superfast 264Mbps download speeds, unlimited data and the class-leading Wi-Fi Hub that you'll get for free. The latter can even automatically optimise your connection to improve your internet's performance.
What you need to be aware of here though is that your eligibility for the deal is subject to your property's connectivity to Virgin Media's own cable network.
OUR VIRGIN MEDIA BROADBAND DEAL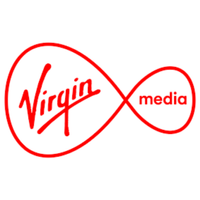 Virgin Media M250 Fibre Broadband | £30.50 per month | 264Mbps | 18-month contract | No upfront fees | Unlimited data
This particular deal will see you get one of Virgin Media's faster packages for only £30.50 a month. It's an 18-month contract without any upfront fees and the M250 tariff gives impressive average download speeds of 264Mbps. There's also no data limit, which means this broadband will comfortably handle the internet demands of even larger, busier households. If you're on O2 you can also get extra benefits, plus all customers who sign up for this deal will get Virgin Media's innovative WiFi Hub for free. You can only access this deal if your property is connected to Virgin Media's own cable network.
There are many great reasons to choose Virgin Media
Our featured deals shows that there's plenty to get excited about when it comes to Virgin Media's broadband, but the truth is there's even more on offer that customers can enjoy with this provider.
Virgin is after all one of the UK's most popular broadband firms, with millions of satisfied customers and this is largely thanks to the wide choice of packages, tariffs and extras you can get. For example, in terms of its actual broadband speeds, pretty much all bases are covered from its slowest M50 (54Mbps) option to its mighty Gig1 (1130Mbps) - which Virgin claims to be the fastest you can get from a major UK provider.
Virgin also rivals Sky in many ways for its TV bundles and entertainment extras. As our guide to the best Virgin Media broadband deals will show you, there are many different TV packages to choose from and you can tailor these to suit your viewing preferences. In addition, Virgin has smart devices and boxes that offer you the ability to record, pause and rewind live TV, or simply stream your favourite shows if you prefer.
Last but not least, Virgin tends to score well for its customer services and you can get different levels of support across different communication channels, including over the phone and online.
However, as we've mentioned earlier, if its cable network hasn't been rolled out in your area yet, you'll either have to wait for it to come to you, or head elsewhere. Equally, Virgin has seen some criticism for its lack of flexibility with its contracts, as well as the fact its tariffs can sometimes be on the more expensive side when they're not part of a deal.
So if you find this is the case - or you just want to compare Virgin with the rest of the broadband market - check out our best broadband deals guide, or pop your postcode into the widget below to see what other broadband options you have in your location.
Loading...