Key information
- Releasing exclusively in theaters in November
- Role of Black Panther/T'Challa has not been recast
- First trailer revealed at San Diego Comic-Con 2022
- Lupita Nyong'o and Letitia Wright among returning cast members
- Dominique Thorne's Ironheart will make her MCU debut
- Namor confirmed as the film's villain/anti-hero
- Plot synopsis officially revealed
- TV spin-offs featuring the Dora Milaje and Ironheart in the works
Black Panther: Wakanda Forever's release date is fast approaching – and, at last, we've finally learned more about the upcoming Marvel movie.
With Black Panther 2 taking center stage during Marvel Studios' main panel at San Diego Comic-Con 2022, there's plenty to catch you up on. Not only did we get a first trailer and official plot synopsis for the film, but we also received confirmation about who its villain will be. Oh, and that the superhero movie will close out Marvel's Phase 4 line-up of films and TV shows. As we said, you've got lots of new information to wrap your head around.
Below, we'll run you through everything worth knowing about Black Panther: Wakanda Forever, including its release date, more on its first teaser, confirmed cast, plot details, and more. By the end of this article, then, you'll be an expert in all things Black Panther 2.
We should point out that there are potential spoilers for Black Panther: Wakanda Forever's cast and story from now on, too. Additionally, there are full spoilers for 2018's Black Panther movie, plus the character's appearances in other Marvel Cinematic Universe (MCU) films. We'll let you know when you need to skip ahead if you're avoiding anything that'll ruin the upcoming film and the character's previous MCU appearances.
Black Panther: Wakanda Forever release date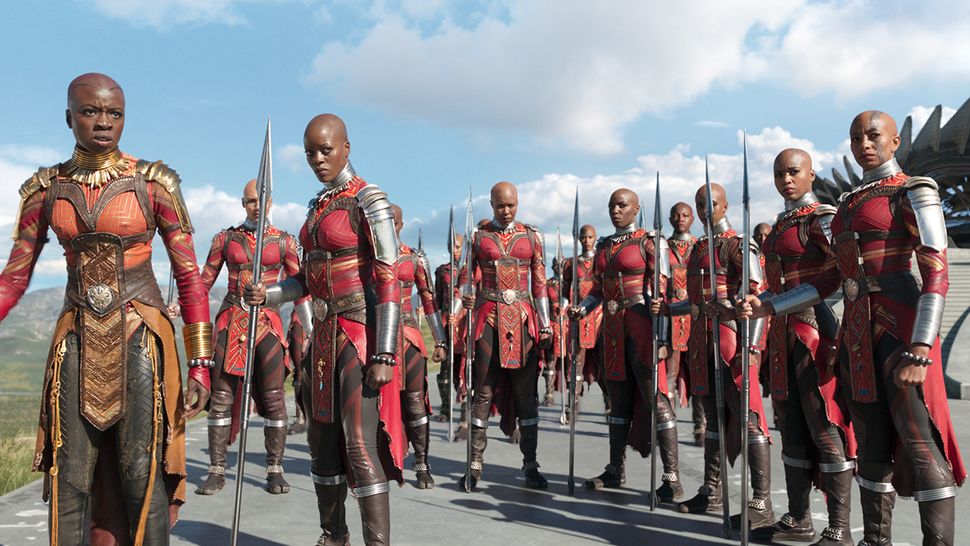 Black Panther: Wakanda Forever will launch exclusively in theaters on November 11, 2022.
With less than four months to go before it debuts in cinemas, it's highly unlikely that Black Panther: Wakanda Forever will be delayed. Sure, there's bound to be some post-production work yet to be completed, but that won't push the film's launch back.
Meanwhile, the movie's red carpet premiere is slated to take place on November 1 (opens in new tab). Expect the first reactions to drop as soon as the world premiere ends.
Black Panther: Wakanda Forever trailer
The first teaser for Black Panther: Wakanda Forever, which is set to Tems' cover of iconic Bob Marley track 'No Woman No Cry', was released on July 23 as part of Marvel's main presentation at Comic-Con 2022.
It's a highly emotional teaser, too. With Black Panther star Chadwick Boseman passing away in August 2020 after a four-year battle with colon cancer, the trailer acts as an early tribute to Boseman's powerful performance as King T'Challa/Black Panther. Numerous shots in the teaser show how Black Panther 2 will honour his legacy, so it's sure to be a bittersweet moment when the full film arrives later this year.
The trailer also provides a first look at other key elements of the MCU movie. We get confirmation that Tenoch Huerta (Narcos: Mexico, The Forever Purge) will play Namor, the movie's primary antagonist – and a mutant to boot. We also get a sense and scale of the war that'll escalate between Wakanda and Talocan, the home of Namor and his fellow ocean dwellers, which will be a revised version of Marvel's version of Atlantis.
Meanwhile, there a couple of shots showing Dominique Thorne's Riri Williams, including her creating her first Ironheart suit. Finally, amid the action-packed moments and emotion-laden drama, we catch a brief glimpse of the new Black Panther – albeit with their back to the camera – who assumes the mantle in the wake of T'Challa's passing.
Suffice to say, Black Panther: Wakanda Forever looks simultaneously epic and poignant. Here's hoping it lives up to the hype.
Who is the villain in Black Panther 2?
That would be Namor, the MCU's first male mutant (you know, after Ms Marvel was confirmed to be the MCU's first actual mutant in her TV series).
Full name Namor McKenzie, the Marvel anti-hero made his comic book debut in Marvel Comics #1 (October 1939), which made Namor one of the first-ever superheroes that Marvel created.
The son of a human sea captain and an Atlantean princess, Namor is one of the most powerful superheroes in the Marvel universe. He possesses typical superpowers including superhuman strength, endurance, speed, and an increased life span. As a mutant, he also has tiny, white wings on his ankles, which enable him to fly – though Atlantean and human scientists have been unable to explain why he was born with wings, given neither side possesses them (it's likely down to his genetic mutation, though). He also has a telepathic relationship with ocean-dwelling creatures.
Often portrayed as a villain to King T'Challa/Black Panther, Namor is now viewed as more of an anti-hero. He's regularly teamed up with other superheroes to keep his home city of Atlantis safe from intruders, and has appeared on numerous superhero rosters including the Avengers. However, he's also entered partnerships with major supervillains such as Doctor Doom. Namor is only too happy to join forces with Marvel antagonists, then, if it means Atlantis and his people are shielded from land dwellers, who Namor isn't exactly a fan of.
Black Panther: Wakanda Forever cast
Here's the confirmed cast for Black Panther: Wakanda Forever:
Lupita Nyong'o as Nakia
Letitia Wright as Shuri
Angela Bassett as Ramonda
Danai Gurira as Okoye
Winston Duke as M'Baku
Florenca Kasuma as Ayo
Martin Freeman as Everett K Ross
Dominique Thorne as Riri Williams
Michaela Coel as Aneka
Tenoch Huerta as Prince Namor
Mabel Cadena as Namora
Alex Livinalli as Attuma
Isaach de Bankole as Wakandan River Tribe leader
Dorothy Steel as Wakandan Merchant Tribe leader
Danny Sapani as Wakandan Border Tribe leader
Chadwick Boseman's death has left an unimaginably large hole in Black Panther 2's cast. However, Marvel won't be recreating the star digitally, with Marvel Studios executive vice president Victoria Alonso telling Argentine outlet Clarin (opens in new tab) (via Digital Spy (opens in new tab)) that it never crossed anyone's mind to do so. Meanwhile, Marvel Studios president Kevin Feige confirmed T'Challa wouldn't be recast during Disney's 2020 Invester Day call.
Even without its lead star, Black Panther 2 will feature plenty of familiar MCU faces.
Letitia Wright, Lupita Nyong'o, Danai Gurira, Angela Bassett, Winston Duke, Martin Freeman, and Florence Kasumba will all reprise their roles from 2018's Black Panther. Meanwhile, Isaach de Bankole, Danny Sapani, and Dorothy Steel return as the Elders of Wakanda's tribes. Finally, where Wakanda is concerned, Michaele Coel (I May Destroy You) will play Aneka, a Dora Milaje combat instructor.
Tenoch Huerta was also confirmed as part of the cast at San Diego Comic-Con. Namor will be the movie's primary villain and the MCU's first official mutant, despite Ms Marvel's TV series hinting that she is also a mutant.
Some creative liberties have been taken with Namor's origins, though. Brazilian fansite Chippu (opens in new tab) previously reported that "[Namor] will not originate in Atlantis, as in the comics, but in the Central American region and will come from a historic and submerged city of Mexican culture."
As confirmed by on Marvel.com (opens in new tab), that city is named Talocan, which was heavily inspired by Tlālōcān, a paradise ruled by the rain deity Tlāloc in Aztec manuscripts. The trailer lends further weight to this change, too, with Aztec imagery, costumes, and temples all on display.
As for other Talocan-swelling characters we'll see in Black Panther 2, Mabel Cadena (The Envoys) will play Namora, a cousin of Namor's, while Alex Livinalli (Ozark, American Horror Story) portrays Attuma, a fearsome Talocan warrior. You can get a look at what Namora and Attuma will look like via these leaked pieces (opens in new tab) of concept art (opens in new tab) on Reddit.
Potential spoilers for Black Panther 2's cast follow from now on. Skip ahead if you don't want to read them.
The MCU movie will also provide an introduction to the star of an upcoming MCU TV show. In August 2021, Kevin Feige confirmed (opens in new tab) that Ironheart, aka Riri Williams, will make her live-action debut in Black Panther: Wakanda Forever. Dominique Thorne has been cast in the role and, judging by the rumors circulating online, such as one teased by The Cosmic Circus (opens in new tab), we'll see her suit up in her Iron Man-style armor. Marvel insider Greatphase (opens in new tab) has also refuted suggestions that Ironheart is the daughter of Killmonger, which was a rumor
that circulated online in May.
As for those character who won't return, Daniel Kaluuya's W'Kabi, T'Challa's best friend and Okoye's partner, isn't a part of proceedings. Confirmed by Rotten Tomatoes' Jacqueline Coley (opens in new tab), Kaluuya's shooting schedule for Jordan Peele's Nope prevented him from reprising his role from Black Panther 1.
Another star who probably won't be back is Michael B Jordan, who played antagonist Erik Killmonger in 2018's Black Panther. Aside from the fact Killmonger died – not that that's ever been a barrier to a character's return in the MCU – Feige has said (per CinemaBlend (opens in new tab)) that any reports of Jordan's return are "pure rumor and speculation" and that "nothing is set yet in any way".
When asked by Jess Cagle on Sirius XM (opens in new tab) about the likelihood of a Killmonger comeback on a scale of one (never) to 10 (definite), Jordan said: "I'm gonna have to go with a solid two. I didn't want to go zero! Never say never – I can't predict the future!"
However, Marvel leaker Charles Murphy (opens in new tab) has teased Killmonger's return. Fellow insider Greatphase (opens in new tab) suggests that Jordan's Killmonger will make a cameo appearance, but we won't reveal where or when he'll appear. Charles Murphy (opens in new tab) also suggests Julia Louis-Dreyfus' Valentina Allegra de Fontaine will show up at some point. Which of Wakanda or Talocan's superpowered beings will she try to recruit?
Finally, there are rumors circulating online that a major Marvel supervillain will make their MCU debut in Black Panther: Wakanda Forever. If you really want to find out who that is, you can click on these Reddit (opens in new tab) links (opens in new tab) to learn more. Just don't blame us if your curiosity gets the better of you...
Black Panther: Wakanda Forever story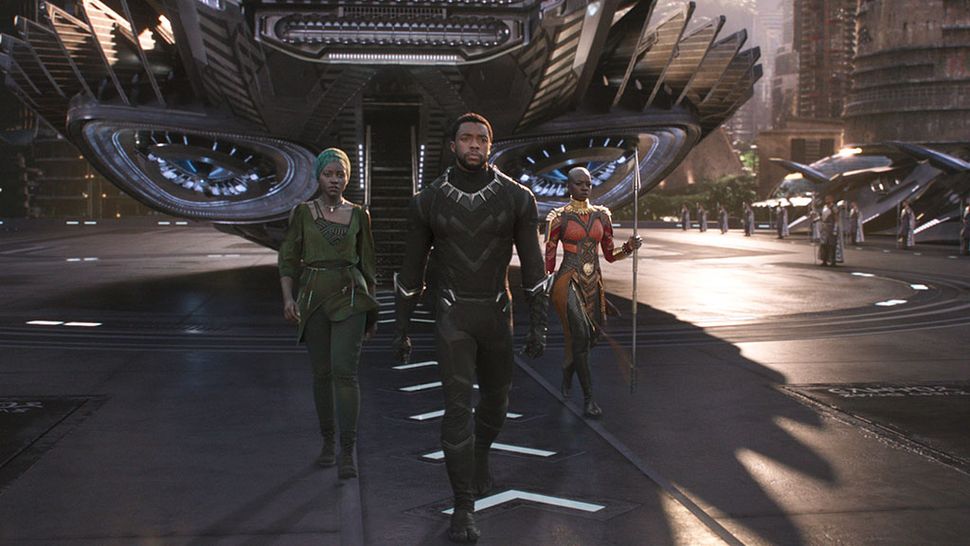 Here's the official plot synopsis, courtesy of Marvel's official website (opens in new tab): "In Marvel Studios' Black Panther: Wakanda Forever, Queen Ramonda (Angela Bassett), Shuri (Letitia Wright), M'Baku (Winston Duke), Okoye (Danai Gurira) and the Dora Milaje (including Florence Kasumba), fight to protect their nation from intervening world powers in the wake of King T'Challa's death.
"As the Wakandans strive to embrace their next chapter, the heroes must band together with the help of War Dog Nakia (Lupita Nyong'o) and Everett Ross (Martin Freeman) and forge a new path for the kingdom of Wakanda."
As the film's first teaser, well, teased, Wakanda Forever looks like it'll be centered around an expanding feud between Wakanda and Talocan. We see the two nations brawling at various points in the trailer, but we suspect there's more to this conflict than meets the eye.
Sure, given Namor's comic book history, we imagine there's someone else pulling the strings in the background that leads Namor to pit Talocan against Wakanda. Maybe it's something to do with Vibranium, the rare resource that – as of 2022 – is only found in Wakanda in the MCU? We wouldn't be surprised if that's the primary reason behind Talocan's invasion of Wakanda, which we see in the trailer (when Wakanda's throne room is flooded). According to Greatphase (opens in new tab), we'll see Okoye and Attuma duke it out in the film, too, so both nations' fiercest warriors will go toe-to-toe on the battlefield. Expect other one-on-one fights to occur throughout as well.
It's likely that Huerta's Namor and Boseman's T'Challa would've thrown down if the latter was still alive. With Boseman having kept his four-year battle with cancer secret, too, director Ryan Coogler had originally worked on a script that would feature the star. "I spent the last year [2020] preparing, imagining and writing words for him to say, that we weren't destined to see," Coogler said in September 202 (via The Hollywood Reporter (opens in new tab)). "It leaves me broken knowing that I won't be able to watch another close-up of him in the monitor again or walk up to him and ask for another take."
As far back as March 2018, however, Kevin Feige was aware of the potential of Black Panther's supporting cast, explaining that they were more than capable of stepping up in Boseman's absence. "It's a balance between leaving people wanting more and then giving them too much," he told Entertainment Weekly (opens in new tab) (EW). "I think Shuri's astounding, and you'll see much more of her in our universe. Okoye, I think I'd watch three action films of just Okoye. I'm not saying we're doing that, but I'm saying that we're intrigued by them."
#BlackPanther actor Danny Sapani says it was "just amazing" to return as M'Kathu the Border Tribe leader in #BlackPanther2: "It's just an incredible story and an incredible film..." Full quote: https://t.co/olGKPFAWv3 pic.twitter.com/pl0E2CcU7IMarch 24, 2022
Speaking to Good Morning America (opens in new tab), Lupita Nyong'o said Black Panther: Wakanda Foever will be "different" and that "all of us are dedicated to reimagining or carrying on his legacy in this new Black Panther". In a chat during the 2022 Saks' Spring 2022 campaign (as reported by People (opens in new tab)), Nyong'o doubled-down on paying tribute to Boseman, adding: "It'll be interesting to bring out another one of those films without Chadwick, but we are holding him in close light. I think people will be excited about this one."
Meanwhile, Angela Bassett provided a simple tease about the film during an Ellen show interview (opens in new tab). "It's going to be amazing," she said. "It's going to top [the first] one. Can I say that? He [Boseman] was such an example, such a leader, an amazing talent – we all know that. He had a big heart, great intellect, and we just hope to raise his standard."
How will Wakanda Forever handle Boseman's absence from a narrative perspective, then? Online speculation suggests T'Challa succumbs to illness in the MCU, though Marvel is yet to confirm how it'll address Boseman's passing.
As difficult as it'll be to watch Black Panther 2 without Boseman, there will be a passing of the torch where the Black Panther is concerned – so who will don the iconic vibranium-laced catsuit?
Rumors suggest that Shuri will assume the mantle but, in November 2021, speculation emerged that M'Baku would take it up. Other rumors have hinted that multiple characters will wear the suit so, at this point, only the film's cast and crew know for sure.
Away from the film's honoring of Boseman, it seems that Black Panther 2 will tie into Thor: Love and Thunder, as well as Moon Knight. The Wakandan goddess Bast made a blink and you'll miss it cameo in Thor 4, while Moon Knight's exploration of Egyptian gods (in the comics, Bast is among their number) links it to Wakanda Forever, too. Could we see Akosia Sabet play Bast in Black Panther: Wakanda Forever? We'll have to wait and see.
It looks like the movie will tackle real-world events in the form of Spain's colonization of Central America as well. According to MCU leaker CineStealth (opens in new tab), a flashback sequence, which shows Namor's Aztec ancestors fighting the Spanish conquistadors, will be part of the plot. Marvel isn't shy about shining a light on uncomfortable subjects any more. As long as it serves a purpose for the film's story, it'll be worthy of inclusion.
Black Panther: Wakanda Forever: MCU future
How will Black Panther 2 set up other elements of the MCU? For one, it'll lead into Ironheart's own Disney Plus show. Director Ryan Coogler is reportedly on board in some capacity, according to another Ironheart actor in Anthony Ramos (In The Heights). That seems highly likely, too, given Ironheart's role in the next Black Panther flick.
Coogler is also developing a Wakanda TV spin-off for Disney's streaming platform, while Charles Murphy (opens in new tab) has claimed that Black Panther 2 will also lead into a Namor-led franchise. There's no word on whether this would be a movie or TV series, though. Additionally, Greatphase (opens in new tab) claims Coogler will helm a third Black Panther film once work on these spin-offs is complete.
For now, then, the future looks bright for Black Panther in the MCU. Regardless of what happens, we know that Black Panther: Wakanda Forever is on the way – and that it should be a film fitting of the man and actor that Chadwick Boseman was.
For more Marvel-based content, check out our Marvel movies in order guide, which shows you where Black Panther: Wakanda Forever will fit on the MCU timeline.