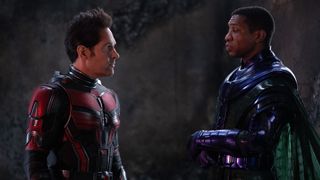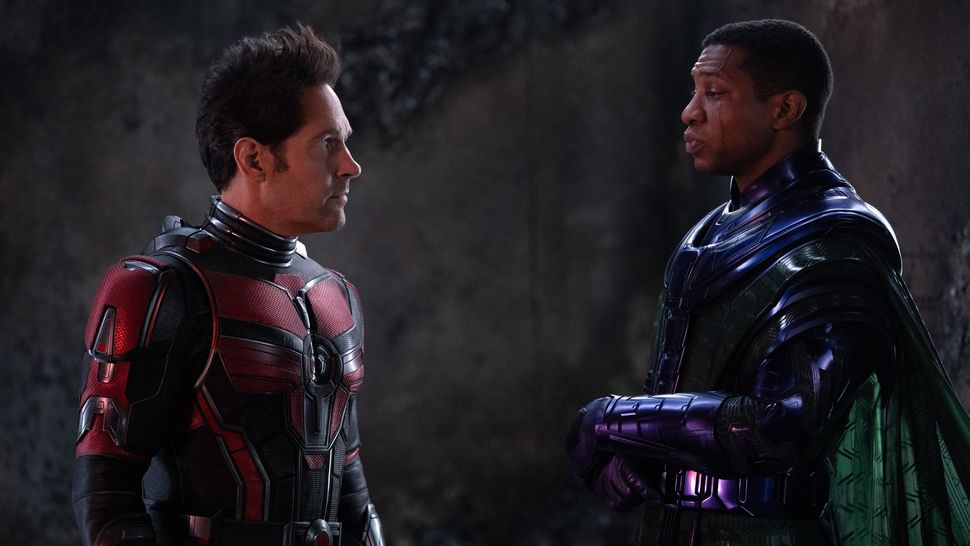 (Image credit: Marvel Studios)
Key information
- Launches worldwide on February 17
- Reviews have been middling at best
- Story picks up after Avengers: Endgame
- Marks live-action debut of Kang the Conqueror
- Paul Rudd and Evangeline Lilly among returning cast
- New plot details revealed
- Directly sets up 2025's Avengers: The Kang Dynasty
- Will set up other MCU projects
Ant-Man and the Wasp: Quantumania finally arrives in theaters this week – and it kicks off the next phase of Marvel's multiverse-spanning masterplan.
The Marvel Phase 5 movie lands on Friday, February 17, so you're probably wondering if it's any good. Allow us to point you in the direction of our Ant-Man and the Wasp: Quantumania review and Ant-Man 3 first reactions round up, then. You're welcome.
Looking for even more things to read about the next Marvel Cinematic Universe (MCU) film? We've got you covered there, too. Below, you'll learn more about its cast and story, watch every trailer, get the lowdown on how Quantumania will impact the MCU, and more.
Full spoilers follow for Loki season 1, Ant-Man, Ant-Man and the Wasp, and Avengers: Endgame. Potential Quantumania spoilers are also discussed.
Ant-Man and the Wasp: Quantumania release date
Ant-Man and the Wasp: Quantumania launches in theaters worldwide on February 17. Quantumania wasn't affected by Marvel's movie rejig in light of production problems surrounding its Blade reboot, so it's full steam ahead for its release.
Ant-Man and the Wasp: Quantumania trailer
Ant-Man and the Wasp: Quantumania's official trailer was released on January 9 – and it looks more sinister and otherworldly than the diminutive hero's previous solo movies. Well, once you look past MODOK's goofy looking appearance, anyway.
To get the lowdown on the trailer's secrets, plus what we can glean about the plot from the footage, read our Ant-Man and the Wasp: Quantumania trailer breakdown.
Missed Ant-Man 3's first trailer? Watch it below:
Ant-Man and the Wasp: Quantumania cast
Here's Ant-Man and the Wasp: Quantumania's full cast:
Paul Rudd as Scott Lang/Ant-Man
Evangeline Lilly as Hope van Dyne/Wasp
Jonathan Majors as Kang the Conqueror
Michael Douglas as Hank Pym
Michelle Pfeiffer as Janet van Dyne
Kathryn Newton as Cassie Lang
Bill Murray as Lord Krylar
Corey Stoll as MODOK
William Jackson Harper as Quaz
Katy O'Brian as Jentorra
David Dastmalchian as Veb
Full spoilers follow for Loki season 1 and Ant-Man's other MCU outings.
Rudd, Lilly, Douglas, and Pfeiffer reprise their roles from Ant-Man and the Wasp. Meanwhile, Newton makes her first MCU appearance as Cassie after replacing Emma Fuhrmann from Avengers: Endgame.
Majors' Kang is the most notable newcomer, though. Majors played one of Kang's variants – He Who Remains – in Loki's season 1 finale. Following He Who Remains' death, the Sacred Timeline no longer exists, meaning his multiversal variants can enter the MCU. That includes Kang, a time traveling genius who conquers other universes with his combat expertise, advanced weaponry, and ability to traverse the multiverse. According to Majors, Kang is a Nexus Being, too (via Gizmodo), which, as we know from Scarlet Witch's recent MCU arc, is not a good thing. For anyone.
Speaking to Empire, MCU head Kevin Feige said Kang is the "obvious choice as you're dealing with the Multiverse", while Majors revealed he based Kang on "Alexander the Great, Genghis Khan, [and] Julius Caesar (per Deadline). You can read more about him in our 'Who is Kang the Conqueror?' character explainer.
Meanwhile, David Dastmalchian returns, but he's not playing Kurt, who he portrayed in Ant-Man's other solo movies. Instead, he's playing someone called Veb. Additionally, William Jackson Harper (The Good Place) plays a telepath called Quaz, while Katy O'Brian (Black Lightning, The Mandalorian) portrays Jentorra, a "strong and respected leader of freedom fighters" who regularly clash with Kang's forces.
Potential cast spoilers follow.
Legendary actor Bill Murray previously revealed he was playing a "bad guy" and that individual is called Lord Krylar. Per Quantumania's press pack, he's the governor of Axia, a rich albeit bizarre community that exists in the Quantum Realm. Krylar was also romantically involved with Janet van Dyne, with the latter living in the Quantum Realm before being rescued by Hank in Ant-Man 2. With Janet returning to this dimension alongside her family, she'll meet her former flame again, and we suspect he won't be so keen to let her leave.
Stoll, who played the antagonistic Darren Cross/Yellowjacket in 2015's Ant-Man, is slated to make his second MCU appearance. This time, he's playing MODOK – a mutated, cybernetically enhanced individual with genius-level intellect. Per head writer Jeff Loveness, the MCU's MODOK was inspired by an iconic Simpsons antagonist.
Marvel Studios' #AntManAndTheWasp: Quantumania, only in theaters February 17. pic.twitter.com/W9DG5eePYSJanuary 10, 2023
In the comics, MODOK – real name George Tarleton – is the product of an experiment gone wrong. A bunch of scientists, who work for the criminal organization Advanced Idea Mechanics (A.I.M), use advanced mutagenics to turn Tarleton into a superhuman, but inadvertently turn into a bloodthirsty, ambitious supervillain. MODOK takies full control of A.I.M and goes onto become one of Marvel's most famous villains.
Given Stoll's Cross (not Tarleton) becomes MODOK in the MCU, the character's origins will have been retrofitted for Ant-Man 3. In Ant-Man, Lang overrode Stoll's Yellowjacket regulator during the climactic battle, causing Stoll to shrink uncontrollably and presumably killing him, but he clearly survived. He'll be Kang's second-in-command in this flick.
Speaking on the Happy Sad Confused podcast in March 2022, Samuel L. Jackson revealed he returned to London for reshoots on Secret Invasion. While there, he also filmed scenes for The Marvels and Quantumania, so we'll see Nick Fury in some capacity. Randall Park's Jimmy Woo, who appeared in Ant-Man 2 and WandaVision, is also expected to cameo.
Ant-Man and the Wasp: Quantumania plot
Here's Ant-Man and the Wasp: Quantumania's official plot synopsis: "Superhero partners Scott Lang and Hope Van Dyne return to continue their adventures as Ant-Man and the Wasp. Together, with Hope's parents Hank Pym and Janet Van Dyne, the family finds themselves exploring the Quantum Realm, interacting with strange new creatures and embarking on an adventure that will push them beyond the limits of what they thought was possible."
At the start of the movie, Scott and Hope are celebrities (thanks to their Endgame heroics). Scott has his own podcast and best-selling autobiography, while Hope is championing humanitarian causes.
However, their lives aren't perfect. Scott struggles to connect with teenage duaghter Cassie, while director Peyton Reed says Scott is "resting on his laurels". That means he might not be ready to tackle a "top-tier, A-list Avengers villain" (per GamesRadar), according to Loveness.
For Hope and Hank, Janet is back in their life, but they've been unable to revive their tight familial bond with an increasingly reclusive Janet. Speaking to Entertainment Weekly (EW), Lilly says Hope's arc in Quantumania will be about exploring her vulnerabilities.
In a separate EW chat, Reed explained how Quantumania differs from previous Ant-Man films: "People felt like 'Oh, these are fun little palate cleansers after a gigantic Avengers movie. For this third one, I said, 'I don't want to be the palate cleanser anymore. I want to be the big Avengers movie.'"
In The North State magazine, Loveness also said fans should expect "a lot of surprises" from the MCU film. So, what could some of those surprises be? (Potential story spoilers follow.)
Check out brand-new character posters for Marvel Studios' #AntManAndTheWaspQuantumania. In one month, experience it in 3D. Get tickets now: https://t.co/D2YhBxEO4j pic.twitter.com/vCfzZoTcILJanuary 17, 2023
Based on the Comic-Con and D23 teaser, Kang takes Lang's family hostage – or, rather, Cassie – as leverage. Kang wants Lang to conduct a heist for him, so Cassie is used as a bargaining chip to ensure Lang complies.
The item in question seems to concern Kang's Time Chair, which allows Kang to traverse all of time and space. According to Marvel insiders GeekVibeNation and CanWeGetSomeToast, Kang tasks Lang with stealing it back – or its power source, the leakers can't agree on which it is – presumably with the aim of using it to escape into the wider multiverse. Kang claims he wants to take revenge "on those who banished me" (per a Kang featurette video) and the only way out of the Quantum Realm is powering his Time Chair (or a similar mode of transportation).
It's unclear who stole the chair and/or power source, but we suspect Janet might be involved. She was the original Wasp before she was lost in the Quantum Realm. Maybe she learned of Kang's masterplan to conquer the multiverse, stole the chair/power source, and hid either or both from him? According to Feige, Janet has a history with Jentorra's band of freedom fighters (via Empire), who stand against Kang and company, so this tracks with our theory.
Krylar and MODOK are believed to be working alongside Kang, so they won't have hidden the item away – and they have ulterior motives to collaborate with Kang, too. MODOK and Krylar have complicated histories with Scott and Janet, so don't bet on them helping our heroes.
Elsewhere, Cassie will be suiting up to join her father and Hope as a superhero. We see her in a purple suit in the trailers and, meaning she could assume one of her two heroic pseudonyms – those being Stature and Stinger. Which version will she portray here? It could be both, depending on how the plot unfolds.
Lastly, don't expect Ant-Man and the Wasp: Quantumania to be as lighthearted as its predecessors. It'll retain some of those elements, but Loveness suggests it'll pivot into a more disturbing flick as it progresses. "There's a shift that happens," Loveness told SFX magazine (per The Direct). "Once Kang shows up, once Scott realizes just who he's dealing with, the movie starts to pivot. Scott's a goofy, playful guy, but he's been in jail twice, he's fought in these big Avengers things, and you can see his eyes slowly change – 'Oh, I'm not dealing with Walter Goggins from the last movie, this is something else!'"
How will Ant-Man and the Wasp: Quantumania affect the MCU?
Speaking at D23 Expo 2022 (per IGN), Marvel Studios president Kevin Feige teased Quantumania will be "a direct line into Phase 5 and [Avengers: The] Kang Dynasty."
Chatting to Empire, Reed added: "I think it [Ant-Man 3] has a profound impact on the MCU. Jeff Loveness, who wrote this movie, is writing The Kang Dynasty as well, so there's been a lot of discussion about the impact that this appearance of Kang The Conqueror makes. There are big things in store."
Meanwhile, Majors has teased we'll see "different iterations" of Kang throughout the Multiverse Saga. Maybe we'll see his variants – including Rama-Tut, Iron Land, and the Scarlet Centurion – appear in other productions.
As for potential films Ant-Man and the Wasp: Quantumania might set up outside of The Kang Dynasty, a Young Avengers movie seems likely.
We've already been introduced to a bunch of young superheroes in Phase 4 films and some of the best Disney Plus shows. That includes Wiccan and Speed, Skaar, Ms Marvel, Kate Bishop, America Chavez, Kid Loki, and Dominique Williams/Ironheart. Could Cassie bring them together? The Avengers are on hiatus/in flux so there's room for a new superhero team to take center stage.
If Cassie escapes the Quantum Realm alone, she might track them down and create the Young Avengers. We'd be surprised if Marvel doesn't greenlight a Young Avengers film for Phase 6, particularly as it's been laying the groundwork for such a team up. However, producer Stephen Broussard has said a Young Avengers film isn't in the pipeline "at this time" (per Inverse). Suuuure, Stephen, we believe you.
Then there's the theory that ties Quantumania to Marvel's Fantastic Four movie. In the comics, Kang occasionally works alongside Doctor Doom, the Fantastic Four's legendary adversary. The supergroup have dabbled with quantum physics in Marvel's source material, which acts as another possible link between Ant-Man 3 and their forthcoming MCU movie. Could we get a tie-in between the two films in Quantumania?
Elsewhere, another of Kang's variants (or maybe Quantumania's Kang?) could appear in Loki season 2, which will explore the multiverse further. The Marvels, which arrives in July, could also have ties to Ant-Man and the Wasp: Quantumania if Ms Marvel's bracelets are sought by Kang, too. Ant-Man 3, then, has the potential to set up plenty in the MCU's future.
And what of Ant-Man's MCU future? Broussard told ComicBook.com that "we're already thinking about" a fourth Ant-Man movie. We suspect those discussions are just tentative ones, though, and Ant-Man 4 is some way off in the future.
For more Marvel-based content, check out how to watch the Marvel movies in order. Alternatively, read up on our ranking of every Marvel film to date and how we ranked the MCU's gallery of supervillains.
Sign up for Black Friday email alerts!
Get the hottest deals available in your inbox plus news, reviews, opinion, analysis and more from the TechRadar team.
Senior Entertainment Reporter
As TechRadar's senior entertainment reporter, Tom covers all of the latest movies, TV shows, and streaming service news that you need to know about. You'll regularly find him writing about the Marvel Cinematic Universe, Star Wars, Netflix, Prime Video, Disney Plus, and many other topics of interest.
An NCTJ-accredited journalist, Tom also writes reviews, analytical articles, opinion pieces, and interview-led features on the biggest franchises, actors, directors and other industry leaders. You may see his quotes pop up in the odd official Marvel Studios video, too, such as this Moon Knight TV spot.
Away from work, Tom can be found checking out the latest video games, immersing himself in his favorite sporting pastime of football, reading the many unread books on his shelf, staying fit at the gym, and petting every dog he comes across.

Got a scoop, interesting story, or an intriguing angle on the latest news in entertainment? Feel free to drop him a line.