Are Amazon's Prime Day deals any good? We analyze today's best sales to find out
TechRadar digs into today's biggest discounts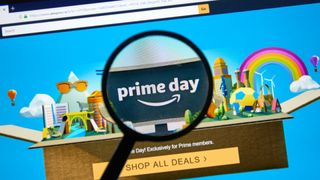 (Image credit: Shutterstock)
This year's Amazon Prime Day deals are currently looking stronger than last year's, overall. So far, we're seeing more big-brand products with lower prices, and there's a wider range of offers at a budget level, too. However, the best Prime Day deals are still concentrated on a small number of products, and while some items have Black Friday-level pricing, others are more expensive today than they were last week.
Headphones have seen an uplift in deal quality this year, in particular, with record-low prices on the popular Bose 700 noise cancelling headphones ($299 at Amazon- was $399) and Sony WH-1000XM4s ($248 - down from $349). There are plenty of good budget TV deals at Amazon too, especially if you're looking to spend $300 or less.
However, if you're looking to buy a laptop today, we'd generally advise looking elsewhere. Amazon's range of laptop deals isn't as wide as those available at other retailers like Best Buy and Dell, and you'll get more for your money at those retailers too. There are some notable exceptions to this, though: the M1 MacBook Air is back down to its lowest price ever at Amazon today, as is the MacBook Pro - so if you're looking to buy either of those, you're in luck.
Here, we compare Amazon's current Prime Day prices to discounts we've seen in the past, and to those available today at other retailers. We'll give you a first look at which Prime Day deals are the best value for money - and which products you're better off buying elsewhere. First, here are the best offers at Amazon today.
The best Amazon Prime Day deals
TV deals
Amazon Prime Day TV deals in the US
As always, it's looking like this year's Amazon Prime Day is going to be a great time to purchase a new TV for cheap. If you're not looking to spend more than say $300 then there are particularly strong options on Amazon's range of Toshiba and Insignia Fire-enabled TVs - which are of course fully compatible with all Alexa devices. We have actually seen quite good prices on these displays in the lead-up to today's Prime Day deals, but luckily the best prices have stuck around and in some cases been exceeded now.
For a perfect balance of specs, size, and price, consider this Insignia 50-inch 4K TV now down to $299.99 (was $379.99). This is a great price to pay on a 4K display, and as we've previously mentioned, it's also got Amazon Fire TV built-in. For a slightly smaller display, we'd recommend this 43-inch Toshiba for $259.99 (was $369.99). While it's not quite as bang for the buck as the 2020 version (which is $20 less), we think it's probably worth springing a little more for a 2021 model as you'll definitely get a few more refinements in the design.
Amazon's Prime Day 4K TV deals under $300 do seem to be the most worthwhile right now, but Walmart is also sneaking some super low prices on devices without that 4K resolution.
So, in short, Amazon's Prime Day 4K TV deals are looking like they're the place to be if you're shopping for a display under $300. That said, there are also very good options at competitors like Walmart and Best Buy - who are offering some absolutely rock bottom prices on entry-level displays.
For example, you can find displays for as little as $118 today at Walmart if you're simply looking for something that's smaller and not 4K. Over at Best Buy, we're seeing sales prices start at just $149 for this 32-inch Insignia, although we'd particularly point to sales on premium OLED and QLED displays as this retailer's strongest suit.
Where to find the best TV deals on Prime Day
Amazon Prime Day TV deals in the UK
Amazon's own Prime Day deals on 4K TVs are really outpacing rival offerings from Currys, Very, and other leading retailers right now, so it's definitely worth checking them out. In particular, we're seeing great options for Amazon's licensed 'Fire-enabled' displays and also TVs from the bigger brands like LG and Samsung. That said, on those brands we're not seeing quite the same selection as we did with last year's sales (although sales are still great).
For LG displays in particular, we're seeing the prime discounts generally revolve around the larger sizes. That said, we've also spotted a really great little price cut on a 43-inch model at Currys for just £365, which is a considerable saving on its original price of £499. This is simply a great price to pay on a brand new 2021 release from such a well-known brand.
For a cheap Amazon sale in particular, we'd single out this 50-inch Hisense now down to £379 (was £449) as an excellent counterpoint to the Currys sale above. Hisense doesn't quite have the big-brand name recognition as LG does, but this one's still got a ton of features - and it's a larger 50-inch display too.
If you're looking to spend more than £400, however, prices tend to be matched across both retailers right now. Samsung and LG TVs in this price range are still sporting solid price cuts, but there's no clear winner at this more mid-range category.
Where to find the best UK TV deals on Prime Day
Laptop deals
Prime Day laptop deals in the US
Amazon Prime Day deals on laptops are always quite an interesting topic and you're never quite sure how strong Amazon's offerings are going to be. For example, while the retailer offers a ton of sub-$300 laptops (like this Acer Aspire 5 for $299.99), or great prices on MacBooks (like the M1 Air for $899), it often gets tons of competition in the mid-range price brackets from competitors like Dell and HP. That said, this year's Amazon Prime Day deals on laptops are looking a lot stronger from Amazon this year.
Firstly, Amazon has a ton of tasty price cuts on Chromebooks today - an area where its competitors Best Buy and Walmart normally offer lower price cuts. We're also seeing a couple of really excellent cheap laptops like that Acer Aspire 5 for $299.99 and even cheaper still, this Lenovo IdeaPad 1 for just $199.
In the mid-range, things start to open up with competitors like Dell offering absolutely stellar 'bang-for-the-buck' workhorse machines like this Inspiron 15 for $379.99 (was $518.99), and this Inspiron 14 for $549.99 (was $728) - both offering 11th gen Intel Core processors and 8GB of RAM. There is, however, an absolutely amazing mid-range choice at Amazon with this Acer Swift 3 for $499 (was $689.99), a very powerful machine that has both a Ryzen 7 processor and a 512GB SSD.
Amazon is also winning in the Apple category. The M1 MacBook Air is back down to its lowest price ever today, as is the MacBook Pro. Amazon has been leading the market with these savings since release, and we haven't seen other retailers get too close to these prices in recent months.
You will find a few gaming laptops up for grabs at Amazon right now, like this Alienware M15 R4 with an RTX 3070 for $1,919.99 (was $2,499.99), but prices are still pitching pretty high. That's the best value gaming laptop deal we've found at Amazon so far, but if you don't need the full 1TB SSD we'd recommend heading over to Dell or Best Buy for some lower price tags.
Where to find the best laptop deals on Prime Day
Prime Day laptop deals in the UK
Meanwhile, in the UK, Amazon has a few offers that are competing particularly well. This HP 15s is offering a 15.6-inch laptop with an i5 processor, 8GB RAM, and a 512GB SSD for just £479.99 (was £579.99). Picking up that much storage for under £500 is a rare occurrence, and Currys' best competing offer (this £479.99 Asus Vivobook) is only offering 256GB.
These more competitive discounts are few and far between at Amazon. Like in the US, the Amazon UK struggles to keep a wide inventory of the latest devices, which means you'll find far more choice at retailers like Currys, Very or Dell right now.
For example, in the world of cheap Chromebooks, Currys is offering plenty more options that sometimes do offer better value for money. Amazon's cheapest model in today's Prime Day deals comes in at £189, with a £50 discount on an HP Chromebook only bringing 4GB RAM and 32GB of storage to the table. However, over at Currys you'll find this Acer 715 offering both a larger screen and a whole 128GB of storage, if you're happy to jump up the price scale a little. This model has been reduced down to £329, making for much better value overall.
Very is also beating Amazon further up the price scale, with a leading £889 price tag on the M1 MacBook Air (was £999). We have seen this model drop further at Amazon in the past, though, so it's worth keeping an eye out for an £869 price at either retailer.
Where to find the best laptop deals on Prime Day
Smart home deals
Amazon Echo and Echo Dot devices drop to brand new price lows
Previous generation Echo Show models are particularly good value
Invest in bundles if you want to use video in your smart home
Amazon Prime Day smart home deals in the US
Amazon Prime Day is known for its smart home deals, especially on Alexa devices. That means those looking to pick up some Echo speakers or displays, or Fire TV Sticks are going to do very well today.
A $59.99 sales price (was $99.99) on the Amazon Echo is $10 lower than the previous record low price, whereas the Dot is also down to its cheapest price ever (now $24.99, was $49.99). However, we don't know if Amazon will reduce this device further later on in the sale (hopefully back down to $28.99) so it might be worth keeping an eye here.
It's also worth noting that there are several bundle deals live on a range of Echo and Echo Show devices right now. If you're looking for the smart display it is crucial that you check which model you're picking up. Amazon has just released a new 2021 model, which carries a significantly higher price tag and the previous 2019 model is now down as low as $44.99. However, we have seen a few earlier Prime Day deals that are bundling the previous generation with accessories for a higher price than picking them both up separately on sale.
This bundle on the 2021 Echo Show 5 is, however, offering strong value right now - if you're after an indoor security camera to pair with your smart display. You can pick up the brand new device with a Blink Mini camera for $94.99 (was $119.98), saving you $24.99 overall. That's particularly worthwhile considering this is a brand new release and isn't likely to see too many discounts in this year's Prime Day deals, and in general we'd recommend that anyone looking to incorporate video into their smart home checks out similar offers.
If you're looking for Google Assistant tech you'll need to head to another retailer. Amazon doesn't tend to carry its competitors in this regard, so Best Buy and Walmart will be your first stop for a cheap Google Nest Mini or Hub.
The best smart home deals on Prime Day
Amazon Prime Day smart home deals in the UK
Amazon Echo devices are seeing brand new record low prices in the UK Prime Day deals, which means now is a great time to pick up some additional Alexa support for your smart home. Other retailers may be price matching these devices, but it's worth checking in with Amazon as any further price drops over the course of the event (as unlikely as they are) will happen here.
However, as Amazon Prime Day progresses we may see these devices running out of stock a little quicker - that's the point when you'll find better value at Currys, as your favourite colour may be unavailable before long.
Both the fourth generation Echo and Echo Dot are at their lowest prices yet (although we have seen these costs before) at £54.99 and £24.99 respectively. That means you can pick up the cheapest device for £4 less than we've ever seen it available for, making it the most worthy buy right now - particularly if you don't need the slight additional audio boost of the fully fledged speaker.
If you're looking for a screen, though, the previous generation Echo Show 5 is looking the most worthwhile right now. Jumping back down to its previous record low price, the 2019 model is now available for just £39.99 (was £79.99).
That's a £40 discount that we haven't seen since February of this year, and considering there's only a few additional features included in the new (and far more expensive) 2021 release this is going to be a winner for most people.
Headphone deals
Prime Day headphone deals in the US
We're seeing some record low prices on Prime Day headphone deals right now, with the Bose 700s and Sony WH-1000XM4s offering up the best discounts. The Bose 700 noise cancelling headphones are down to $229 (was $399), a record price drop that beats the previous cheapest price by an additional $100. That's a stunning offer, and one we've never seen before making this set particularly worthwhile right now.
However, if you're interested in the cups we've rated top all year round, the Sony WH-1000XM4s are also sitting at their lowest ever price right now. We've seen these industry leading headphones dropping down as low as $278 in the past, with that figure appearing once or twice during the course of the year so far. However, at $248 (was $349.99) this is the cheapest we've ever seen them go and they offer excellent value at such a price.
We're also seeing a strong display in the more affordable price range as well, with plenty of sub-$100 options all looking particularly worthwhile. However, it's the Jabra Elite 75ts that are offering perhaps the best value for under $100 - even if they're only just scraping into that category. A $99.99 sales price is the cheapest we've ever seen on these excellent true wireless earbuds, and while you can pick up the Active model for $30 more you only really need to if you're looking for the additional waterproofing features.
Overall, then, headphone shoppers are browsing at a particularly good time, with plenty of offers available across a range of budgets and many high end devices offering brand new record low prices. The fact that we've never seen some of our top rated headphones this cheap means there's plenty to get excited about this Prime Day.
Where to find the best deals on Prime Day