Two-minute review
With Samsung's higher-end flagships out the way, it's time for the company's next best offering in the form of the Galaxy S20 FE. It aims to bring the best of its namesake siblings to a more accessible price point with careful compromises that enables the lower price tag.
That starts with the design. Upon first glance, it will look right at home amid the S20 family but as soon as you pick it up, you'll realize that it's not made of glass. The matte finish has been borrowed from the Note 20 Ultra.
Things are much better on the front, as the S20 FE sports a trademark Samsung display - big size, vivid colours, AMOLED construction and a smooth 120Hz refresh rate. We rarely missed the QHD resolution. Even the cameras are almost flagship-grade, providing a trifecta of 12MP shooters at different focal lengths. Selfies are handled by a 32MP snapper. The camera performance overall is excellent and we were quite happy with the results.
The Samsung Galaxy S20 FE could be a good device for anyone who's looking to buy an 'affordable' flagship phone. However, there are some major concerns.
The phone is powered by Exynos 990 SOC chipset for India. While there is no issue with the performance in the day-to-day usage, the phone heats up quite a lot even with basic usage.
The biggest let down comes in terms of the battery. The handset is packed with a 4500mAh battery and comes with 15W charging in the box which is a bummer. And, to top it all, the battery life is extremely unreliable. It won't even last a day.
Overall, the Samsung Galaxy S20 FE is a good phone but is let down by poor battery and thermal issues. Unless Samsung fixes these couple of issues via a software update, this will be a hard recommendation especially with the OnePus 8T and Mi 10T Pro in the market offering way more value for money all-round phones.
Samsung Galaxy S20 Fan Edition price and availability
In India, the Samsung Galaxy S20 FE is priced at Rs 49,999 for the base variant with 8GB of RAM and 128GB storage. Recently, Samsung also introduced the 256GB variant which will set you Rs 53,999. The device is available on Flipkart as well as Amazon. Colour options include Cloud Navy, Cloud Lavender, Cloud Mint, Cloud Red and Cloud White.
Samsung Galaxy S20 series comparision
| | S20 | S20 Plus | S20 Ultra | S20 FE |
| --- | --- | --- | --- | --- |
| Display | 6.2" QHD+ | 6.7" QHD+ | 6.9" QHD+ | 6.5" FHD+ |
| Type | Curved | Curved | Curved | Flat |
| Build | Glass | Glass | Glass | Glassitic |
| Processor | Exynos 990 | Exynos 990 | Exynos 990 | Exynos 990 |
| Rear camera | 64MP + 12MP + 12MP | 64MP + 12MP +12MP + VGA | 108MP + 48MP + 12MP + VGA | 12MP + 12MP + 8MP |
| Front camera | 10MP | 10MP | 40MP | 32MP |
| Battery | 4000mAh | 4500mAh | 5000mAh | 4500mAh |
| Wired Charging | 25W | 25W | 25W | 15W |
| Price | Rs 69,900 | Rs 49999 | Rs 97,999 | Rs 49,999 |
Design
Glasstic back
190 grams
Wide variety of colours
Image 1 of 4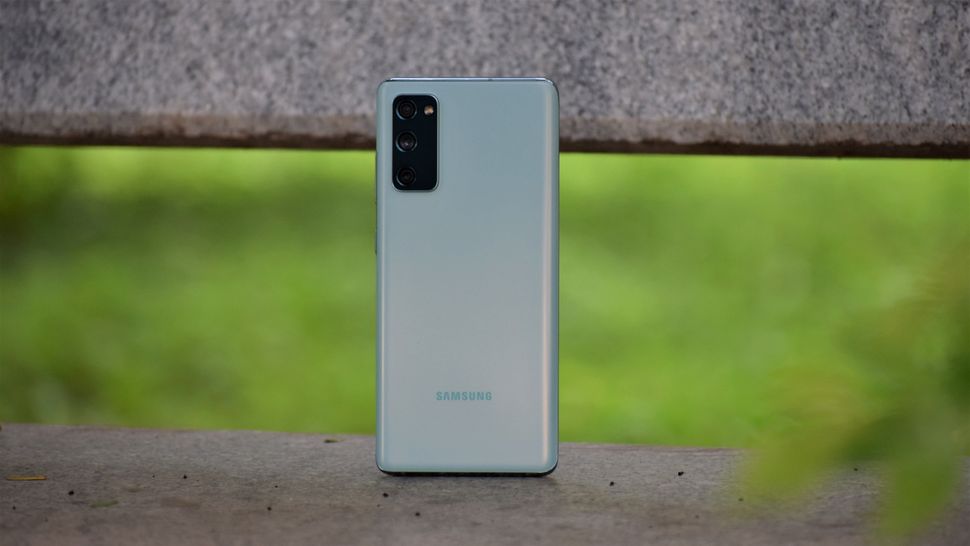 Image 2 of 4
Image 3 of 4
Image 4 of 4
The first thing you'll notice when you take out the device from the box is how similar it looks to that of the Galaxy S20. It has the same rectangular rear camera module with three sensors and LED flash. For this review, we used the Cloud Mint colour variant. And, using a light colour smartphone after a long time was refreshing and this is my favourite among the others available.
In terms of dimensions, the S20 FE is slightly bigger than the vanilla S20. And, this is also the only flat display device out of the four S20 series devices. The phone is slightly taller too which makes it hard to reach for most of the average users.
Furthermore, the S20 FE is also the first in the lineup to eliminate the glass back design and instead, you get a glasstic back which is plastic back with a fancy finish. The in-hand feel is good and although the device weighs 190 grams thanks to the material used and weight distribution, this device doesn't feel heavy.
Image 1 of 3
Image 2 of 3
Image 3 of 3
The S20 FE definitely misses out on a premium in-hand experience and that's the first and easy cost-cutting for the company, in my opinion. The glasstic material used in the S20 FE is far more superior than what we've seen with the Galaxy M51 which tends to get scratched easily even with careful day to day usage. So, there is some upgrade in the material but, this is definitely not a premium glass design. You get a metal rail that runs on the corner of the device with some neat design and cut-out to adapt the buttons on the left of the device.
The power button is located on the left and is easily reachable with one hand. But, that's not the case with the volume rockers. They are a bit high and you should use your second hand more often than not.
To the front, you get a 6.5-inch flat display, It is a super AMOLED screen and it also has an under-display optical fingerprint reader embedded. It is an Infinity-O display which means the selfie camera is placed at the centre of the display on the top. The bezel is minimal on the sides and is noticeable on the top as well as the bottom.
The back of the phone is slightly rounded, and this makes up for the lack of curved screen edges in terms of hand feel to some extent. Over to the back, you get a triple camera system housed which protrudes a bit too much for our liking. On the top, you get a SIM card slot which can take in two SIMs at a time or one SIM and a microSD card. To the bottom, you get a mic, Type-C port, and speaker outlet. The earpiece on the top is flushed and is hardly noticeable. There is no 3.5mm headphone jack and shouldn't be a surprise.
Image 1 of 5
Image 2 of 5
Image 3 of 5
Image 4 of 5
Image 5 of 5
At the top-left of the phone's rear is the camera bump, which doesn't stick out much, so you can lay the phone down almost-flat on surfaces. On the right edge of the phone is the volume rocker, and below that is the power button, which feels at the right height to be easily accessible no matter how large or small your hands.
There's a USB-C port here, but no 3.5mm headphone jack – this isn't totally surprising, as the other S20 phones also lacked the port, but given that some of Samsung's more affordable phones do have it, you could be forgiven for having expected to see it here.
Display
6.5-inch AMOLED screen
Full HD+ resolution
120Hz refresh rate
Image 1 of 4
Image 2 of 4
Image 3 of 4
Image 4 of 4
The Samsung Galaxy S20 Fan Edition comes with a Full HD+ with a 2400 x 1080 resolution. This is a Super AMOLED panel and has a refresh rate of 120Hz. While all the other three Galaxy S20 devices feature a QHD+ screen, Samsung has stepped down here. The high refresh rate makes motion look smoother, whether you're playing games, swiping through menus, or just casually scrolling on your social media feeds. The refresh rate can be switched from 120Hz to 60Hz and there is no option to switch to 90Hz here.
It is also worth mentioning that although the S20 series offers a QHD+ screen, the 120Hz runs on only FHD+ resolution. There is centred Infinity-O punch-hole cut-out which houses the selfie camera. And, when the device is using the camera, it forms a circle notifying you that the camera is in use. There is also something called screen lighting which will light the screen borders when you get a call. This feature is really cool.
The colours on the display are bright and punchy. The outdoor readability is also good on the device. In general day to day usage, we found the device to be extremely good in terms of viewing angles also. Colours and bold and punchy. With a 120Hz refresh rate the display is enjoyable and for those who love binge-watching, this will be a perfect companion. You also get support for HDR playback and HD video streaming. All in all, this is a typical Samsung display and there is not much compromise done here.
Cameras
Image 1 of 3
Image 2 of 3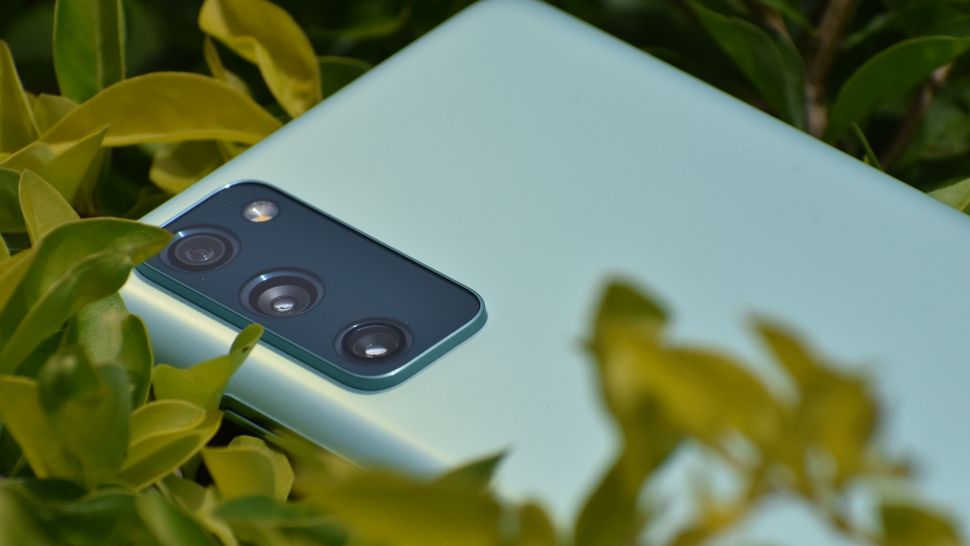 Image 3 of 3
12MP primary + 12MP ultra-wide + 8MP telephoto
32MP selfie camera
OIS
The Samsung Galaxy S20 Fan Edition has three rear cameras, with 12MP f/1.8 main, 12MP f/2.2 ultra-wide and 8MP f/2.4 telephoto shooter. The 12MP primary camera and the 8MP telephoto lens also comes with optical image stabilization. The image captured via the phone's camera is a true flagship grade and we were pretty impressed with the results.
The main camera has a large sensor, so it can pull in a lot of detail as well. The images taken from the primary 12MP shooter looks bright and punchy. The sky's blue colour and the green colour on the tree look natural and bold. It's a perfect pocketable point and shoot mobile camera for the majority of the users.
And, of course, Samsung's tendency to over saturate the images make it look too bold often. The picture also tends to look artificial occasionally.
Image 1 of 15
Image 2 of 15
Image 3 of 15
Image 4 of 15
Image 5 of 15
Image 6 of 15
Image 7 of 15
Image 8 of 15
Image 9 of 15
Image 10 of 15
Image 11 of 15
Image 12 of 15
Image 13 of 15
Image 14 of 15
Image 15 of 15
The 12MP ultra-wide-angle camera can capture more scenes. It shoots at 0.5x zoom, compared to 0.6x on most of the other wide-angle lenses, so you'll see even more action in the frame. The images taken from the wide-angle lens comes out really good and it also manages to retain much of the details as well as colours. The images were amazing, well detailed, had excellent dynamic range and colour accuracy.
Image 1 of 5
Image 2 of 5
Image 3 of 5
Image 4 of 5
Image 5 of 5
Finally, the telephoto camera facilitates 3x optical and 30x digital zoom. The telephoto lens turned out to be better than the macro or depth sensors which we generally see as the additional camera in the segment. In our testing it proved to be a better choice. It can shoot 2x, 4x, 10x, 20x, and 30x images. The only issue here is that we found that the zoomed-in shots had duller colors. While shooting in the telephoto lens, you also get a small preview of what you are shooting on top of the screen making it easy for you to focus and capture.
Image 1 of 10
Image 2 of 10
Image 3 of 10
Image 4 of 10
Image 5 of 10
Image 6 of 10
Image 7 of 10
Image 8 of 10
Image 9 of 10
Image 10 of 10
The single take feature also makes a cut here. For those who are unaware, this feature allows you to shoot photos and videos in multiple modes with just one click. It selects the best still frames and video clips from the various sensors and edits them for you.
Apart from that, you get Panorama, Night, Live Focus (Portrait mode), Live Focus Video, and two Slow-Mo modes – the one called 'Slow Motion' is useful, but 'Super Slow-Mo'. The Night mode does a pretty good job here and utilizes the main camera's large sensor to take in lots of light in low-light settings.
Image 1 of 1
To the front, you get a 32MP shooter with f/2.0 aperture. However, your selfies are not exactly captured in 32MP as the sensor is paired with a wide-angle lens. You'll only get a high-res picture if you take a wider shot, while if it's a close-up featuring just you, the photo will be automatically cropped. Samsung's implementation to capture both solo and group selfies without having multiple front-facing snappers is pretty cool and we wouldn't be surprised to see other companies adopt it.
Coming to the quality of the selfies, they come out extremely well and you'll be happy with the results. The background blur in Live Focus works well too. You can also control the blur in Love focus mode.
The Galaxy S20 FE can record videos up to 4K @ 60fps with both the front and back cameras, and there's also a Pro Video mode. The results were good here as well thanks to the OIS.
Performance
Exynos 990
8GB RAM
128GB internal storage
As always, India gets the Exynos variant of the Samsung flagship smartphone. The Samsung Galaxy S20 FE is powered by Exynos 990 SoC. In regular day to day usage, the device performs smoothly for anything you throw at it. Apps open quickly, multitasking and switching between apps are easy to handle. The gameplay was also smooth in games like COD Mobile and Asphalt 9.
While clicking photos and rendering high res videos, you can notice a bit of buffering. It's definitely not a deal-breaker but something we could notice. One of the major concerns with the performance is the device getting hot very easily - it gets warm easily with few apps open and when you are using it for longer duration and heavy apps or even while capturing the device, the phone's top half gets insanely hot and becomes unusable for a while.
For instance, once i was using the phone extensively and got a call and when I kept the phone to my ear, the phone was at such a high temperature that I had to take the call by activating the loud speaker. Samsung has not added any thermal controlling mechanism like a cooling chamber and that's the primary reason this phone heats up easily.
Again, we'd expect the issues can be resolved at least by a reasonable margin with the software and keep everything under control and check. On the other hand, the modem performance was excellent and I got great cellular and WiFi connection all the time.
Biometrics
Samsung has implemented an optical under display fingerprint scanner and the results after using it for a few weeks turned out to be just average. The fingerprint scanner not fast and also didn't recognize my finger impression more than 50% of the time which is not expected from a flagship device. Hope Samsung can fix the issue with an update in the near future. Also, Samsung only allows you to register three fingerprints which is a bad limitation.
There is also 2D face unlock as the second option and this is also not reliable. It takes a fair bit of time to unlock the device. I'd say 5/10 times the S20 FE failed to take me in with face unlock or fingerprint scanner.
Software
If there is one area where Samsung has made its comeback that will definitely be the software. The OneUI in the recent past is redefined and offers excellent. It offers a simple and consistent user experience. We have seen that on the recent mid-range devices like the Galaxy M31s and Galaxy M51too.
The Samsung Galaxy S20 FE runs on One UI 2.5 based on Android 10. You get a bunch of features and customization. The one thing with Samsung's OneUI skin is that, come preloaded with several apps including and Samsung apps. However, most of them can be uninstalled. But, in some cases, Samsung forces you to open the notification which can be annoying. Apart from some random push notification from Samsung apps, everything else was easy to handle on the skin.
With OneUI 2.5, you get a complete system-wide dark mode, additional themes, and the settings are neatly organized with colourful icons and categories. Since the device is tall, most of the stuff appears on the bottom of the screen for easy access. The default launcher is simple and clean with options to select grid size, layout, and a few more customization options. The device also comes with NFC on board which makes it easy for card payments with Samsung Pay.
Samsung has optimized the UI pretty well and scrolling and moving across the UI was a breeze especially when you are running with 120Hz. You get a system-wide dark theme, Blue light filter, screen recorder, Focus mode, DeX mode to help stay focused for Me time or Work time. All of these can be accessed in the quick toggles where you can add and arrange over 30 toggles.
Samsung misses out on giving an option to display Google Discover on the -1 screen, which is a bit of bummer as other companies like Oppo and Xiaomi have started offering it.
Samsung's One UI brings a few features that we've not seen much on other skins. Firstly, you get smart pop-up notifications which work similar to the Messenger chat head. Whenever you get a notification from apps like WhatsApp, it will appear as a bubble on your screen, once you click it, you will get a floating window. The window size is customization and also you can set the opacity of the floating window.
There is a smart media and device control button that sits right above the notification toggles which come in pretty handy. There is also a one-handed mode for those who want to make use of it. Apart from these, you also get apps cloning, gestures, Digital well being, parental controls, kids mode, and a plethora of customization options in the Samsung theme store.
Battery life
4,500mAh battery
15W in-box charger
Wireless charging
Samsung Galaxy S20 FE packs in a 4,5000mAh, which is just above average for a smartphone in 2020. The phone supports Type-C 25W fast charging but, Samsung will pack a 15W charger only. For a phone that's costing about Rs 50,000, Samsung should have bundled a fast charger in the box. In addition, the device also supports wireless charging and also you can charge other devices with the Wireless PowerShare feature. While Samsung has bundled 25W fast charging that comes at half the price (Galaxy M51), the company decided to pack in a 15W charger.
With a 4500mAh battery, we were expecting the device to last for a day but, that was not the case with it. Even with average usage like WhatsApp, Slack, and a bit of social media from 9AM, the device would come down to 15% by 4PM every time. The screen on time was around 3 hours to 4 hours every time. Since the 120Hz refresh rate consumes, we tried setting the refresh rate to 60Hz and we could get 30 to 40 minutes additional battery, which is still not what you'd expect from a phone with a 4500mAh battery.
Charging the device will take anywhere between 2 hours and 2 hours 30 minutes depending on how many times you'll use the phone while it's charging. One thing we could clearly notice is that the charging slowed down while using the phone. Also, it tends to heat up while charging.
Overall, we were pretty unhappy with the battery life and charging speed of the device and it's hard to recommend for those who want good battery life as it hardly can last a day.
Audio and call quality
One of the other features that Samsung managed to retain from the S20 siblings is the speaker. You get stereo speakers on the front which gets quite loud and can be enjoyable for playing movies or series. There is also support for Dolby Atmos audio. The loudness is not as good as the S20 Plus, however it gets the job done right. As for call quality, the audio was clear on both the ends and there was no issue with connectivity either. VoWi-Fi worked well too during testing.
Verdict
Buy it if...
You want to take great pictures

The Galaxy S20 FE combines great camera hardware and software. It can capture good-looking photos from long distances, at night, and of yourself. Also, it has dual OIS, which is the cherry on top.
You're looking for an excellent display
This comes with a 6.5-inch Super AMOLED screen with Full HD+ resolution. It is also a 120Hz panel. It is a typical Samsung display which has excellent viewing angle.
You value features such as IP rating and wireless charging
These are the two areas where most flagships or the flagship killers compromise but not Samsung. With Samsung Galaxy S20 FE you get IP68 rating and 15W wireless charging.
Don't buy it if...
You're a heavy user
As mentioned in the review, the phone tends to heat up quite often and we'd not recommend this is a person who's a heavy user. It's not difficult to slow down the chipset either.
You want long battery life
The biggest con of the device is poor battery life. With the Galaxy S20 FE, it is hard to even last a day and moreover, you are stuck with slow 15W charging.
You're not brand conscious
If you are a person who is not brand conscious and is ready to look outside of Samsung devices, you can go for the OnePlus 8T or Mi 10T Pro.
First reviewed October 2020