Smartwatches are slowly blurring the line between themselves and fitness trackers. Some may argue that they are still not very practical, but they do the needful when it comes to monitoring some basic health ailments. As for the good part, even some budget smartwatches cover most of the features that you'd find in the premium segment.
The advent of smartwatches gave rise to unavoidable debates like why someone would need a smartwatch over a smartphone to check the time and calendar.
But, the category became more functional with time, grabbing more smart features like calls, built-in voice assistants, social media notifications, and so on. Slowly, they started gaining rich features to help you keep the track of your health as well.
Best smartwatches under Rs 5,000
1. Amazfit Bip U Pro
2. Realme Watch 2 Pro
3. Realme Watch S
4. Redmi Watch
5. Boat Xtend
6. Fire-Boltt Talk
Smartwatches can now be your travel buddy, thanks to their built-in GPS. They can be an overall fitness tracker as well, thanks to several monitoring sensors. Their themes are customizable; they come in different sizes and strap options.
But, they are still evolving and a lot much is yet to be done on them. Having said that, they are quite operational and sometimes even deemed as replacements for smartphones in the future.
In fact, the cheap smartwatches are pretty capable to let you have the experience. Well, thanks to those smartphone manufacturers that have jumped in to be the catalyst in this process. There have been some frequent launches of affordable smartwatches in this category and we have tried compiling them under one list of the best ones.
These budget smartwatches feature heart rate, sleep, and activity trackers. Additionally, some of these also feature a SpO2 monitor which is a nifty addition to measure your blood-oxygen level.
The Amazfit Bip U Pro is a great fitness tracker for its price with over 60 sports tracking modes and plenty of health-related features. However, the stars of the show are the built-in GPS and Alexa smart assistant. However, Alexa doesn't work as well as we'd hoped.
The 1.43-inch LCD color display is bright enough to be clearly readable even on sunny days. It includes fitness and health-related features like heart rate, SpO2, sleep, breathing tracking, and much more. As for the smart features, you get Alexa, notification mirroring, music control, and a camera shutter. All the tracking features work well and precisely.
The Realme Watch 2 Pro has a 1.75-inch color display which is 56% larger than the previous model. It has a resolution of 320 x 385 pixels, a 30 fps refresh rate, and a peak brightness of 600 nits. You also get a dual-channel GPS which allows you to track multiple outdoor activities independent of your phone.
The wearable can track up to 90 sports modes including run, walk, strength exercise, football horse riding, hockey, table tennis, badminton, elliptical, yoga, cricket, boxing, bowling, and more. As for the battery life, the Realme Watch 2 Pro is rated to last up to 14 days on a single charge with the built-in 390mAh battery unit.
Also, you are getting the usual slew of sensors such as a heart rate sensor, SpO2 sensor to keep track of blood-oxygen levels, and a 3-axis accelerometer. Other notable features include caller ID, IoT control, reject/silence incoming calls, weather updates, notifications from apps on phone, and reminders.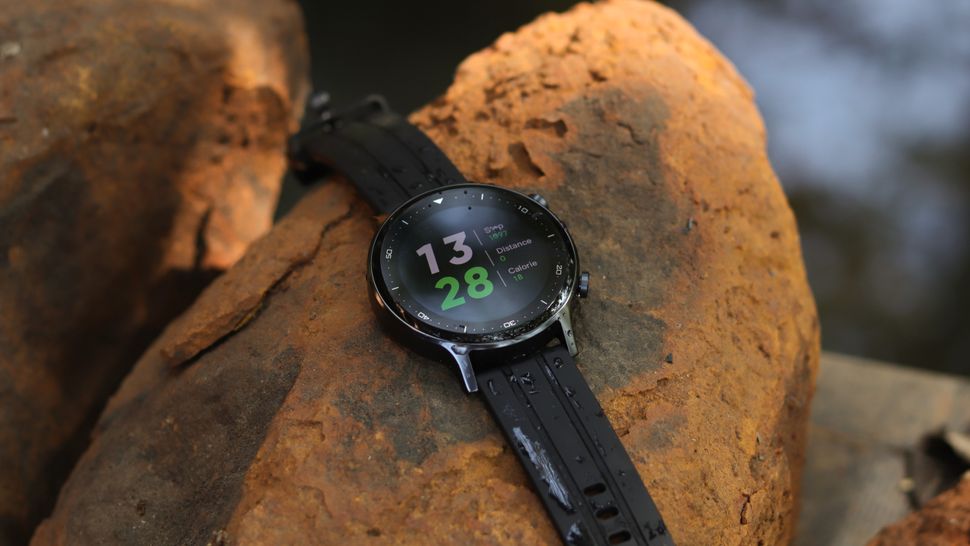 For those who are looking for a more stylish and appealing look on a smartwatch, the Realme Watch S could be an option. This smartwatch comes as a big leap ahead of their first smartwatch. The new design looks a lot more premium and closer to a conventional watch, increasing its appeal.
The 1.3-inch color display gets a lot brighter too, while the round face lets it blend in with more outfits. With a bigger battery, it comfortably lasts for two weeks on a single charge. The only real issue we had was that sports tracking was often inaccurate. We'd recommend you to go with Amazfit rather if you want a fitness tracker first smartwatch.
The overall experience with the Redmi Watch is a mixed bag. While this might not be our first choice, this can be a good alternative to the Amazfit Bip U series if you can live with the cons.
It comes with a pretty simple design and has a good color display. However, it misses out on on-screen protection, and also the straps are not the usual plug-and-play type. In terms of fitness and health features, the Redmi Watch supports 11 sports modes and it also comes with an in-built GPS which is a big addition to the price segment.
You get a heart rate monitor, but the wearables miss out on the blood-oxygen-level monitor which feels like a missed opportunity.
The software on the watch is quite basic with zero animations or transition effects. The app is quite minimal as well. It also comes with a very basic set of smart or productive features. Lastly, the Redmi Watch lasts for up to six days with moderate usage.
The Boat Xtend smartwatch offers a 1.69-inch LCD color screen - it is a touch screen display and comes with an auto-brightness sensor. It is also 5ATM water resistance rated. It also integrates the Amazon Alexa voice assistant, with the help of which, you will be able to set alarms, set reminders, alarms, answer queries, see weather forecasts, live cricket scores, and much more.
At the heart, the Boat Xtend smartwatch is a fitness tracker with the usual slew of features like steps counter, calories burnt, etc. It also supports 14 sports modes Indoor walking, outdoor walking, hiking, cycling, yoga, open water swimming, workout, pool swimming, indoor running, cricket, rowing, elliptical, spinning bike, and outdoor running.
In terms of health features, you are getting breathing exercise, 24/7 heart rate monitoring, a SpO2 monitor, sleep monitoring. The watch packs in a 300mAh battery unit which is rated to last for a week.
The Fire-Boltt Talk comes with Bluetooth calling feature which allows you to answer and also make calls right from the watch on your wrist. You can pick up a call and talk on the go. The watch also further includes view call history and has a dial pad that allows you to call a contact by entering the number manually.
It features a 44-mm large-screen display and an all-metal body with a crown button on the side. It packs in a heart rate tracking feature as well as a SpO2 monitor which can measure your blood-oxygen level. You also get a blood pressure (BP) monitoring feature which is hard to find on even some premium smartwatches. However, the readings aren't pretty reliable.
It also offers a rotating UI instead of a list view. As for fitness, the watch can track multiple sports modes including walk, run, cycling, skipping, football, basketball, badminton, and swimming. It is also IPX7 rated for protection against water and offers up to five days of battery.
Best smartwatches under Rs. 5000 in India