Love to read? Same here, and recently I've taken the plunge and started using an ereader to avoid lugging around a small library when travelling. These handy little E Ink tablets can set you back a pretty penny, and it's not often we see a discount on what we consider the best ereader currently available – the Kobo Libra 2.
But, if you've been looking for a more compact and lighter option to a stack of books, now's a great time to buy because Rakuten Kobo (and a few other retailers) have offered up a rare discount on the Kobo Libra 2.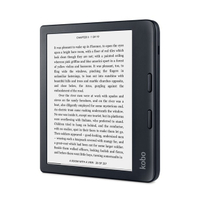 Kobo Libra 2 | AU$299.95 from AU$269 at Amazon (save up to AU$30.95)
If you want the very best ereader, then the Kobo Libra 2 won't disappoint. With 32GB of storage, you'll have plenty of space to store your library, plus reading on this gadget is a treat – its E Ink Carta 1200 display is snappy, offering a 20% increase in response to its predecessor, the Kobo Libra H2O.
Rakuten Kobo is the direct seller if you're looking for a Kobo ereader in Australia, and has currently slashed AU$20 off its price. But right now there are a few other retailers who have also discounted the Kobo Libra 2, even beating its bargain price by about AU$10.
Price comparison: Rakuten: AU$279.95 | Amazon: AU$269 | Kogan: AU$269
There's a lot to love about the Kobo Libra 2. From its comfortable asymmetrical design, to its wide file format support, including Kobo audiobook files, you'll be set to snuggle up with a good book in the cold or while lounging by the pool, and you won't have to worry about splashes harming your new ereader either – it has an IPX8 waterproof rating.
While the Kobo Libra 2 is currently unrivalled as a standard ereader, there are a few other deals on Rakuten Kobo if you're looking for something a little different – with one of Kobo's note-taking ereaders also having nabbed a discount in Rakuten's sale.
The Kobo Elipsa is a great option for students, professionals or ebook-readers who want to jot down notes in the margin – it's an amazing tool if you're looking for a new way to scribble without wasting paper. The Kobo Elipsa has picked up a discount from both Rakuten Kobo and Amazon right now.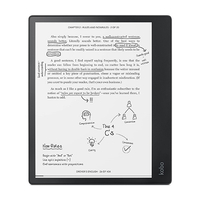 Kobo Elipsa pack | AU$599.95 from AU$544 at Amazon (save AU$55.95)
Stylus? Included. SleepCover? Also part of the price – you'll be ready to jot down notes in the margins of your favourite books with this Kobo Elipsa pack deal. While you might be tempted to pick up the newer Kobo Elipsa 2E, (and there are some nice improvements on the later model), you won't be missing too much with the older option. The Kobo Elipsa offers an asymmetrical design, boasts a 10.3-inch E Ink Carta 1200 display and has 32GB of storage. So while it might not be as compact as the other deals here, it's a premium note-taking ereader from Kobo, and even better with AU$50 off.
While Rakuten is the direct place to purchase the Kobo Elipsa, Amazon currently has it price beat by about AU$5..
Price comparison: Rakuten: AU$549.95 | Amazon: AU$544
Two other ereaders are also on sale on Rakuten Kobo, with the 8-inch Kobo Sage also offering Kobo Stylus support (but no included stylus) and a nice saving on the Kobo Forma which, as an older model, is now getting increasingly harder to find elsewhere.
Kobo's user interface is clean, simple to use and uniform across devices – that means users both new and old will be able to pick up a Kobo and navigate through one of these ereaders with ease. Plus, with OverDrive support for access to public libraries, a great variety of format support and the options to subscribe to Kobo Plus to expand your reading options, these ereaders make a great gift for the bookworm who speed reads through all their ebooks.