The best Final Fantasy XV PC deals for Windows
Get the best price for Final Fantasy XV: Windows Edition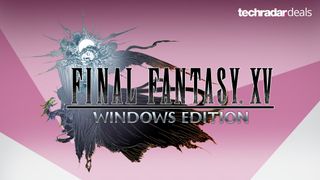 The Final Fantasy XV PC version, or Windows Edition if you insist, is finally out in the wild meaning you can unleash your rig on the incredible-looking world of Eos with Noctis and the gang.
But just because you want to get involved as soon as possible, that doesn't mean you should be paying those top-end prices. We're not keen on RRP in these parts and will track down the very best deals for you.
Directly below you'll find our comparison charts for the latest Final Fantasy XV PC deals for Windows which rounds up the cheapest retailers around for a copy, download or game key of Square Enix's long-awaited PC release.
What's included the Final Fantasy XV PC version?
The Final Fantasy XV: Windows Edition title belies the extra content you're getting here. It's best considered like a Game of the Year Edition, meaning it comes rammed with the season pass DLC from the console versions, along with a few tasty extras to celebrate life on PC too.
Final Fantasy XV was a gorgeous game on consoles, but your PC may well surpass it in style thanks to HDR 10 and native 4K support. Hell, you can even crank things up to 8K if your rig and display is ready. If you're needing an upgrade, be sure to take a look at our roundup of the latest cheap graphics card prices.
Naturally, mod support is included too, so if you want to populate the world with Moogles, then chances are, someone will have a mod ready by the end of the week. Because....well we're not sure why.
There's a new first-person mode which sounds like a great way to really get a good look at Eos first-hand (fingers crossed for proper VR support soon too!). The Final Fantasy XV season pass content includes expansions allowing you to play individual chapters with the other party members, Prompto, Ignis and Gladio - for the sake of the story, these should be played after finishing the main game's plot.
Your copy of Final Fantasy XV on PC also comes with all the free updates and patches seen on the console version, including the fix upgrade to one of the game's later chapters that was a bit rubbish on release originally.
What is Final Fantasy XV's minimum spec requirements?
We've lifted this selection of spec requirements for Final Fantasy XV: Windows Edition directly from the game's official website. You'll find requirements for minimum, recommended and 4K HDR.
Get daily insight, inspiration and deals in your inbox
Get the hottest deals available in your inbox plus news, reviews, opinion, analysis and more from the TechRadar team.
Brendan Griffiths is the managing Editor of Hardware & eCommerce - GamesRadar.com at Future. After spending his formative years as a games journalist, he joined Future Publishing and TechRadar in 2016. He manages a small team and wrote, commissioned, and maintained a vast collection of e-commerce content published around the world with particular focus on the US and UK. In 2020 Brendan joined another Future website, GamesRadar, as Managing Editor of the Hardware and eCommerce team to take charge of the site's eCommerce strategy, hardware reviews and buying guides.