The best cheap cell phone plans for September 2023: options from as a low as $5 a month
All the best cheap cell phone plans reviewed
Cheap cell phone plans: jump links
Jump straight to phone plans:
1. Our top picks
2. Best value
3. Best cheap unlimited
4. Cheapest of the cheap
5. Carrier alternatives
6. Best for seniors
Quick tips:
1. How to save money
2. Who has the best coverage
If you're looking to cut those monthly bills right down to size, let us help you out with a full roundup of this month's best cheap cell phone plans. We've tirelessly researched all the top carrier's in the US to come up with a list that we think, in our humble opinion, not only offers the lowest monthly costs, but also the best overall bang for the buck choices when it comes to cheap cell phone plans.
Of course, it can be tricky to determine which plan is best for you - after all, there are literally hundreds of choices out there and everyone has different needs. To help this, we've taken a pragmatic approach in our assessment of each of these cheap cell phone plans factoring not just costs, but also things like data allowances and handy perks too.
We've also clearly separated out each of our best cheap cell phone plans choices by what application we think they're best for. Put simply, whether you're a single line user, looking for a cheap unlimited plan, or even looking for a cheap family plan alternative to the big carriers - you'll find good options here. Mostly from the excellent selection of prepaid carriers out there right now.
Speaking of prepaid, we highly recommend you go with a prepaid carrier if you're looking for strictly cheap cell phone plans. Not only will you be doing away with those pesky long-term contracts, but these smaller companies quite simply offer bang-for-the-buck that the larger carriers simply can't compete with. Of course, there are a few caveats to going with a prepaid carrier, which we've thoroughly covered in each selection, and in our frequently asked questions section at the bottom of the page.
If you'd like to broaden your scope a little bit, we've got even more options over at our main best cell phone plans page. You can compare these cheap cell phone plans to what the big carriers are offering over at our Verizon plans and AT&T plans pages as well.
Recent updates
Amended Boost Mobile and Visible to reflect new plan changes for mid-2023.
The best cheap cell phone plans: top picks
The best cheap cell phone plans in the US
Here we'll be breaking down our choices and giving a quick analysis on each. You'll find all the basic information you need to know, such as monthly cost, data allowances and also coverage right here.

1. Best value cheap cell phone plans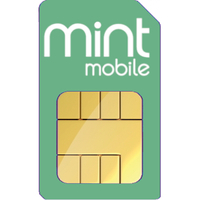 Mint Mobile | T-Mobile network | 3-12 month contract | 5 - unl. data | $15 - $25 per month
Mint Mobile has been our top choice for best value cheap cell phone plan for a while now thanks to its flexible pricing setup and dirt-cheap monthly rates. Mint Mobile plans operate a pricing system where you buy your plan in allotments of three, six, or twelve months upfront, with the longer plans averaging out at a cheaper cost overall. As you've probably guessed, the disadvantage with Mint is that you'll be paying a chunk upfront but it's absolutely worth it in our opinion if you don't mind doing so as you'll get heaps of value at this carrier. Mint has actually upped the data allowances on all of its plans for 2023 recently too, which means you can get an additional bit of data for the same low price as before. A great option for most users if something like Mint's 15GB (previously 10GB) plan for $20 per month since you get a decent amount of data, 5G data speeds, and mobile hot spotting as per all Mint plans. The combination of price, options, and features all combine to make Mint Mobile an amazing choice for most people.
2. Best unlimited cheap cell phone plans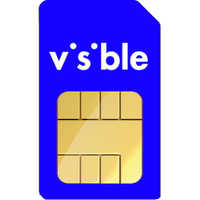 Visible | Verizon network | 1 month contract | unlimited data | $30 - $45 per month
Searching for a cheap unlimited data plan? We highly recommend checking out the latest Visible wireless plans. Not only has this Verizon subsidiary recently added a second premium tier to its outstanding lineup of cheap cell phone plans, but it's also cut the price on its existing standard tier by a whole $5 down to just $25 per month. This outstandingly low price, unlimited data, talk and text, and unlimited mobile hotspot make the standard Visible plan a superbly cost-effective pick. If you want more speedy data, consider the Visible Plus tier for $40 per month, which includes 50GB of wide-band 5G data that can't ever be slowed down - even if the local network is busy.
3. Cheapest of the cheap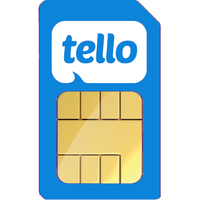 Tello | T-Mobile network | 1 month contract | 500mb - unlimited data | $5 - $29 per month
Tello is a relatively new MVNO (smaller) carrier that has a flexible build-your-own plan approach, allowing you to cut out the various extras you don't need for a cheaper plan overall. You can go down as low as $5 here, but our pick is probably the unlimited data plan at Tello which has been recently reduced from a relatively expensive $39 per month to just $29 per month, which is one of the most competitively priced on the market right now.
4. Verizon coverage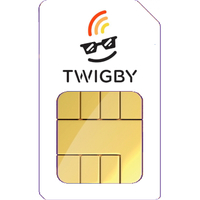 Twigby | Verizon network | 1-month contract | 2GB - Unl. data | $15 - $35 per month
Twigby is a great option for those who get the best coverage from Verizon in their area but want to go with a cheaper prepaid option. Its plan layout is pretty similar to Mint Mobile - with three distinct tiers starting at $15 a month for a 2GB data, plus unlimited text and calls plan. Right now they're running a fantastic introductory offer for new users - giving you the first 3 months at 50% off if you're a new customer, so definitely consider them as a cheaper Verizon alternative. Note that the Twigby unlimited data plan has also been discounted down to $35 per month from $40, which makes a decent alternative to Visible Wireless.
5. AT&T coverage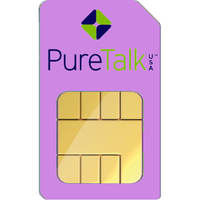 6. T-Mobile coverage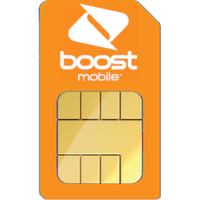 Boost Mobile | T-Mobile network | 1 month contract | 1GB - unlimited data | $8.33 - $60 per month
You're really spoilt for choice when it comes to cheap cell phone plan alternatives on the T-Mobile network as both Mint Mobile and Tello operate on this network. That said, Boost Mobile is another fantastic option that's recently adopted a new lineup of plans that put it neck-and-neck with the likes of Mint and Visible. For example, you can now get a completely unlimited data plan for just $25 per month at Boost, which undercuts Mint by a whole $5. The catch here, however, is that you'll cap out at 30GB for 5G data speeds versus the 45GB at Mint, and you'll also skip out on Mobile hotspot allowance, unless you upgrade to the $40 per month Boost unlimited plan. Still, Boost is a fantastic option that's easy to recommend for value.
7. Best pay-as-you-go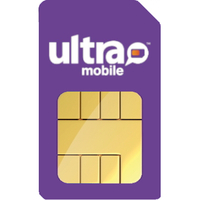 Ultra Mobile | T-Mobile network | 1 month contract | 100Mb data | $3 per month
Are you a light user? You could consider cutting it right down to the basics and opt for a pay-as-you-go SIM card. Ultra Mobile is a prepaid carrier (sister to Mint Mobile) that operates under the T-Mobile network and offers a great option for just $3 a month. For that small sum, you'll get 100MB of data, 100 texts, and 100 minutes of call time thrown in. After that, you'll be charged 3 cents for every minute of call time or MB of data usage, and 1 cent per text, making it a very cheap option for a light user. Note - Tello also operates a similarly fantastic pay-as-you-go plan.

Compare all the prepaid plan options at Ultra Mobile
Cheap cell phone plans: FAQ
How do I save money with a cheap cell phone plan?
Switch to a smaller carrier
Any of the cheap cell phone plans on our list will save you a ton of cash versus the more established brands like AT&T, Verizon, and T-Mobile. While bigger carriers do tend to offer more fully-featured plans overall (with things like streaming service subscriptions), when it comes to value they simply can't compete with the smaller fish. Even if you're going to go with an unlimited data plan, for example, carriers like Visible offer cheaper prepaid alternatives for as low as $25 a month. For context, that's about a third of what you'd expect to pay with Verizon, which is Visible's parent company. Subsequently, it can pay dividends to jump ship to a smaller, up-and-coming cheap cell phone plans company.
Cut out what you don't need
Don't pay for what you don't need! It's a simple adage, but it rings true when shopping around for the best cheap cell phone plans. Data especially is one key area where a simple cut-back can really help reign in those monthly bills - particularly if you're someone who tends to use WiFi more than their cellular data. These days, nearly all cheap cell phone plans carriers offer unlimited talk and text on their service, so the biggest savings tend to be around cutting data rather than other features. Bigger carriers also offer things like bundled-in streaming service subscriptions, which don't tend to be featured on cheaper prepaid plans, but are worth dropping if you're strictly on a budget with a post-paid plan.
Review plan usage and avoid data upcharges
Before you commit to any of the cheap cell phone plans on our list we recommend having a solid idea of how much data you'll use each month, along with requirements for talk and text. Some cheaper carriers tend to have quite strict allowances where they'll either cut off your data, throttle your speed, or even charge you extra for going over your monthly allowance. Note - this upcharging is actually pretty uncommon now, and none of the cheap cell phone plans on our list will charge you if you go over your allowance (without prompting you). Still, it's worth reading any fine print carefully and having a good idea of your data usage before you jump on board with any carrier.
Who has the best coverage?
All of the cheap cell phone plans featured in this article are offered by MVNO companies using the bigger carrier networks of Verizon, AT&T and T-Mobile. They all have good coverage nationwide but you'll definitely want to determine which one's best for you by using the coverage checkers on their websites.
Here are some quick links to the various pages where you can check your coverage directly. Simply enter your zip code or pinpoint your location on the provided maps to see which big carrier has the best coverage in your local area.
How are these cell phone plans so cheap?
Smaller carriers (MVNOs) don't run their own networks for cellular coverage, instead opting to 'piggyback' off one of the four major carriers networks instead. This has the primary benefit of the MVNO not having to pay costly upkeep on maintaining the physical infrastructure needed for a cellular network but still enabling them to have great coverage. That saving means they can operate with much lower overheads and offer cheaper cell phone plans overall to their customers.
All this does come with a catch however, as the big carriers like to prioritize their own customer's connections when the network is seeing heavy traffic overall. This can lead to what's called 'de-prioritization' for the customers using a sub-carrier, which essentially results in a slower connection over LTE (non WiFi internet). That said, the potential savings of going with a smaller carrier tend to outweigh the disadvantages of a potential slower connection for most people. In general, the market tends to call these types of plans prepaid plans, as opposed to the usual postpaid (unlimited) options at the likes of Verizon and such.
Sign up to receive daily breaking news, reviews, opinion, analysis, deals and more from the world of tech.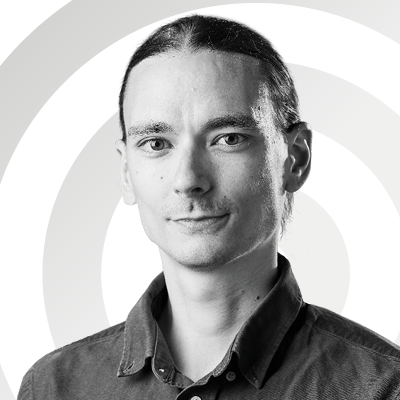 Alex is deals editor at TechRadar. With over three years of experience on-site and eight years working in e-commerce, Alex has made it his personal mission to share all his favorite tips, bargains, and deals with our readers here at TechRadar. At work, he specializes in computing, phones, and covering huge sales events like Black Friday and Amazon Prime Day. Outside of work, you'll find him indulging his keen love of photography and PC gaming, or down at the local climbing gym hanging off boulders far too difficult for his abilities. His editorial bylines also include contributions to T3 and GamesRadar.