This is the secret to upgrading your Windows 11 PC's Wi-Fi
How to upgrade the Wi-Fi on your old PC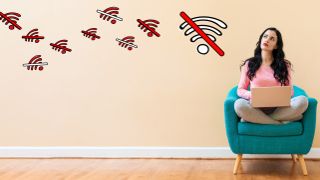 (Image credit: Shutterstock / SFIO CRACHO)
Like all technologies, Wi-Fi continues to develop, and the latest version - known as Wi-Fi 6E - provides much better performance, as well as new features that weren't available with earlier forms of Wi-Fi. Many of the best routers and the best mesh systems that have been released in the last year or so are, therefore, now using this new Wi-Fi standard.
Some people still opt for one of the best Wi-Fi 6 routers that use the earlier Wi-Fi 6 standard (the older Wi-Fi 5 is now being phased out, while the forthcoming Wi-Fi 7 is still about a year away), especially since these Wi-Fi 6E routers are still relatively expensive. However, the trend towards working from home and increased reliance on streaming music and video has led an increasing number of people investing in these new Wi-Fi routers to provide better performance for their home or office networks.
Each new version of Wi-Fi is backwards-compatible with previous versions, so if you buy a new router with Wi-Fi 6E then you can still use it with older computers and mobile devices that may only have Wi-Fi 5 or 6. However, those older devices won't get the improved performance and features of the latest routers with Wi-Fi 6E.
That's where Wi-Fi adapters come in handy. All modern computers and mobile devices have their own Wi-Fi already built-in, but if you've just bought an expensive new Wi-Fi router or mesh Wi-Fi system that uses Wi-Fi 6E, then it's worth considering a Wi-Fi adapter that can upgrade the Wi-Fi on your PC as well.
Why a Wi-Fi adapter
There are many millions of people - including me - who are still using PCs that only support Wi-Fi 5. This was the standard for quite a few years, from 2014 to almost 2020, and it provides a top-speed of 3.5 gigabits per second (Gbps) using the 2.4GHz and 5.0GHz frequency bands.
That speed leapt to 9.6Gbps with Wi-Fi 6, which arrived in 2019. And while the new Wi-Fi 6E isn't actually much faster, it has one very important new feature as it introduces a new 6.0GHz frequency band that is both fast and reliable.
Since there aren't many PCs or mobile devices that currently support Wi-Fi 6E, that 6.0GHz band doesn't get clogged with interference from other devices, as can happen when you have lots of them competing for bandwidth on the busy 2.4GHz and 5.0GHz bands.
So, if you've got a PC that is a few years old, you can really benefit from a Wi-Fi adapter that upgrades the Wi-Fi on your PC so that it gets the best performance from your new router.
A Wi-Fi adapter can also be a good option for people who travel a lot with their laptop. It will allow you to connect to high-speed Wi-Fi networks in offices, hotels or other public venues that use the latest Wi-Fi tech.
Here's the catch
The bad news is that most Wi-Fi adapters that are currently available will only work with PCs running Windows 10 or 11. They don't work with the best Macs and MacBooks or even Linux computers or mobile devices running iOS or Android. And, just to confuse matters even further, the version of Windows that you are using on your PC will also determine which adapters you can use.
Windows 10 only works with Wi-Fi 6 and won't work with Wi-Fi 6E at all (ask Microsoft…). But, as mentioned, there are millions of older PCs still in use that only have Wi-Fi 5, so a Wi-Fi 6 adapter such as D-Link's AX1800 could be a good upgrade for an old PC with Windows 10 that only has Wi-Fi 5.
What's best for Windows 11 users
You have more options if your PC is running Windows 11, including new Wi-Fi 6E adapters such as the Netgear A8000, which costs $89.99 / £74.99 / AU$129.95.
The adapter itself looks rather like a chunky memory stick, measuring 93mm long, 31.4mm wide and 14.5mm thick. However, some of that size is due to a built-in antenna that folds out of the body of the adapter in order to improve transmission of the Wi-Fi signal. Having such a large device sticking out of the side of your PC all the time could be a potential problem - especially with a laptop - as it could easily get caught and snap off accidentally. The adapter is also so large that it blocked an adjacent USB port on my laptop.
The good thing is that Netgear also includes a separate 'cradle' - a small docking unit that can sit on your desk in order to connect the A8000 to your PC via a standard USB cable. That allowed me to use my laptop's other USB port once more, and you can just unplug the cradle and leave it on your desk when you want to move around with your laptop.
It's a little odd that the A8000 adapter uses a USB-A interface, as quite a few modern PCs - especially laptops - have now ditched USB-A altogether and only have USB-C ports. We did test the A8000 with a USB-C adapter, and it worked perfectly well with a laptop that only has USB-C, but there's no USB-C adapter included in the box so you'll need to provide that yourself. The A8000 will work with any Wi-Fi router, though, so you don't have to own a Netgear router in order to use it.
Installing the Nighthawk A8000 is very straightforward, and the installer program for the Windows software is included on a small memory stick that's included with the adapter, so you don't even have to take time to download it from the web. Once the software is installed it works automatically, with no other app to use, or settings that need to be adjusted.
My office laptop has Wi-Fi 6, and when it's connected to our normal office router it records download speeds of 130Mbps on the 2.4GHz band and 702Mbps on the 5.0GHz band. But, with the Nighthawk A8000 plugged in, my laptop was able to connect to a newer Wi-Fi 6E router and romp away with speeds of 287Mbps on the 2.4GHz band, and 1200Mbps (1.2Gbps) on the 5.0GHz band. And, of course, support for Wi-Fi 6E meant that the A8000 also allowed my laptop to connect to the newer 6.0GHz band as well, again with a speed of 1200Mbps.
Wi-Fi 6E is still fairly new, so an adapter like the Nighthawk A8000 isn't essential for most people right now. However, the ability to use that new high-speed 6.0GHz frequency will be important in years to come, so it will be a good future-proofing option for your PC if you decide to buy a new router in the near future.
YOU MIGHT ALSO LIKE
Sign up for Black Friday email alerts!
Get the hottest deals available in your inbox plus news, reviews, opinion, analysis and more from the TechRadar team.
Cliff Joseph is a former Editor of MacUser magazine, and a freelance technology writer with 30 year's experience in the industry (and old enough to remember when Apple was close to going bust…).
His first job involved using Macs for magazine sub-editing and typesetting, which led to the realisation that these computer-thingies might actually turn out to be useful after all. After a few years specialising in the Mac side of the market, he went freelance and embraced the wide world of digital technology, including Windows PCs, digital audio and hi-fi, and networking. Somewhere along the line he also developed a bit of a gaming habit and has stubbornly waved the flag for Mac gaming for far too many years.