Don't underestimate the best small keyboards just because of their compact structure. A full-sized keyboard might be loaded with a lot more features, but most people don't take advantage of them anyway. On the other hand, small keyboards can just be as accurate and reliable as their full-sized counterparts - only they've got that added benefit of taking up less space and being more portable.
So, while small keyboards are somewhat underappreciated, they're worth considering alongside the best small mouse, especially when you value space and traveling light above everything else. If you're always traveling, working at a café, or just dealing with a small desk, these pint-sized peripherals will see you through your needs while maintaining a smaller footprint.
Besides, we've chosen all of these keyboards below not just for their size, but also for their fantastic performance and additional feature set. Whichever you choose - one of the gaming keyboards, a mechanical keyboard for coding, or a thin and light one for traveling, it's guaranteed your typing needs will be satisfied. These are the best small keyboards of 2022.
Every inch of Microsoft's Wedge Mobile Keyboard is built for travel, whether it's the compact design, measuring just 10.1-inches long and less than 1 inch thick, Bluetooth connectivity or its cover made to moonlight as a stand for your Windows tablet. True, it isn't as lightweight as many of the models on our list of the best small keyboards, but the fact that its thin, durable and has a dual-purpose cover makes it easy for stowing away in your backpack or suitcase. Better yet for your typing needs, the Microsoft Wedge Mobile Keyboard is very comfortable to type on, with light-touch keys so you won't have to pound away unnecessarily, and it's very responsive as well. And, for those concerned about aesthetics, it looks good while doing all that.
Read the full review: Microsoft Wedge Mobile Keyboard
You have to hand it to Logitech for crafting peripherals that not only look and feel good, but are ingenious in their function as well. Take Logitech K780, for example. This nifty little wireless keyboard is a multi-device peripheral, meaning that it works with your computer, tablet and phone. Not only that, but it also allows effortless cross-device typing thanks to Logitech's FLOW feature – you need only press a button to use it on another device. It also automatically recognizes each device it's connected to and adapts to every device's operating system. Finally, it has a mount that fits both your tablet and your phone, as well as a two-year battery life.
The Corsair K63 Wireless isn't just among the best small keyboards; it's also one of the best gaming keyboards to date. That's right. Corsair has managed to pack this keyboard with many of the features and trimmings serious gamers expect from their keyboards in a compact design – from the per-key customizable LED lighting and dedicated multimedia keys to anti-ghosting, full key rollover and even a Windows Lock Key. This is gaming peripherals for travel, done right. And as far as using a wireless keyboard for gaming? Well, with its ultra-fast 1ms 2.4GHz wireless technology with Cherry MX switches, we think you're good to go.
Read our full review: Corsair K63 Wireless
Corsair may be known for its gaming peripherals, but that doesn't mean that's all it can do. The Corsair K83 Wireless Keyboard is proof, offering an almost complete keyboard solution to all your key pressing needs. It's comfortable to use and sturdy, so it'll last a long while on your desk. Plus, it's more than just a keyboard – it has an integrated precision touchpad with turntable functionalities as well as a joystick and a volume roller. Of course, Corsair still pushes it as great for gaming, but it's the ticket for controlling media, connecting to your PC from your TV and controlling compatible smart TVs.
Read the full review: Corsair K83 Wireless Keyboard
Let's face it: we all have days when we're feeling lazy, and we just want to sit back on the couch to binge-watch our favorite show… maybe answer an email or two between episodes. Well, Logitech's got a keyboard for those days too. With a 10-meter (33-foot) wireless range, the K400 may just be one of the best small keyboards for anyone who has a TV-connected computer setup, giving its users a lot of control by adding a touchpad and media keys in its already svelte and compact body. For an even more seamless operation this keyboard has customizable F-keys. You may never have to get out of your couch again.
You'll have a hard time finding fault in Logitech's K380 Multi-Device Bluetooth keyboard. Designed for those whose work and personal life is all about multi-tasking, whether they're working and traveling at the same time or just constantly splitting their time between devices, it comes with features that make life easier. It's small and thin, making it incredibly portable.
The Logitech K380 comes with multiple device Bluetooth connectivity and three buttons that allow you to quickly switch from one device to another. And, it's surprisingly affordable so it's easy on your wallet as well. That isn't to mention the fact that for a small and thin keyboard, it's got comfortable spacing between the keys, and the keys themselves deliver great bounce and tactile feedback for a pleasurable typing experience.
Who would've thought that mechanical keyboards can also be slim, lightweight and portable? Those are certainly some of the Keychron K3's main selling points. This portable keyboard, which also comes with optical switches, gives you that incredibly satisfying feel, bounce and travel that mechanical keyboards are known for – minus all the extra baggage. It even comes with RGB lighting with several deliciously fun profiles you can cycle through with a press of a key.
And if you want to experiment with different types of switch to see which feels best to you, know that they are swappable – though you'll have to pay extra for the second set of switches. Be warned, especially when you have that RGB lighting on, the battery will last you about a day and a half or two days. The good news is, it is rechargeable and is fast charging.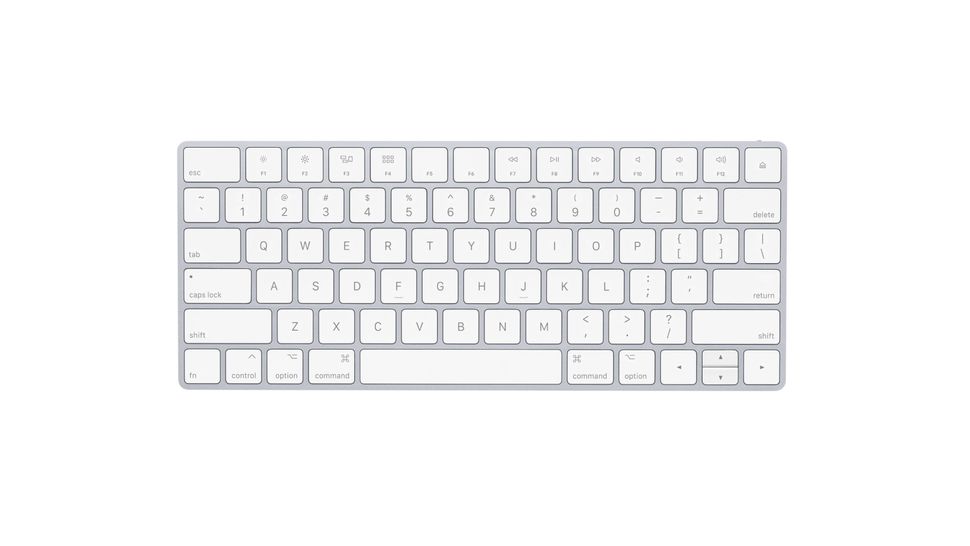 Apple's Magic Keyboard is the most comfortable, reliable and good-looking keyboard we've ever had the pleasure of using. It's actually incredible how sleek and thin this keyboard is, especially considering how comfortable it is to use, thanks to its great bounce and satisfying tactile feedback. It's, of course, due in large part to that stable scissor mechanism, which Apple has adopted on its laptops as well. It's also so easy to use. Turn it on for the first time, and it'll automatically pair with your Mac – it's so decidedly Apple. Finally, there's that battery, which lasts you a whole month before it needs charging, unlike other Bluetooth productivity keyboards that only last you a few days.
If you're looking for that typewriter feel while simultaneously giving your setup a nice pop of color, the aptly named Logitech Pop Keys is a fantastic option. You'll love that deep press, round keys, and extremely satisfying bounce – although if you're used to the more modern keyboards with less travel, it might be a bit of an adjustment. It's surprisingly versatile as well, with two connectivity options, up to three years of battery life, and multi-device connectivity. It also comes with three buttons so you can effortlessly switch between devices and five emoji buttons.
Read the full Logitech POP Keys review