Battery life
The Pixel 3 has a 2,915mAh battery, which is slightly smaller than we had hoped (the Samsung Galaxy S9 has a 3,000mAh and we think that could stand to last longer), but it's still an improvement over last year's 5-inch Pixel, which had a 2,700mAh unit.
The battery life is the biggest downside to opting for the smaller Pixel 3. Yes, you can get all-day battery life from this phone with conservative use, but even normal use had us reaching for the charger before the end of the night. That's a problem when you're capturing so many photos using the great camera. The battery really takes a hit.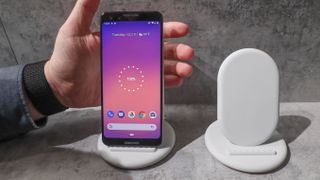 Google's new Android 9 Pie software does give it more juice, with adaptive battery settings that work behind the scenes. It essentially limits the power of apps you don't use in the course of a day, and it's a perk that's coming to all Android Pie phones (you may already have it on your current Android phone).
The 18W charger returns for fastest charging speeds, but exclusive to the Pixel 3 and Pixel 3 XL (among Pixel phones, at least) is fast wireless charging. The new glass back gives this feature the ability to charge with any Qi charger.
Google launched its minimalist-looking Pixel Stand wireless charger, which doubles as a way to see notifications and interact with Google Assistant, as if this were a mini Google Home Hub.The stand isn't ideal for traveling (it doesn't fold flat, sadly), but it's a nice option for slightly slower 10W charging on a night stand. We were able to reach 80% battery capacity in 1 hour and 39 minutes using wireless charging.