Verdict
The Google Pixel 3 is offering a lot, and in a tighter package than most other flagship phones – the larger Pixel 3 XL included. Chief among them is the single-lens 12.2MP rear camera that delivers slightly better photos and, even more importantly, consistently usable photos compared to the competition. Samsung and LG camera phones occasionally exhibited blurriness or poor low-light performance, and Apple's iPhone XS Max liked to using warmer than necessary color tones. The Pixel 3 delivered the best pictures each and every time. The one and only time it blurred the foreground subject (us) was when we were wearing sunglasses – it so relies heavily on subject recognition.
The Group Selfie Camera, part of Google's front-facing 8MP camera duo, doesn't revolutionize selfies. But it does help capture what you're posing or who you're posing with. It puts your selfies into context, especially when you're with a bunch of friends or in front of tall, iconic buildings. There are noticeable funhouse-mirror distortion around the edges if you're not careful with how your frame your Group Selfie Camera shot.
You will have to forgo the additional battery life that comes with larger phones when picking the smaller Pixel 3. That's the one major issue we had with this smartphone, especially when photo-taking power users are the key audience.
We liked carrying around the Google Pixel 3 more than the larger Google Pixel 3 XL. This is the one-hand-friendly version of the Pixel 3 XL that your grip will appreciate, and you don't have to worry about the notch cut out at the top. It's also cheaper than most other flagship phones in 2018, even if it is more expensive than last year's Pixel 2. It's not only Google's best camera yet, it's the best camera on any smartphone today.
Should I buy it?
Yes, if you're seeking the best camera phone at a reasonable size and a reasonable (by 2018 standards) price. You'll get the best photos from the Pixel 3 and Pixel 3 XL, and the smaller phone is more one-hand-friendly than most flagship handsets. Power users may want to opt for the larger Pixel 3 XL given its larger battery capacity.
Who's it for?
The 5.5-inch Google Pixel 3 is best in the hand (singular hand) of someone who wants the best phone camera without having to opt for a handset as big as the Samsung Galaxy Note 9 or iPhone XS Max. It's priced competitively next to its rival phones, and delivers more consistently rich photos.
Competition
Samsung Galaxy S9
The Samsung Galaxy S9 is the chief rival to the Pixel 3, with a larger 5.8-inch screen and more elegantly curved design. Its 12MP camera is also incredible, though, in our tests, second best next to the Pixel 3 and Pixel 3 XL. Samsung's camera software is a little more robust for selfie taking (triggering selfie photos is easier with your hand), smooth hyperlapses, and super slow motion footage.
Full review: Samsung Galaxy S9
iPhone XS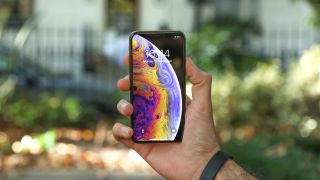 iPhone XS is great camera performer and has a 5.8-inch screens size. However, the operating system is a bit different from Android, so there's some adjustment when entering or exiting Apple's walled garden ecosystem. The photo colors are almost always warmer on the iPhone XS compared to the Pixel 3, and we found slightly more detail in Google's camera.
Full review: iPhone XS