Best Soundbar: Quick Menu
For movie lovers, hi-fi enthusiasts and avid gamers, buying one of the best soundbars is a great investment you can make to well and truly ensure you get the most out of your favourite content. Impressive as they are, even the best TVs have their limitations when it comes to allowing the audio of your favourites to really shine, as TV sets getting slimmer has meant less space for beefy speaker systems.
Many of the top soundbars offer powerful in-built speakers, often engineered to fire audio in a number of different directions to truly surround you with the sounds of your content – including those that support the all-enveloping Dolby Atmos. This means an opportunity to better immerse yourself in whatever it is you're viewing or listening to, through an authentic 3D audio experience that feels like you're living within each moment.
Over the years, we've put a wide variety of soundbars to the test, assessing their overall audio quality, connectivity, price and all other relevant features to help us to determine which of these audio solutions are the top options worth considering. To see for yourself our picks for the best soundbars in Australia, we've compiled the list below with something to be discovered for every need and every budget.
The quick list
The best soundbar for you will obviously depend on your own needs and habits, while often also having to conform to a certain budget and space or layout of your room. While the top of the list below might be what we see as the best, any one of the others here might be even better for you.
Still, your ideal home cinema experience might only be one step (and one soundbar) away, so see which of the picks below might be the right one for you.
Our top picks
The best soundbars 2023
Why you can trust TechRadar We spend hours testing every product or service we review, so you can be sure you're buying the best. Find out more about how we test.
Read on to find more in-depth reviews for each of the best soundbars in Australia available right now, along with links to the full reviews written by our team of home audio experts.
The best soundbar overall
For a soundbar at its price point of just over AU$500, the Sony HT-G700 doesn't skip out on features, particularly when considering this one comes as a soundbar and wireless subwoofer combo.
A step above just excellence in the arena of stereo, the HT-G700 supports both Dolby Atmos and DTS:X elite surround sound formats which is something it holds over even some premium, high-end soundbars. The HT-G700 also uses excellent sound processing and acoustics to create expansive sound extending beyond the confines of your TV screen, but without losing touch with the positioning and direction of specific sounds.
While premium models like the Sonos Arc (see below in this list) as a standalone soundbar might offer deeper bass than the HT-G700 as a standalone soundbar, the wireless subwoofer packaged with this one helps to elevate it to points most soundbars won't reach alone. Dialogue with the HT-G700 is also excellent so you won't miss a thing, with or even without the addition of the model's speech-boosting mode enabled.
Overall, the dynamic sound quality and capabilities of the HT-G700 might fall short of those possible from the likes of the Sonos Arc or similar premium soundbars, but those will set you back considerably more than the HT-G700 will. For the quality it offers at the price it's asking, the HT-G700 is our pick for the best of the best.
Read our full Sony HT-G700 review

The best Sonos soundbar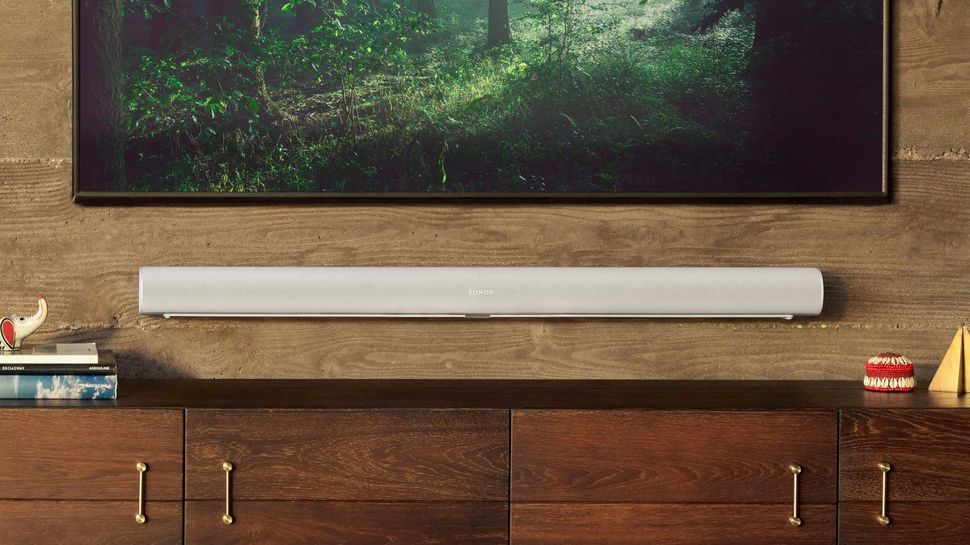 The Sonos Arc hasn't been named as such by accident, creating a new surround sound solution within a single soundbar designed to feel as if the audio experience is circling around you (y'know, like an arc). Sure, Arc might also be the name given to this soundbar for the HDMI interface that it uses (Audio Return Channel), but experiencing this one for yourself will pretty quickly lead you to think the former is more likely.
Either way, this premium surround sound solution is an absolute force capable of filling a room with sound, without having to also fill it with unnecessary hardware space. Utilising Dolby's TrueHD and Dolby Digital Plus sound codecs to deliver the best quality lossless audio found on cutting edge Blu-ray discs and some of the leading streaming services. The Arc further enhances its 3D soundscape using Dolby Atmos object tracks to bounce certain sounds off the walls around you so it feels as though this sound is coming at you from all angles.
Setup is simple thanks to its handy smartphone app, while the Arc's minimalist cable connections match its equally minimal all-in-one system construction to offer an unassuming soundbar package with premium punch beyond what you might imagine at first glance.
Predictably, this premium soundbar doesn't come cheap, allowing the HT-G700 to leapfrog it on this list based on value alone, but rest assured that if price is no obstacle for you there is arguably no better option available on the market right now than the Arc.
Read our full Sonos Arc review

The best compact soundbar
The Bose Smart Soundbar 600 is proof that you don't need to go big on either budget or package size to get the most out of your audio experience. The Bose Smart Soundbar 600 may only be a newer entry into the soundbar market, but its ability to offer Dolby Atmos and an otherwise generally premium audio experience at a price within reasonable reach sees it landing here in third spot on our list.
The sound you'll find here comes in a size far exceeding that of the soundbar, with an audio profile that extends far beyond the design's restrictions to better resemble a surround sound solution than what one expects from a soundbar alone.
That quality doesn't decline either for music, which is something the Bose 600 holds over some of its competitors, likewise the array of connection options available with this soundbar is more generous than most. Bass depth is promising, even if less than what soundbars packaged with subwoofers can offer, but that's not unexpected for a standalone soundbar like this one. In fact, you could argue the depth of the bass for the Bose 600 given it doesn't have a subwoofer in tow is on the more impressive end.
Overall, for the price point, the Bose 600 offers exceptional quality, expansive sound and impressive character that elevates it above so many of its competitors.
Read our full Bose Smart Soundbar 600 review

The best cheap soundbar
If you're looking for a cheap and compact soundbar that won't break the bank or impose on your living room, the Yamaha SR-C30A is worth a look. During our testing, we found that the soundbar and accompanying wireless subwoofer deliver "a nicely detailed, quite assertive sensation of stereo audio."
However, don't expect miracles here. In our Yamaha SR-C30A review we also commented that the soundbar is only going to give you audio that's a few steps up from what your TV can manage. But for the price, that's all we'd expect and it's all a lot of people need – especially from a second TV or a smaller TV that's somewhere between 32- and 50-inches.
For bigger TVs, or to make the most of movies, the Sony HT-G700 in this list above is a slightly superior pick for a budget-friendly soundbar. But the Yamaha does do a better job with music and is more than capable with all various other content types, making it a pretty solid budget rival.
Read our full Yamaha SR-C30A review

The best Dolby Atmos soundbar
For some audiophiles, it might be considered somewhat controversial to include the Q930B as low as this on our list, but hear me out. Sure, with the inclusion of rear speakers not found in previous Samsung soundbars, and with both Dolby Atmos and DTS:X decoding, the Q930B offers extremely impressive and immersive audio for movies or TV. For movies and TV alone there might even be an argument to suggest the Q930B as the best of the best.
However, for the asking price of this model, there are a few key ways where the Q930B falls just shy of achieving the lofty standards to be deemed best on the market. Sure, the HDMI loopthrough here supports HDR10+ and Dolby Vision HDR formats as well as 4K resolution at frame rates of up to 60Hz, but there's no support for the 4K/120Hz or variable refresh rate (VRR) features now seen in the PS5, Xbox Series X or many of the best TVs. For this price, if you're looking for an audio experience elevating more than just your movies, this one falls short.
Still, there's no question the Q930B excels in home cinema, offering immersion in its sound profile of a premium quality proportionate to its premium price. For cinema alone, it might be the best, but for something to be the best overall soundbar you'd want to see more for the price.
Even so, if you're a big movie fan looking to bring a bold cinema experience into your living room, and won't require much of anything else from your soundbar, the Q930B might be the option for you.
Read our full Samsung HW-Q930B review

The best value soundbar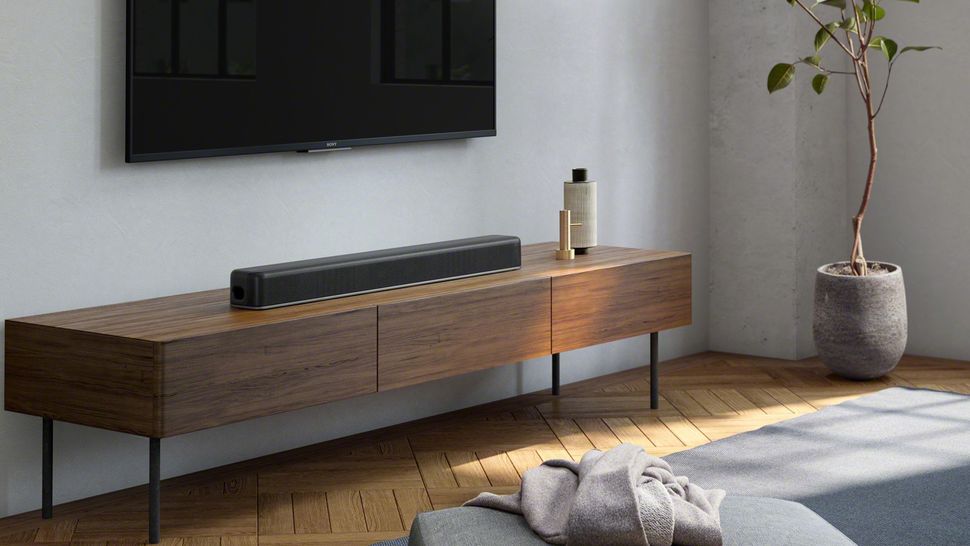 Given that rival Dolby Atmos-compatible soundbars typically sell for twice the price, Sony's HT-X8500 warrants an easy recommendation. Cost-cutting can be attributed to connectivity and features but what's genuinely confounding is just how great the HT-X8500 sounds.
The key to the HT-X8500's gutsy performance is Sony's proprietary Vertical Sound Engine – working with Dolby Atmos and DTS:X content, it creates a convincing illusion of wraparound sound that allows Dolby Atmos movies to play with a clear sense of expanded height and width.
The build quality and design of the soundbar is exceptional, and its general audio performance impresses with its clarity and spatial presentation.
Overall, if you want a home theatre sound system that won't dent your budget, it's probably the best option right now.
Read our full Sony HT-X8500 Soundbar review

The best small soundbar with Dolby Atmos
If you're tight on space, the Sonos Beam (Gen 2) is pretty close to the best soundbar you can buy. Its compact size means it will easily slot beneath your TV, whether you pop it on a TV stand or mount it to your wall, and the design is enough to match most decors.
It improves on the company's original Sonos Beam soundbar with virtual Dolby Atmos, HDMI eARC compatibility, and a refreshed design. While it doesn't have the upfiring tweeters necessary for 'true' Dolby Atmos (and as a result, the sonic height isn't as impressive as the Sonos Arc), the Sonos Beam (Gen 2) boasts a wide soundstage and an immersive audio performance.
HDMI eARC compatibility allows for hi-res audio streaming, making it ideal for listening to music, too.
Read our full Sonos Beam (Gen 2) review

The best premium soundbar
Like the Sonos Arc, if price isn't an issue, the Samsung HW-Q990B could be unrivalled as the best high-end Dolby Atmos soundbar system. Delivering 11.1.4 channels of audio that it directs around and above through a combination of soundbar, subwoofer and two wireless rear speaker units, as a package deal the Q990B is a force to be reckoned with.
An 'acoustic lens' introduced for the Q990B on the included subwoofer diffuses sound better around a room, while the rear speakers have also been redesigned to better help the precision of the upfiring drivers. 'Space Fit' automatic room compensation also appears to help maintain detail in the sound as it reflects around, and the overall audio experience is as dynamic as it is powerful.
As our review stated: "the Q990B creates the most fully rounded and immersive surround sound experience we've ever heard from even the best Dolby Atmos soundbars."
These aren't wasted words. From a power-only perspective, the Q990B might be the best money can buy, with dynamic audio capable of providing a surround sound solution so strong that it might be unparalleled. The dynamism of the sound is the true highlight, offering premium strength both low and high.
The main problem? That price. At launch, the Samsung HW-Q990B came with a price tag over AU$2,000. We are starting to see that price come down, but make no mistake, this is still an investment that you may want to weigh up.
Read our full Samsung HW-Q990B review


The best slimline soundbar
The Samsung HW-S800B is proof that big sound doesn't have to come in a big package, being one of the slimmer soundbars money can buy while managing to mostly keep pace with its premium competitors. For those with smaller TV stands or less overall space to store their soundbar, the S800B is a solid option without a doubt.
Featuring multiple angled speakers within the soundbar itself and paired with a low-profile subwoofer, compact soundbars rarely boast the kinds of power that the S800B does. Equipped for Dolby Atmos, upfiring drivers included, positional audio in the S800B is tremendous for this size. Expansion of the audio for the S800B extends far beyond the soundbar's physical limitations, more closely resembling a surround sound solution than a soundbar, with this especially aided by the subwoofer included.
As you'd expect, the sound quality is somewhat less dynamic with the S800B when stacked up next to premium soundbars such as those included above, but not so much as to make this one anything close to unworthy especially at this size. While offering Bluetooth and Wi-Fi, the S800B does fall short in its failure to support HDMI passthrough, but does nonetheless feature an unusual mini-HDMI connector.
The S800B isn't the most powerful soundbar on the market and might not offer the best value either, but in terms of power in slim packages, there's no better.
Read our full Samsung HW-S800B review

The best small room soundbar
TCL may not grab the headlines but, as with their Mini-LED TVs, they've shown they're perfectly capable of competing with the bigger names. The TCL TS8132 is a great example of this. Although integration and setup for the TS8132 can be clunkier than other soundbar models, the sound quality at the price point is enough to raise eyebrows.
A 3.1.2-channel soundbar and subwoofer package granted enhanced height and expansion through Atmos processing, the TS8132 is especially impressive when tasked with playing music, where it may even have the edge over certain competitors above it on this list.
Audio spread is modest, generally sticking to the limits of the bar's length, but that's not unusual for a soundbar strictly as a soundbar. For small rooms, it's perfect, but for larger rooms where a more encompassing surround sound solution might be more appealing the TCL TS8132 may not be the best choice.
That doesn't mean it isn't still a perfectly capable soundbar, it just means it has to settle for tenth spot on our list.

Why should I buy a soundbar?
What about my TV?
There's no point in having a great soundbar if your TV's display is terrible; that's why we have rounded up a handy list of the best TVs in Australia in 2023.
If you love the slim aesthetic of your new 4K TV, we can bet it doesn't have the audio needed to match the visuals. That means a good soundbar is your best option to get the most out of your favourite TV shows and films.
The best soundbars of 2022 are typically built to be just as pleasing to the eye as they are to the ear. Most of them are sleek, minimal and designed to be heard rather than seen. They're also an ideal sound solution when space is a concern, with many offering surround sound features and quality at levels good enough to rival the pricier, bigger surround sound set-ups.
Of course, picking the best soundbar for you does depend on your needs. Some of the soundbars above pack a hefty punch when it comes to watching film or TV, while falling short on music, while others offer all-inclusive options but at potentially scary price points. So knowing your needs before shopping for a soundbar is important.

Which soundbar is best for speech clarity?
For most budgets, the soundbar that will be best for speech clarity also happens to be the one that takes the top spot in our list of the top soundbars overall – the Sony HT-G700. Dialogue is given a healthy boost by the impressive HT-G700 even before enabling the model's speech-boosting mode, which should well and truly seal the deal for ensuring you don't miss a mumble during your favourite show's most crucial scenes.
Which soundbar brand is best?
There isn't necessarily a clear frontrunner for the title of best soundbar brand, but certainly the likes of Sonos and Sony each have healthy claims to the title thanks to their exceptional home audio solutions. Sonos in particular has developed a remarkable consistency, with the likes of the Sonos Arc, Ray and Beam delivering among the most impressive surround sound profiles in the business.