One of the best soundbars from this list will make a huge difference to the audio within your home. That's why a top-quality soundbar is an important investment for any home cinema enthusiast. You can use it on its own or as part of an immersive 5.1 speaker system that forms the immersive home theatre system of your dreams.
TV displays are getting slimmer and slimmer. Although this means they look great in your home, there's less room for built-in speakers. Just take a look at any of the top TVs at the moment and you'll see the audio isn't up to scratch. Even the best Samsung TV could use an external speaker system.
This is why we've rounded up the very best soundbars on the market in one handy guide. Because there's no point spending a small fortune on a new TV display for the audio to fall short.
What you'll find below is our selection of the best soundbars available for you to buy in 2022, from the best pricey, feature-rich models through to ultra-affordable, easy-to-set-up speakers.
Our list has a bit of everything. There are plenty of expensive soundbars here that will give you immersive Dolby Atmos sound and a wide soundstage. But when it comes to soundbars, you don't always need to spend the big bucks. It's well-worth considering the cheaper options on here too, as they sound great for the price and won't break the bank.
Our top picks
The best soundbars 2022
While the number of audio channels a home cinema sound system has isn't everything, it certainly helps. It's fair to say, then, that Samsung's HW-Q950A soundbar hits the ground running by delivering no less than 16 separate channels of sound.
The new rear side channels Samsung has added to 2020's 14-channel maximum contribute to the most immersive Dolby Atmos performance we've heard from a soundbar.
The Q950A's price could assemble a decent separates system instead. But nothing better combines a near separates-grade performance with the convenience of a soundbar.
Read more: Samsung HW-Q950A review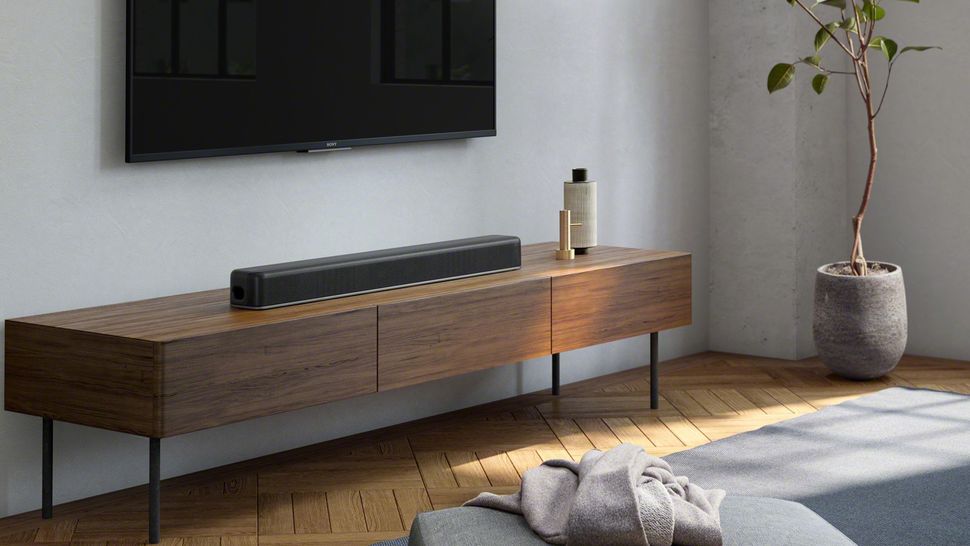 Given that rival Dolby Atmos-compatible soundbars typically sell for twice the price, Sony's HT-X8500 warrants an easy recommendation. Cost-cutting can be attributed to connectivity and features but what's genuinely confounding is just how great the HT-X8500 sounds.
The key to the HT-X8500's gutsy performance is Sony's proprietary Vertical Sound Engine - working with Dolby Atmos and DTS:X content, it creates a convincing illusion of wraparound sound that allow Dolby Atmos movies to play with a clear sense of expanded height and width.
The build quality and design of the soundbar is exceptional, and its general audio performance impresses with its clarity and spatial presentation.
Overall, if you want a home theatre sound system that won't dent your budget, it's probably the best option right now.
Read more: Sony HT-X8500 Soundbar review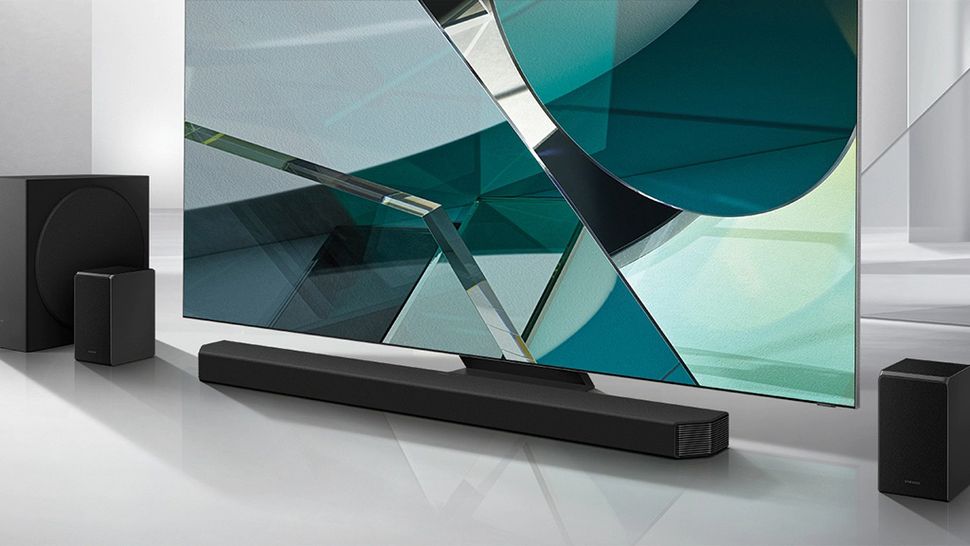 In terms of audio quality, Samsung's HW-Q950T is incredible, delivering dense, layered, complex audio with an abundance of power and no distortion whatsoever. If you're looking to recreate the cinema audio experience in your living room, this is the way to go.
Boasting a 9.1.4 channel configuration, the Q950T provides exceptional 3D audio that brings a great sense of dimensionality to compatible movies and video games. Thanks to the inclusion of eARC support, the soundbar is able to achieve lossless Dolby Atmos and DTS:X audio from compatible TVs, meaning you aren't limited solely to the HW-Q950T's two HDMI inputs.
In addition, you also get two rear speakers and a subwoofer which wirelessly connect to the soundbar, making the setup process remarkably easy and straight forward.
The Q950T is still one of Samsung's best soundbars, so it's no surprise to find it wearing a top-end price. That said, it's well worth the AUS$1,949 asking price thanks to its raw power, 14 separate speaker channels and a robust set of features.
Read more: Samsung HW-Q950T Soundbar review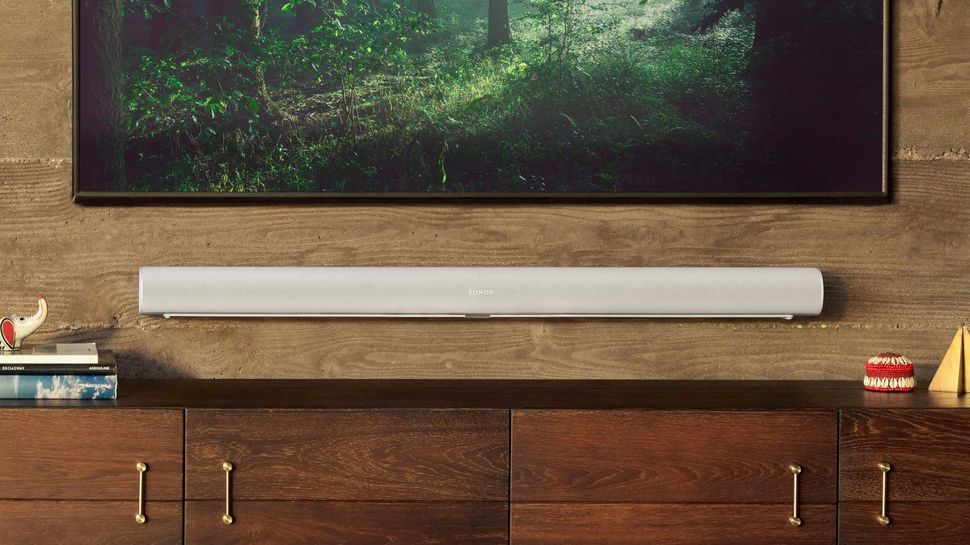 Sonos has a new surround sound solution and it's contained entirely in a single soundbar it calls Arc.
While we're not sure if the device gets its name from the HDMI interface it uses, the curved sound it pitches or the fact that it is perhaps, metaphorically, a vessel delivering impressive surround sound to the modern minimalist home, whichever the case this system is hell-bent on short circuiting the surround sound game.
The Sonos Arc draws on Dolby's latest TrueHD and Dolby Digital Plus sound codecs to deliver the best quality lossless audio found on cutting edge Blu-ray discs and some of the leading streaming services. It then enhances the 3D soundscape using Dolby Atmos object tracks to bounce certain sounds off the walls around you so they feel like they're coming at you from all angles.
While all this might sound complicated, the Sonos Arc setup couldn't be simpler, involving just a couple of steps on the smartphone app. The minimalist cable connections and all-in-one system construction add to this no-fuss feeling and streamlined aesthetic – making it one of the best soundbar you can buy in 2021.
Read more: Sonos Arc review

If you're tight on space, the Sonos Beam (Gen 2) is the best soundbar you can buy.
It's compact size means it will easily slot beneath your TV, whether you pop it on a TV stand or mount it to your wall, and it's sleek design means it won't look out of place with your decor.
It improves on the company's original Sonos Beam soundbar with virtual Dolby Atmos, HDMI eARC compatibility, and a refreshed design.
While it doesn't have the upfiring tweeters necessary for 'true' Dolby Atmos (and as a result, the sonic height isn't as impressive as the Sonos Arc), the Sonos Beam (Gen 2) boasts a wide soundstage and an immersive audio performance.
HDMI eARC compatibility allows for hi-res audio streaming, making it ideal for listening to music, too.
Read more: Sonos Beam (Gen 2) review

Without any doubt about it, the LG SN11RG was the company's flagship soundbar last year. In fact, it's much more than just a soundbar, in that it ships with both a substantial external subwoofer and a pair of heavy duty rear speakers.
With its 7.1.4-channel configuration, it's a complete audio arsenal.
The SN11RG also carries true up-firing rear and front drivers to deliver the height effects of Dolby Atmos and DTS:X soundtracks, and sees LG continuing its so-far impressive collaboration with high-end British AV brand, Meridian.
The main soundbar boasts an attractive, practical design and supports eARC with Dolby Vision. Plus, it has an AI Sound Pro processor that can convert pretty much any incoming sound format – even vanilla stereo – into a full multi-channel output that although not perfect, sounds spectacular.
Read more: LG SN11RG Soundbar review

The Denon HEOS Bar has been renamed – meet the Denon S716H. The name change is designed to reflect HEOS's status as a multi-room software solution used by multiple brands, and aside from a small retune, the soundbar itself is unchanged.
With its nine drivers are arranged in trios for left, center and right channels and a virtual surround mode to create the illusion of having more speakers around the room, the Denon S716H is pretty much whatever you want it to be.
Blessed with such a balanced soundscape, this soundbar proved immediately adept with music, and has a consistently warm yet refined sound quality that's all its own. The fact that it lacks the opportunity to tweak the audio settings is not as important as we had feared.
Music sounds superb, especially lossless tunes, from which the Denon S716H drags out a lot of detail. However, we did notice on a couple of occasions that the first half-a-second was cut-off songs.
Read more: Denon S716H review

As an entry-level 2.1-channel soundbar and subwoofer combination, the Yamaha YAS-209 provides an affordable alternative to multi-unit soundbar systems that leverages the company's immense audio experience, giving listeners a fairly convincing surround sound experience via DTS Virtual:X psychoacoustic processing.
We're a bit disappointed that Yamaha chose to drop its MusicCast multiroom system, however, doing so allowed it to keep the price down, which is a fair trade-off. That said, it does bring Amazon Alexa compatibility in its place, essentially making the YAS-209 a soundbar and smart speaker in one.
So while the Yamaha YAS-209 may be a little under specced compared to some of the other soundbars on this list, it's still well worth its AU$599 RRP. Even better, you can find it for a lot cheaper than that these days, as you can see in the featured deals above.
Read more: Yamaha YAS-209 Soundbar review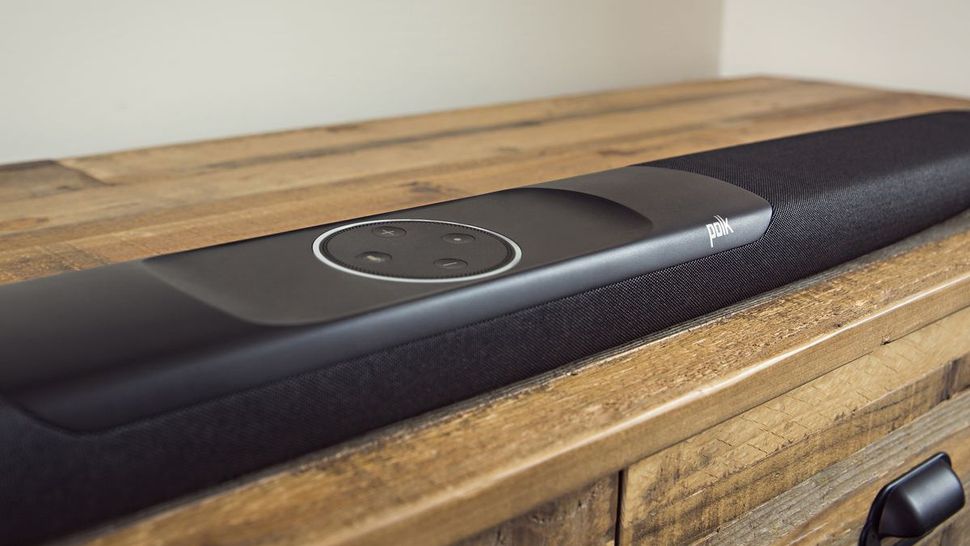 If your budget cap for a smart soundbar is relatively tight, then we highly recommend the Polk Audio Command Bar for any small or medium-sized living room.
As you might be able to tell based on the soundbar's design, the Command Bar comes with Alexa built right into it making it unquestionably smart. It's also relatively inexpensive too for a soundbar that comes with a subwoofer.
It has defined and powerful low end, some cool smart features, and looks pretty good, too.
Read more: Polk Audio Command Bar review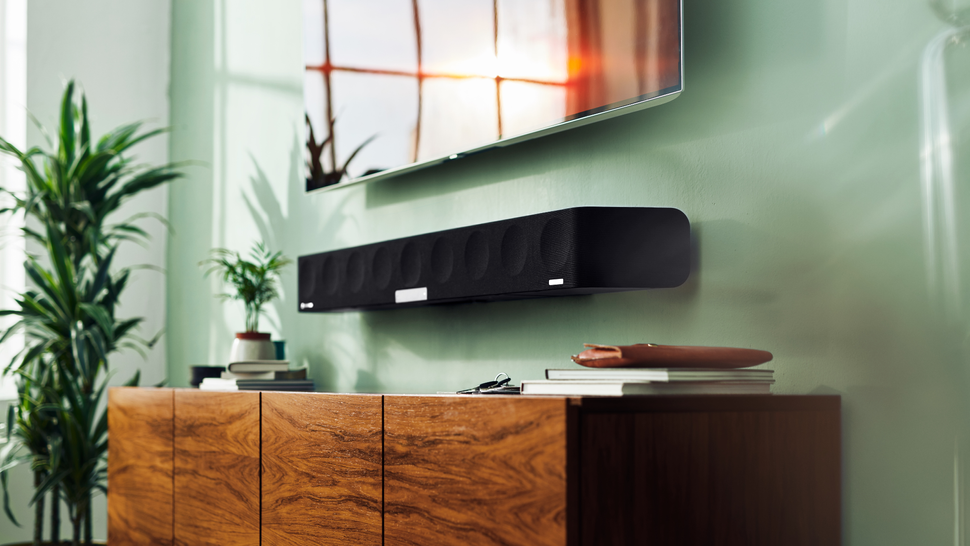 Sennheiser is best known for its range of headphones and professional microphones, but it recently extended its ambitions to home audio as well, with the introduction of its new Ambeo Soundbar.
The bulky soundbar is packed with the latest audio technologies, including Dolby Atmos and DTS:X for surround sound audio, as well as Sennheiser's own Ambeo 'virtual 3D' sound system. Sennheiser clearly has its sights set on the home cinema market with the Ambeo, although the bar's Wi-Fi connectivity means that it can double up as a pretty impressive music system as well.
It's not perfect – Sennheiser's reliance on Google Home to provide Wi-Fi streaming seems like an odd choice – but the sheer sound quality of the Ambeo Soundbar ensures that it justifies its wallet-breaking price tag.
Read more: Sennheiser Ambeo 3D Soundbar review
Why should I buy a soundbar?
If you love the slim aesthetic of your new 4K TV, we can bet it doesn't have the audio needed to match the visuals. That means a good soundbar is your best option to get the most out of your favorite TV shows and films.
The best soundbars of 2021 are built to be just as pleasing to the eye as they are to the ear. Most of them are sleek, minimal and designed to sit flush against a wall or home cinema set-up. They're also a good solution for smaller homes and rooms with little space that wouldn't be able to squeeze a 7.1 channel speaker system in.
The majority of the soundbars on this list are made to sit in front of your screen, but they can also be wall-mounted above or to the side of it as well, depending on how your room is laid out. This provides you with ultimate choice as to how your home entertainment set-up looks.
Despite most of the soundbars on this list only featuring front-facing speakers, many are able to confidently project sound in a way that makes it seem as though there's booming audio coming from every direction.
Best soundbars at a glance
Samsung HW-Q950A
Sony HT-X8500 Soundbar
Samsung HW-Q950T Soundbar
Sonos Arc
Samsung HW-Q800A
LG SN11RG Dolby Atmos Soundbar
Denon S716H (HEOS Bar)
Yamaha YAS-209 Soundbar
Polk Audio Command Bar
Sennheiser Ambeo 3D Soundbar