Updated: We've posted our first Coffee Lake S review on the Intel Core i7-8700K, read all about it here
Fifth time's the charm. At least that seems to be the case with Intel's upcoming fifth round of chips based on the 14nm manufacturing node.
After releasing the 8th generation Kaby Lake Refresh Core processors unto the laptop world in August 2017, the announced 8th generation desktop chips would finally bring Coffee Lake into the fold.
Intel Coffee Lake S processors were officially revealed on September 25, 2017 and, with it, the entire lineup of CPUs and motherboards.
Contrary to the company's initially modest promises, Intel claims its flagship 8th-generation Coffee Lake processor is a whopping 45% faster than its Kaby Lake equivalent – perhaps justifying the move to the Z370 chipset and the necessity to buy a new motherboard.
Unsurprisingly, this range includes two processors in each of the the Core i3, i5 and i7 categories.
Cut to the chase
What is it? Intel's 8th-generation desktop CPU architecture
When is it out? October 5th
What will it cost? From $117 (about £85, AU$145) – $359 (about £265, AU$450)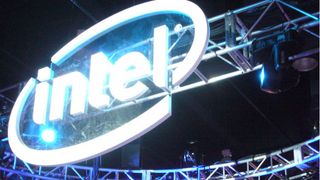 Intel Coffee Lake release date
The Intel Coffee Lake processors finally touched down on October 5, 2017.
Originally, in February 2017, Intel stated that Coffee Lake would surface in the latter half of the year. Intel reassured us of this claim at Computex 2017 held in Taipei, Taiwan.
Later into 2017, the Santa Clara chipmaker came out and teased an August 21 livestream reveal of its 8th-generation processors, which turned out to be a refresh of its 7th-generation processors for Ultrabooks and laptops, called Kaby Lake Refresh.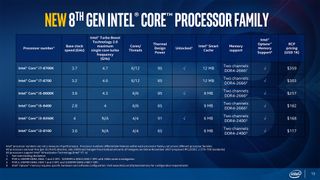 Intel Coffee Lake price
Arguably the most elusive aspect of Coffee Lake leading up to its canonical announcement was pricing. Aside from looking at the processor market AMD Ryzen rewrote, we didn't have much to base our speculation.
Fortunately, Intel has since released a formal rundown of its latest 8th-generation Coffee Lake chips. Now we know the Santa Clara chipmaker is unleashing a whole assortment of processors at a gamut of different prices.
Starting with the cheapest, the Intel Core i3-8100 costs $117 (about £85, AU$145) while it's overclockable counterpart, the Intel Core i3-8350K prices at $168 (about £125, AU$210).
At the mid-range, the Core i5-8400 will set you back $182 (about £135, AU$230) while the unlocked, overclock-ready i5-8600K retails for $257 (about £190, AU$325).
Lastly, deemed by Intel as its best gaming CPU ever, the Core i7-8700K runs at $359 (about £265, AU$450). On the other hand, if you're looking to avoid spending significantly more than a Xbox One X or PS4 Pro on a single processor, the vanilla Intel Core i7-8700 goes for $303 (about £225, AU$380).
Comparatively, an Intel Kaby Lake processor on its own will, as of this writing, set you back anywhere from $42 (£39, AU$66) to $350 (£415, AU$469) while Ryzen processors range from $168 (£158, AU$245) to $499 or £499 (about AU$650).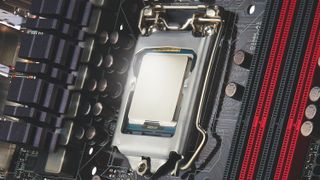 Intel Coffee Lake specs
Although all of the 8th-generation Coffee Lake chips are still manufactured on the 14nm node, Intel has proven that there's still plenty of life in the process yet.
Again, starting from the ground up, the Intel Core i3 chips this time boast four cores each for the first time in the mainstream CPU space. What's more, whereas the Intel Core i3-8100 takes advantage of four cores and four threads running at 3.6GHz, the unlocked Core i3-8350K totes the same number of cores and threads, but instead opts for a base frequency of 4GHz.
As for the Core i5 range, the plain Intel Core i5-8400 is a now a hexa-core monster, bearing six cores and six threads. Moreover, its base clock is 2.8GHz, and it operates at 4GHz with Turbo Boost.
Meanwhile the Core i5-8600K also squeezes six cores and six threads into the 14nm chip while brandishing base/boost speeds of 3.6GHz and 4.3GHz, respectively.
Last, but not least, on the list are the Intel Core i7-8700 and i7-8700K. The former is yet another six-core demon, albeit with double the number of threads as the i5-8600K. Its overclockable analogue, the Intel Core i7-8700K, poses a threat to the AMD Ryzen 7 1800X, sporting six cores, 12 threads and base/boost clock speeds of 3.7GHz/4.7GHz.
That's it for now. Though we've gotten our first batch of 8th-generation Coffee Lake CPUs, there will inevitably be more coming to this lineup. Coffee Lake for laptops is still up in the air as are the inevitable Coffee Lake X chips.
There still a ton of news to come. Per our usual advice, we encourage you return to this page periodically for in-depth coverage of the latest Intel Coffee Lake reveals.
Joe Osborne has also contributed to this report