You'll find all of this week's best Apple iPhone 13 deals all neatly lined up just down below, perfect for those looking to bag this latest flagship on a reasonable contract. We've searched all of the nation's top networks and providers to come up with a number of recommendations that we here at TechRadar think offer the best value for money right now. Our choices offer flexible monthly rates, upfront costs, and data allowances, so there's plenty to check out.
As Apple's latest flagship device, this phone is a great pick if you're looking for a nice mix of power, premium features, and a price tag that's not too crazy. It's still a pretty pricey phone, of course, which is where these best iPhone 13 deals come in.
As the 'standard' flagship in the range, the iPhone 13 is going to be the handset that fits most users' needs the best. While it's not quite as premium or fully featured as the 13 Pro or 13 Pro Max, it's got everything a flagship device needs in 2022 and more - plus, it's much cheaper.
Somewhat surprisingly, Apple has reduced the price of the iPhone 13, making it £20 cheaper than last year's iPhone 12. That is, of course, not a huge discount by any stretch of the imagination, but the iPhone 13 is packed with a ton of great upgrades that really help justify that upgrade.
It uses Apple's latest A15 Bionic chip with 15 billion transistors and a 6-core CPU - fancy ways of saying an incredibly powerful processor. Apple has also made the glass tougher and operates the expected IP68 rating.
The display comes in at a very comfortable 6.1-inches - the same size as the iPhone 12. It features an improved battery and a brighter display but most importantly for most people, improvements have been made to the camera.
Most obviously, the camera now features a cinematic mode for videos and improved light in night mode. Below we've tracked down the best iPhone 13 deals available right now.
iPhone 13 deals comparison:
iPhone 13 deals: the top tariffs right now
iPhone 13 deals: trade-in an old phone to save cash
The iPhone 13 is going to cost you a decent amount at this early point. Luckily, there are some easy ways to bring the pricing down. The most obvious one is to sell your old device first. You can do this through websites like Sellmymobile (opens in new tab).
This will allow you to compare a wide range of recycling websites. It lists their TrustPilot scores, how long you'll have to wait to get and most obviously, how much money you'll get.
In terms of what you can earn, taking the iPhone 8 as an example, you can get up to £183 for a working device or £98 for a completely broken device. Or if you have an iPhone 8, you could earn up to £116.

Want to know more? Check out our how to sell my phone guide
Head to Sellmymobile.com to see how much you can get for your old phone (opens in new tab)
iPhone 13 brief review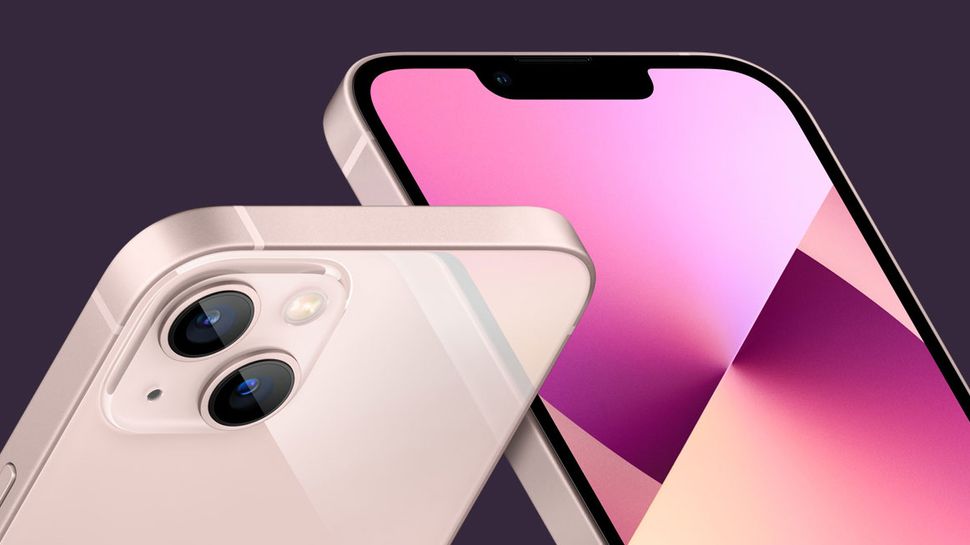 Apple's new iPhone 13 is very much an incremental upgrade over last year's iPhone 12. It slightly reduces the price, costing you £20 less and despite that, improves on most key areas of the handset.
On top of the upgrade to Apple's new A15 Bionic chip - one of the most powerful chips in the world - Apple has also made the screen more durable and brighter while sticking to the same 6.1-inch screen size it has used since the iPhone 11.
While the dual camera set-up is very similar to previous iPhones, there are a few key improvements. The video camera now includes what Apple is describing as 'cinematic mode'.
This allows you to create bokeh effect as you pan from one figure to another while filming - an effect you see a lot in movies. As for the camera, the biggest improvements come in the night mode and dark photos, allowing more light in. This is thanks to the inclusion of sensor shift OIS - a feature that Apple included on the iPhone 12 Pro Max last year.
Read our full iPhone 13 review
iPhone 13 deals: FAQ
What comes in the box with the iPhone 13?
Like the other iPhone 13 devices and the iPhone 12 series before, the iPhone 13 comes with a slimmed down box. That means no charging block or headphones.
You'll now get the phone, a charging cable, instructions, SIM pin and a few other parts. Apple claims this is part of the move to be more environmental with their packaging.
However, if you don't have an existing charging block for Apple, you will need to purchase a new one to go with the device.
How does the iPhone 13 compare to Apple's other 2021 devices
In many ways, the iPhone 13 is very similar to the mini, Pro and Pro Max. All include 5G, Magsafe, the A15 Bionic processor and the same design. However, there are some key differences.
The iPhone 13 mini is much smaller and cheaper than the 13. It stands out as the best option for people who like small devices. However, it does have a considerably smaller battery.
Alternatively, both the Pro and Pro Max models offer an improved spec sheet compared to the iPhone 13. Both include an additional camera lens and 120Hz refresh rate displays as well as improved screens and batteries.
Is the iPhone 13 a good value phone
If you're going to invest in the latest from Apple, you'll want to make sure you're getting a good value option, so does the handset live up to this and get you good value for your money? In a nutshell, yes.
Despite being cheaper than last year's iPhone 12 was on launch, the iPhone 13 packs in a host of big upgrades. This includes a more powerful processor, an improvement to the camera array, a larger battery and an improved display.
When compared to other handsets from other brands like Google and Samsung, the iPhone 13 thrives, offering some of the best specs on the market without raising the price higher than its competition.
When will the price of the iPhone 13 fall?
As with all of Apple's big handsets, you'll likely be waiting quite a while for significant discounts to appear on the iPhone 13 - most likely until the iPhone 14 rolls around. Why is this? Well, demand tends to stay pretty high on these flagships and Apple itself doesn't tend to adjust the prices until there are new entries.
There are a few exceptions to this - most notably around Black Friday and other big sales events. Discounts on handsets will remain rare, but networks and third-party sellers do sometimes offer extra-competitive tariffs and plans around these events.
What Android phones best compare to the iPhone 13?
While Apple stands out as a unique brand from its competition, you might also be considering the investment into Android. There are a few devices that closely compete with the iPhone 13, these are the:
- Samsung Galaxy S21
Out of all of the available Android devices on the market, the Samsung Galaxy S21 seems like the most logical competitor to the iPhone 13. It comes in at a similar price tag and carriers a lot of similar specs.
As the iPhone 13 is nearly a full year ahead of the Samsung Galaxy S21, it does have some slightly more powerful specs, most notably in the processing power and camera performance.
However, because of its older age, the Samsung Galaxy S21 is a much cheaper investment than the iPhone 13 right now.

- OnePlus 9
The OnePlus 9 is another great option when compared to the iPhone 13. Like the Samsung Galaxy S21, it comes in at a similar price point while offering specs at a similar level.
OnePlus' relationship with Hasselblad does allow for an impressive camera performance and somewhere OnePlus excels is in its battery and charging ability.
While it doesn't feature a telephoto camera and doesn't quite have the feel of a flagship phone, this is a device excelling in key areas.

- Google Pixel 6
The Google Pixel 6 is a newer release, coming out in October of 2021 and because of that, it feels like one of the most up-to-date Android devices on the market right now.
It features a fantastic camera experience with a dual lens set-up and advanced AI functions, a stylish design and while the processor and battery aren't as powerful as Apples, it is much cheaper.