Not too bothered about getting the latest and greatest? This week's iPhone 12 deals are perfect if you're looking for a powerful Apple flagship on a relatively reasonable budget. Not only does this device share the same basic design as the iPhone 13, but it's also fully 5G capable - meaning it's fairly future-proofed too. Just below, you'll find all of our recommended contracts and tariffs from the nation's best providers.
So is the iPhone 12 right for you? If you're looking to step up to one of Apple's most up-to-date phone experiences but don't like the price of iPhone 13 deals, then yes.
It comes packed with Apple's latest A14 Bionic chip, it has a super-tough and high definition display, a 2815mAh battery, a superb dual camera set-up and a 6.1-inch body putting it in line with most mid-range handsets in size.
In many ways, the iPhone 12 is simply an improved version of iPhone 11 deals with a slightly higher price. The camera set-ups are similar and so is the general design. It just improved in all of the most important areas and of course, added 5G capabilities.
Of course, upgrading to either iPhone 12 Pro deals or the even larger iPhone 12 Pro Max deals will secure you a more powerful performance and an improved camera performance but this does see a considerable jump up in price.
Throughout this guide, we've collected the best iPhone 12 deals for you to compare. These range from the cheapest offers on EE through to the best big data options from Three.
iPhone 12 deals comparison:
Phone
Back to Mobile Cell Phones
Network
Show all Options
Monthly Cost
Upfront Cost
Data
Minutes
Texts
Contract Length
Storage Size
Colour
Condition
Showing 7 of 18,301 deals
iPhone 12 deals: trade-in an older phone to save cash
Looking to sneak the costs down on the iPhone 12? Luckily this is easy to do if you've still got your previous phone and it's in good nick, as you can sell it on platforms like Sellmymobile.
It compares different recycling sites, listing their TrustPilot scores, how long it will take for you to get paid, how you send your phone and of course, how much you'll get.
In terms of what you can earn, taking the iPhone 8 as an example, you can get up to £183 for a working device or £98 for a completely broken device. Or if you have an iPhone 8, you could earn up to £116.

Want to know more? Check out our how to sell my phone guide
Head to Sellmymobile.com to see how much you can get for your old phone
iPhone 12 brief review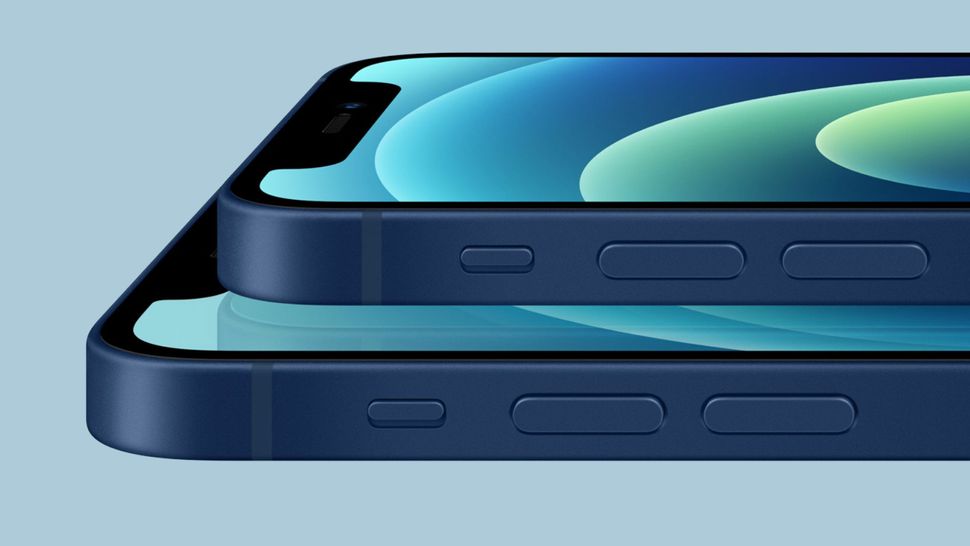 The iPhone 12 is a stunning handset, though we wouldn't expect anything less from Apple. Whilst it does harp back to the flat edges of the iPhone 5, it's a welcome revival with the iPhone 12 securing the same punchy display as its superior counterparts. Yes, the iPhone 12 is embedded with the 6.1-inch Super Retina XDR display that you'll also find on the iPhone 12 Pro and iPhone 12 Pro Max.
Available in black, blue, green, white and PRODUCT(red), the iPhone 12 offers a glossy back and matte edges. On the rear you'll also find the same dual camera set-up as on the iPhone 11, with a 12MP main sensor an 12MP ultra-wide sensor.
There sees slight improvements to low light shooting with a f/1.6 aperture. Of course, powered by the A14 Bionic chip, too, it's likely to better process images and deliver crisp, high quality images we know well from previous iPhone models.

Read our full iPhone 12 review
iPhone 12 deals FAQ
iPhone 12 or iPhone 13: which should you choose?
The iPhone 12 is no longer Apple's latest release and therefore, raises the question of whether you should upgrade or stay with this generation of iPhone.
The major factor going for the iPhone 12 now is the fact that it received a big price cut with the launch of the iPhone 13. The price fell from £799 to £679.
That makes this £100 cheaper than the iPhone 13 but what kind of specs are you missing out on? Most of the upgrades made to the iPhone 13 were iterative improvements.
They slightly improved everything from the battery to the processor and made minor improvements to the camera. Overall, you won't feel you're losing out on major improvements but, the iPhone 13 is certainly an upgrade.
Do you get any accessories with the iPhone 12?
Unfortunately, Apple's boxes are a lot lighter these days than they used to be. With the entire iPhone 12 range, Apple has stripped out the charging block and the headphones that normally come in the box.
This means all you are now getting is the phone, the charging cable and the instructions. Apple has stated that this was due to environmental concerns, trying to reduce its footprint.
However, this does now mean if this is your first phone or you don't have any charging blocks lying around, you'll have to invest in one. The same goes for headphones, if you need a new pair they'll have to be bought separately.
Should you get the iPhone 12 or wait for the 12 mini?
This year, Apple is adding one extra device to its round-up. While normally we would see a trio of options, the iPhone 12 mini has brought it up to four in 2020 and...well, it's an interesting addition.
In the most basic essence, the iPhone 12 mini is just a smaller version of the iPhone 12. At 5.4-inches, it is a considerable amount smaller than the iPhone 12's 6.1-inch size.
In fact, the iPhone 12 mini is one of the smallest smartphones you can buy from major carriers right now, making its 5G capability and the fact it hold's the fastest processor on the market (alongside the rest of the iPhone 12 range).
Other than size and price, the iPhone 12 mini and 12 are identical. It's like the 12 has simply been hit with a shrink ray as it maintains the same processor, 5G capabilities, the camera, screen resolution, IP rating and pretty much every major factor.
So, the big question...do you wait for the iPhone 12 mini to be released? Well, considering it's far smaller size, this really is just for those who like small phones, if you like big phones, this is not for you, if you like normal size phones, it could be a nice reduction in size and save you an additional £100 while you're at it.
iPhone 12 deals vs Samsung Galaxy S21
In early 2021, Samsung released its competitor devices to the iPhone 12. In that pack, Samsung Galaxy S21 deals stood out as the best option to compete with the iPhone 12.
Both have extremely powerful processors, both have top of the line camera set-ups and both are around the same price. While the S21 is slightly cheaper, the iPhone 12 sneaks in with a better display and better made body.
However, what it really comes down to is your preference - Android or iOS. Whichever option you prefer is the device to choose as both are so similar in terms of performance.
How does the iPhone 12 compare to the iPhone 12 Pro?
They both launched on the same day and for many, the iPhone 12 Pro could actually be the better investment. While all of the core specs are shared across both handsets like 5G, the A14 Bionic chip, Magsafe technology and the same screen, the iPhone 12 Pro wins in a few key areas.
It has an increased battery size, it adds an additional camera lens and it features an increased pixel density and the obvious one, it has a larger body and display.
However, that all obviously adds to the price, making the iPhone 12 Pro a fair bit more expensive than the iPhone 12.
What are the stand out features of the iPhone 12?
While the iPhone 12 is mostly an incremental upgrade to the iPhone 11, there is a few factors that has brought Apple up to match or exceed its competitors:
5G:
This is Apple's first 5G handset, bringing it into a world that until now was heavily dominated by Android providers. However, 5G is a bit of a strange piece of tech. While it has the potential to change the world, it certainly isn't there yet.
For now, 5G feels more like a preparation, getting devices ready for when 5G is readily in more than just tiny pockets of cities.
A14 Bionic chip:
With the iPhone 11 and its A13 Bionic chip, Apple was already one of the absolute top choices for processors and was even the owner of the fastest processor when the iPhone 11 launched.
Now it has released the A14 Bionic chip. Also found in the new iPad, this is the fastest processor available in any phone on the market.

MagSafe:
If you've ever had a Macbook with a snap on charger, this will sound familiar. MagSafe is a feature where a wireless charger can snap to the back of your phone.
While the obvious use of this is to easily put your phone down to charge without having to think too much, Apple is already suggesting other uses. The most popular suggestion the brand has had so far is for snap on wallets.