Beware this Black Friday: I reviewed 2 big-screen cheap 4K TVs and you should avoid this LED screen
Be careful with big screen bargains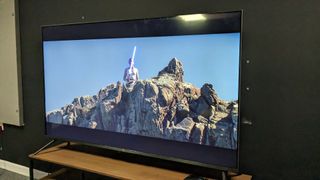 (Image credit: Future)
At some point in time, almost everyone has dreamed of having their own 'home cinema' in their living room, probably with a giant screen TV hung on the wall taking up far too much room. Until recently, these giant TVs (75-inch plus) were unaffordable for a lot of people, but in recent years these big screens have become more accessible, with some 75-inch TVs available for $650/£650/AU$900 meaning that 'home cinema' may go from being a dream to a reality.
Now these big, budget TVs aren't going to beat the best TVs on the market in terms of picture quality and performance. The LG G3 and Samsung S90C are two of the best available, using OLED and QD-OLED panels respectively. But, to get these TVs in a big size, you're looking at $5,499 / £5,499 / AU$8,995 for the 83-inch LG G3 and $2,499 / £2,995 / AU$5,699 for the 77-inch Samsung S90C. (There is an 83-inch Samsung S90C but it uses a WOLED panel rather than a QD-OLED). For a lot of people, this is still way too high a price.
However, budget brands like TCL, Hisense and Amazon, and even bigger brands like LG and Samsung now sell 75-inch-plus TVs for under $1,000. And with the sales season upon us, there are sure to be some amazing Black Friday deals. Sound ideal? Well, in my recent experience, you need to be careful.
I recently tested two cheaper sets, the Amazon Fire TV Omni QLED (65-inch) and Samsung CU8000 (75-inch), and there was a stark contrast in picture quality between the two; the Omni QLED was better, especially in darker conditions. The reason for this? The Samsung CU8000 had an edge-lit LED backlight, whereas the Omni QLED had full array local dimming LED backlight.
Edge-lit TVs don't have the highest quality picture at the best of times and black uniformity (how consistently a TV or monitor can display black over the whole screen) is often a real problem for them. During my Samsung CU8000 test, not only did this become very evident, but was made much worse by the 75-inch size, with the "screen clouding" from the edge-lit panel taking over large portions of the screen.
As tempting as a big TV can be, you have to really think about what TV you're going to buy, and based on my experience, edge-lit TVs should be at the bottom of your priority list. I was lucky to find this out during testing, with one movie in particular showing just how obvious edge-lit TVs can falter.
These TVs aren't on the edge(lit) of glory
During my testing, I was pleasantly surprised by the Samsung CU8000's color, which was punchy and vibrant for a cheaper LED set and although it was no OLED, I was happy to see it trying its best. I then decided to put on one of my favorite movies of the past few years, The Batman. To set the tone right and test the black levels of the TV with such a brooding, moody movie, I turned off the lights. That's where the problem began. Blacks and shadows in The Batman were a gray color, light seemed to seep across the screen and the image had a cloudy look. Put simply, the movie looked bad.
This is where I established that black uniformity was poor on the CU8000. Having to concentrate to make out what was going on in The Batman was not a great experience. Now, if the Samsung CU8000 had had a full array LED backlight with a local dimming feature to help (local dimming is used to dim backlights to improve black levels on a picture) then that would have improved the CU8000's performance. But, sadly it didn't and The Batman remained difficult to view.
Local dimming and full array to the rescue
In my review of the Amazon Fire TV Omni QLED, I admittedly said it had 'average black levels' and described this as a 'shortcoming of the QLED screen's full-array local dimming'. Unfortunately, local dimming does sometimes lead to backlight blooming (a halo effect around brighter objects in a dark scene) as the TV attempts to dim sections of the backlight to make blacks appear blacker, while simultaneously boosting the brightness of white highlights
But, I also tested the Amazon Omni QLED with the same scenes and conditions from The Batman and although the contrast ratio still wasn't perfect, it was better than what I saw on the Samsung CU8000 with its edge-lit panel. Although black levels weren't very deep on the Omni QLED, the milky-cloudy light was not obvious and I could make out what was going on.
On both TVs, I also tested some demo footage from the Spears & Munsil UHD Benchmark Blu-ray, which we use to test 4K HDR images on different sets. It was again apparent that the Omni QLED handled contrast and black better than the Samsung CU8000. Shots of a city at night showcased the black of the night sky best and although both TVs weren't perfect, the Omni QLED's local dimming again helped here.
Final Thoughts
As tempting as it may be to grab a big screen bargain this Black Friday, make sure you do your research. To get the absolute best, you'll want to look at OLED, QD-OLED and even mini-LED, but you'll have to be prepared to pay more. There's nothing wrong with a basic QLED or LED set, if it has the right features.
However, I would almost definitely advise that you avoid edge-lit TVs, especially if you're a movie fan. As much of a steal as they may seem, if you're viewing it in darkened conditions, you'll soon be pulling your hair out halfway through a dark scene when you can't tell what's going on. Save your money and look elsewhere!
You might also like
Get daily insight, inspiration and deals in your inbox
Get the hottest deals available in your inbox plus news, reviews, opinion, analysis and more from the TechRadar team.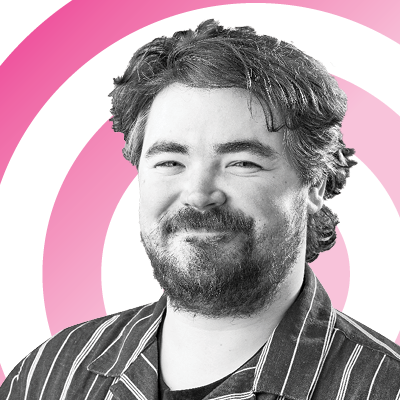 TV Hardware Staff Writer, Home Entertainment
James is the TV Hardware Staff Writer at TechRadar. Before joining the team, he worked at a major UK based AV retailer selling TV and audio equipment, where he was either telling customers the difference between OLED and QLED or being wowed by watching a PS5 run on the LG 65G2. When not writing about the latest TV tech, James can be found gaming, reading, watching rugby or coming up with another idea for a novel.