Amazon's super-cheap soundbar could be the new default buy – but it's also a missed opportunity
If it's good, it'll be hard to beat at this price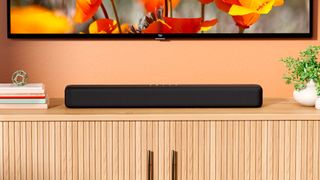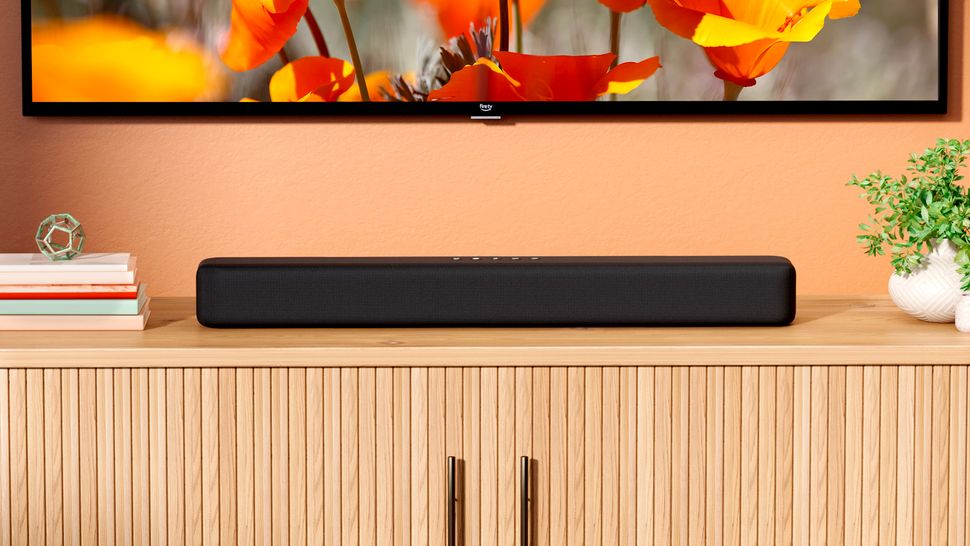 (Image credit: Amazon)
Amazon has announced a new Fire TV Soundbar that costs just $119, with support for both Dolby and DTS audio formats, despite its low price. It's available to order right now from Amazon in the US, though there's no word on a UK or Australian release yet.
The device, as we reported in our Amazon September event live blog, is a simple two-driver soundbar with 40W of output power. DTS:X virtualization promises some measure of "full, three-dimensional virtual audio without a roomful of speakers", though I highly doubt it'll be fooling anyone without more speaker drivers.
It connects over HDMI ARC or optical, though Amazon is taking great pains to say that it works best and super-seamlessly with Fire TV devices (including TVs and streaming devices), it looks like it'll work with any TV. Based on our conversations with Amazon reps, it seems like Amazon is emphasizing how well it works with Fire TV to make it clear that a soundbar is a hassle-free upgrade in general for people unfamiliar with the tech, rather than there being a huge amount of special sauce involved. There's also Bluetooth for streaming music from anything.
And that's the interesting thing here, really. There's not much to it, other than that Amazon knows how to put solid audio into very inexpensive products, including compact ones. At 24 inches wide, it'll work with TVs of 32 inches up to 50 inches, and my guess is that it'll deliver a really solid upgrade on bass and clarity (especially of dialogue) compared to the built-in speakers in cheap TVs… including Fire TVs.
Will it rival the best soundbars for overall audio? Obviously not. But there are so few soundbars at this kind of price from trusted names (the Sony S100F will be its big rival), so if it's good, it could become the new standard upgrade for anyone struggling with their TV's audio. Especially because it'll no doubt get discounts among the Black Friday deals – around 40% is typical with Fire TV products, so if this becomes a $70 soundbar… I bet nothing else matches it then.
Should've gone one further
However, I'm a little surprised Amazon didn't go a step extra with this soundbar. The next big thing in TV audio devices is not even needing the HDMI cable. This goes double for cheaper TVs, like Fire TVs, that may only have three HDMI ports.
Going wireless means the soundbar wouldn't need to take up one of your HDMI ports, and means less cable mess and confusion generally. The one thing is that you need compatibility with the software of the TV… but Amazon can offer that. It's already harping on about how well it works with Fire TVs!
It would require better wireless tech to be involved than just Bluetooth, and that would put the price up, so that's the obvious limitation to my plan. But like I say, it seems a major missed opportunity to me – Amazon could be leading the way on offering a wireless cheap home theater setup. It's already got a system called Alexa Home Theater coming, where Echo devices can be used as wireless surround speakers. I'm amazed the soundbar isn't at the forefront of that.
Get daily insight, inspiration and deals in your inbox
Get the hottest deals available in your inbox plus news, reviews, opinion, analysis and more from the TechRadar team.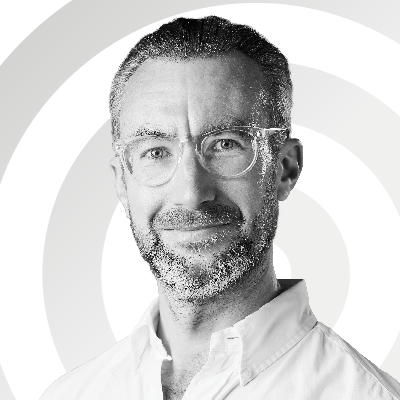 Managing Editor, Entertainment
Matt is TechRadar's Managing Editor for Entertainment, meaning he's in charge of persuading our team of writers and reviewers to watch the latest TV shows and movies on gorgeous TVs and listen to fantastic speakers and headphones. It's a tough task, as you can imagine. Matt has over a decade of experience in tech publishing, and previously ran the TV & audio coverage for our colleagues at T3.com, and before that he edited T3 magazine. During his career, he's also contributed to places as varied as Creative Bloq, PC Gamer, PetsRadar, MacLife, and Edge. TV and movie nerdism is his speciality, and he goes to the cinema three times a week. He's always happy to explain the virtues of Dolby Vision over a drink, but he might need to use props, like he's explaining the offside rule.