Amazon's big device event 2023 live recap: Alexa goes all ChatGPT, new Echo Show and Hub, Fire TV TV, and more
Plus new launches from Ring, Blink and Eero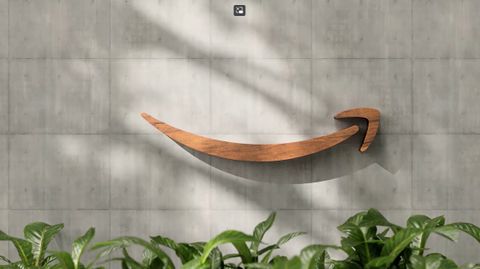 (Image: © Future)
Hello, and welcome to TechRadar's live report from Amazon's big devices event. Our US Editor-in-Chief Lance Ulanoff was at Amazon's HQ to hear in person whatever secrets Amazon has for us, while the rest of the TechRadar team was following a live broadcast.
Below, you can see our updates on everything as it happened, or here are some links to our follow-up stories where you can read more. Alternatively, head to our round-up of everything Amazon announced at its big September 2023 event...
Refresh
This is where the magic will happen, starting in 10 minutes. This event isn't available to stream publicly, so you'll need to follow along here for all the hot gossip from our man on the ground.
Speaking of our man, here he is. Lance was at Apple HQ last week, spent all the intervening time writing our iPhone 15 review and iPhone 15 Pro Max review, and has now zipped off to get his hands on Amazon's latest stuff. The man is indefatigable when it comes to tech.
What odds do you put on Amazon Astro making a return here, folks? Maybe finally going on sale? Or what if there's a smarter and more advanced Astro 2? Does that mean the adorable original is left on the smart home scrapheap, perhaps to star in his own Wall•E-like adventure of redemption? We can only assume.
The event is starting! With kids asking an Echo Dot for Baby Shark, and dogs pressing a Ring doorbell. Classic tech event stuff.
Oh, I just saw a cat interacting with Amazon Astro! It's here in spirit, at least.
Amazon's Dave Limp is now on-stage, starting us off.
AI has already been mentioned, drink! Bet we'll hear a lot about a smart Alexa today.
With generative AI, a "superhuman assistant" is "within reach", says Limp. A billion devices have connected to Alexa in the last decade, with tens of millions of uses per hour.
All-new Echo Show 8 is redesigned with edge-to-edge glass. A new central camera position, and improved noise-cancelling tech for what it picks up in the home when you're talking to it.
There's a big speaker on the back, with two drivers and a hefty radiator, with spatial audio processing and auto-tuning for your room.
The screen now detects how close you are to it, changing what's shown based on your distance. Simple and easy-to-see information from across the room, with more detailed info appearing when you're closer and can make out more.
New local language processing is 40% faster, apparently.
Echo Show 8 will be $149, available to order today, shipping "next month".
Here's our look at a generative-based Alexa.
Five foundational capabilities were developed for Amazon's new AI model.
Conversational – it needs to be fast to respond when it's voice-based rather than text, and it knows whether you're still around so it's not talking to nothing.
Real-world applications – it needs to understand the devices you have, how they work, and how they affect your actual home.
Personalization – Recommendations, personal reminders, grocery needs, and some personality. "Alexa will have opinions" and "dad jokes".
Trust – "We believe there is no trade-off between trust and performance". Amazon says it'll give you information and control to protect your privacy even with generative AI in the background.
Now we'll get a look at it in action.
People are asking Alexa for ideas for date nights, or when is a good time to go to Puerto Rico. The responses are very ChatGPT, in that it's natural language with some specific recommendations, but pretty concise since you clearly don't want to listen for ages.
Ooh, a live demo! Very brave.
Saying "Alexa, let's chat" enables the more advanced conversational mode. The response is pretty quick – though it's not always able to pick up Dave's voice in the big event room.
He asked how his "favorite" football team is doing, and Alexa new which team it was, and rapidly gave him some info.
The little bits of "personality" that are being injected are pretty basic and dystopian, but the way he's having a back-and-forth conversation, asking for information like how well a particular player did in a game, is impressive.
All the information comes with a nice display on the screen to back it up. He's now asking it to create an invitation for his event that he can send to friends, and it automatically included a promise of making the recipe he looked up, which is smart.
We're getting some background tech info now, including that Echo Show devices will analyze your voice and head movements to check if it seems like you're addressing Alexa or someone else, because you don't need to keep saying Alexa before every line when you're in "Let's chat" mode.
Another reference to making dad jokes. Execs: they're just like us!
Early next year, we'll get a much more natural-sounding (ie, less robotic) voice for Alexa, that has intonation and emphasis of particular words. They had it talking about how it likes the "emotional intensity" of a Van Gogh painting, which I am not into when it's in such a natural woman's voice. But the voice is impressive.
Apparently, it'll also respond with joy when telling you your team won, and will get a bit more sympathetic when they didn't.
Now we're talking about Alexa Skills – the third-party add-ons to Alexa that developers can build for their own apps or services.
Alexa's new chatty system will be accessible to developers – OpenTable, BMW and game development are hinted at here.
Character.ai is an app where you can chat with fictional characters or "historical figures" – you can learn coding from Grace Hopper… again, not really into that last idea.
A video is showing how the new Alexa can help someone who's blind and someone who uses a wheelchair to get information or to control their home.
Further to that, "Eye Gaze on Alexa" will now enable people to use Alexa just using eyes if they can't speak to it. It'll be available this year on the new Fire Max 11 tablet.
Call captioning over Echo devices will now expand to Europe, and will live translate for people speaking in different languages.
Alexa Emergency Assist is a new feature that will enable anyone to call for help if an Echo is nearly. "Alexa call for help" will connect you to an urgent response team, and you can set up emergency contacts who'll get an automated message if you use this feature.
It'll cost $5.99 per month, or $59 per year. I'm not going to knock Amazon for adding a feature like this, but Emergency SOS on the Apple Watch and iPhone is just part of the device…
"Explore with Alexa" is a new way for kids to use the smarter Alexa features to learn more, where Alexa won't just reply with rote facts, but will turn the information into questions to keep kids engaged. It'll have safety features, of course.
The funky new Echo Pop is now getting a Kids version, with Disney princesses or Marvel designs on them. $49.99, available next month.
Two new kids' tablets too. Fire Kids Tablet is for younger children, Fire Kids Pro tablet is for older ones. They're 1080p Full HD, with 13 hours of battery life, and a $10 price cut compared to the previous generation.
The Fire HD 10 Kids and Fire HD 10 Kids Pro will be available next month for $189.99 each, with a year of Amazon Kids Plus subscription, with activities for kids. As usual for these tablets, if you drop and break them, you get a new one without quibbles.
We're moving straight on! Next-gen Echo Frames offer 6 hours of battery life, which is a 40% improvement for music playback. A new open-ear audio system directs sound to you, but stops it leaking (too badly). There are big improvements to Alexa recognition of its name to start listening, apparently. There are new frame designs, including some cool designer looks from Carrera.
$269.99, and you can sign up for notes on when they're available.
And now it's Fire TV time! Finding something to watch is too challenging, apparently. (It's true.) So conversation Alexa is coming here too, as the "world's best video store clerk".
"Find some action movies for me" > "Show me the ones I don't have to pay for" > "Show me ones I haven't seen yet" > "Which of these are good for my teenagers"
Alexa recommends Scott Pilgrim, and highlights that it's getting an anime version too, which is a fun bit of extra context. Naturally, the Amazon-owned IMDb is providing lots of background information here.
"Search for that comedy by the guy who played the lawyer in Breaking Bad" gets some results. But then he asks a question for movies that didn't win an Oscar, and Sideways comes up, which definitely won an Oscar. It also recommended The Outfit as being like Better Call Saul, which… no, not really. I mean, this all looks great, but come on.
Amazon is now offering 6 months of its MGM+ streaming service for free with new Fire TV devices, including TVs or streaming sticks. That includes the Bond movies, FYI.
Fire TV Soundbar is a surprise! Bluetooth-enabled, and very simple looking. $119, available right away. If it's good, it could be a real winner at that price, which undercuts all the big brands such as Sony and Samsung.
A new Fire TV Stick 4K is here too. 30% more powerful for fast responsiveness, $49.99 and on sale for today. Not clear how much more is different.
The new Fire TV Stick 4K Max includes Wi-Fi 6E for faster and more solid streaming. Again, not much else seems to have changed outside of a faster processor. Dolby Vision and HDR10+, and Dolby Atmos. $59.99, available for pre-order today. No shipping date.
Okay. So. You can now ask your Fire TV to show images from your photo library, and then use generative AI to change that image. The guy on stage asked to make it watercolor style. Then he asked to change a picture of the Guggenheim into a cyberpunk city. The result of the latter is pretty impressive. It's a bizarre thing to look at as a general feature, but I can see kids having fun messing around with photos.
There will be a Photos Edition of the Echo Show 8, to use a digital art frame, with a photo-sharing subscription built into the price for a year. $1.99 per month after that.
Now it's Ring and Blink time. First is Blink, with three new devices.
Blink Sync Module Pro is a way to extend the range of the wireless communication of Blink cameras, far from your Wi-Fi hub. $49.99, out early next year.
Also, a new floodlight camera for Blink Outdoor 4 which is $159.99, and a battery extension pack for $29.99.
Ring, meanwhile is focusing on accurate alerts, so you only get warned about something that actually matters. To that end, 3D motion detection is coming to the new Ring Stick Up Cam Pro, as are better mics that can pick up only the thing you need to hear most in something it's looking at. $179.99, available to pre-order today, but no release date.
Eero Max 7 is coming, the company's first mesh Wi-Fi 7 system. It has 10GB ethernet, and supports over 200 connected devices. Which honestly might be only just enough for my house. It has a new thermal design for fan-free operation, and supports Matter smart home tech.
It'll cost $599.99, in one, two or three-pack options. If $599.99 is for the one-pack… yeesh, you'd better want that speed.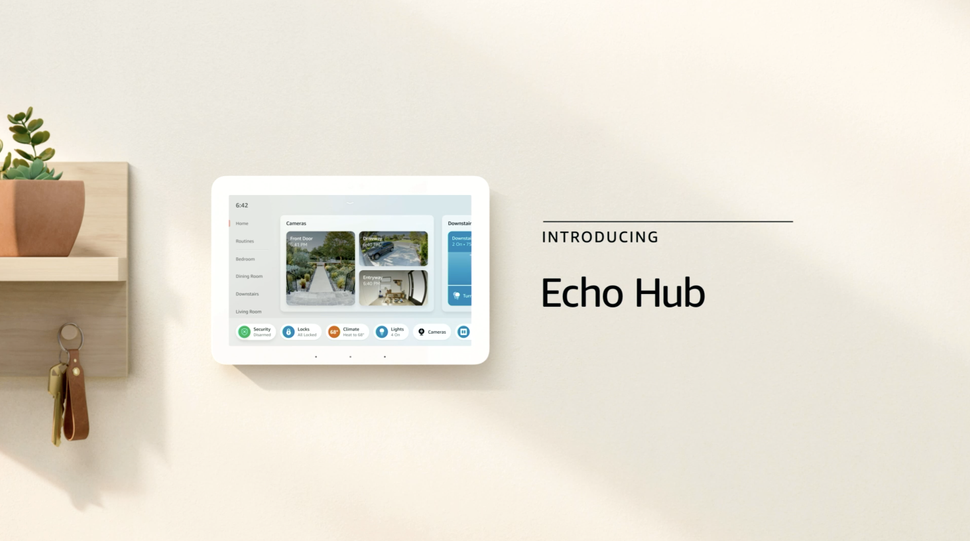 We're talking AI again, and how combining generative AI and the real world is so hard, because there's infinite variation in real life.
Amazon has been training its AI model with all of its smart home experience, to make it easier. You can now tell it to make the lights like the aurora borealis, or tell it to clean the dining room instead of saying something specific about your robo vacuum's name.
Working with the likes of Roborock and Philips Hue, device creators only need to describe to Alexa what their devices are capable of, and then you can ask Alexa to do things and it'll figure out what your devices can do to make that happen.
There's going to be "map view" too, where you map your home using the camera, which creates a floorplan that shows where all your smart devices are, so you can just tap a device from it and control it from there. This will be "available later this year in the US for customers with select phones" – it's an iPhone 14 or 15 in the video (probably 14).
Echo Hub is a new wall-mountable smart screen for smart home control. It'll get map view next year. It has Alexa built-in, of course. It sounds like a more focused Echo Show with a flatter design. It can turn on a light as quickly as 300 milliseconds.
It'll be $179.99 later this year.
We are now seeing a video about how you can control your whole home with Alexa, while also being absolutely insufferable about sports.
We're wrapping up now, and we'll have a chance to play with some of these products right at the event. We can't promise that Lance won't just go straight for the Marvel Echo and stay there all night.