Magnetar makes the world's priciest 4K Blu-ray player – here's why you need it
Money No Object: Magnetar UDP900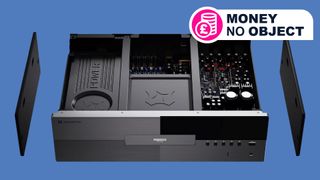 (Image credit: Magnetar)
The 4K Blu-ray disc format continues to be a viable go-to for movie fans who demand to see both new and old movies at home with the best possible video and audio quality. And while the best streaming services have slowed the format's momentum, with studios like Disney even opting to cease disc sales altogether in Australia, each month still brings a steady stream of new films on 4K and regular Blu-ray for fans to look forward to, such as the forthcoming Spider-Man: Across the Spider-Verse.
While the 4K Blu-ray disc format keeps rolling along, electronics manufacturers sadly have all but given up on making new players. Our list of the best 4K Blu-ray players has become alarmingly short, with the offerings divided between basic, entry-level models and premium players that cost five times as much. Fortunately, the gap between them is filled by next-gen gaming consoles that feature slots for 4K discs. But as we've found in our hands-on testing, the PS5 isn't the best option for 4K Blu-ray playback, and the same applies to the Xbox Series X.
Is there another option? Yes, and it's a startlingly expensive one: the Magnetar UDP900.
Magnetar UDP900: what is it?
The UDP900 is not just a 4K Blu-ray player but a Universal Disc Player that supports the 4K Blu-ray, Blu-ray, DVD, CD, SACD, DVD-Audio and other disc formats. If it's a shiny 5-inch disc, the UDP900 should be able to play it, and at $2,999 / €2,499 (around 2,356 / AU$4,585), you'd expect it to.
Connection options on the UDP900 are extensive, with dual HDMI outputs (one audio-only) supplemented by 7.1-channel analog RCA jacks for connecting to an AV preamp along with separate analog stereo XLR and RCA outputs. A USB type-A input can be used to play audio/video files from a connected drive, and there's also a USB type-B port that allows a connected computer to take advantage of the UD900's high-res ESS9038PRO digital-to-analog converter (DAC).
Both the Dolby Vision and HDR10+ high dynamic range formats are supported by the UDP900, which also includes a "luxury built" backlit remote control with an extensive button set.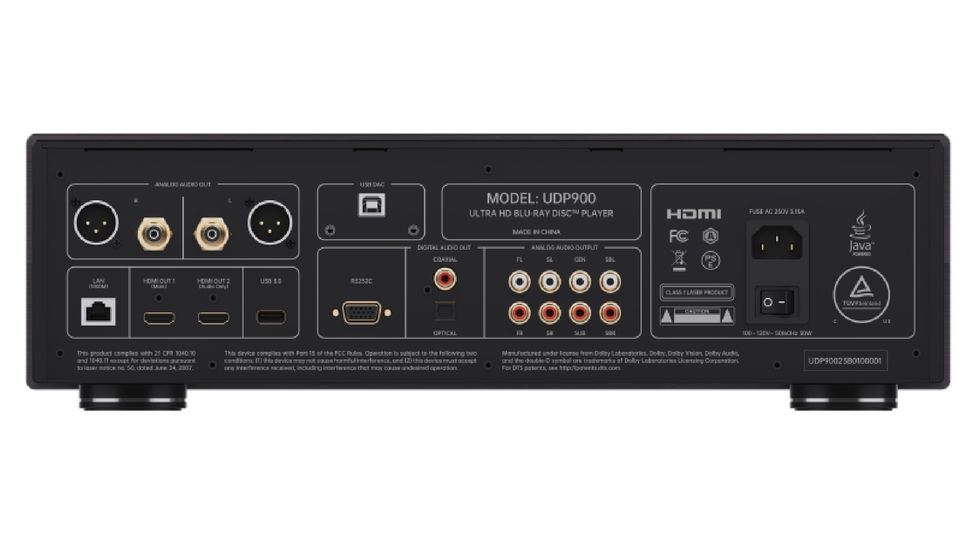 Magnetar UDP900: what makes it special?
If you were to compare the video performance of the UDP900 with a cheap, basic 4K Blu-ray player, you probably couldn't see much of a difference between the two. Why, then, does the UD9900 cost nearly twenty times as much as the least expensive model in our best 4K Blu-ray player's guide?
The answer is audio performance, and that all comes down to the UDP900's build quality, design, and component parts selection. At 34 pounds (15.5kg), Magnetar's player is built like a tank. It has an all-aluminum alloy casing with a double-layer chassis. This casing serves to shield the player's electronic components from vibration, magnetic interference, and noise, all of which can have an impact on audio quality.
While none of that will matter much if you're simply using the player's HDMI output to pass a digital bitstream to an AV receiver or preamp, it can make a difference when using the player's internal DAC for playing music from discs or a connected computer. The UDP900 has separate DACs for its 7.1 channel and two-channel outputs, with the two-channel one using the higher-performance ESS Sabre chipset.
Not only that, but the UDP900 uses separate power supplies for its analog and digital audio sections, with the analog section getting a 60W toroidal transformer with "high quality oxygen free copper wiring and metal shields to reduce vibration noise and generated heat," according to Magnetar.
Further evidence of the company's painstaking attention to detail is offered by the player's component selection, which includes a "6-layer gold immersion main PCB circuit with a high precision power supply" and "Murata multilayer ceramic capacitor TDK magnetic devices and 30 NCC electrolytic capacitors". This is not the sort of stuff you'll find inside an off-the-shelf Blu-ray player, and all of it is used to wrangle the last bit of sonic purity for music listening.
Magnetar UDP900: is it worth it?
If you're looking for a solid 4K Blu-ray player for watching movies on a home theater system with one of the best Dolby Atmos soundbars, I'd say no, the Magnetar UDP900 is absolutely not worth the money.
But if you're deeply into music, and have the best stereo speakers and amplifier to prove it, then the UDP900 becomes a very different value proposition. In the rarified world of high-end audio, $3,000 is not a lot to drop on a source component like Magnetar's player. And if it actually comes close to the company's performance claims for it (I've not tested the player myself, so I can't weigh in on that), it should offer excellent sound quality when listening to CDs, SACDs, and high-res audio files streamed from a computer.
Although I'm an avid Blu-ray disc collector and music listener, I myself won't be buying a UDP900 anytime soon. That's because I already own the legendary, now-discontinued Oppo UDP-203, a player that provides many of the same capabilities and features of the Magnetar, though it lacks the UDP900's fancy audiophile components. But if my Oppo player were to break down – perish the thought – the Magnetar would be on my list of potential replacements.
Another replacement option that would be high on my list is the Panasonic DP-UB9000. This $1,000 / £999 (around AU$1,530) player is similarly well-featured as the UDP900, with analog 7.1-channel RCA and stereo XLR audio outputs to supplement its dual HDMI ports. Unlike the Magnetar and Oppo players, the Panasonic doesn't support SACDs and DVD-Audio discs, but it does use a separate high-performance DAC for its analog stereo output. So, at least CDs and high-res audio files played from a connected drive should sound great with the DP-UB9000.
Get daily insight, inspiration and deals in your inbox
Get the hottest deals available in your inbox plus news, reviews, opinion, analysis and more from the TechRadar team.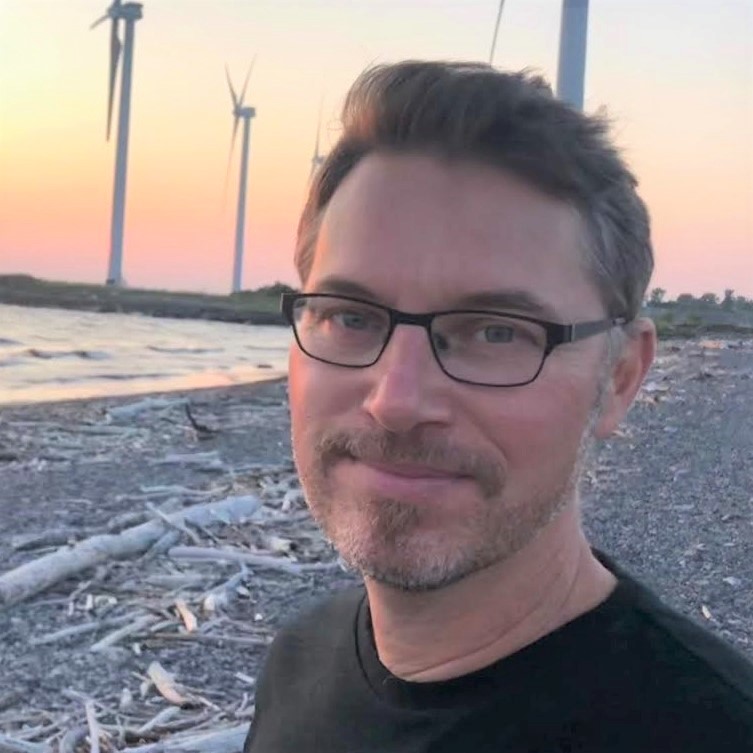 Senior Editor Home Entertainment, US
Al Griffin has been writing about and reviewing A/V tech since the days LaserDiscs roamed the earth, and was previously the editor of Sound & Vision magazine.
When not reviewing the latest and greatest gear or watching movies at home, he can usually be found out and about on a bike.