Motorola Edge 30 Neo: Two-minute review
The Motorola Edge 30 Neo is the baby of the Edge 30 family. It's a fairly petite and light phone that does not cost a fortune and has some great everyday ease of use features like super-fast charging.
However, compare it to its siblings, the Motorola Edge 30 Fusion and Motorola Edge 30 Ultra, and you have to conclude a lot of the most interesting stuff has been snipped out. The Motorola Edge 30 Neo loses the higher-end build elements, the true high-end camera hardware, and a processor powerful enough to coast through high-end games.
Display quality is the Motorola Edge 30 Neo's main strength. The P-OLED panel has exceptional outdoor visibility and, as usual, an OLED panel leads to a punchy and colorful appearance.
That is worth some kudos points, but the Motorola Edge 30 Neo can't compete elsewhere with some of the ultra-aggressive phones available for similar money, like the OnePlus Nord 2T, Nothing Phone 1, and Google Pixel 6a.
Those phones take much better low-light photos, play 3D games at higher frame rates, have classier body designs, and capture far higher-quality video.
When you take the high-quality screen away, the Motorola Edge 30 Neo doesn't actually have all that much going for it in this crowd. However, it still holds real appeal for the less techy phone user.
Motorola Edge 30 Neo review: price and availability
Launched in September 2022
Cost £349 / AU$599 (around $375) at launch
Now reduced to £299.99 in the UK
The Motorola Edge 30 Neo was announced as part of the second wave of Edge 30 phones of 2022, in September 2022, alongside the Edge 30 Ultra and Edge 30 Fusion.
It launched for £349 / AU$599, which is roughly equivalent to $375 in the US, although at the time of review the phone was not officially on sale in the US. Since launch, the phone has dropped in price in the UK, with the Motorola Edge 30 Neo being widely available for £299.99.
Motorola Edge 30 Neo review: specs
Swipe to scroll horizontally
Motorola Edge 30 Neo specs

| | Header Cell - Column 1 |
| --- | --- |
| Dimensions: | 152.9 x 71.2 x 7.8mm |
| Weight: | 155 grams |
| Display: | 6.28-inch FHD+ OLED w/ 120Hz refresh rate |
| Chipset: | Snapdragon 695 5G |
| RAM: | 8GB |
| Storage: | 128GB |
| OS: | Android 12 |
| Primary camera: | 64MP (f/1.8) w/ OIS |
| Ultrawide camera | 13MP (f/2.2) w/ 120º FoV |
| Front camera: | 32MP (f/2.4) |
| Battery: | 4,020mAh |
| Charging: | 68W (wired), 5W (wireless) |
| Colors: | Ice Palace, Black Onyx, Aqua Foam, Very Peri |
Motorola Edge 30 Neo review: design
Funky Pantone color panel
Fairly petite plastic body
Very basic IP52 water resistance
Successful phone designs have to seem deliberate, each part chosen carefully. You can do this with a very distinctive 'look', as in the Google Pixel 7 or Samsung Galaxy S23. Or you can use high-end materials like curved glass.
Motorola has instead evoked the mighty color company Pantone, putting a virtual swatch of one of the company's colors on the back of the purple model. The message: this isn't just a color, it's a Pantone-certified color. There are a few different options available, namely Very Peri, Ice Palace, Black Onyx, and Aqua Foam, and it's the first of those that we used for this review.
"Very Peri helps us to embrace this altered landscape of possibilities, opening us up to a new vision as we rewrite our lives," says Pantone, which calls Very Peri Color of the Year 2022.
Sure thing. A lovely purple it is too, but the reason for the figurative medal on the back of the Very Peri model is partly to distract from the Motorola Edge 30 Neo's prosaic build.
Its back and sides are plastic, lacking the high-end feel of the Motorola Edge 30 Fusion and Edge 30 Ultra. The screen covering is glass, of course, but Motorola does not specify it as Gorilla Glass, which usually means it uses a cheaper form of toughened glass from another brand.
The purple is nice, the lightly sparkly finish on the plastic rear looks good. And, from what we can tell from online images, the other green, white and black shades look good too. But this is actually one of the less impressively-built phones in this class. Vivo, OnePlus, Google and Nothing all offer at least some use of glass or aluminum outside of the display panel at this level.
However, the Motorola Edge 30 Neo is at least light and pocketable. It weighs just 155g, and is around 7.8mm thick. Thin and light. Motorola also includes a slim snap-on case in the box, rather than the much floppier silicone kind it usually bundles with its phones.
The Motorola Edge 30 Neo has no memory card slot or headphone jack, because it's self-consciously not a true budget model. And it also has an in-screen fingerprint sensor, not the side-mounted kind used in most cheaper Motorolas.
This is one of the slowest in-screen fingerprint sensors we've used recently though. While that means it takes maybe 1/2 to 2/3 of a second to work, it's still noticeable. And it is also more picky about the position of your finger than others, sometimes requiring a concerted press – presumably to ensure the thumb/finger is fully covering the pad area.
Motorola says the Neo is water resistant to IP52, a form of protection so weak you should treat it like it has no water resistance rating at all. Finally, the Motorola Edge 30 Neo has stereo speakers, and they are fairly loud and tonally solid, although the highest frequencies can get a little sharp when maxed. Still, a decent array.
Motorola Edge 30 Neo review: display
Brilliantly bright screen
Good color
120Hz OLED delivers smoothness and excellent contrast
The Motorola Edge 30 Neo's design may seem better from afar than in your hand, but the screen is an unexpected smash. It's a petite 6.28-inch P-OLED panel with class-leading outdoor visibility.
Indoors the screen is capped to around 475 nits of brightness, enough to make the Motorola Edge 30 Neo slightly painful to look at in a dimly lit room. Outdoors on a sunny day it will hit up to 923 nits, which is extremely high for a lower mid-range phone – for almost any Android phone, actually, despite so many manufacturers claiming their screens are capable off 1,300-nit brightness.
The result is the Motorola Edge 30 Neo's screen looks very clear even in harsh direct sunlight.
Spec-wise the display is otherwise pretty normal. It's a 1080 x 2400 pixel 120Hz panel with two color modes, Natural and Saturated. They perform just as their names suggest.
The Motorola Edge 30 Neo has a potent screen. But it does not support HDR video, for no obvious reason. The screen has the contrast, the brightness, and the color depth for the job. This could also be a limitation of the Snapdragon 695 processor, but then the Sony Xperia 10 IV uses the same chipset and does support HDR video playback.
We're going to have to shrug this one off.
Motorola Edge 30 Neo review: software and performance
Snapdragon 695 is not a great gaming chipset
Good, non-bloated software
128GB storage for your apps and photos
If you're upgrading to the Motorola Edge 30 Neo from an older Motorola phone, you may notice this one looks a little different. That's because, drum roll, it defaults to using a custom 'Moto' system font rather than a plainer Android one.
It goes some way to making the Motorola Edge 30 Neo feel less like a 'vanilla' Android phone than other Motos, but if you don't like it you can change it with a few screen taps and presses. And Motorola has otherwise not changed the classic Moto interface much here.
This is a relatively clean and unencumbered version of Android with a handful of neat additions that can be toggled on and off in the Moto app. These include physical gestures to, for example, open the camera app or toggle the torch.
The Motorola Edge 30 Neo also has Moto's custom lock screen, Peek Display, which looks good and shows icons for recent notifications. However, unlike some other Moto phones there's no "always on" display mode here.
While general performance is good, we couldn't help but notice app loads tend to be slightly slower than in the Motorola Edge 30 Fusion, the phone we switched from.
This is no great surprise given the Fusion has a flagship-tier chipset, while the Neo has a much less impressive mid-tier one.
It's the Qualcomm Snapdragon 695 5G, paired with 8GB of RAM and a 128GB of storage. This scores 1,901 in Geekbench 5. That's a little over half the score achieved by the OnePlus Nord 2T and its Dimensity 1300 chipset, or the Pixel 6a and its Google Tensor chip.
The gap widens if we switch to a more GPU-dependent test like 3DMark's Wild Life. Where the Moto scores 1,214 points, the OnePlus Nord 2T can hit around 4,600, and the Pixel 6a 6,300.
Sometimes wide gaps in GPU performance are not all that noticeable in today's games, but they are here. Fortnite will only run at the basic 'Medium' setting, and frame rate stability is not that great even at this level, which makes the game look significantly worse than in some other phones near the Motorola Edge 30 Neo's price. This mobile is clearly not made primarily for gamers.
Motorola Edge 30 Neo review: cameras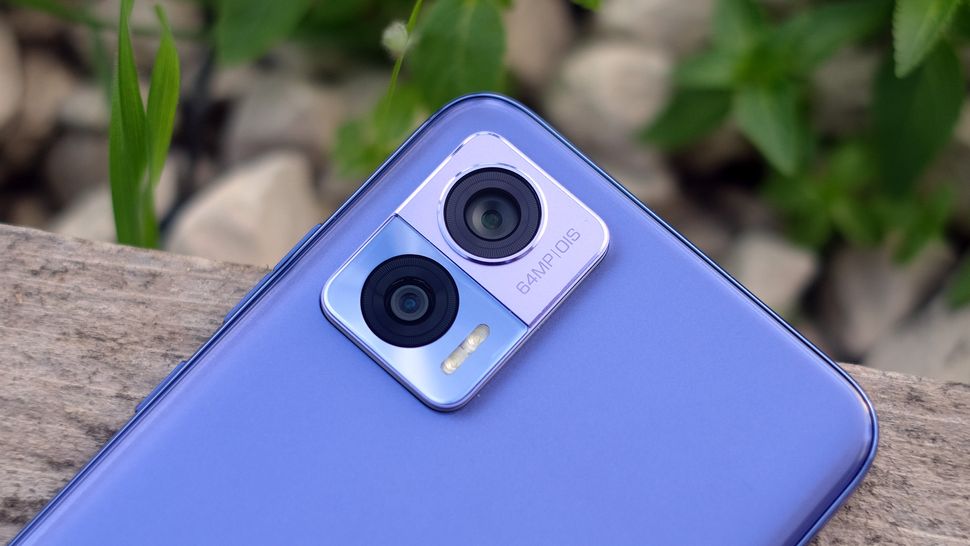 Camera tends to slightly overexpose images
Disappointing low-light performance in spite of OIS
Poor video quality
The hardware situation improves in the camera, at least superficially. Motorola only put two cameras on the Edge 30 Neo, but that simply means we miss out on the poor depth or macro sensors commonly seen in this price category.
There's a 64MP primary camera with OIS (optical image stabilization), and a 13MP ultra-wide. Both are technically above average, thanks to the use of OIS, and a higher-res, larger sensor ultra-wide than plenty of affordable mid-tier Androids.
The main camera uses the 1/1.97-inch Samsung GW3 sensor, as seen in the Xiaomi Mi 11 Lite, and the ultra-wide a Hynix Hi1336, as used in the Samsung Galaxy S21 FE. Not bad bedfellows, right?
Results aren't bad either. The Motorola Edge 30 Neo avoids the obviously oversaturated color you'll often see in aggressively priced rivals from companies like Realme.
Grass looks roughly as it does to your eyes, and in most shots the sky will look natural too. The phone does at times leave stills with a slight magenta cast, but it's not immediately obvious.
The Motorola Edge 30 Neo's Auto HDR is powerful and mostly reliable, meaning you can shoot pretty carelessly even directly into the sun. Having said that, there is a problem somewhat related to this area.
Slight overexposure seems to be the most common issue. The phone's camera brain knows how to avoid blowing out bright clouds, but will happily overdo darker (i.e. normal) scenes and inadvertently overexpose elements that aren't actually that bright in an attempt to make the picture pop.
You can avoid this by manually dialing down the exposure – a control pops up if you pick a focal point. But we shouldn't have to.
And despite the power of the HDR software, too many of our shots were left with skies that look like a blue-to-turquoise gradient, likely an effect of the limited native dynamic range of the sensor. Looking back over the images we took, there are also a surprising number of out-of-focus images shot using the primary camera. Not dozens, but enough to mean it wasn't pure user error.
Focusing is not slow but, it would appear, sometimes just does not kick in.
Motorola Edge 30 Neo camera samples
On a more positive note, the Motorola Edge 30 Neo's 13MP ultra-wide is miles better than some of the 8MP cameras seen in some comparable mid-tier Androids. There's less distortion at the corners of the frame and its images don't immediately look compromised as soon as you zoom in a bit.
Low-light performance is below average, though, and not what you might expect given the Motorola Edge 30 Neo has optical image stabilization. The phone has a Night Vision mode for low-light photography, but the results aren't even in the same league as the Edge 30 Fusion's.
Dynamic range is limited, detail is very poor outside the brightest parts of the picture, and the effect of Night Vision versus Auto shooting is not that great. Highlights and mid-tones get a boost, but shadow detail retrieval is still not good.
This wouldn't matter so much if we were just making a comparison between the Neo and the Fusion, but you can get Fusion-like results from phones such as the OnePlus Nord 2T and the Pixel 6a.
Video is probably the weakest area of the Motorola Edge 30 Neo's camera. You can only shoot at 1080p, at 30fps or 60fps, and clips look pretty awful in either mode. Stabilization is poor, overexposure is common, and the image appears soft, low on detail and, at times, pixelated due to poor handling of objects with hard edges.
1080p video from the Edge 30 Fusion looks dramatically better. And most phones at this price can at least capture 4K video at 30fps. The Snapdragon 695 institutes a hard limit here, as it tops out at 1080p/60 capture. However, that is no excuse for the poor image quality.
The front camera has a 32MP sensor that is, unfortunately, not nearly as good as the Samsung s5kgd2 camera used in the step-up Edge 30 Fusion. Fine detail is more likely to end up smushed in less than ideal lighting, and pictures look less confident up close. It's a perfectly okay selfie camera, just nothing special.
Motorola Edge 30 Neo review: battery
4,020mAh battery
Lasts all day but not much more
68W wired charging and 5W wireless
The Motorola Edge 30 Neo has a 4,020mAh battery, which a worryingly small capacity. That's lower than the Pixel 6a's 4,410mAh, and dramatically lower than the Sony Xperia 10 IV's 5,000mAh.
It's a setup for a disaster that never happens, though, because the Motorola Edge 30 Neo's battery life is entirely okay. It won't last close to two days for most people, like the Sony Xperia 10 IV. But we didn't find it frustratingly poor, which is what we half expected after seeing the capacity figure. It gets through a full day of use just fine, if not with much to spare by the end of the day.
This seems further proof that the Snapdragon 695, for all its flaws, is a seriously efficient chipset – having contributed to the Sony Xperia 10 IV's class-leading stamina. It's good news for Snapdragon-maker Qualcomm, and non-news for us as battery life is basically not a reason to buy, or not to buy, the Motorola Edge 30 Neo.
Fast charging might be. The Motorola Edge 30 Neo includes a 68W charger and, unlike some of the 80W phones we've used recently, it does actually hit that rated charge power.
It takes 45 minutes for the phone to reach 100% charge, from a fully flat state. And it continues drawing charge until the 48 minute mark.
Motorola has also implemented wireless charging, which is pretty unusual at this level. It tops out at 5W, so will work very slowly, but might appeal if you use a wireless charging pad on your desk at work.
Should you buy the Motorola Edge 30 Neo?
Buy it if...
You want a bright screen
Its specs look pretty standard on paper but the Motorola Edge 30 Neo has an exceptionally bright screen, one that looks very clear outside on sunny days. This is probably the phone's strongest area, and does wonders for its all-round usability.
A smaller phone appeals
The Motorola Edge 30 Neo is light and fairly small, making it easy to handle compared to other mid-tier Androids, some of which feel absolutely huge by comparison. And the screen is still large enough to make watching YouTube feel comfortable.
You want a decent ultra-wide camera
This phone has a zero-fat approach to the camera, with a mostly decent primary camera and an above average 13MP ultra-wide. It's better than the 8MP one used in a lot of more affordable mid-range Androids.
Don't buy it if...
You're big into mobile gaming
The Motorola Edge 30 Neo is not the most powerful gaming phone you can get for the money. Not even close. Top-tier titles like Fortnite do not run particularly well on the phone, so think twice if you play demanding 3D games a lot.
You care about low-light photo quality
Despite having optical image stabilization, the Motorola Edge 30 Neo cannot take particularly good low-light images. They don't have anything like the shadow detail or dynamic range of top performers in this class.
You want a phone with high-end build
This is an all-plastic phone. Look elsewhere if you want the touch of luxury a glass back or aluminum sides provide. Such niceties are available at the price if you're willing to shop around. The OnePlus Nord 2T is one example.
Motorola Edge 30 Neo: Also consider
There are lots of other phones at around this sort of price, including the following three options.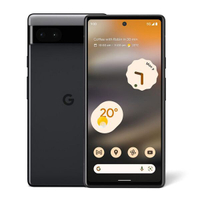 The Google Pixel 6a is a more powerful and stylish phone than the Motorola Edge 30 Neo, and its cameras are more consistently good too. However it costs a little bit more, has a lower refresh rate, and charges slower.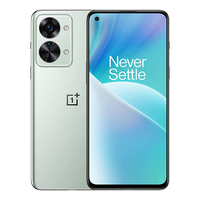 The OnePlus Nord 2T is a much better choice for gaming than the Edge 30 Neo, and it charges even faster too. But there's no wireless charging, the refresh rate is lower, and the design is rather plain.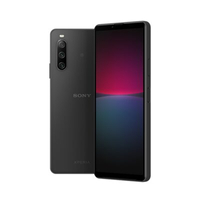 If battery life is a priority for you then consider the Sony Xperia 10 IV, which has a long-lasting 5,000mAh juice pack. It has the same chipset as the Edge 30 Neo though, and a lower refresh rate screen.
Swipe to scroll horizontally
| Header Cell - Column 0 | Google Pixel 6a | OnePlus Nord 2T | Sony Xperia 10 IV |
| --- | --- | --- | --- |
| Price: | $449 / £399 / AU$749 | £369 (around $460 / AU$655) | $449 / £429 (around AU$650) |
| Display: | 6.1-inch OLED @60Hz | 6.43-inch AMOLED @90Hz | 6.0-inch OLED @60Hz |
| Cameras: | 12.2MP Wide, 12MP Ultrawide | 50MP Wide, 8MP Ultrawide, 2MP Depth | 12MP Wide, 8MP Ultrawide, 8MP Telephoto |
| Chipset: | Google Tensor | MediaTek Dimensity 1300 | Qualcomm Snapdragon 695 |
| RAM: | 6GB | 8GB / 12GB | 6GB |
| Battery: | 4,410mAh | 4,500mAh | 5,000mAh |
| Water resistance: | IP67 (1 meter of water for 30 minutes) | None | IP68 (1.5 meter of water for 30 minutes) |
First reviewed: April 2023