Two-minute review
The LG CS – only available in the United Kingdom, Australia and France – is in many ways as generously specced as its 2022 LG OLED siblings (the LG C2 and LG G2 respectively) with all the same premium attributes which have allowed LG's OLED offerings to stand out from the competition. Borrowing the frame design of the LG C1, the most notable difference between the LG CS and the C2 is the panel that's used, as it borrows the panel of the LG B2. This means, most critically, that it lacks the C2's Evo technology – and the 20% brightness boost that comes with it.
Featuring the same Alpha a9 Gen 5 processor as its 2022 stablemates, the LG CS still achieves what it sets out to with dynamic picture depth, color accuracy and stunning contrast. Playing around with the various picture settings to find the right option is most advisable, as the default 'energy saving' setting ultimately won't allow for the LG CS to really flex its muscles.
Fortunately, navigating to these settings and playing around with them to find the best fit for you is pretty simple, as the LG CS offers an intuitive user interface that is generally easy to use. Like with LG's previous OLED releases, it has a Wii-inspired remote that's used to control an on-screen pointer to open settings and launch apps. Those unfamiliar with this control method may initially be caught off guard by it, but you can switch off motion controls entirely if they bother you.
For such an exceptionally thin TV, the LG CS also manages to offer among some of the best native audio in the business. With the boost of AI Sound Pro and support for Dolby Atmos, the LG CS again mimics its LG C2 sibling in offering what it calls 'virtual surround sound', as the TV is capable of upscaling stereo content and outputting it into 7.1.2-channel sound.
All things considered, the quality of the LG CS' audio can sneak up on you if you aren't expecting the heights it manages to achieve. I'd even place it far above many TVs and even some of the more affordable soundbars, making the purchase of an additional soundbar to pair with the LG CS potentially unnecessary for all but the strictest audiophiles/cinephiles.
Gamers will also find plenty of welcome benefits, such as the CS OLED's HDMI 2.1 support (4K at 120Hz), 1ms response time and variable refresh rates join built-in Nvidia GeForce Now to make the LG CS a clear contender for the title of best gaming TV.
The CS can experience some glare in bright rooms, but not to an extent that it becomes too great of a distraction. And ultimately the LG CS manages to represent excellent value for money even despite its reasonably high asking price. It isn't cheap enough to be considered a true budget alternative to the LG C2, but does come in at a slightly lower asking price than the C2 with very few concessions. This allows the CS to stand out as a slightly more budget-friendly option for those eyeing off the OLED excellence that the top LG screens deliver.
LG CS OLED TV Price and Availability
77-inch size unavailable in some regions
Cheaper than LG C2
Interestingly, the LG CS is only available presently in three regions – Australia, the United Kingdom, and France – with no indications that it will arrive in other regions such as the US.
Pricing for the LG CS comes in slightly lower than the LG C2, which is the TV that the CS is most similar to. Prices and size options are as follows:
55-inch: £1,499.99 / AU$2,776
65-inch: £1,999.99 / AU$3,776
The CS is also available in a 77-inch model in Australia, but does not appear to offer this size option in the UK, with Aussies looking at paying AU$5,876 to get their hands on the LG model in this bigger size.
Score: 3.5/5
LG CS OLED TV Specs
Swipe to scroll horizontally
LG CS OLED TV Key Specs

| | |
| --- | --- |
| Screen sizes: | 55-inch, 65-inch, 77-inch |
| Resolution: | 4K (3840 x 2160) |
| Panel type: | OLED |
| Smart TV: | webOS 22 |
| HDR: | HDR10, Dolby Vision, HLG |
Swipe to scroll horizontally
LG CS OLED TV Gaming Support Specs

| | |
| --- | --- |
| Frame rate: | 4x HDMI 2.1, 4K at 120Hz |
| Motion rate: | 1ms response time |
| ALLM: | Yes |
| VRR: | Yes (Nvidia G-Sync and AMD FreeSync Premium compatible) |
| Other: | Built-in Nvidia Geforce Now |
LG CS OLED TV Design
Very thin build, heavy frame
4x HDMI 2.1, 3x USB, eARC, Optical out, LAN
Sturdy for peace of mind
The LG CS OLED is, much like its C2 sibling, stylishly thin but made to feel slightly sturdier by comparison with its reasonably heavy base that comes packaged as three separate, easily assembled components. Even as a gym junkie used to throwing heavy things around, one of the LG CS' base components managed to catch me off guard with its weight, making setup undoubtedly a two-person job, even if a relatively straightforward one. The panel itself also isn't especially light, as the net weight of the 65-inch CS without its stand is listed by LG as being 24kg, with the stand itself adding a further 8.6kg.
If the frame design of the CS OLED looks familiar it should – it uses the same exterior design as the LG C1 – which is no bad thing in our estimation. Thanks to its wonderfully narrow bezel, the screen of the LG CS doesn't feel as if it wastes any of its inches, and it's thin enough that it should look good when wall-mounted too..
The stand itself shares a similar level of sophistication, as the visible sloped, silver component of the CS stand largely manages to vanish into the bottom of the TV. Design-wise, this is an area where the LG CS has a slight leg up on the LG C2 by comparison, where the stand is a little bit more pronounced.
It can't be overstated how thin the CS' panel actually is. As a means of comparison, I stacked my iPhone 13 up against the panel and it was roughly half the iPhone's depth. A thicker section housing the TV's speakers and components juts out around two thirds of the way down the back of the panel, yet not so much as to appear unnecessarily bulky.
In terms of connectivity options, the LG CS essentially mimics the LG C2 with four HDMI 2.1 ports (including one with eARC), three USB ports, optical out and LAN support, and these are neatly housed to make cable organisation at the rear of the TV pleasantly straightforward.
The remote is again something the CS appears to replicate from the C2, with the LG Magic Remote included essentially identical to the C2's remote, apart from a renamed 'Movies' button which takes you to one of LG's streaming channels. Having been accustomed to more boxy, square type remotes, I was immediately a fan of the magic remote's curved edges and the feel in the hand, with my partner remarking that the remote had a "classic look". Additional shortcuts on the remote include streamers Netflix, Prime Video and Disney Plus, as well as buttons for Google Assistant and Alexa, which activate the Magic Remote's voice control capabilities.
Score: 5/5
LG CS OLED Smart TV and OS
webOS 22
Neat, simple to navigate interface
Once again, the LG CS emulates the LG C2 (and LG G2) in featuring the webOS 22 smart TV platform, and the operating system is just as impressive here as it is with the other TV offerings in LG's 2022 lineup.
The home screen of the CS is pleasantly neat and easy to navigate, whether you're looking to find and click into your favourite streaming platforms or navigate to the inputs of the various devices you have hooked up to your TV. Aussies can discover local streaming favourites such as Stan, Binge and Kayo Sports instantly from the menu, while other usual suspects like Netflix, Apple TV Plus, Disney Plus, Prime Video and YouTube are all there also.
Like the C2, the aforementioned Magic Remote is designed for Wii-remote-style motion control, allowing users to browse the TV's menus with an on-screen pointer. It's a fast and direct way to launch apps from the TV's home screen, though it's worth noting that not all apps support the pointer, and being suddenly forced to use traditional controls can be somewhat jarring.
Scrolling down slightly further also provides a 'Home Dashboard' option, which gives you a chance to see all of your connected devices in one place and connect to other smart devices around your home if you choose to.
I personally chose not to connect to my Echo device, just as a personal preference for keeping the two separate, but fully integrated smart home devotees will no doubt find plenty to like with the option to see all of their connected devices listed in the one place for simple navigation.
Unfortunately, webOS 22 does appear to have an annoying kink with its Wi-Fi connection, as in my experience I had to reconnect the LG CS each and every time I turned on the TV. The solution is a relatively easy one and the TV does remember your connection to not have to ask for the password each time, but it can get frustrating when you're hoping to jump straight into a particular app only to be told you're not online.
The LG CS also offers pre-installed access to Nvidia GeForce Now, the cloud-based video game streaming platform, and this can also be easily discovered via the LG CS menu. Having this as an option out of the box is quite a nifty addition, and I really loved having access to my Steam library seamlessly through the TV without having to go through the process of connecting my gaming laptop to an HDMI port. Taking into consideration the TV's game support elsewhere, this goes a long way to helping the LG CS feel like a competent gaming monitor – although you'll have to ensure you invest in a compatible Bluetooth gamepad to take advantage of the Nvidia GeForce Now support and get playing.
Score: 4/5
LG CS OLED Picture Quality
Dolby Vision, HDR10, HLG
Excellent color accuracy and contrast
No brightness booster
Without a doubt, the LG CS OLED looks like an LG OLED TV, which is to say that it delivers a genuinely impressive and stunning display that manages to stand out even when compared to OLED screens from other big-name brands. However, the panel here is a little 'something borrowed' in its approach, given that the LG CS uses a panel that's closest to that found in the LG B2, which is a slight disappointment when compared to the likes of the LG C2.
The display is inarguably the key area where the CS OLED differs from the LG C2, as the former does not include the same Brightness Booster feature which can be found in the latter. This amounts to the TV's brightness levels topping out at a luminance roughly 20% lower than the C2's OLED Evo technology can achieve. Where this is most noticeable is when viewing the display of the LG CS in well-lit, bright rooms, as the panel is prone to some glare. Generally it isn't so prominent as to be distracting, but if you're looking to get especially gothic with what you're watching it's something to be aware of.
In all other areas, the CS offers the same sublime display quality as that of the C2 – matching its 3840 x 2160 resolution, 10-bit color bit depth and wide color gamut – which means premium contrast, rich blacks and dynamic colors even if not quite at the levels achieved by the C2.
As mentioned earlier, getting the most out of the LG CS does require some playing around with the various picture modes on offer to find the one that best suits your needs and the environment you're watching it in. There are up to 20 different picture modes to choose from so there's no doubt a perfect fit for everyone to be found, including the likes of a Standard Mode on top of others such as Cinema Mode, Filmmaker Mode, Vivid, Game Optimizer and ISF Expert settings for Bright and Dark rooms, respectively. Interestingly, there is also the option of a Cricket picture mode, which is presumably for avid watchers of the bat and ball sport – but I couldn't willingly subject myself to the torture of watching a match to confirm what kind of difference this might actually make. As this is LG shorthand for the sports picture mode, however, I did put it to the test with one of my other favorite ball sports and sadly it would be hard to recommend this mode for anyone. Gone was the lush green of the sports ground's grass, replaced instead by a neon green and general overexposure effect to the picture.
As a massive horror nerd, the most obvious test for me to put the LG CS through was one of my genre favourites, and I landed on the criminally underrated As Above, So Below (via the webOS Netflix app) to really put the CS' display through its paces. The first thing to notice is how big the picture is, as the narrow bezel of the LG CS really does allow for full use of the TV's panel. As I was watching a film with a lot of dark scenes in the middle of the day, I decided it would be best to adjust the picture mode to the ISF Bright Room setting, and this really was effective in not only minimising the glare but also showcasing the depths of the display's blacks and allow for even finer details to stand out in contrast.
However, with As Above, So Below incorporating many found footage horror tropes (including shaky camera), I wondered if the viewing experience might not be even better with the Game Optimizer picture setting. This did allow for the intrusion of slightly more glare, but demonstrated a superior stability in replicating the colors despite the constant shuddering of the camera.
One slight disappointment of note with the CS OLED's picture is its abilities with Dolby Vision, which appeared quite hazy to my eyes. It doesn't quite make Dolby Vision content entirely unwatchable, but I expected more vibrant colors than I was getting.
Elsewhere, the CS OLED also carries on the gaming features found with the LG C2, including the same 4K resolution and 120fps capabilities, along with a 1ms response time, and gaming non-negotiables in variable refresh rates and auto-low latency mode. Other welcome bonuses include Nvidia G-Sync and AMD FreeSync Premium compatibility. Pairing it with my PS5, I can comfortably say I noticed a difference in how well the CS managed to match the PS5's graphical output and help elevate the experience of gaming with it to make it feel every bit as 'next-gen' as it should with the latest PlayStation console.
It is mildly disappointing that the LG CS (as with the LG G2) does not offer HDR10+ support at its price, and we experienced some light blooming on occasion, which demands some more playing around with picture mode settings to not suffer grainy upscaling. Fortunately, the ease of navigating the CS' menu makes adjusting these settings as needed straightforward if you're hoping to get the best out of your picture.
Score: 4/5
LG CS OLED Audio Performance
Upmixes 2 channel audio into 7.1.2
Dolby Atmos support
Sound mode options
For a TV as thin as this, the quality of the audio from the LG CS – which outputs at 40W – is nothing short of exceptional, and even manages to exceed the quality that some dedicated soundbars can offer. So much so that the Dolby Atmos Surround Sound can genuinely creep up and surprise you if you aren't expecting it, as it does manage to achieve sound height and width beyond the confines of the screen.
Surprisingly, even voices manage to stand out clearly, with more bassy tones sounding as though coming from beside you. Watching the recent Netflix release We Have A Ghost, for example, the particularly bassy, deep voice of actor Anthony Mackie was able to sound almost as if coming from directly beside me thanks to the elevation granted to it by the CS' Dolby Atmos support and the intuitive AI Sound Pro.
AI Sound Pro uses the power of the Alpha a9 Gen 5 processor to scale sound up to 7.1.2 and further incorporate spatial recognition in order to finetune the CS' sound to your environment. If this doesn't suit, though, the LG CS OLED also offers a number of different sound modes to assist to help you find the right fit, with Clear Voice Pro one such option for content with especially difficult-to-hear dialogue. Other modes on offer include a Standard mode, as well as Cinema, Cricket (Sports), Music, Game Optimizer and the aforementioned AI Sound Pro.
The audio isn't without its limitations, though. At higher volumes it can sound a little bit tinny, and content with a more detailed soundtrack can lose some fidelity. This isn't surprising though, as a TV's native audio is always going to struggle with achieving the kind of heights that the best soundbars can offer. Still, the quality of the native audio offered by the LG CS is well beyond expectations and emulates the LG C2 once more in offering some of the best native audio of any TV money can buy.
Score: 5/5
Should I buy it?
Swipe to scroll horizontally
LG CS OLED TV

| Attributes | Notes | Rating |
| --- | --- | --- |
| Value | In many ways a budget alternative to the LG C2, but still with a reasonably high price tag | 3.5 / 5 |
| Design | Slim and sleek, the LG CS uses every inch effectively | 5 / 5 |
| Software and OS | LG's webOS platform is as responsive and detailed as ever, even if experiencing occasional connectivity issues | 4 / 5 |
| Picture Quality | The CS' panel generally lives up to the OLED potential, though falls short with its Dolby Vision support | 4 / 5 |
| Audio Performance | The LG CS dazzles with its native audio | 5 / 5 |
| Gaming Support | The premium game-friendly features found with the LG C2 are all here, and latest-gen consoles run especially well with the LG CS | 4.5 / 5 |
Buy it if...
You want premium OLED picture quality
The LG CS is an OLED TV in every sense, delivering the same excellent contrast levels, dynamic colors and depth that we have come to expect from LG OLED TVs.
You want a truly Smart TV
Plenty of TVs market themselves as 'Smart TVs', but the LG CS truly feels like a TV to earn the title with its easy to navigate interface, support for Google and Alexa voice assistants, a variety of impressive options for tailoring sound and picture to your needs, and a premium ability to adapt to your content in an instant.
You want a great partner for your latest-gen console
The LG CS – much like the LG C2 and LG G2 – offers a lot for gamers especially with an array of supportive features and the inclusion of bonuses like built-in Nvidia Geforce Now.
Don't buy it if...
You're strapped for cash
It might be cheaper at RRP than the LG C2 and G2, but the LG CS OLED still isn't cheap, and while you would be paying for top quality, that's little comfort if your budget can't squeeze it in.
You need a smaller screen
The LG CS comes in two sizes for the UK and three for Australia, with the smallest of these being its 55-inch screen. If that's too big for your space, you'll need to look elsewhere.
You're hooked on HDR10+
Like its LG OLED siblings, the CS doesn't offer HDR10+ support. This won't likely be a deal-breaker for a majority of people, but if it matters to you the CS won't be the right option.
Also Consider
Swipe to scroll horizontally
| Header Cell - Column 0 | LG CS OLED TV | LG C2 OLED TV | TCL C835 Mini-LED TV |
| --- | --- | --- | --- |
| Screen Sizes: | 55-inch, 65-inch, 77-inch | 42-inch, 48-inch, 55-inch, 65-inch, 77-inch, 83-inch | 55-inch, 65-inch, 75-inch |
| Resolution: | 4K | 4K | 4K |
| Panel Type: | OLED | OLED | Mini-LED |
| Smart TV: | webOS 22 | webOS 22 | Google TV |
| HDR: | HDR10, Dolby Vision, HLG | HDR10, Dolby Vision, HLG | HDR10, HDR10+, Dolby Vision, HLG |
| Refresh Rate: | 100/120Hz | 100/120Hz | 144Hz |
| Peak Brightness: | Up to approx. 640-700 nits | Up to 800 nits | Up to 1000 nits |
| Gaming Support: | 4x HDMI 2.1, ALLM, VRR, Nvidia G-Sync compatible, AMD FreeSync compatible | 4x HDMI 2.1, ALLM, VRR, Nvidia G-Sync compatible, AMD FreeSync compatible | 2x HDMI 2.1, ALLM, VRR, AMD FreeSync compatible |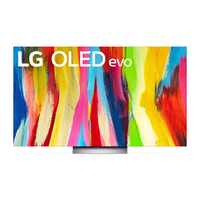 (opens in new tab)
LG C2 OLED
The more powerful, more expensive alternative to the LG CS remains LG's best in class, and arguably the most impressive OLED TV on the market.
Check out our full LG C2 OLED review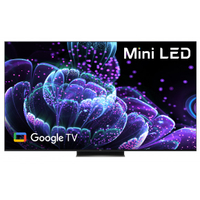 (opens in new tab)
TCL C835 Mini-LED
As generously specced as it is priced, the TCL C835 may not be an OLED TV but might still have the chops to outclass OLED alternatives, particularly in well-lit rooms.
Check out our full TCL C835 Mini-LED review
Check out our list of LG promo codes to see this month's best discounts.