The Mavic 2 Pro remains one of the best drones you can buy, although it's now been overshadowed by the arrival of the DJI Air 2S. The Air 2S brings significant size and weight savings, and these give it the edge over this older model. But if you need features like variable aperture, the Mavic 2 Pro is still worth considering – and its 20MP, 1-Inch sensor is capable of shooting some of the best 4K video and raw stills you'll get from a consumer drone.
Pros
+

Easy to fly

+

Intuitive app for camera control

+

Large one-inch 20MP sensor

+

Aperture control

+

Foldable design
Cons
-

Battery life is limited

-

Noise is problematic above ISO 100

-

Camera locked in landscape orientation
Why you can trust TechRadar We spend hours testing every product or service we review, so you can be sure you're buying the best. Find out more about how we test.
The DJI Mavic 2 Pro was launched as part of an exciting double-act with the Mavic 2 Zoom in August 2018. While it remains DJI's flagship consumer drone, it's since been upstaged by the arrival of the DJI Air 2S – a model that combines a 1-Inch sensor with a smaller, more travel-friendly body.
The Air 2S has now replaced the Mavic 2 Pro at the top of our guide to the best drones, but this older model is still worth considering, particularly if you mainly shoot video. That's because the Mavic 2 Pro has adjustable aperture, which means you can tweak the exposure as the light changes, rather than having to land the drone and change the ND filter, as you would on the Air 2S.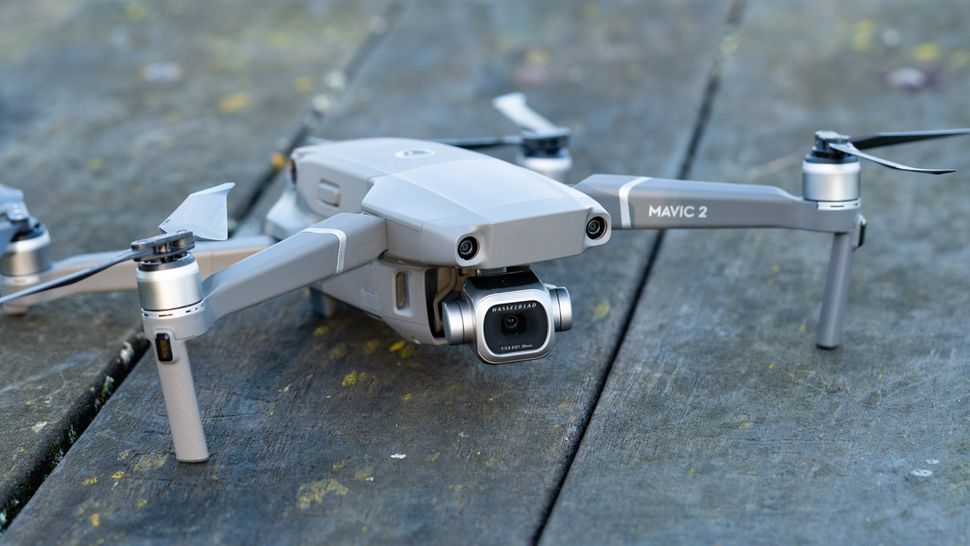 The Mavic 2 Pro also bring a host of advanced photo and video features, alongside some intelligent flight modes that have deservedly made it one of the world's most popular drones since its release.
Since the Mavic 2 Pro's release there have been new drone laws introduced in many regions – including registration schemes in both the UK and US – but as long as you follow the new guidelines, then it remains a fantastic way to get pro-level aerial footage of your local landscapes or travel adventures.
Release date and price
The DJI Mavic 2 Pro has been available to buy since its release date on August 23 2018, when it started shipping alongside its Mavic 2 Zoom sibling.
DJI Mavic 2 Pro key specs
Sensor: 20MP one-inch CMOS
Focal length: 28mm (full-frame equivalent)
Shutter speed: 8-1/8000sec
Aperture: f/2.8-f/11
Video: 4K MP4 & MOV, 10-bit D-Log M & 10-bit HDR
Take-off weight: 907g
Flight time: Up to 31 mins
Despite its age, the Mavic 2 Pro's price hasn't really come down from its original $1,599 / £1,349 / $2,499 level. In fact, at times it's even gone up – towards the end of 2019 in the US, for example, prices rose as much as 13% due to increased tariffs on Chinese goods.
Another factor has simply been a lack of competition for the Mavic 2 Pro. That's now changed with the arrival of the DJI Air 2S, which we reckon now offers better value, but it's possible we may now see some long-awaited price drops for this older drone.
Design and controller
The Mavic 2 Pro maintains the foldable design debuted by its predecessor. This allows the drone to almost halve its footprint for transportation, making it the most portable drone with a one-inch sensor available. Folding is simple and requires the front arms to be rotated out and the rear arms to be twisted up and into position. Each arm is home to one of four propellers.
The main body of the Mavic 2 Pro is compact and rectangular, with the gimbal and camera mounted at the front/bottom of the drone. The camera and gimbal benefit from a raised position when the drone is sitting on the ground, so there's ground clearance for take-off or landing. There's not a great deal of space though, so when taking off and landing on wet grass, for example, it pays to use a landing mat to make sure the camera lens doesn't get wet when the gimbal automatically calibrates after the drone's turned on.
To switch the Mavic 2 Pro on you simply press and hold the button on the top of the battery that clips neatly into place at the top of the drone. For the controller, it's a case of pressing the power button briefly before pressing and holding again to switch it on. And don't forget to connect your smartphone with the DJI Go 4 app installed, because this provides access to drone settings, camera control and camera view.
Image 1 of 3
The controller itself is also compact and foldable, with joysticks that are stowed safely at the bottom of the controller and need to be screwed in place for use. The controller looks similar to a standard radio controller, but the sticks are used for very different maneuvers to an RC car, so it's worth familiarizing yourself with them before your first flight.
The bottom of the controller opens up to provide a phone holder that can accommodate even the largest smartphones (up to a max length of 160mm, or max thickness of 8.5mm). And when the controller is switched on, it automatically opens the DJI Go 4 app, which makes the whole process of starting everything up a breeze.
Many camera controls need to be accessed via the app, but the controller also provides 11 direct access controls that allow you to quickly access a number of commonly used functions. Many of these can also be customized like function buttons on a DSLR or mirrorless camera, so you can configure the controller in a way that works for you and your photography.
The DJI Go 4 app provides a similar layout and camera functionality to a compact camera, so most photographers will instantly feel at home here too.
Image 1 of 3
Features and flight
Flying the DJI Mavic 2 Pro really couldn't be simpler. This is thanks in part to GPS, which holds the drone in position and stops it from getting blown out of position by the wind, and safety features like collision avoidance, which uses omnidirectional obstacle sensing that helps you avoid crashing.
These features are truly incredible, but don't let them lull you into a false sense of security – despite being active by default, they won't necessarily stop the drone from crashing into objects.
In many cases, when you get too close to an object the controller will show visual warnings, as well as sound audio warnings to let you know of imminent danger, and the drone will brake to avoid a collision. However, this isn't always the case and crashes can and do happen, so care and common sense are essential to avoid any incidents.
On paper, the Mavic 2 Pro can fly for up to 31 minutes, which is more realistically 20-25 minutes, with a maximum speed of up to 45mph / 72kph – so losing control or crashing will likely have expensive consequences.
Beyond the safety aspects, the Mavic 2 Pro offers numerous shooting modes and automated 'Intelligent flight' modes aimed at making getting specific types of stills and video as easy as possible. As with any camera, it's better to approach most techniques manually by taking full control of the drone's flight, but these automated modes are great for beginners learning their craft.
You get Timelapse (and hyperlapse), Quickshot, Active Track, Point of Interest, Waypoint, TapFly and Cinematic. Stills shooting modes include Single Shot, Burst Mode, HDR, AEB, HyperLight (night mode), Interval and Pano, which offers a number of different panoramic shooting options.
The Mavic 2 Pro's three main flying modes can also be accessed from within the app or using a switch on the side of the controller. Tripod Mode (T) slows the drone and makes it less responsive to allow for smoother video. Positioning Mode (P) is the standard flight mode and provides a medium level of control, while Sports Mode (S) makes the Mavic most responsive and flies faster.
Video and photo quality
The Mavic 2 Pro's image quality is very good overall, as long as you don't expect quite the same level as you'd get with a DSLR or mirrorless camera.
Most drones feature a sensor that's similar to that of a mobile phone, but thanks to a 20MP one-inch Hasselblad sensor, the Mavic 2 Pro's sensor is much closer to a premium compact in terms of size and overall image quality.
Despite the larger sensor than many other consumer drones, noise is still an issue and is visible even at ISO 100. This certainly isn't a deal-breaker, but the DJI Air 2S does perform better here and it does mean that shooting at higher settings will inevitably introduce even higher levels of noise, which ultimately means diminished image quality.
That said, image quality is good enough for large prints in the region of 16x12 inches without interpolation. And while there is some fall off in sharpness at the edges of the frame, it's not so bad that it detracts from the image as a whole.
Image 1 of 4
Lens distortion is minimal, and while chromatic aberration is often visible along high contrast subject edges, this is a one-click fix in raw editing software. In fact, with the ability to shoot in DNG format, raw images can be processed using your favorite raw editing software. If you prefer your images to be processed in-camera, saving in JPEG format is also an option.
One of the key features of the drone beside the sensor and the 28mm equivalent focal length is the adjustable aperture providing f/2.8 to f/11. This not only means that you can control exposure and depth-of-field, but it also provides the ability to shoot in aperture priority, shutter priority or manual mode. This is a key advantage over the newer DJI Air 2S.
The variable aperture is particularly useful for video compared to drone cameras with a fixed f/2.8 aperture for a couple of reasons. It means you don't need to use as strong ND filters in bright conditions, and you can also counteract changes in light while the drone is in the air, rather than having to land and change the ND filter.
Video options provide something for everyone, whether you're a complete beginner or a pro looking to incorporate raw aerial footage into a professional film or video, with the ability to match color and color grade the footage.
Video is available in 4K at 24/25/30p, 2.7K at 24/25/30/48/50/60p and HD at 1920×1080 24/25/30/48/50/60/120p. HD obviously provides the most options including slow motion, but it's a shame that 4K is limited to a maximum of 30p.
That said, for the majority of users, including professionals, this won't be too much of a problem. Video can be shot in MP4 or MOV, 10-bit D-Log M and 10-bit HDR or using picture profiles for in-camera processing (like a JPEG).
Verdict
For photographers and videographers who need a highly portable drone that can be easily carried alongside other photographic equipment, the Mavic 2 Pro remains a great option, even if it has now been overshadowed by the arrival of the DJI Air 2S.
The Air 2S is smaller and more affordable than the Mavic 2 Pro, which means it's taken the number one spot in our guide to the best drones. But aside from that model, the Mavic 2 Pro still has few rivals in the drone world – and is definitely still the best small, folding option around with variable aperture.
Alternatives still include the Mavic 2 Zoom which, as the name suggests, features an optical zoom lens. But as a result of this functionality, it also houses a smaller sensor with no control over the aperture.
The new DJI Phantom 4 Pro V2.0 is the Mavic Pro 2's closest competitor in terms of sensor size, but it's a much larger and more powerful drone aimed at professional use, so again a completely different proposition.
The Mavic 2 Pro is incredibly easy to fly and with some of the most advanced flight and camera technology currently available in the consumer drone market, it's capable of producing professional-level stills and video.
It's not as portable as the DJI Air 2S and its image quality doesn't match the DJI Inspire 2, which has a Micro Four Thirds camera, but the Mavic 2 Pro is a classic that is still worth considering if you need that adjustable aperture.
James Abbott is a professional photographer and freelance photography journalist. He contributes articles about photography, cameras and drones to a wide range of magazines and websites where he applies a wealth of experience to testing the latest photographic tech. James is also the author of 'The Digital Darkroom: The Definitive Guide to Photo Editing'.