So much of the talk around premium TVs these days is about OLED. With multiple manufacturers backing the technology, and prices ever dropping, more people are getting OLED TVs into their homes than ever – and this latest price drop on the LG B9 OLED could be what gets it into yours.
Previously retailing at £1,599, the LG B9 OLED has been discounted to only £1,299 for a hefty £300 saving (around 20% off).
The B9 was already the cheapest set in the 2019 LG TV range, offering a comparatively budget alternative to the higher-end LG C9 OLED (which we named our best OLED TV) and LG E9 OLED (which features a 'floating' glass screen display).
This brings the price down to match the £1,299 Hisense O8B OLED, which had previously been the cheapest OLED TV on the market. The O8B is let down by some processing issues and an irritating screensaver – despite sharp images and a lightning-fast interface – but previously it did have the advantage over LG with its lower price.
With Black Friday UK around the corner, we could well see more price cuts on the OLED TVs out there, but right now this is the best OLED deal you're going to get.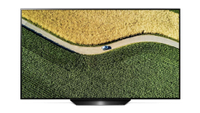 (opens in new tab)