The 12 most exciting cameras of 2023, from the Canon EOS R50 to the iPhone 15
News
Contributions from
published
We zoom in on this year's most promising camera launches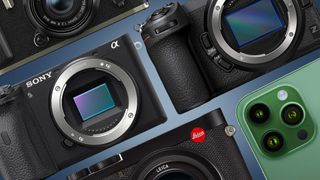 (Image credit: Future)
Against all the odds, 2022 was a pretty big year for new cameras – we saw affordable mirrorless cameras make a much-needed comeback, while at the opposite end of the scale the Nikon Z9 scooped our camera of the year award.
With the chip shortages and shipping delays now starting to settle down, it looks like 2023 could be an equally exciting year for new cameras. We're already seeing strong rumors that Canon, Nikon, Sony and Panasonic will all have new photographic stars to unveil in the early part of the new year.
It isn't just the traditional giants who are tinkering away in the camera launch bays – DJI and GoPro are likely to deliver new treats for amateur shooters, while the iPhone 15 could be Apple's most anticipated photographic tool for many years, if the rumors are to be believed.
Of course, none of the cameras in our list below have been fully confirmed by their makers yet. But we are expect to see things start to heat up around February, with possible announcements coming at or around the CP+ conference in Japan.
Looking to turn your telephoto gaze ahead to the rest of the year? Here, in reverse order, are the 12 most exciting cameras of 2023.
---
The 12 most exciting cameras of 2023
12. Panasonic Lumix S5 II
Likelihood rating: 4/5
Excitement rating: 3/5
The current Panasonic Lumix S5 is a real full-frame bargain. It's a real do-it-all wonder: great for stills, and great for video. And it also has IBIS (in-body image stabilization), so is a forgiving partner for shooting handheld.
The Japanese rumors site Asobinet thinks its successor will be announced at the CP+ show in Japan. That show will be held from 23-26 February, leaving roughly two-and-half years between generations in this particular family.
But how can the Lumix S5 II better the current model? There are relatively few hard rumors and leaks about this camera so far, but the suggestion is it will be at least slightly more expensive. Some of this may be inflationary weight gain, but Panasonic can hide this behind some upgrades.
The Panasonic Lumix S5 II could have a better EVF (electronic viewfinder) than the S5's 2.36M-dot one. And we'd like to see it lose the mandatory crop when shooting at 4K/60p – the current model can only do so at 4K/30p.
A full-size HDMI port could further increase its credibility as a content creator camera. And a boost to the effectiveness of the IBIS would be welcome, although we're likely coming up against some physical limits here, as the S5 series is meant to have a moderately-sized body for a full-frame camera.
11. Sony A9 III
Likelihood rating: 4/5
Excitement rating: 4/5
The A9 range is Sony's sports shooter series. That means fast shooting, big buffers and moderate resolution. The Sony A9 III was apparently pegged for a release in 2021, but the global chip shortage has seen its announcement pushed back to the first half of 2023 (according to the rumor mill, at least).
It's likely to take on several of the important stills improvements of the Sony A1, while letting that camera have the edge for video. This means much better handling of strobing lighting, massively reduced rolling shutter effect through faster sensor readout, and smarter AI-powered autofocus.
Rumors suggest the camera's resolution is going to stay conservative at 24.5MP, and burst shooting will reach 30fps blackout-free. We also expect to see Sony make use of combi SD/CFexpress slots, to allow for much faster clear-out of the buffer.
The EVF's resolution may increase too, from the 3.58-million dots of the Sony Alpha A9 II to as much as 9.44-million dots. However, we're not yet sure if it will be the same EVF as the Alpha A1, which has a blistering 240Hz refresh mode.
10. DJI Air 3
Likelihood rating: 4/5
Excitement rating: 4/5
These days, drones are an important member of any photographer's camera bag. DJI released the DJI Mavic 3 Classic recently, so do we really need another flying camera? Sure we do. The Air series is typically home to DJI's mid-sized, mid-range drones, and this one could take over from 2020's DJI Air 2S.
The Air 3 would likely slot in between the DJI Mini 3 Pro and the Mavic 3 Classic, so what does that mean for its features? We could see a significant improvement to the Air 2S's 31-minute flight time, which seems quite short compared to the drones DJI has released recently.
Could we see a better camera, too? A 1-inch sensor like the Air 2S's still seems the right fit for this series, maintaining that middle ground between the more expensive Four Thirds sensor inside the Mavic series and DJI's approachable Mini drones. However, if DJI uses a new 1-inch sensor, we could still get better low-light performance and potentially HDR shooting.
Sensor-based HDR would require new hardware. Phones like the Sony Xperia Pro-1 and Xiaomi 12S Ultra use the IMX989, which appears to be capable of the chops we're after. This sensor has been described as 'for smartphones', but a version of its underlying tech could theoretically appear in the DJI Air 3.
9. Fujifilm X-T40
Likelihood rating: 2/5
Excitement rating: 4/5
The Fujifilm X-T30 II only arrived in September 2021, so surely there's some time to wait before the X-T40 arrives? Well, it could arrive sooner than you'd think, with the clue being in the current model's name.
The X-T30 II was a modest update to the X-T30, meaning there are more avenues for the X-T40 to grow, perhaps in late 2023. However, there are no solid leaks about this camera yet, making this a case of pure speculation.
4K video at 60fps is at the top of our list. The X-T30 II is limited to 4K/30p video. We would also love to see IBIS (in-body image stabilization) in the X-T40 too, and the Fujifilm X-S10 proves the company can fit this stabilization tech in cameras that aren't massive.
This would then make the X-T40 effectively an X-S10 with more of the classic Fuji X-series vibe, through more classic top plate controls and the minimal grip of this particular family fork. An update to the 40MP sensor seen in the Fujifilm X-T5 is also possible, but despite this camera's expected name, that's far from certain.
8. GoPro Max 2
Likelihood rating: 3/5
Excitement rating: 4/5
GoPro must be planning something special for the 360-degree Max 2, as the original GoPro Max is starting to look pretty old, having arrived back in 2019.
Companies like Insta360, which tend to release more products than GoPro, are starting to show the old 360-degree prince up a little. However, the only concrete Max 2 info we've seen so far comes from a patent filing that details software used to translate 360-degree footage into a form that can be viewed on a flat screen.
The changes we'd like to see include 4K 'flat' footage when using the GoPro Max 2, like a standard GoPro. The original taps out at 1080p, or its non-widescreen equivalent. We wouldn't mind sensor-based HDR video either, as it can really help with 360-degree video, where it's often impossible to avoid bright light sources that skew exposure metering. However, given the GoPro Hero 11 Black doesn't have HDR, such a feature might seem a bit odd.
The solution? Release it alongside the Hero 12 Black, with HDR. That might require a new Black-series sensor, though, which we're not sure GoPro is ready to introduce just yet in its main Black line.
7. Sony A7000
Likelihood rating: 2/5
Excitement rating: 4/5
Sony has not given the APS-C format much love in the last few years. We got the lovely little content creator-bound Sony ZV-E10 in 2021, but the A6600 and A6100 are out of production, leaving just the A6400 to hold the all-purpose APS-C fort.
2023 might be the year for Sony to start over with APS-C all over again, by finally releasing the A7000. Here's the funny bit: folks have been talking about the "Alpha A7000" for the better part of a decade now. But Sony's focus on full-frame led to rather uninspiring names like the A6000, A6100 and A6400 instead of one that appeared to promise greater innovation.
But what should it be? Given we'll be two years on from the ZV-E10 at that point, we'd like to see 4K/60p video, but the main draw should be a reasonably priced camera that acts as a smaller, lighter alternative to the full-frame big shots like the Sony A7R V. It's been a long wait, but we're hoping to finally see a photography-centric APS-C camera from Sony that packs its class-leading autofocus.
6. Leica Q3
Likelihood rating: 4/5
Excitement rating: 4/5
Leica's Q series is home to beautiful fixed-lens compact cameras with huge full-frame sensors. The current Leica Q2 was released in 2019, and a picture in a Leica presentation (spotted by Digicam Info) suggests the next Leica Q3 model, codenamed 'Wilson', is due next year.
Early reports suggest it will use a 60MP sensor, as seen in the top-end Leica M11, but is unlikely to have quite as pure a vision as the M11. And for most folks, that's a good thing.
We hope to be able to record video with the Leica Q3, which is a feature of the Q2 but not the pricey M11. We'd also like to see the Q3 get a higher-resolution EVF than the Q2, which at 3.68-million dots just won't seem high-spec enough for a camera likely to cost upwards of $5,800 / £5,800 (around AU$10,400).
Not that money makes a great deal of sense when you start talking about Leica cameras. The Leica Q3 is a camera we'd love to own, it's just not one we can likely justify during a cost-of-living crisis.
5. Canon EOS R50
Likelihood rating: 5/5
Excitement rating: 3/5
The Canon EOS R50 will be an APS-C sensor camera with an RF lens mount. It represents the last rites being read to the EF-M mount system, which is what this camera's antecedent, the Canon EOS M50 Mark II, was part of.
According to Canon Rumors, it will likely sit below the Canon EOS R10 in both price and features, and should be an attractive buy for those who are after a more affordable mirrorless camera. The rumors suggest it could be announced as early as Q1 2023.
This camera has also been dubbed the "R100" in early reports, but we expect these two to be one and the same. It's likely to use the same 24MP sensor as the more expensive EOS R10, but have some features shaved off. These include 4K/60p video, and the HDR PQ mode used when planning to master your videos as HDR.
It won't be the world's most powerful camera, then, but should have a few benefits over the EOS M50 II, including faster burst of 14fps and, well, a lens system that isn't headed to the grave.
4. iPhone 15
Likelihood rating: 5/5
Excitement rating: 4/5
Sure, the iPhone isn't a dedicated camera, but there are likely to be big changes in 2023's line-up, which is expected to land in September. The iPhone 15 Pro Max will reportedly be the first iPhone with a periscope zoom camera.
These have been used in Androids since 2019's Huawei P30 Pro, and employ folded optics to squeeze serious zoom power into phones under 8mm thick. According to one analyst, it will use a 1/3-inch 12MP sensor and have up to 6x zoom.
A more recent rumor from Nikkei Asia suggests the phone will have a sensor with up to twice the native light sensitivity. The wording seems to describe a stacked CMOS design, where the photodiodes and transistors are arranged in separate layers. Sony announced this tech way back in December 2021.
However, as some other phones prove, the iPhone's effective dynamic range could actually be improved in software. In some situations the iPhone 14 is more overexposure-prone than some of its less talked-up competitors. Still, these technical improvements do sound impressive, and could make it one of the best point-and-shoot cameras of 2023.
3. Fujifilm X-Pro4
Likelihood rating: 4/5
Excitement rating: 5/5
No-one really talks about 'hipsters' anymore, but the X-Pro series was always considered a classic hipster camera. But it also holds a real appeal for traditional photographers, too.
The Fujifilm X-Pro3 is a rangefinder-style camera from 2019 that hides its rear screen. It's packed away as standard, leaving just a postage stamp of screen on the back that shows the virtual film mode you're currently in. A hybrid EVF, a screen you're not meant to use; this is no ordinary mirrorless camera.
Will Fuji keep this unusual style for the X-Pro4? Maybe it should, as it gives the series a clear identity that the X-Pro2 didn't really have.
Changes expected for the X-Pro4 are led by a shift to a 40MP sensor, as used in the Fujifilm X-T5. We also hope to see the burst buffer improvements of the X-H2, which is capable of shooting 1000+ jpegs (or 202 uncompressed raw files) before slowing down, even at 20fps. That's a monster buffer that would be ideal for street and action shooting.
2. Canon EOS R8
Likelihood rating: 4/5
Excitement rating: 5/5
The Canon EOS R8 is something of an enigma. Back in October 2022, an account on Chinese social network Weibo claimed a new camera called the Canon EOS R8 would be coming in 2023.
At the time, it looked like the EOS R8 would be the spiritual successor to the now-discontinued Canon EOS R, Canon's first full-frame mirrorless camera. But since then, Canon Rumors has suggested that the Canon EOS R8 would slot in between the EOS R7 and EOS R10 and that its sensor "will likely be APS-C".
Still, whichever sensor the rumored EOS R8 has, it's likely to be an appealing camera for different audiences. There is definitely enough room to squeeze another full-frame model between the Canon EOS R6 Mark II and Canon EOS RP. And the original rumors predicted an 30.3MP sensor, 12fps burst shooting, 4K/30p video and a 4K/60 cropped mode, plus dual SD/CFexpress card slots.
Those specs would make it a much faster, higher-res alternative to the popular EOS RP. And a more affordable, fairly appealing all-rounder alternative to the EOS R6. But could the EOS R8 have an APS-C sensor instead? That name would suggest so, but we're looking forward to finding out in 2023.
1. Nikon Z8
Likelihood rating: 4/5
Excitement rating: 5/5
The Nikon Z8 has been talked about for years now. But latest rumors suggest the camera itself is ready, and that only the availability of parts has slowed down its release. This year, we should finally get to see it in person.
The concept is fairly easy to understand. You take the top-end Nikon Z9, trim off the gigantic battery grip that will turn off some potential fans, then snip off perhaps one or two extra features. What do you end up with? A slightly more affordable but still hugely capable mirrorless camera that may well be the most appealing model in Nikon's range.
Nikon Rumors expects the camera to be properly announced in March, and available to buy in May 2023. No solid specs have leaked out, but it seems like the Nikon Z8 will use the same 45MP sensor as the Nikon Z9. You can expect the same AI-enhanced autofocus and the same Expeed processor, too.
Given the Nikon Z9 recently won our camera of the year award, that's a combo that ensures that the Nikon Z8 tops our list the most exciting cameras of 2023.
Sign up to receive daily breaking news, reviews, opinion, analysis, deals and more from the world of tech.
Andrew is a freelance journalist and has been writing and editing for some of the UK's top tech and lifestyle publications including TrustedReviews, Stuff, T3, TechRadar, Lifehacker and others.