Best Now TV shows: great Now TV shows available on Sky's streaming box
Unmissable shows on Now TV
Best Now TV shows
Now TV has been a revelation for Sky. Its arrival in 2012 meant a whole host of programmes that used to be strictly tethered to a satellite dish could be enjoyed without a contract. Now anyone can now enjoy Sky, as long as you have a broadband connection that can stream movies and TV shows.
The box is cheap – really cheap. You can get one for under around £20 and it comes with a (limited) free subscription to either the service's movies, sports or TV offerings.
Sky now has two box options for Now TV. There's this Now TV box to entice you to take up its non-contract shenanigans. Or the new Now TV Smart Box that marries both non-contract streaming and Freeview channels.
We're here to tell you about the best Now TV shows available if you buy the monthly Entertainment Pass. Unlike Netflix or Amazon Prime Instant Video, Sky's shows tend to disappear a little quicker due to rights issues, but don't fear – we will keep this list of the best Now TV shows constantly updated so you always know what's available when you buy your monthly pass.
And if you don't fancy anything, don't forget to regularly check back as new content becomes available through the service.
Check out the rivals...
Best Amazon Prime Instant TV Shows: 50 to choose from
Best Netflix TV Shows: 50 of the best
Atlanta
Donald Glover wrote, starred and produced this superb show about the music scene in Atlanta. The first seasons charts the rise of two cousins as hip hop artists, trying make something of themselves. The show is what you should expect from Glover. It's smart, funny and a fitting looks at being black and middle class in America. Unfortunately season 2 is going to be delayed as Glover is set to play a young Lando in the upcoming Han Solo movie. As excuses go, that's one of the best we have heard.
Seasons on Now TV: 1
The Affair
The Affair is not what it seems. At all. It starts off as a half-decent melodrama following writer Noah (Dominic West) and his family as they go on vacation to Montauk in Long Island. There Noah falls for local waitress Alison Lockhart (Ruth Wilson). She's married, he's married and, well, things spiral out of control. The reason The Affair is compelling viewing is because it holds a mirror up to the affair in question. We get differing points of view, from both Noah and Alison. The same scenes play out but clothes change, dialogue changes, even settings change as they remember their sides of same the convoluted story. The first season is essential viewing but the conceit is stretched somewhat for the second and third season - it's still great fun, though.
Seasons on Now TV: 3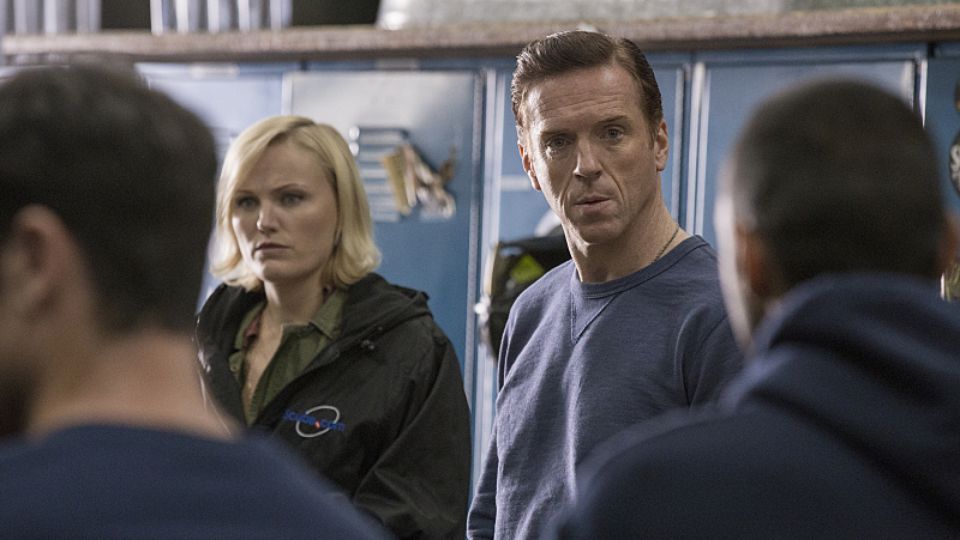 Billions
It's not often that you root for a billionaire hedge fund manager, but Damian Lewis' likeable performance in Billions means you get behind the rich guy - even if his methods of making money may be on the dubious side. Lewis is Bobby Axelrod a hedge fund manager that is being pursued by Paul Giamatti's Chuck Rhoades for insider trading. The whole things is an effortless watch and endlessly entertaining.
Seasons on Now TV: 2
The Blacklist
James Spader. That name should be enough to get you watching The Blacklist. The actor – who lent his voice to Avengers: Age of Ultron – is fantastic in this show. Only an actor of his calibre could portray playfulness in a character who at his heart is a cold, sadistic megalomaniac. The premise is simple: Red (Spader), one of the FBI's Most Wanted, hands himself in with the caveat that he has information on hundreds of other criminals – information he uses to twist the FBI around his malicious little finger. While the supporting cast isn't quite up to Spader's magnificence, this is one of the more enjoyable shows on Sky at the moment.
Seasons on Now TV: 3
Blindspot
Blindspot has one of the best premises we've ever heard of from a TV show: a heavily tattooed, naked woman is found in Times Square, New York, with no recollection of who she is or how she got there. It sounds so mysteriously tantalising, right? What ensues is a crime drama all about the twists and turns the FBI go on that are inspired by the intricate maps of ink on Jane Doe's skin. It may not be award-winning, but has plenty of fans.
Seasons on Now TV: 3
Britannia
Britannia is splitting audiences, but if you can't hold for the new series of Game of Thrones, Britannia may fill that fantasy-shaped hole in your viewing calendar.
It's Thrones made by Brits, essentially, and though it claims to have its roots in historical accuracy (it follows the Roman invasion and occupation of Britain during the Iron Age), it is very much from the George R. R. Martin school of storytelling. Expect buckets of blood, lots of sexy human flesh and a fair amount of never-would-have-actually-happened fantasy magic nonsense thrown in too.
Camping
Julia Davis is fantastic at creating uncomfortable comedy and that's exactly what she has done with Camping - a show centred on a group of people who go camping together. Davis is sublime as lady Fay, a sex-mad girlfriend of one of the group who is going through something of a midlife crisis. But it's Vicki Pepperdine's Fiona who wins the show. Her portrayal of a moaning, mean and controlling wife is one of the scariest things seen on TV.
Series on Now TV: 1
Criminal Minds
Criminal Minds has been going strong for 13 seasons, all of which you can stream on Now TV. It's a US police crime drama. We know what you're thinking. There are loads of them, right? Well, Criminal Minds is a little different because it's driven by a team who catch criminals based on high-paced, smart and really damn fascinating behavioural profiling. If you like your dramas laced with more intelligence than action, this is for you. The great thing about Criminal Minds is you can dip in and out of the seasons and still find it really entertaining. Sure you might be a little confused by the ongoing plots and character development, but most episodes have self-contained mysteries.
Seasons on Now TV: 13
DC's Legends of Tomorrow
DC's Legends of Tomorrow is well and truly cashing in on our ongoing superhero obsession. The series is based on some of DC's most interesting characters beyond the obvious choices, like Batman and The Joker. The line-up includes DC heroes like Atom, Firestorm, Captain Cold and Hawkgirl. If you're a fan of The Flash and Arrow, it's definitely worth giving this show a spin because they're all set in the same fictional universe.
Seasons on Now TV: 3
Deadwood
Swearier than Delia Smith at a Norwich game, Deadwood is a show that may have been short-lived but it will linger a long time in the memory. From the golden age of HBO programming, Deadwood stars a never-bettered Ian McShane as saloon owner Al Swearengen - even his name is sweary - and Timothy Olyphant as the sheriff of Deadwood Seth Bullock. Over three seasons, and set some six months after Custer's last stand, life (and death) in Deadwood is laid bare.
Seasons on Now TV: 3
The Enfield Haunting
There's jump scares aplenty in this adaptation of the 'true story' of a house in London in the Seventies that was subject of a vicious haunting. The cast is pitch perfect, with Timothy Spall as the sympathetic paranormal inspector and newcomer Eleanor Worthington-Cox as one of the children affected by the poltergeist. While the show doesn't scrimp on accusations that the hauntings were faked by the children, it does hit hard with its scares - think Paranormal Activity by way of EastEnders.
Seasons on Now TV: 1