Update: Sky has announced that from the middle of August, the price of the Entertainment Pass is set to rise from its current price of £6.99 up to £7.99. Now might be a good time to stock up on cheap Now TV passes if you want to avoid the price rise.
Original review continues below...
If you've been eying up Sky's impressive library of content but can't afford a full satellite service then Now TV might be the streaming service to you.
It's not quite as complete a service as the full Sky offering, but in many ways it's much more complete than other streaming services out there.
It has a couple of issues. The service is split into four different 'passes', and subscribing to more than one can get expensive quickly, content can disappear from the service quickly, and its resolution is limited to 720p, but it's also got some massive strengths.
It's much more flexible than a traditional satellite subscription. You can pay for as little as just one day's content in some cases, which is a world away from the multi-month contracts you'll find with traditional packages.
Now TV offers a low-cost way to consume Sky's exclusive sports content, stream movies from its sundry film channels and keep up to date with some of the best entertainment telly around.
Unlike its on-demand rivals, Now TV is available in four entirely separate ways. There are sport, movie and TV content strands, plus live channel streams.
There is such an abundance of content, keep checking back to this review to see if anything has changed before you buy. As always we will keep it updated so you can make an informed buying choice.
So is Now TV right for you? And if so, what's the best way to watch it? Read on to find out...
Check out the rivals...
What's On Now TV?
Now TV offers timed chunks culled from Sky's various subscription channels. For many the biggest lure will be the movie package. Unlike Sky's satellite-delivered platform, Now TV is a dip-in/leave whenever proposition, useful when you've blazed through everything of interest.
New subscribers get a 30-day free trial for the movie service, which then migrates to a monthly fee. This auto renews, but you can cut the chord at any time, without penalty.
Once the 30-day free trial is up then the price for content differs depending on what you want. If it's the Entertainment Pass you are after, then it will be £6.99 a month (this is set to rise to £7.99 in mid-August). The Sky Cinema pass is more expensive at £9.99.
There's also a Kids pass which is the cheapest of the four at £2.99.
And then there is the super-expensive Sports Pass. This is split into three variants: a £6.99 Day Pass, a £10.99 Week Pass and a mammoth £31.99 Month Pass.
These passes can look expensive, but you can frequently find multi-month deals which will save you a lot of money. Check out our guide to the best Now TV deals for an updated guide.
Splitting the service into these four strands is a good idea, as long as you know what you want to watch. And that is both the beauty of this service and the frustrating side. Play it right and you can pay for the Entertainment Pass when all the big-ticket shows are on. Play it wrong and you could be paying for a month of content you don't really want.
The same goes for movies. Time your buy-in correctly and you can take big advantage of the broadcaster's comprehensive Hollywood deals, goggleboxing everything from Guardians of the Galaxy to The Grand Budapest Hotel.
Films here inevitably appear before they land on rival services such as Netflix and Amazon, and shortly after the DVD/Blu-ray release window.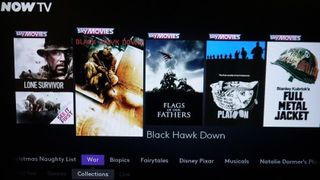 Content for the Sky Cinema pass is themed by genre: Disney, All-Time Greats, Action, Comedy, Family, Crime and Thriller, Sci-Fi, Horror, Drama, Romance, Indie and Classics. Now TV also curates special Collections, such as Monsters, War and Christmas (when it's that time of the year), and also gets actors and actresses to curate lists of their best movies.
Entertainment
As explained above, the monthly entertainment pass is £6.99. This is up from £4.99 when it was first announced. Where it used to be the cheapest on-demand premium service announced it is now aligned price-wise with its rivals.
The service offers recent transmissions of some of Sky's biggest shows, including The Blacklist, Fortitude and Modern Family.
There's also a healthy selection of boxsets to gorge on. These include (but this is one of the most variable parts of the service) Game Of Thrones, Penny Dreadful and Mad Men. This list is ever-changing though, depending on things that fall out of season. So it is always worth checking the Now TV website to see if anything takes your fancy from month to month.
While you can watch live streams of select channels, not all programming appears, due to rights limitations. Similarly, boxset availability will churn.
Sky has made 13 of its channels available through Now TV. These are: Sky Atlantic, Sky One, Fox, Gold, Sky Living. Comedy Central, Discovery Channel, MTV, ITV, Nickelodeon, Nickelodeon Jnr, ABC and Sky Arts.
Typically users have two ways to catch hot shows, either as they're broadcast or from the On Demand library; featured programmes tend to appear within 24 hours of transmission.
One of the frustrating things about the Now TV service is just how quickly its content disappears from the service. This is especially the case for shows on Sky Atlantic and must be because of the deal Sky has with HBO.
To Sky's credit it does have a Leaving Soon section, but if you miss an episode of, say, The Leftovers then the maximum you would have to catch up is two weeks. After that episode one would disappear, then the other in that sort of regularity.
This means that either you watch these shows like clockwork week on week, or that you binge watch in a rather short space of time. Each episode is given a day countdown, so at least Sky is trying to make viewers aware of when things will disappear.
Sports
Unlike its sibling services, Now TV's Sky Pass is either payable daily, weekly or monthly. Whichever pass you use they allow you to view all seven Sky Sports channels for the allotted time you have paid for.
There's no denying that sports is expensive through the Now TV service but the idea it is an event purchase, not necessarily a daily one. And Sky is hoping that the fee is split between a group of people watching a big match.
The ticket price is good value if you're not looking for a long term sporting commitment. Get some mates around, combine resources, and off you go. There's plenty to choose from, including the Premier League, UEFA Champions league, rugby fixtures, coverage of international test cricket and live coverage of the European and US PGA Tours.
If you would rather just a daily update of sports news, then you can also watch Sky Sports News HQ through the app on the Sky Now TV box - this app is unlocked with any Pass, not just a sports one.