If you're searching for a full fibre broadband connection, then we may have found a good option for you. This is because, right now, you can get Vodafone's Full Fibre 500 CityFibre package for only £29 per month. This deal also comes without any upfront fees, but you'll need to sign a 24-month contract.
With this package, you receive average download speeds of 500Mbps. As an added bonus, you also receive completely unlimited usage as there are no download limits. This means even the largest and busiest households can stream and download to their heart's content.
Vodafone claims that users of this package can stream in 4K on up to 20 devices simultaneously. Plus, the company also says that customers will be able to download a 4.5Gb file in only a minute. All customers receive a minimum speed guarantee of 250Mbps plus Vodafone's WiFi Hub, which features 'intelligent Wifi'. This automatically optimises your signal and always gives your devices a faster and better connection.
However, if you're interested in this deal then you should be aware that it's a 'full fibre' package. Due to this, whether you're eligible to receive this deal is determined by whether or not the CityFibre network Vodafone currently uses has been installed in your area. You'll also need a FTTP connection.
We think that this particular Vodafone deal is perfect for anyone looking for an ultrafast full fibre connection. However, we understand that it might not be available in your area or that you might be searching for something cheaper. If it isn't quite right for you, then head over to our best broadband deals page. Here you'll find all the best deals available in your area.
Our Vodafone broadband deal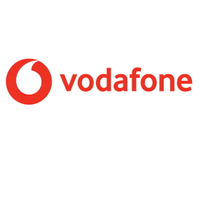 Vodafone Full Fibre 500 CityFibre | 24 months | £29 a month | Avg. speed 500Mbps | No upfront fees
This full fibre package from Vodafone is currently available for £29 per month. It comes with a 24-month contract and there's no need to pay any setup fees. Due to this, it's one of the cheapest full fibre packages available at the moment. With this deal, you'll receive average download speeds of 500Mbps plus a minimum speed guarantee of 250Mbps. With these great speeds, Vodafone claims you'll be able to stream, download and browse on as many as 20 devices all at once. For this reason, we think this deal is great for large, busy and connected households.
Why choose Vodafone broadband?
Although Vodafone is still best known for its mobile phone network, the company has now established itself as a reliable and affordable broadband provider.
Vodafone specialises in ultrafast packages (like the deal we've highlighted above). It also specialises in offering cheaper packages that undercut similar deals from companies such as Sky, Virgin Media and BT. As a result, the company has been commended by Uswitch for its its broadband speed and value.
Similarly, Vodafone also usually receives good reviews for its customer service. However, we should point out that it doesn't quite offer as much support as rivals such as Sky and Virgin Media.
Although we think Vodafone is a good broadband provider, we understand that it won't be right for everyone. This is because the company's CityFibre network still isn't widely available around the country. That said, coverage is improving and Vodafone aims to each eight million homes by 2025.
If you don't think the above deal is right for you or you're interested in comparing it with others available at your address, head over to our best broadband deals page. Alternatively, enter your postcode into the widget below.
Loading...