New evidence that PSP Phone due next spring
Japanese newspaper reveals latest gaming phone plan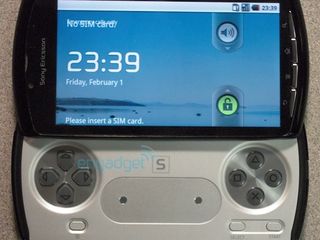 While there is still no official word from Sony on plans for the launch of the so-called 'PlayStation Phone' it is looking increasingly likely that the gaming phone will arrive next spring.
The latest reports claiming a spring launch for the PSP-styled Android phone from Sony Ericsson come courtesy of Japanese newspaper the Asahi Shimbun - follow claims from anonymous sources earlier this month that an April launch was likely for the US and Europe.
Europe and US first?
According to the latest report from Japan the Sony Ericsson-developed phone might even go on sale first in the US and Europe, with Japan and other territories following at a later date.
The phone will be based on the PSPgo with slide-out PSPgo-style gaming controls, with a touch-sensitive tracking pad instead of analogue thumb nubs.
Sony Computer Entertainment and Sony Ericsson are still to comment on the latest reports from Japan.
Xperia Play
However, Sony Ericsson recently sent out a press invite to an Xperia experience at Mobile World Congress, in addition to inviting UK media to a briefing on 6 January about 'how Sony Ericsson plans to enhance the Android experience for consumers'.
The Japanese-Swedish alliance promises to 'share its plans for 2011, including what's in-store for the Xperia line of devices' indicating that there is certainly going to be more than one Xperia phone in the near future.
The Sony Ericsson 'PSP phone' may also well be called the Sony Ericsson Xperia Play after numerous domain names containing that name have recently been purchased by the company.
All will be revealed later next month followed, no doubt, by a major PR offensive at Mobile World Congress in Barcelona in February.
UMD-free and download only
Whatever the official name and final specification, the PlayStation Phone is likely to be based on Google's Android 3.0 platform and feature "custom Sony Marketplace which will allow you to purchase and download games designed for the new platform."
The Sony Ericsson phone is also looking likely to be based on a 1GHz Qualcomm CPU, with 512MB of RAM, 1GB of ROM, and a screen "in the range of 3.7 to 4.1 inches."
Commenting on possible confusion between Sony Ericsson mobile products and Sony PlayStation gaming products and brands, Sony boss Kaz Hirai also noted recently that: "We don't want gamers to be asking, what's the difference between that [a PS phone] and a PSP... we have to come up with a message that users will understand."
Hirai added: "It would have to be a product that keeps the PlayStation's strengths intact."
Roll on next spring!
Via Bloomberg.co.jp
Sign up for Black Friday email alerts!
Get the hottest deals available in your inbox plus news, reviews, opinion, analysis and more from the TechRadar team.