AT&T Sponsored Data provides toll-free data, raises Net Neutrality concerns
AT&T Developer Summit seems good for developers, users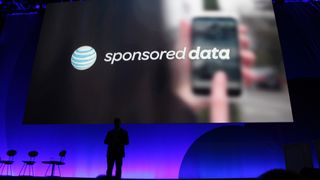 Update: AT&T, responding to concerns regarding the possibility of its Sponsored Data program violating Net Neutrality, told TechRadar that it's offering a variety of plans to content providers of all sizes.
"We're offering a wide range of options that can help both small and large providers of content, apps, or services to increase mobile usage of their offerings," said company spokesperson.
"Small providers could see great benefit from this model as they seek to draw customers and increase exposure to their offerings."
The true judgement as to whether or not companies with deep pockets get an unfair advantage will come within the next three months. AT&T Sponsored Data is slated to launch in the first quarter of this year.
Original story...
AT&T announced a seemingly convenient sponsored data idea that is being marketed as a toll-free way of connecting to certain apps without being billed for the megabytes.
"With AT&T Sponsored Data, you can browse websites, stream video and enjoy apps on your wireless device without impacting your monthly data allowance," announced the wireless carrier at CES 2014.
AT&T's free data initiative is pretty easy to take advantage of, too. It's available to all active 4G AT&T phones, tablets and hotspots with post-paid or session-based plans. No activation is required.
AT&T Sponsored Data, said to be coming soon, gives app developers a way to pay for and provide rich content to the masses without data for the user being an impediment.
With the deep pockets developer picking up the tab, users can enjoy that content while staying within their contract's data limit.
AT&T Sponsored Data skirts Net Neutrality
AT&T seems like a win-win for both app developers and users, but just like its AT&T Next phone upgrade offer, there's an alarming catch.
The idea of sponsored data immediately raises Net Neutrality concerns. It allows some app content to be downloaded onto AT&T devices without a surcharge.
Other app makers have to deal with their content not arrive free of charge. That's hardly in line with the Net Neutrality principle of treating all Internet data equally.
"Today, AT&T announced a 'Sponsored Data' plan that would put it in a position to pick winners and losers online," noted the privacy advocates at Public Knowledge.
It's acting co-president, Michael Weinberg wants the FCC to get involved, writing that "AT&T's plan erects a massive barrier in front of anyone hoping to be the next big thing online."
Developers flush with cash would be able to afford AT&T's sponsored data program and could unfairly give them an advantage over cash-strapped garage-based app makers.
We've contacted AT&T for a response to the privacy concerns that followed its sponsored data announcement.
Sign up to receive daily breaking news, reviews, opinion, analysis, deals and more from the world of tech.